Back in November, when we booked our flights to Cape Town, my first task was to book some amazing places to eat. Top of my list was Test Kitchen, No.50 on the World's Best List but that was not to be. After spending time in Cape Town, Fi and I headed to Franschoekk, one of South Africa's wine regions. As much as I love wine, I was mostly excited about eating and there are some incredible choices here. One of the places I was most excited about was Foliage and that was where we were headed.
Foliage was opened in 2014 by Chris Erasmus and his wife, Alisha, who runs the adjoining gallery. Chris is passionate about the terroir (he did a stage at Noma) and so you can expect to see some ingredients you've never experienced. Much of the menu is vegetarian or even vegan, much to Fi's horror when she is recommended two vegan dishes. Where meat is used, it is quite simply spectacular.
The space is open and relaxed, a gentle breeze welcome, in the heat of the summer afternoon, from the open frontage. Lunch offers two, three or four courses, dinner offers the addition of a six-course taster menu. We immediately opted for four courses with the wine pairing, wanting to try as much of Chris's food as possible. We are to have two starters, a main and dessert. To celebrate our excellent choice, we started with a glass of local bubbles and some very good bread.
Regular readers will be well versed in my obsession with bread and butter. Bread, a sourdough and wholemeal poppy seed, is served with a beautiful, slightly cheesy, salted, smoky butter and smoked aubergine. Let me take a moment to talk to you about this beautiful rich, smoky, umami rich aubergine magic. What a triumph! The flavours are so intense and alive. I can barely stop myself from scooping it into my mouth with my fingers.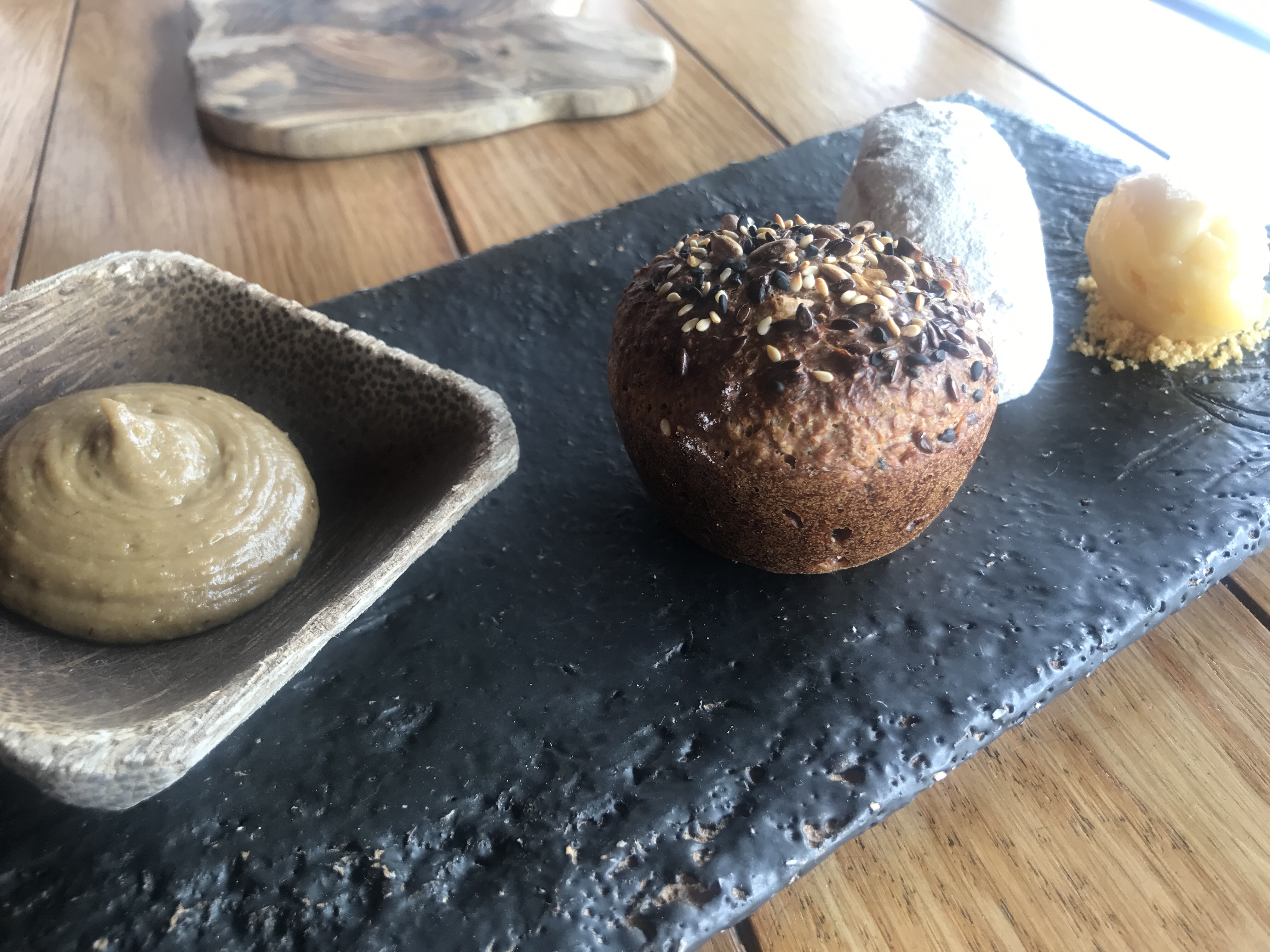 I have largely gone with our waiter Edwin's recommendations on everything. First for me, listed under Urban Farming,  is tartar of raw beetroot, beetroot chips & pickled radish, smoked beets and grandadilla.
Before I say anymore just take a look at this work of art.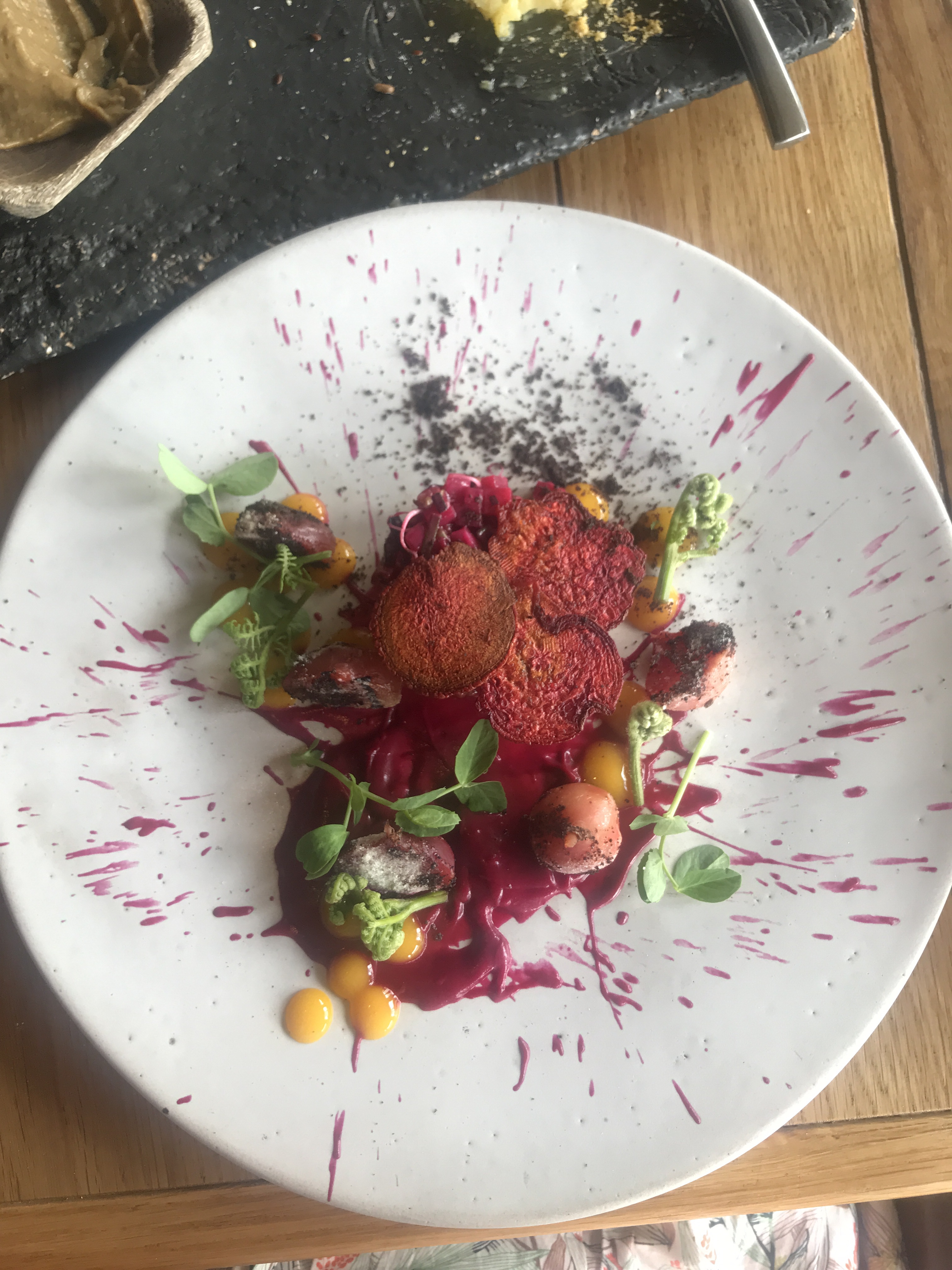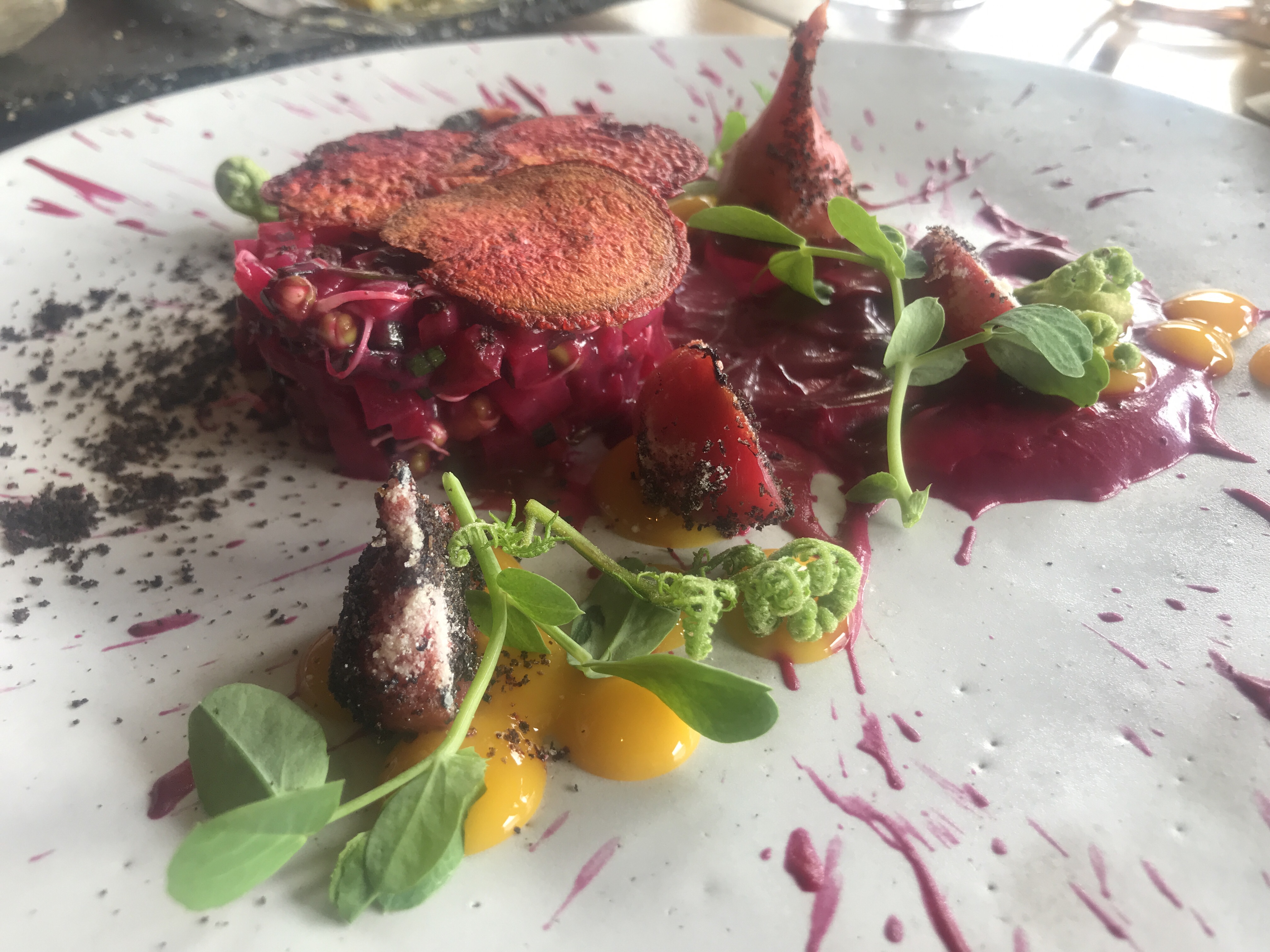 What a stunning plate of food and not just visually. The flavours and textures are exciting, really exciting. The tartar is incredible. It's sweet but not overly, with a gentle crunch and just a whisper of earthiness. The sharp grandadilla sauce (a fruit similar to passion fruit) adds a sharp intensity. The beetroot sauce is smooth and silky, the pickled radish offers acidity and bite. The tiny fern fronds are soft, delicate and completely new to me. This was a plate of food that made my heart and my stomach swell with joy. Despite almost an entire plate of beetroot, it didn't feel like that. The textures and flavours are so cleverly balanced.
Fi opted for the only non vegetarian dish on the starters, chilled Thai broth, trout belly, crisp fennel salad & fried leeks, pickled dune spinach.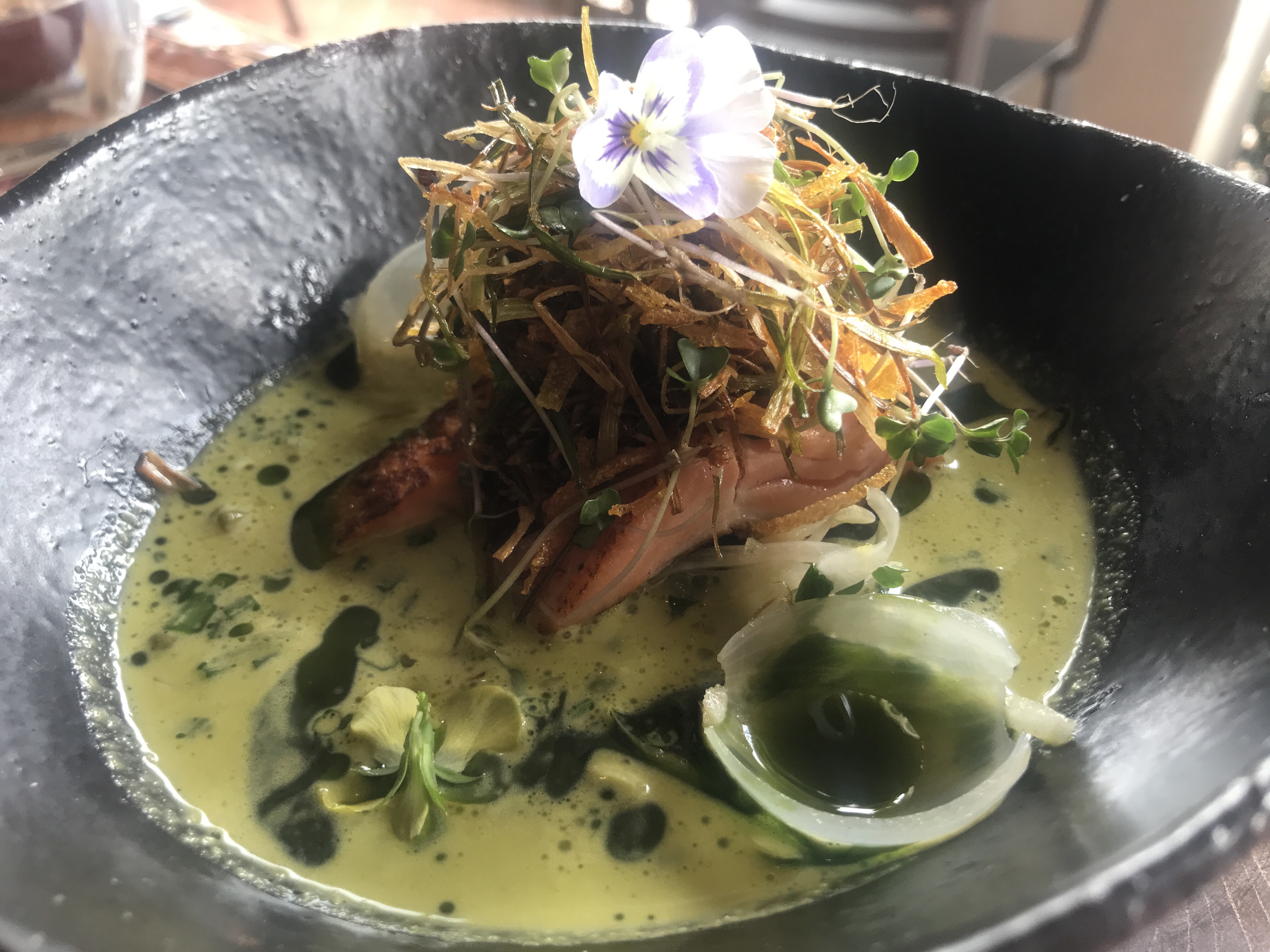 Another triumph; the broth is fragrant, the trout is soft, filling with mouth with fat, balanced with the aniseed crunch of fennel and the depth of crispy leek and tender, sweet onions, fresh dill oil lingering on the palate.
My second starter is Garden vegetables, berry powder, ginger and lemongrass mayo, lentil puffs. Another plate that could just as easily appear in the gallery next door as on the table. This plate is literally a celebration of nature, some beautiful vegetables balanced with some raw, some pickled, some cooked, so fresh, so vibrant. Acidity from the berry powder and I loved the little chewy lentil puffs.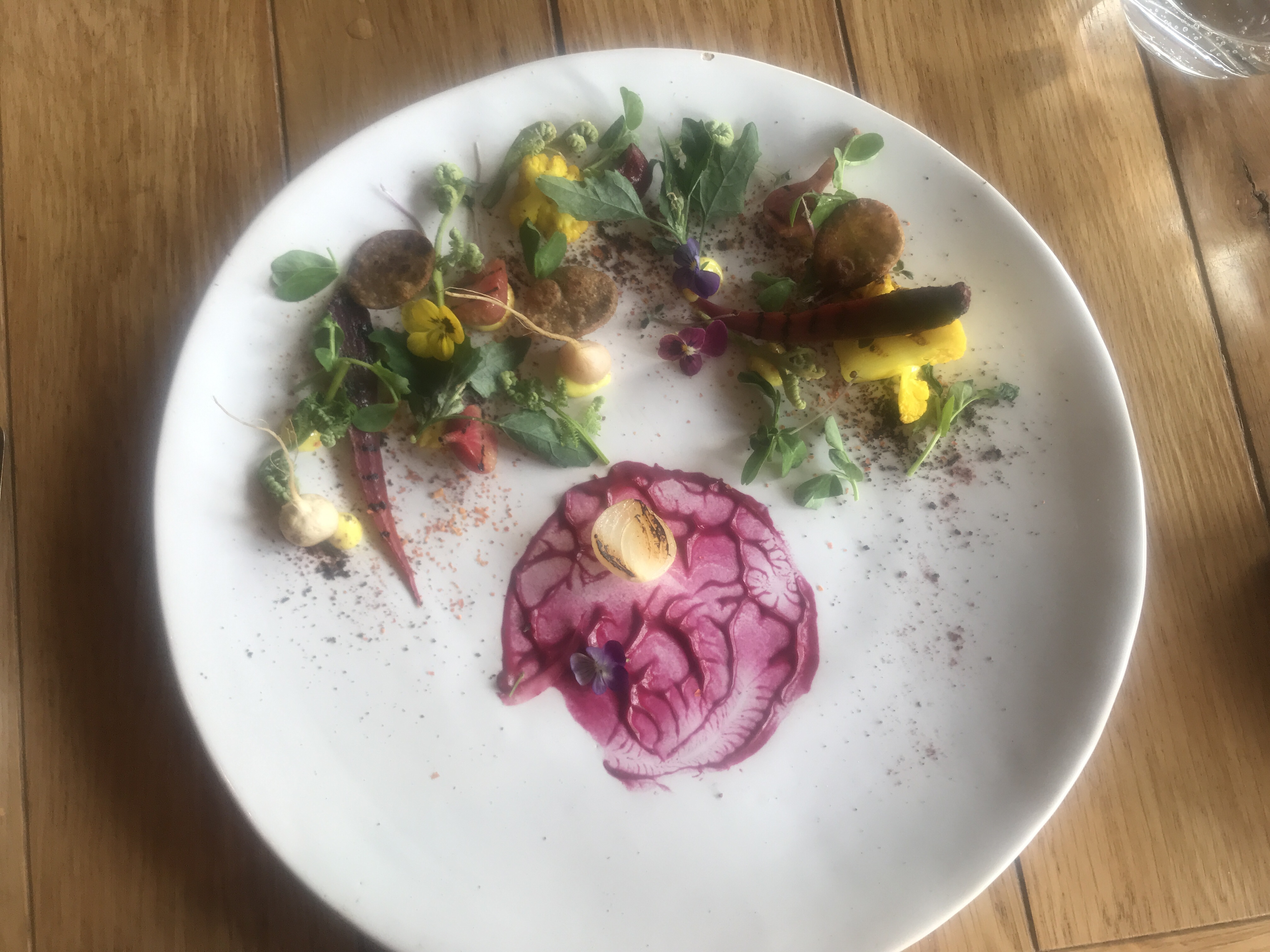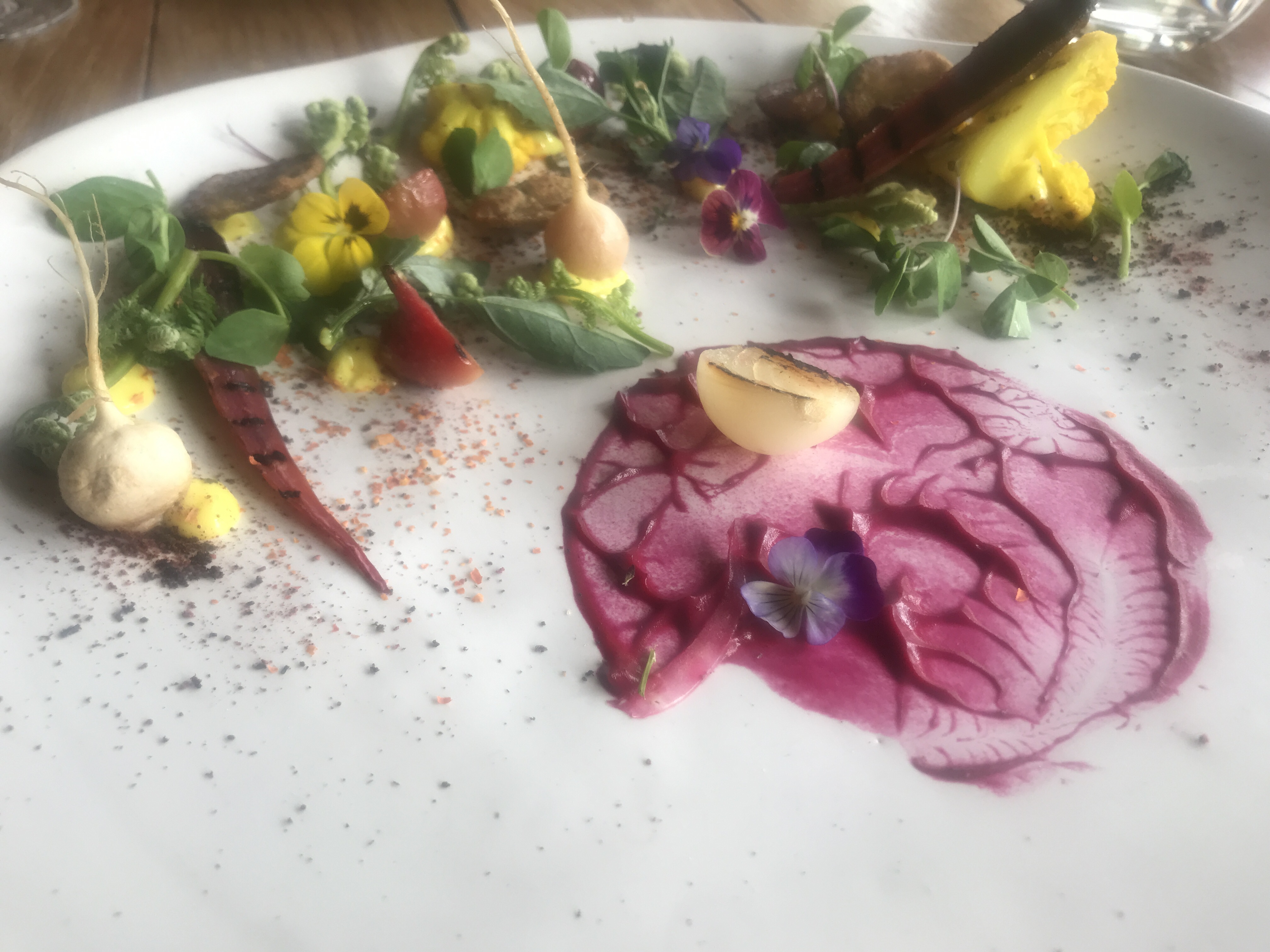 The second starter for Fi was from Guerilla Farming, charred carrots, caraway puree, vegetable marmite, dandelion pesto, curry oil, ash baked potato, carrot vinegar, compressed apple.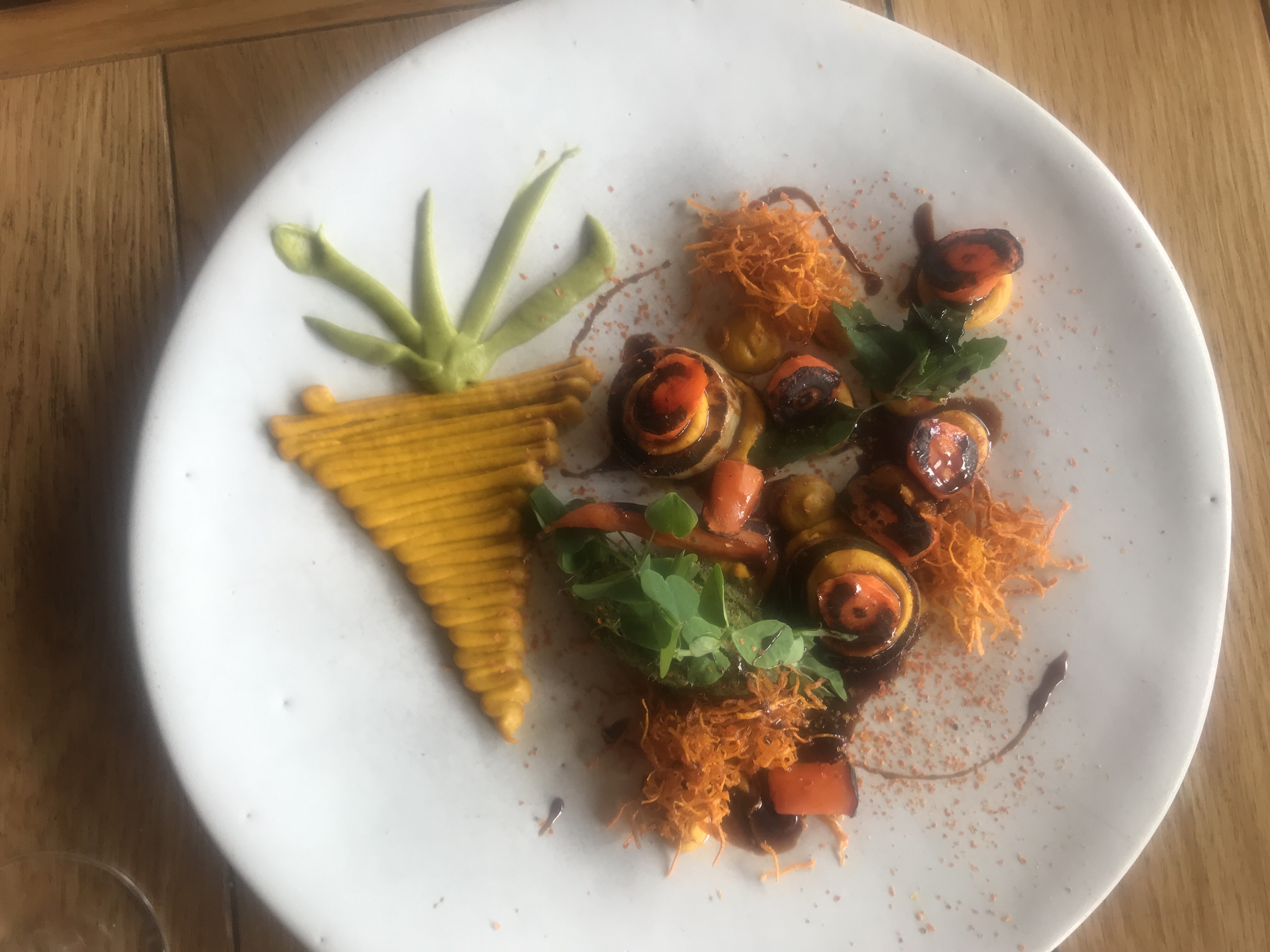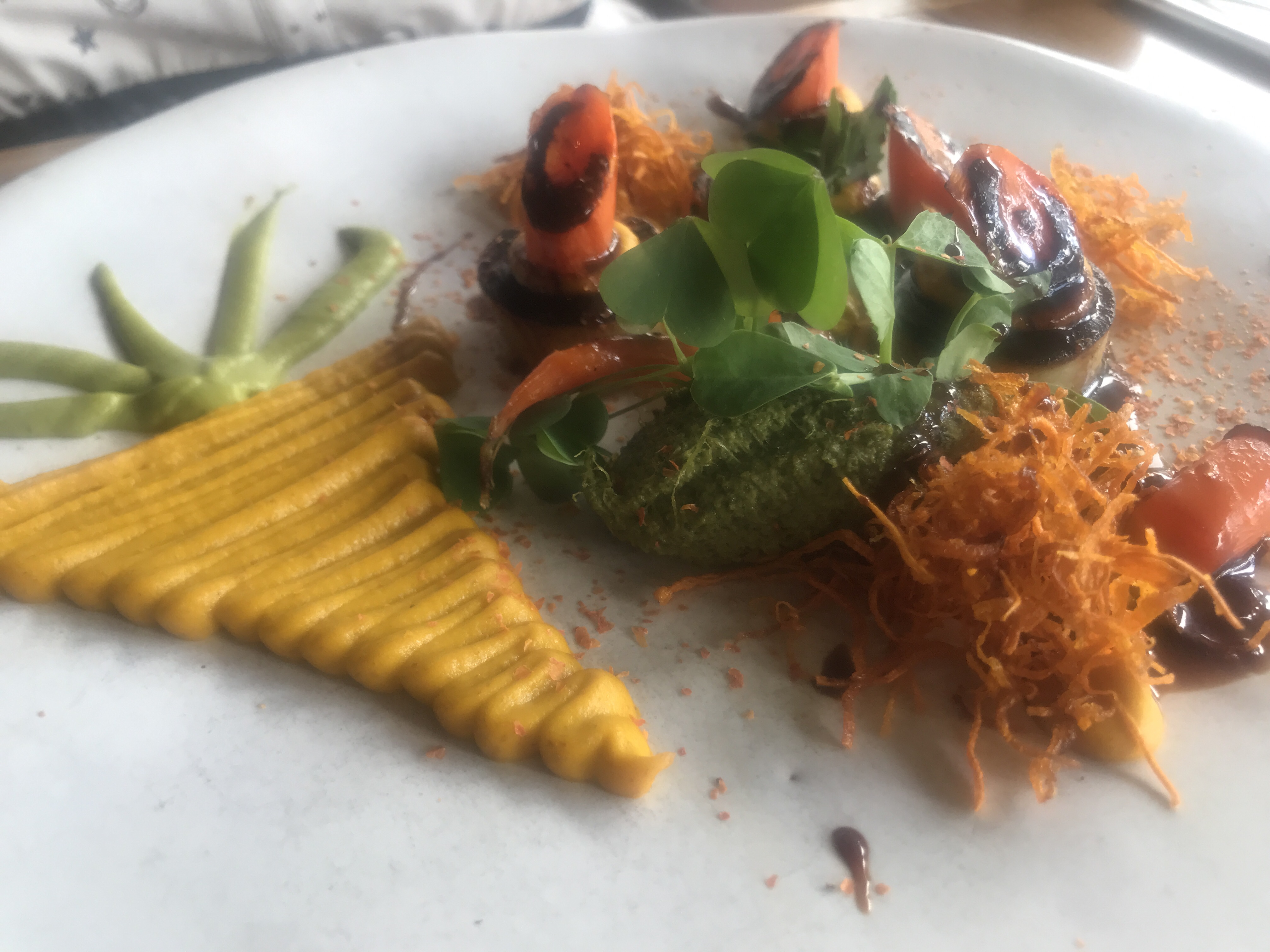 Like the beetroot dish, you forget you are mostly eating one ingredient because the kitchen is so bloody clever. The cumin in the puree adds warmth, the charred carrots are sweet, vegetable marmite adds umami depth to what could be a sweet dish, as the pesto adds a clean sharp lift. Fi, as Ireland's potato ambassador,  also gave the potatoes her seal of approval.
And so to mains and meat. For me, BBQ Karoo lamb belly, steamed broccoli, confit turnips & braised fennel, red cabbage puree and cherry jus.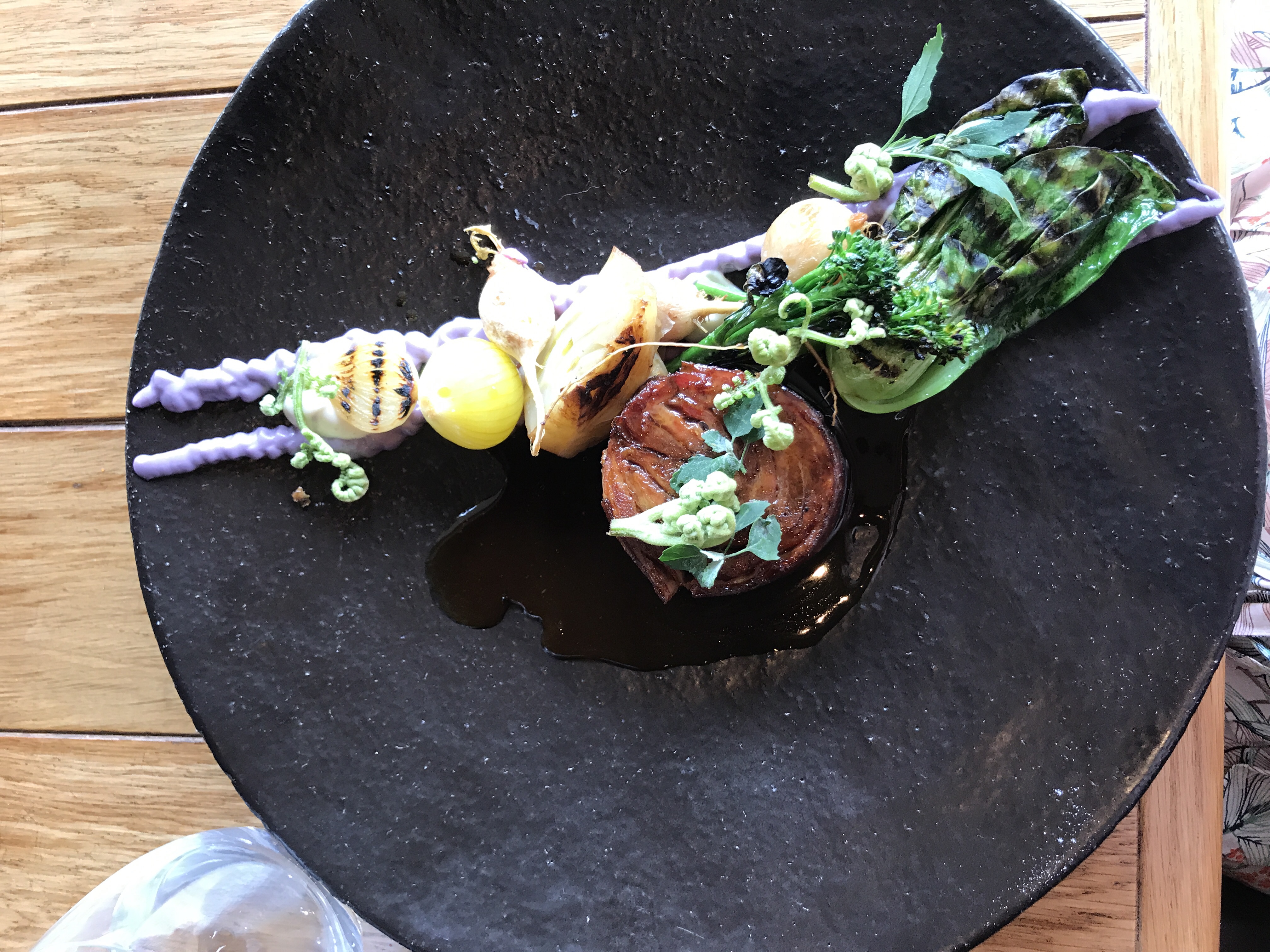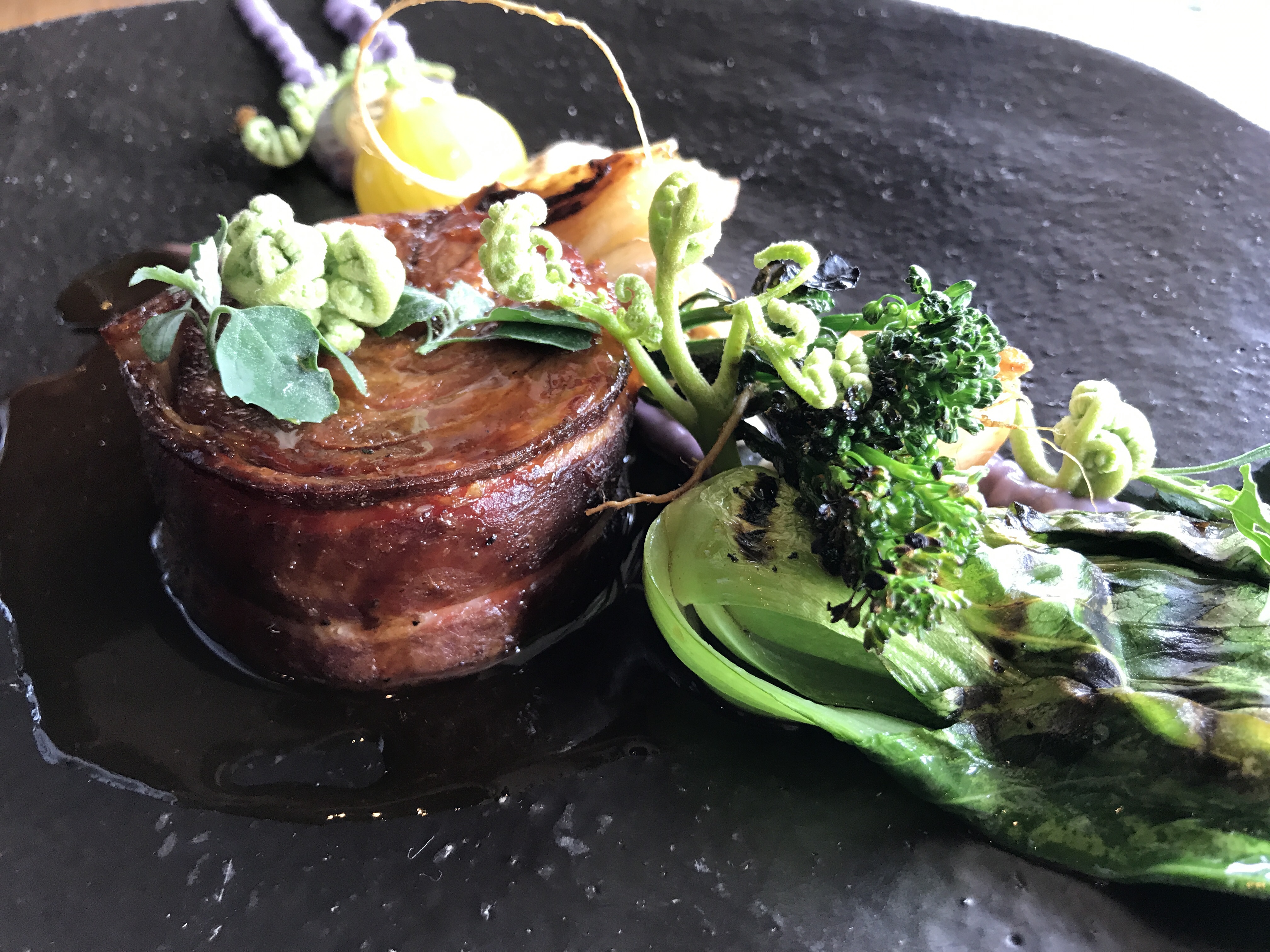 The lamb fell apart, offering up sweet, fatty, salty meat which was well matched with the silken cabbage puree. Acidity from the pickled turnips cut through the richness, as did the sticky, intense cherry jus. Every mouthful offering sheer and utter joy.
Across the table was BBQ & whey braised beef brisket, grape, turnip and sweetcorn ragout, wild herb gremolata and stone fruit jus. I can honestly say, this is the best brisket I have ever eaten.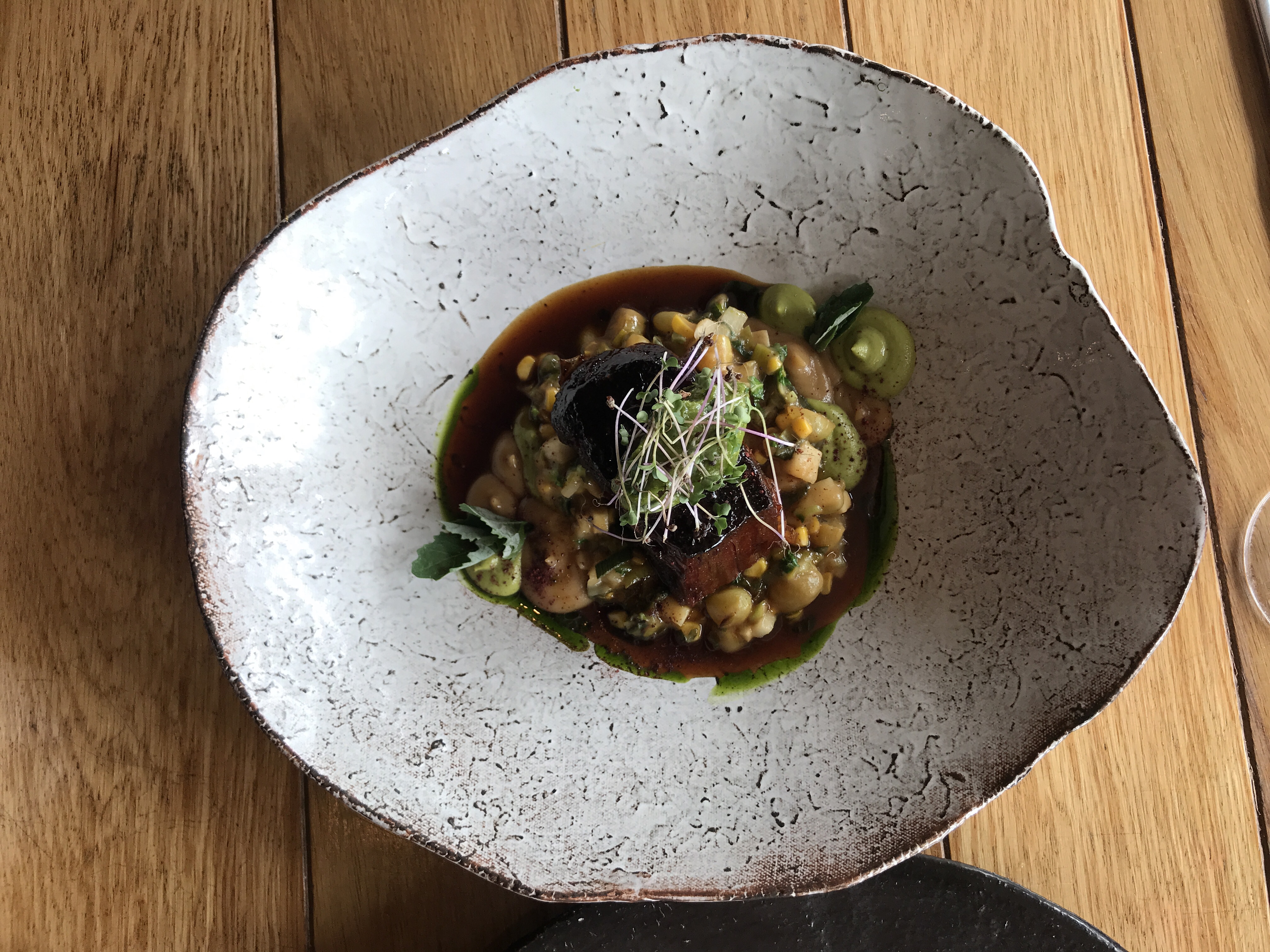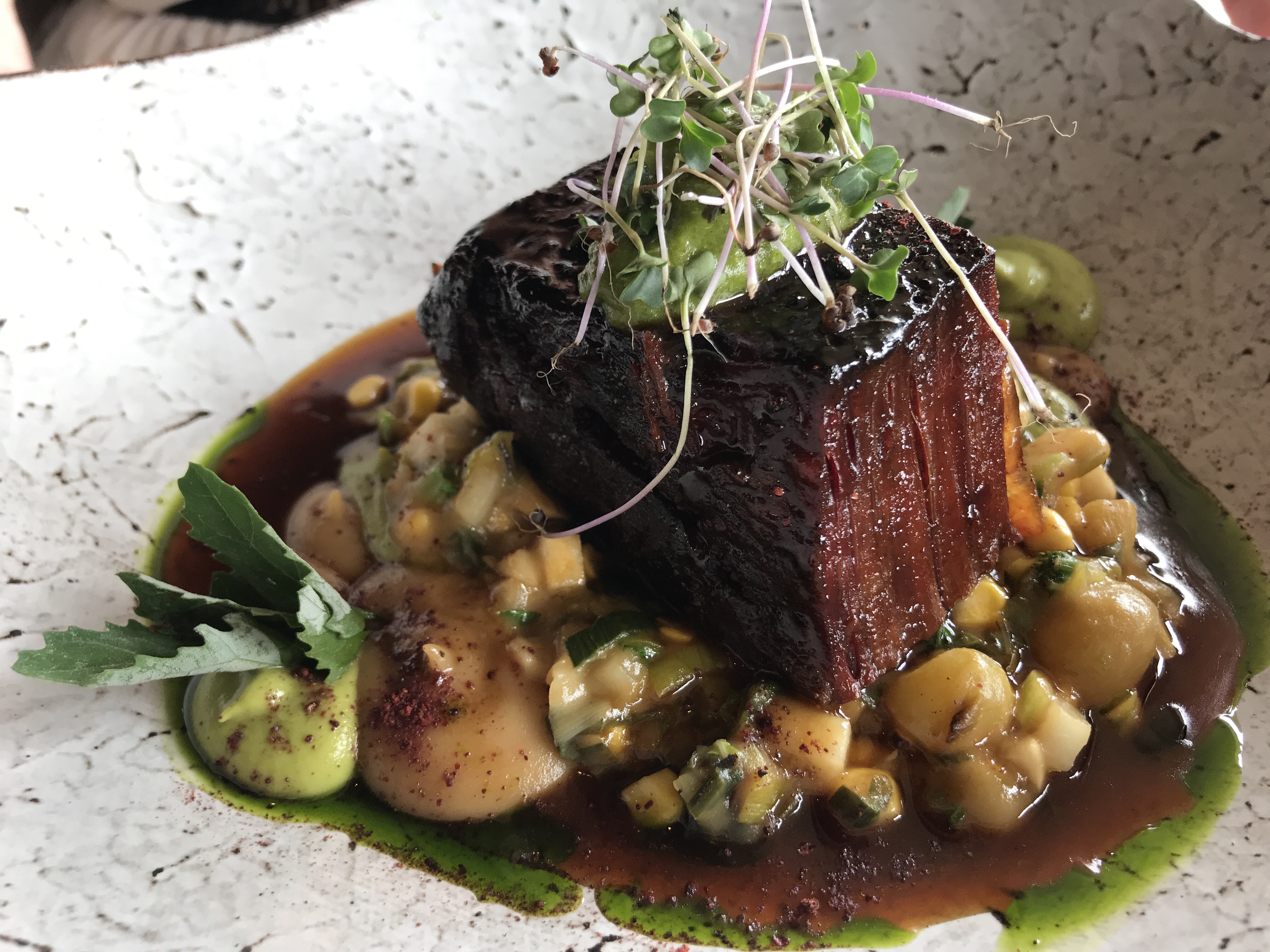 Meltingly tender, beautifully caramelised on the outside, smoked but not overwhelmed. The ragout perfectly balanced the dish, offering burst of sweetness and acidity. What. A. Dish!
We have a pause to catch up on our generous, very generous, wine paring and just to marvel at what we have eaten. I would happily forgo dessert for another plate of savoury.
Sweets are life, so the menu tells us. I wonder if the author has experienced the savoury dishes. For me, that is where the magic lies, which is not to say the desserts are not equally brilliant. I opt for the caramelia delice, peanut butter & cannabis leaf marshmallow, with chocolate rock.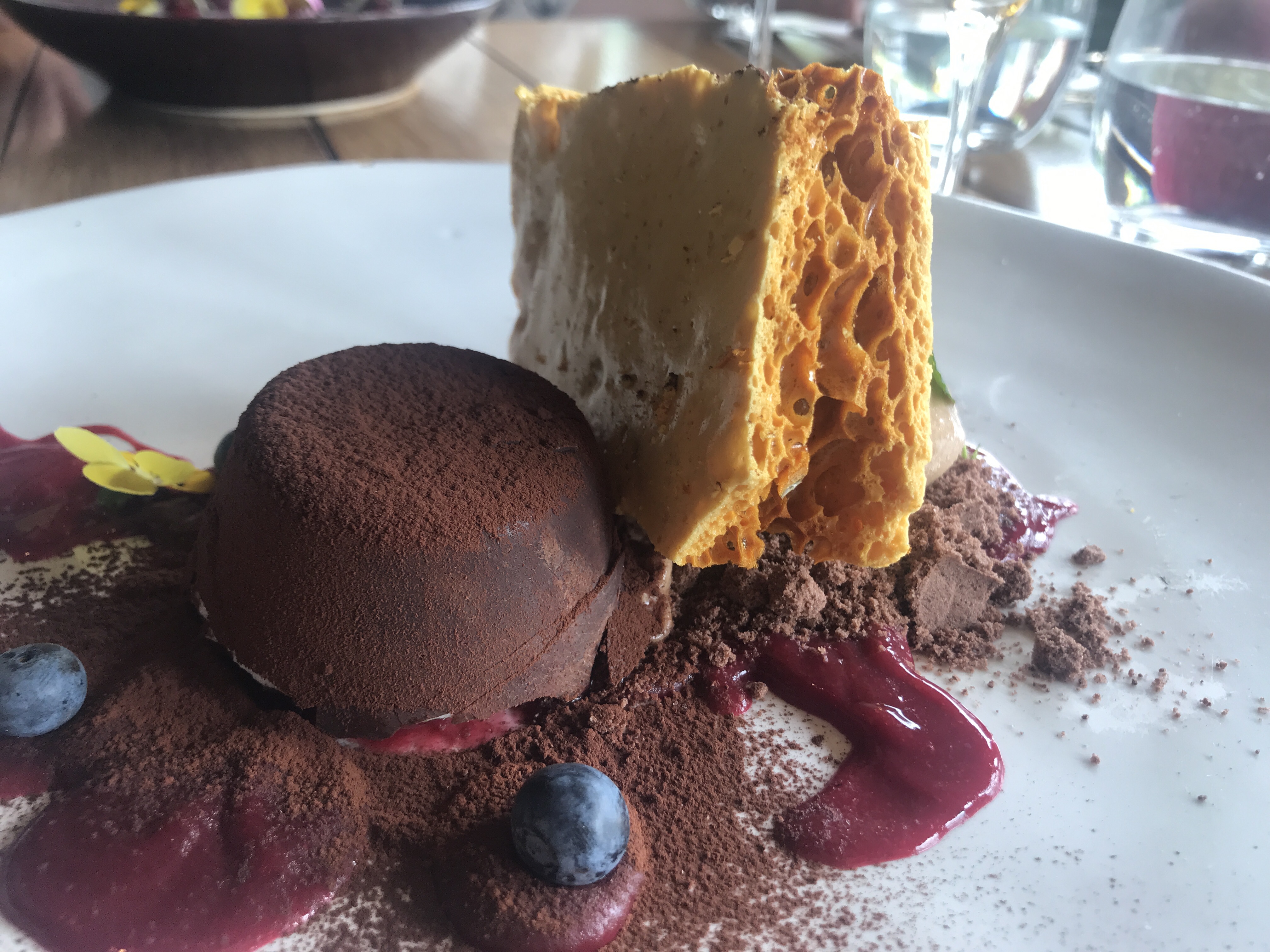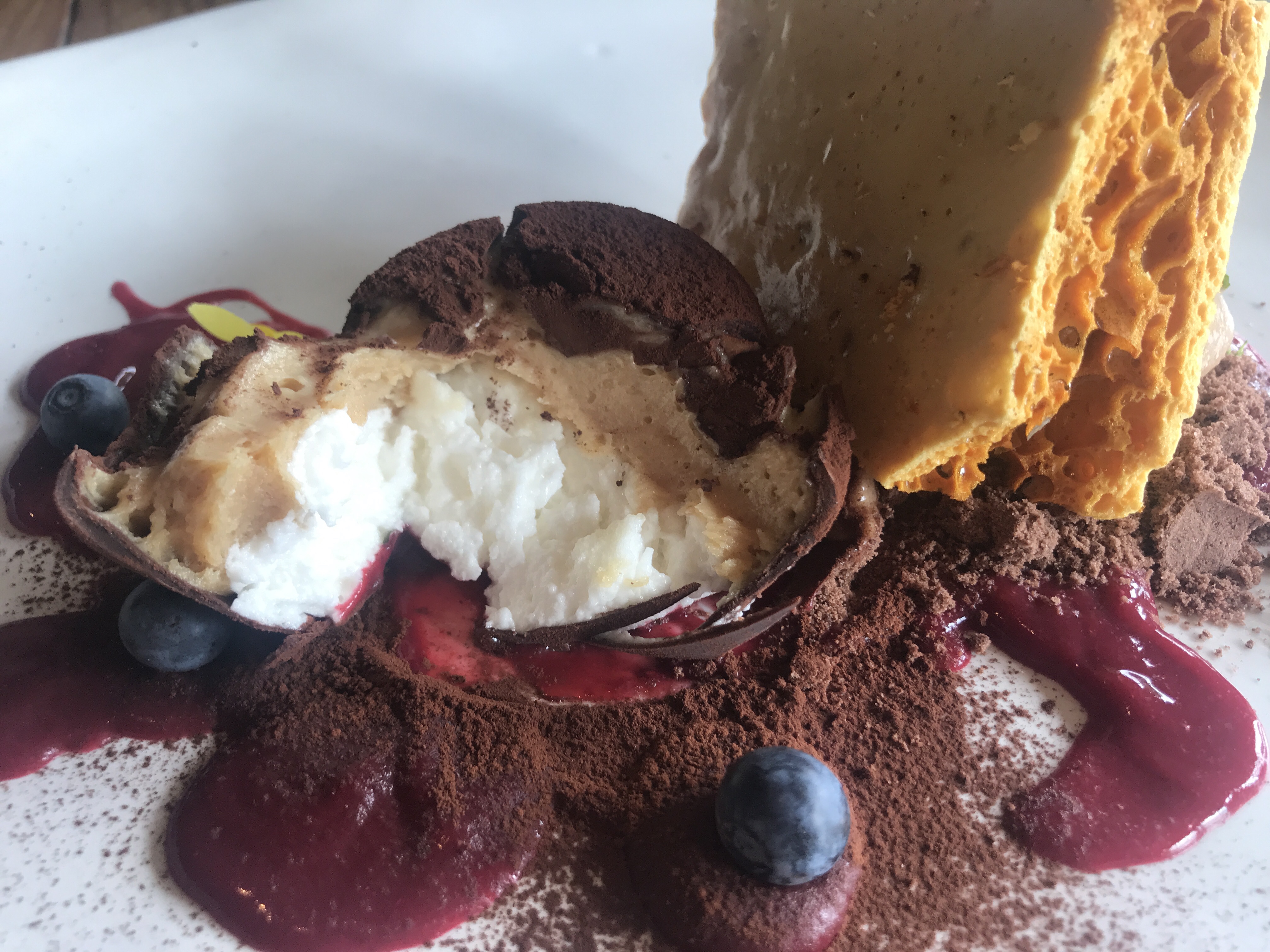 It's yet another art work, and hello giant piece of puff candy! Its tastes like a very fancy Reece's candy. There are subtle notes of cannabis in the soft, fluffy marshmallow while the sharp blackberry sauce offers a wonderful contrast, as does the cold soft, cloudlike delice. But can we just come back to the puff candy, or honeycomb?  I'd have ordered the dish for this alone.
Last, but not least,  is blueberry & poplar bolette nougatine, candided forest leaves & hazelnuts, buchu & honeyblush sherbet, beetroot & Amazi ice cream.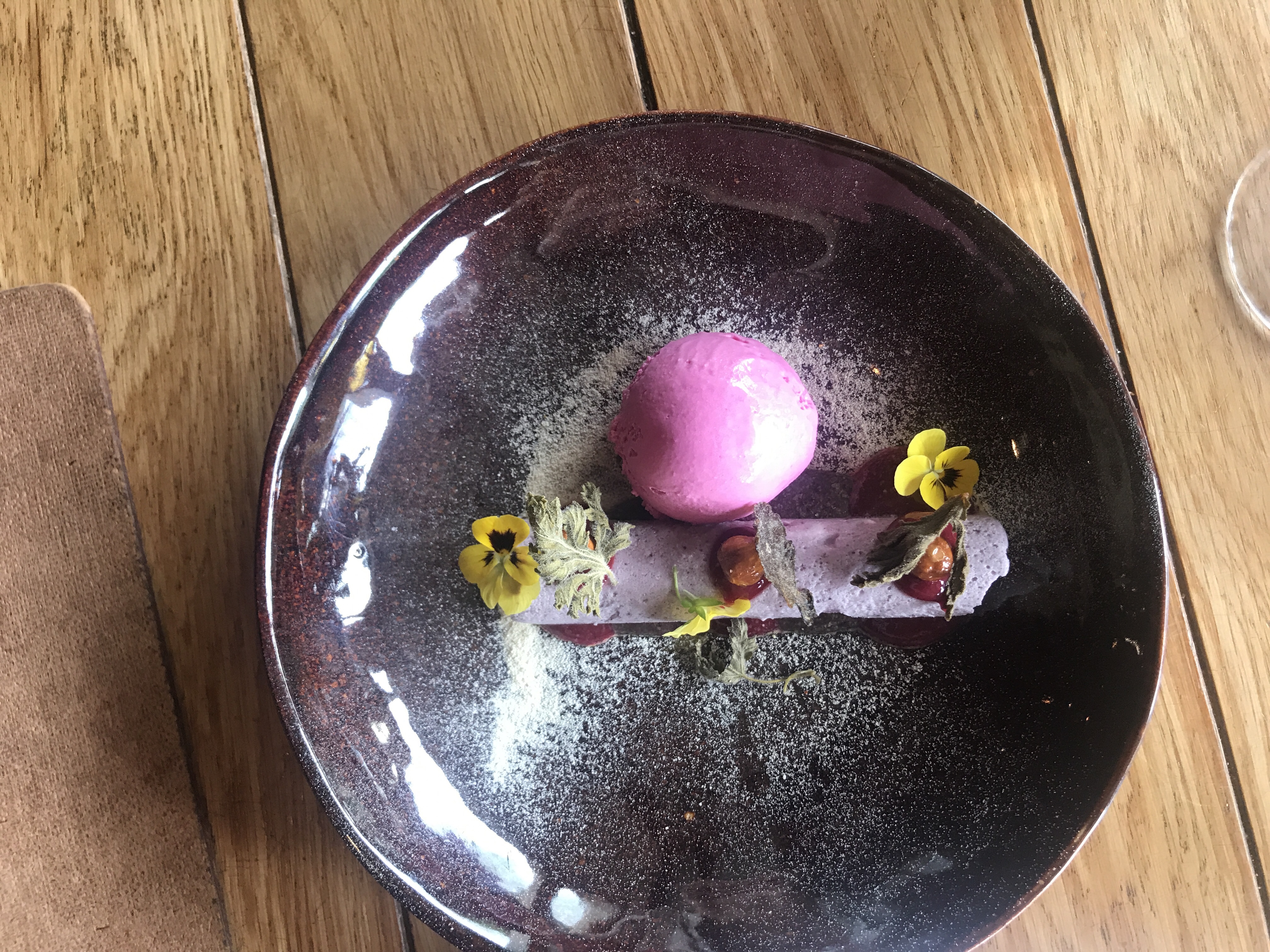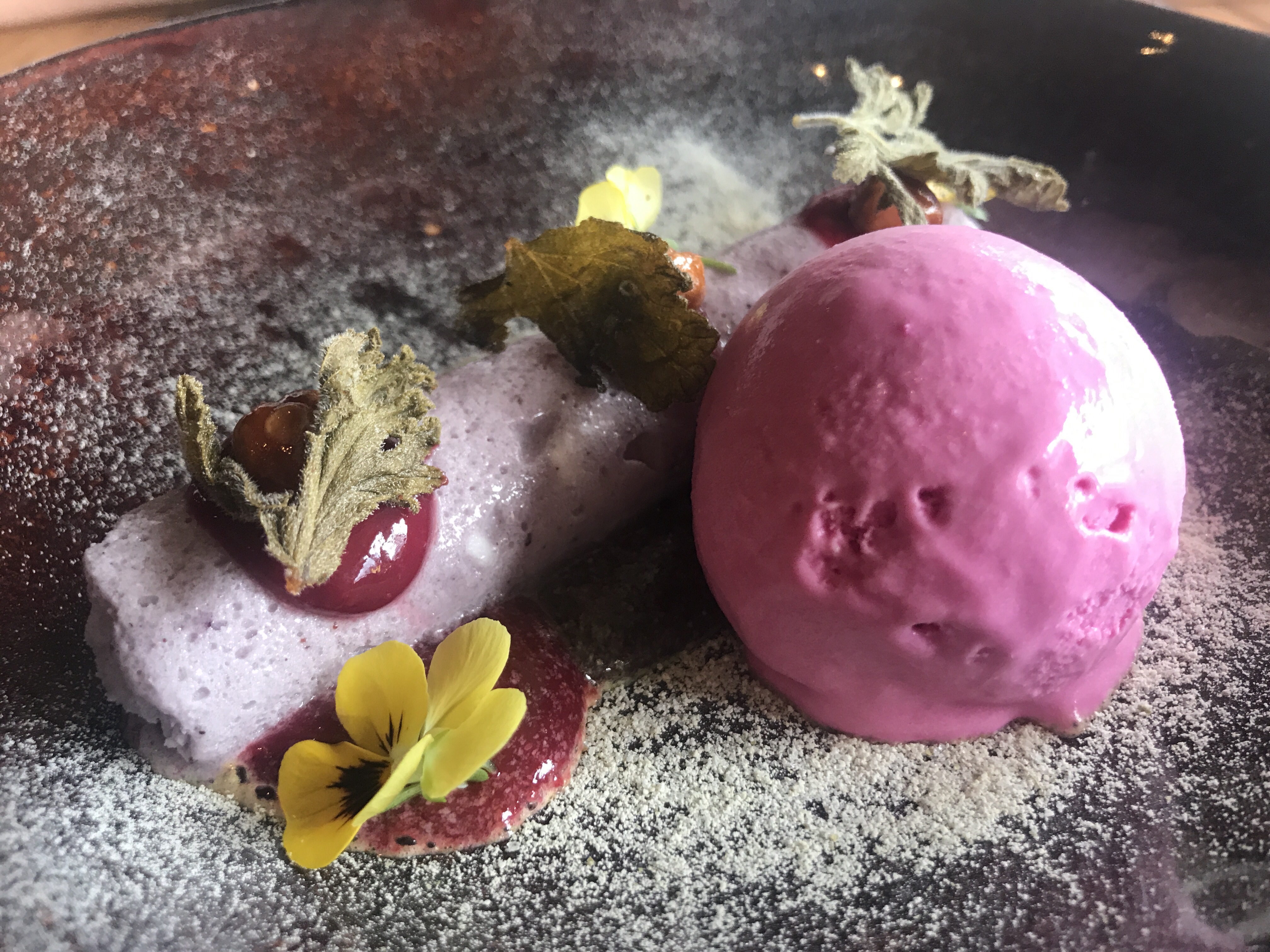 It's so exciting to eat a menu filled with things you have never heard of.  Amazi anyone? Turns out this is curdled milk from Zulu culture. This was light and fresh, yet the Amazi gave the beetroot ice cream a beautiful richness. Fi loved this and although a very vocal beet hater, she also loved my starter.
This entire meal was an absolute joy, it leapt into my top ten. Stunning food, really warm, friendly service. Thank you, Edwin, for teaching me my first words of Shona and inviting us to the pub. Moreover, coming from the UK, it's so cheap. Our meal with wine pairing, two glasses of bubbles and service was just £103.
I cannot recommend Foliage highly enough and would get on a plane right now just to eat here. If you are planning a visit to Cape Town, make the trip to Franschoekk for Foliage alone. I will definitely be back.
(Visited 192 times, 1 visits today)