Sadly closed in January 2019
If you were simply to read about the ethos behind Sapling, without meeting owner Bob Ritchie, you'd be forgiven for thinking it's some hipster bullshit, even more so when you discover he left a successful career in hedge funds to open Sapling, a project two years in the making. So, allow me to assure you, it's not. Ritchie grew up on a farm in Ayrshire and is about as far from hipster as you could get. He is a tremendous host and his passion for wine evident.
Sapling, the name evolving from the idea of new growth and knowledge, is present everywhere you look, from the beautiful flowing font, reminiscent of the key wine rivers, to the gorgeous central counter featuring wood chippings from three native Hackney trees.
And the space is sexy, very sexy, from the central counter with its plush, velveteen seating, allowing interaction between staff and customers, to the cosy two-seater banquettes and the pastel tiles made with crushed London bricks and very reminiscent of an outfit I believed, some what misguidedly, made me very sexy in the early nineties.
The focus here is on the wine, with a brilliant hand picked list of 28-32 biodynamic and low intervention wines from small independent makers which changes frequently. For wine lovers, it's a dream come true,  with every wine available by the glass, thanks to the Coravin system, meaning there's no premium on a single glass and allowing you to discover some real gems. I'd urge you to let Bob pick for you, I tried the Binet-Jacquet Faugères and I don't know if I will ever drink anything else again. It was sensational. Every time I picked up my glass, the scent of ripe, lush fruit and soft acidity overwhelmed my nose. Every time it was magical, life affirming joy. I will, of course,  try something new next time but only if they've run out of the Faugères. I'd urge you to try it but I'm not good at sharing.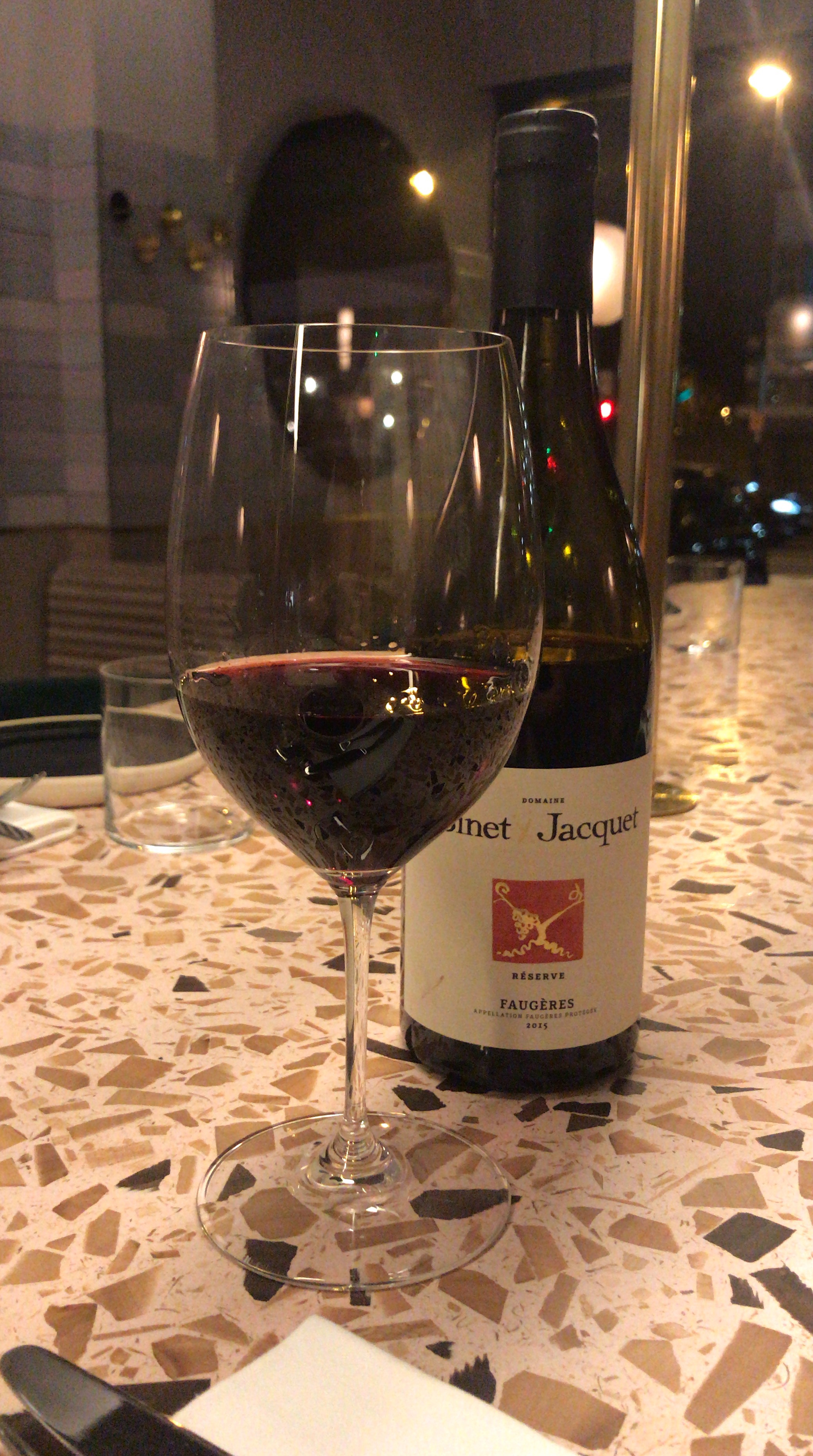 The menu is made up of kitchen and larder, the latter being a selection of cheese and charcuterie, some local and all well considered. The kitchen, headed up by John Beeharry, previously at Bistrotheque, is, of course, a selection of small plates, we are in Dalston after all. They range from £2.50 for sourdough and butter to £14.50 for pigs cheek with celeriac and green apple.
I know what you're thinking, she glossed over the bread and butter pretty quickly, not like her at all. So let's just take a look at this plate.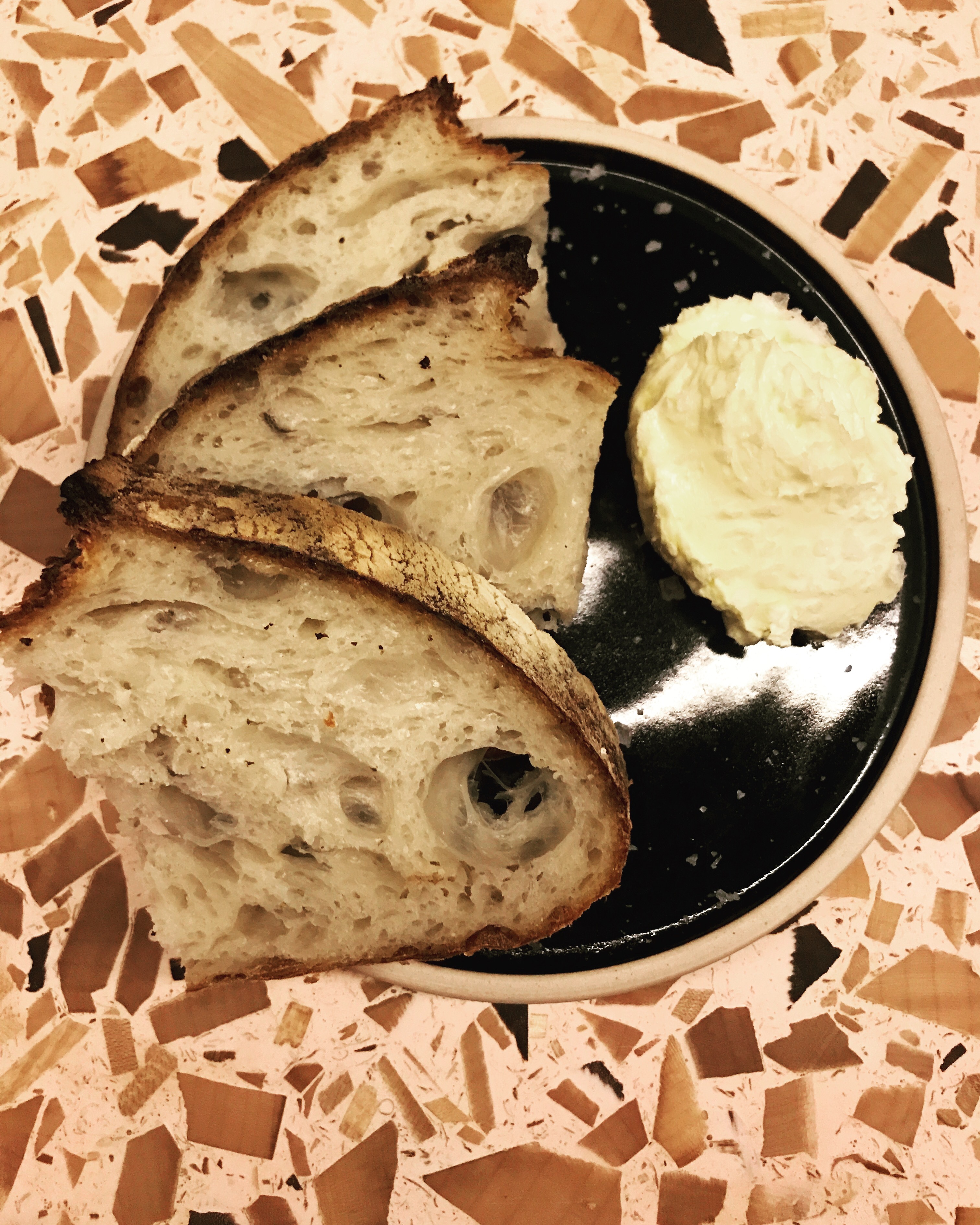 This is the correct ratio of butter to bread, enough that it can be spread thickly, so teeth marks can be seen, so you are not fighting with your dining companion over it. It's whipped and salted and NH, being coeliac,  eats it with a fork until Bob leaves to buy rice crackers, ashamed for us! The menu is largely gluten free,  with just two dishes that NH can't eat.
Tiny chicken wings are salty and crispy and served with a very good earthy sweet beetroot ketchup.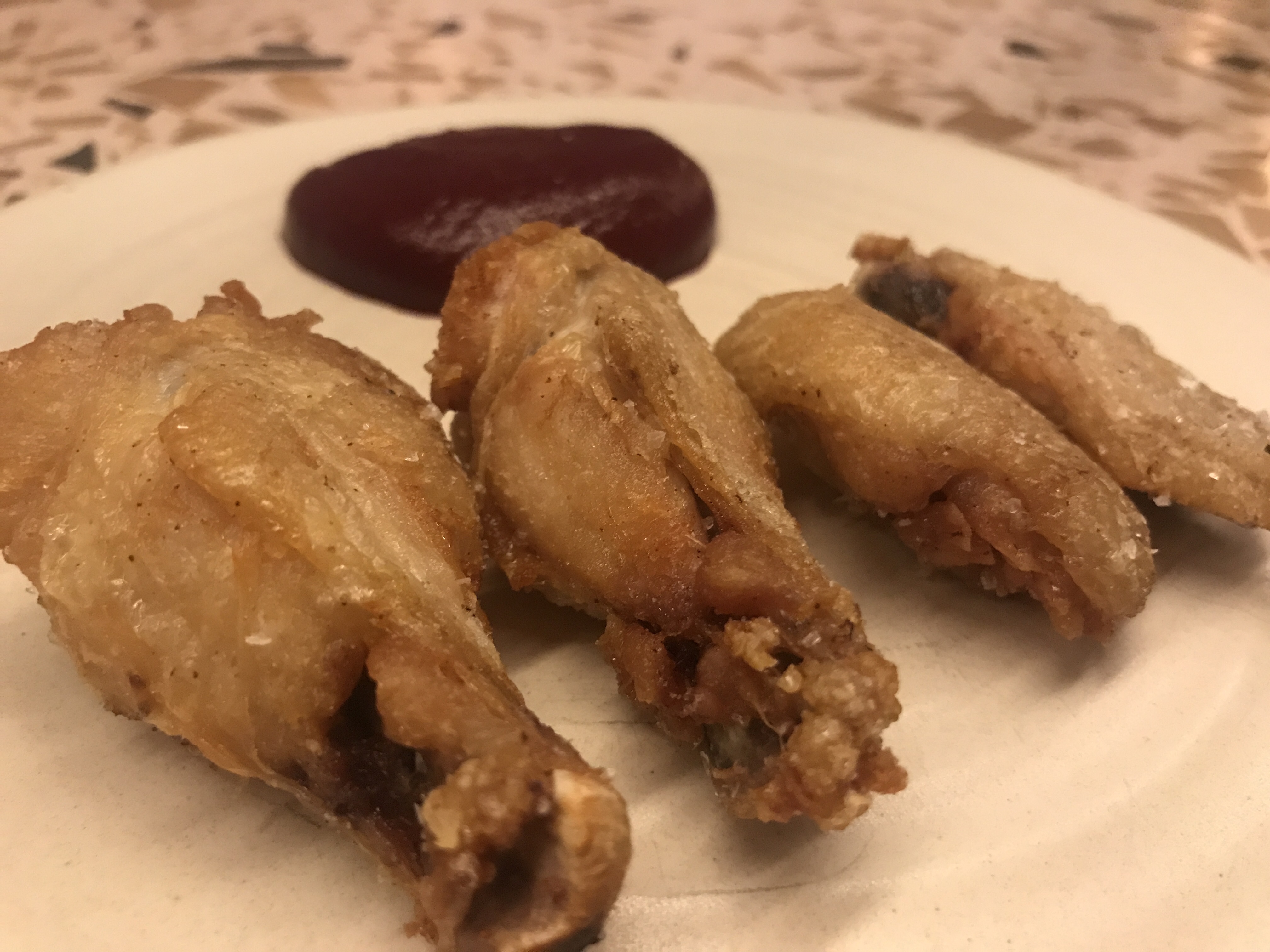 Heritage carrots with harissa and almonds is, in fact, a single giant carrot, and that is ok because that's what was fresh and nature doesn't think about Instagram. The roast carrot, however,  is al dente to the point that Bugs Bunny would struggle with it, I'm fearful of catapulting it across the table as I cut it, (I did this many years ago and have lived with the shame ever since). It's a shame because the pickled ribbons are good and the harissa, made in house,  is bloody marvellous, all smokey and fragrant, with a delicate hint of rose.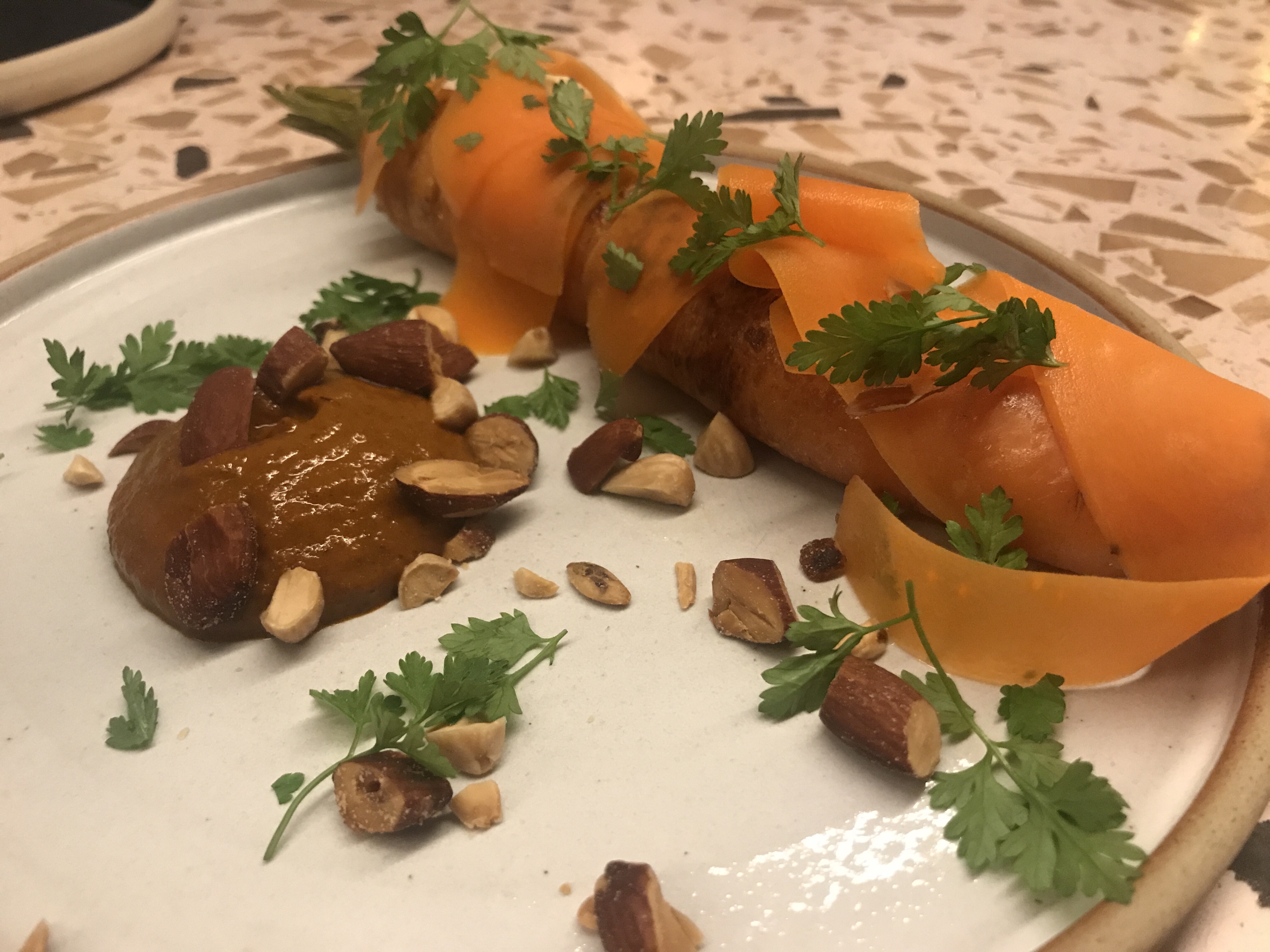 Bobby beans are served on a bed of onion purée, so smooth and rich I ask for a spoon. This is comfort food at its best.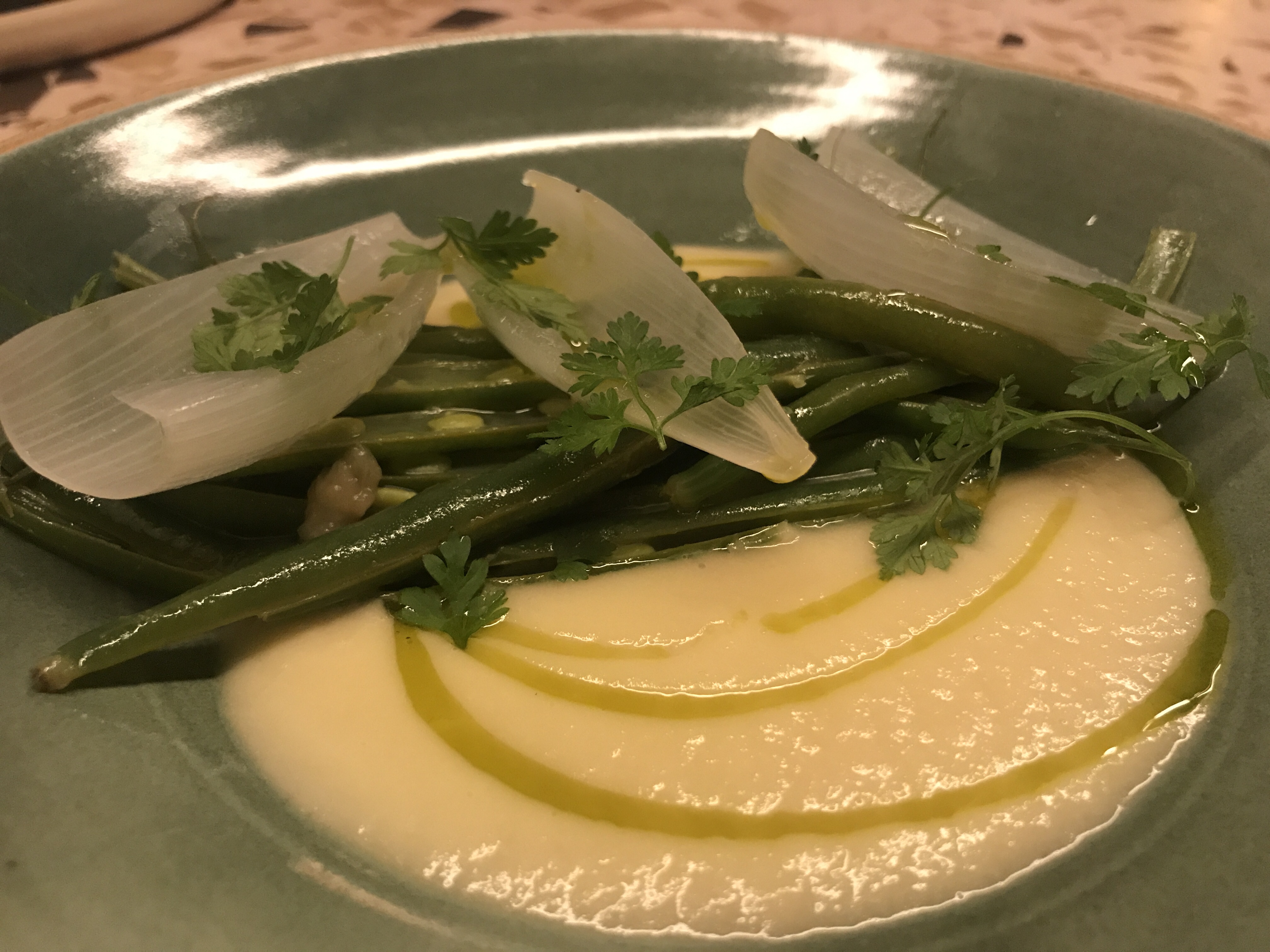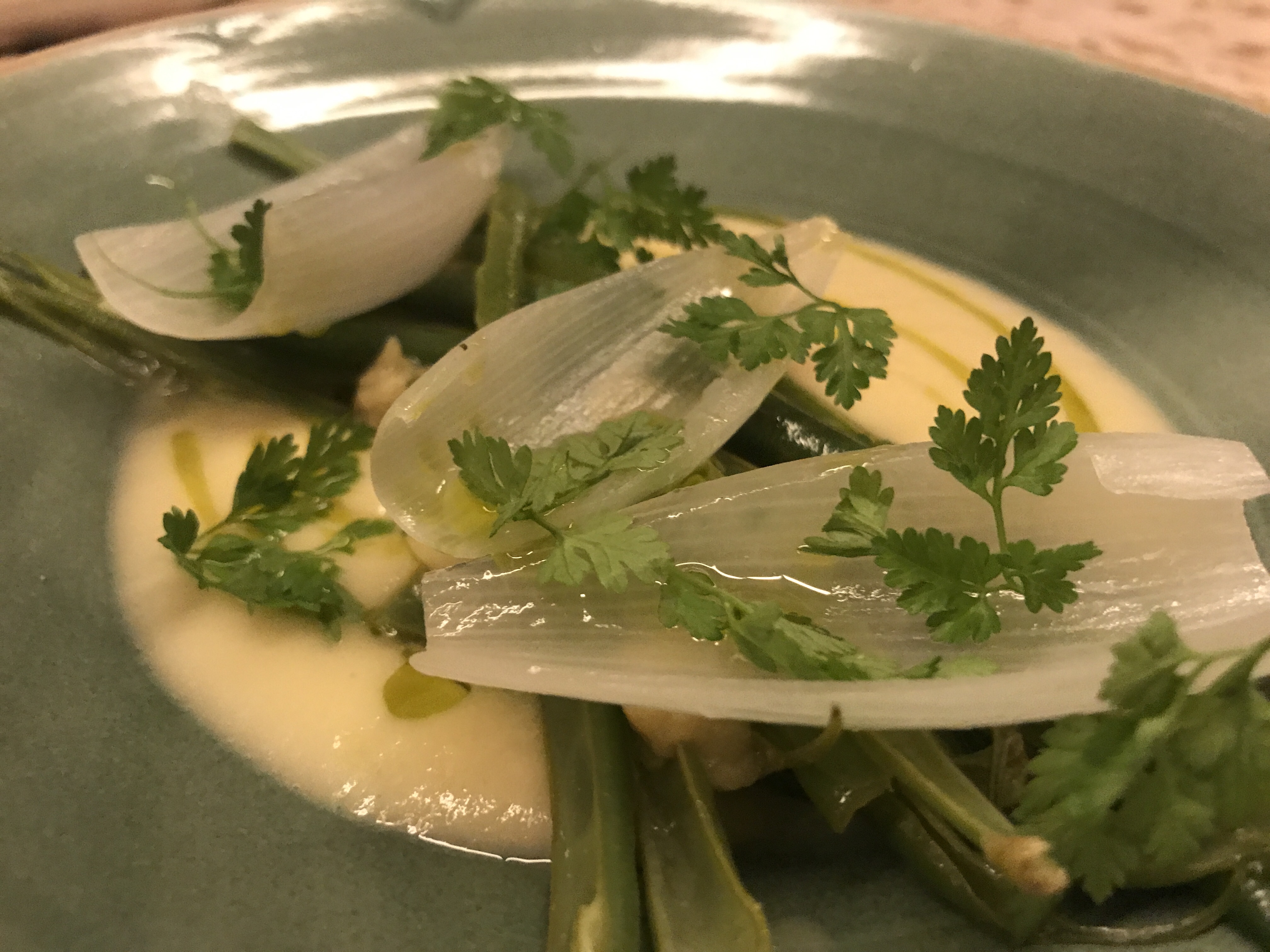 The pork cheeks cut like butter, tender and melting, the celeriac purée silky. A tumble of diced apple and mustard adds acidity to the plate. It's the dish equivalent to being wrapped in a blanket knitted by my mum.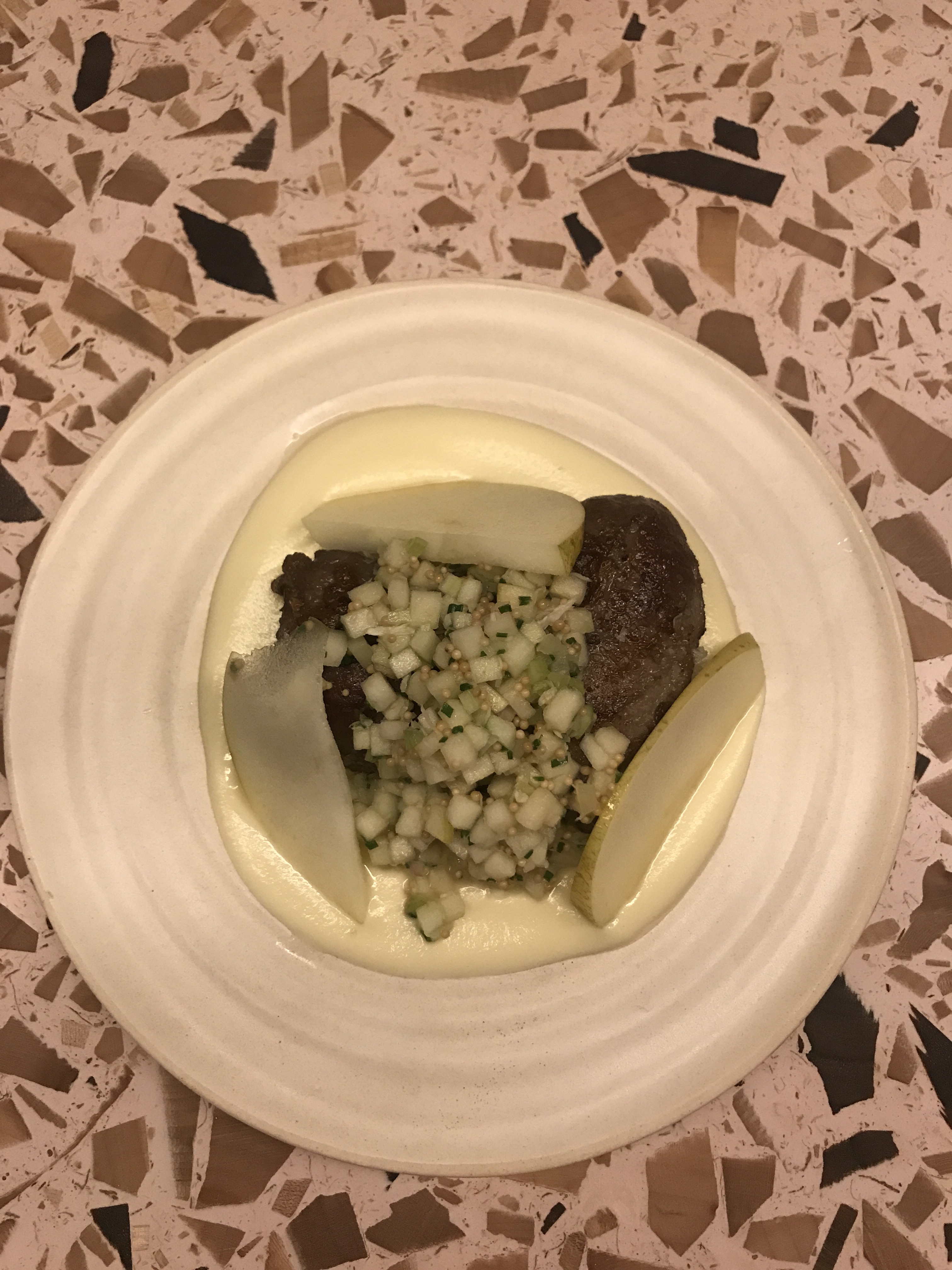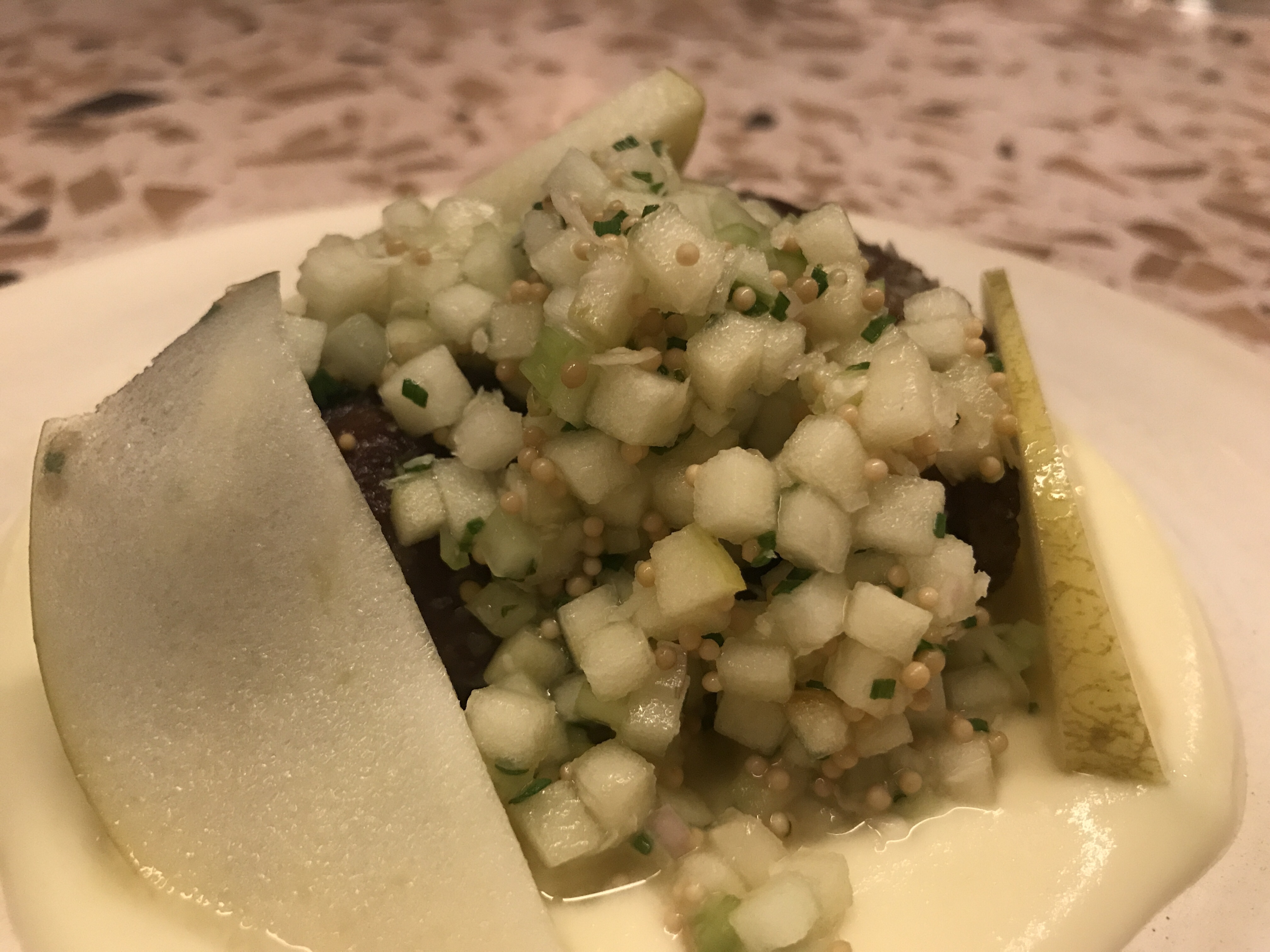 Our final dish is mackerel with a kohlrabi pickle and buttermilk with dill oil. The Mackrel skin is charred and crisp,  the underside oily and fresh, almost raw. It's a fresh, fragrant mouthful.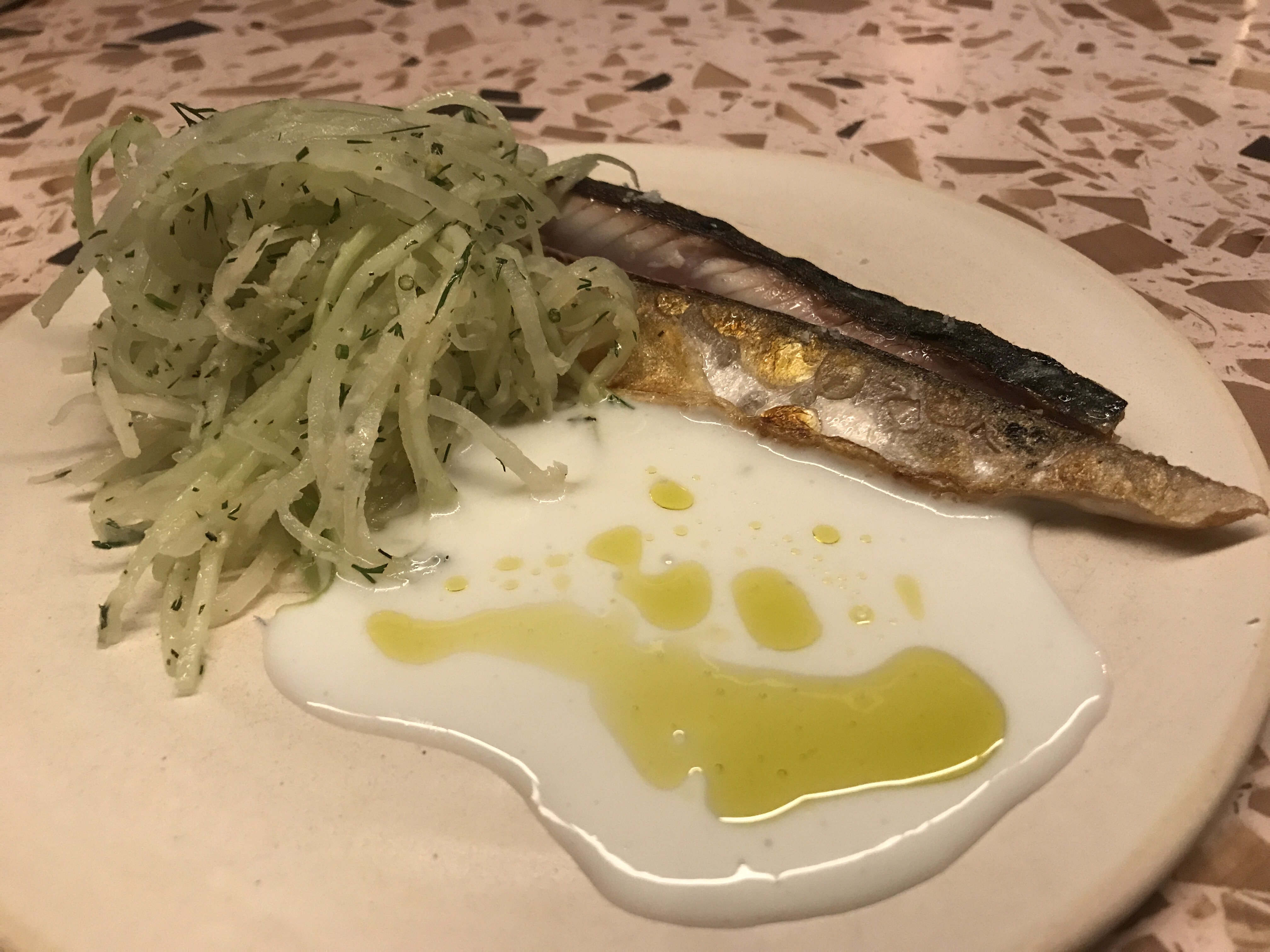 We finish with some cheese and the last glass of Faugères in the building.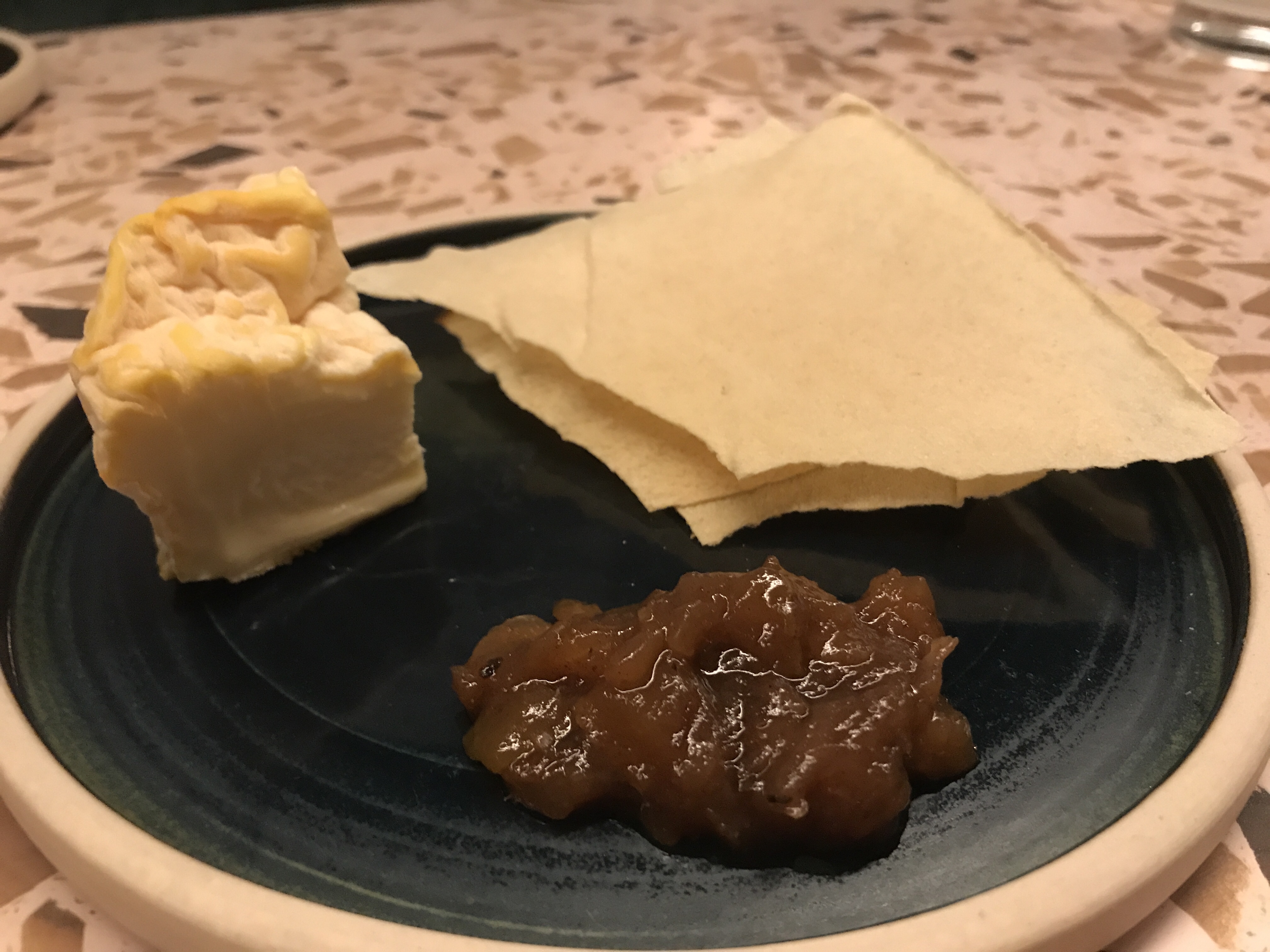 I left feeling warm inside and not just from the wine. Sapling is really quite a beautiful thing in all it does, it's ethos, wine,  food and people. And so I urge you to seek it out because when I visited it was very quiet and, in order to grow into a mighty oak, it will need the support of those around it. Just don't drink my wine when you are there.
(Visited 24 times, 1 visits today)