When Jones told me to book anywhere I wanted for my birthday, I was excited and panicked in equal measure. My list of places to try gets longer by the day and shows no sign of slowing, with new restaurants opening, it feels almost daily, in London.
A long stander on my list was Restaurant Story, friends have been and talked whimsically of the magical dishes. Reservation made, I waited with much anticipation, more so Jones, it seems, who almost arrived at the restaurant a week early, confusing the dates.
Finally, the actual day arrived and I felt like Charlie Bucket looking into the sweet shop window as I approached the beautiful glass fronted building, an oasis of calm at the end of Tooley Street.
On plate was this letter wishing me a happy birthday, thanks guys!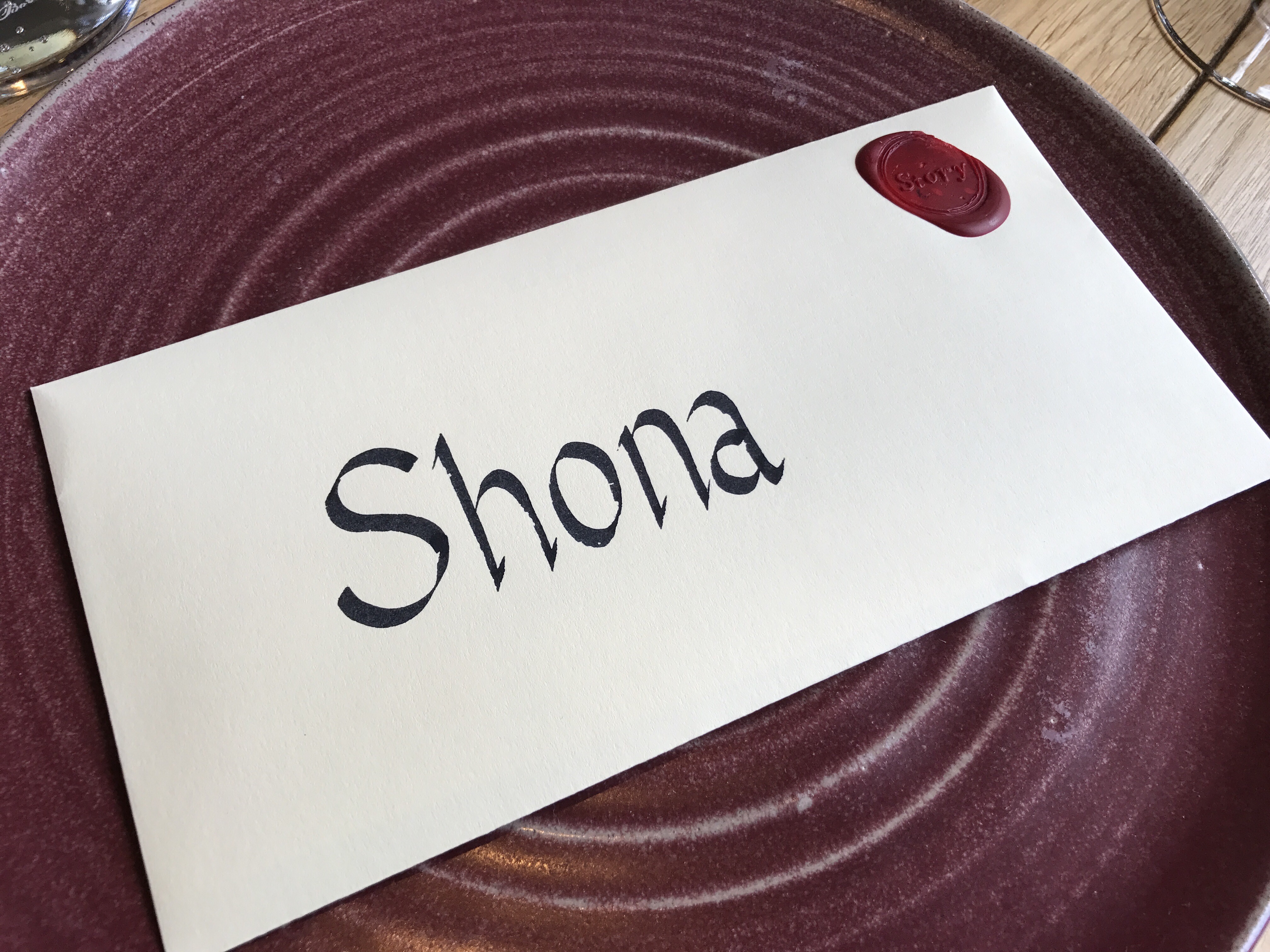 Jones is not a big foodie but was happy to indulge me. We went for the full tasting menu with the additional course and drinks pairing.
The menu, laid out like a book with each course a different chapter, is the brain child of chef, Tom Sellers.
The menu starts with snacks and on Patrick, the sommelier and drinks wizard's recommendation, we had a glass of English sparking wine with them; he didn't want us to be without a drink before the main story started, truly a man after my own heart.
First to arrive was crispy cod skin, topped with cod roe emulsion, carrot tops and gin botanicals.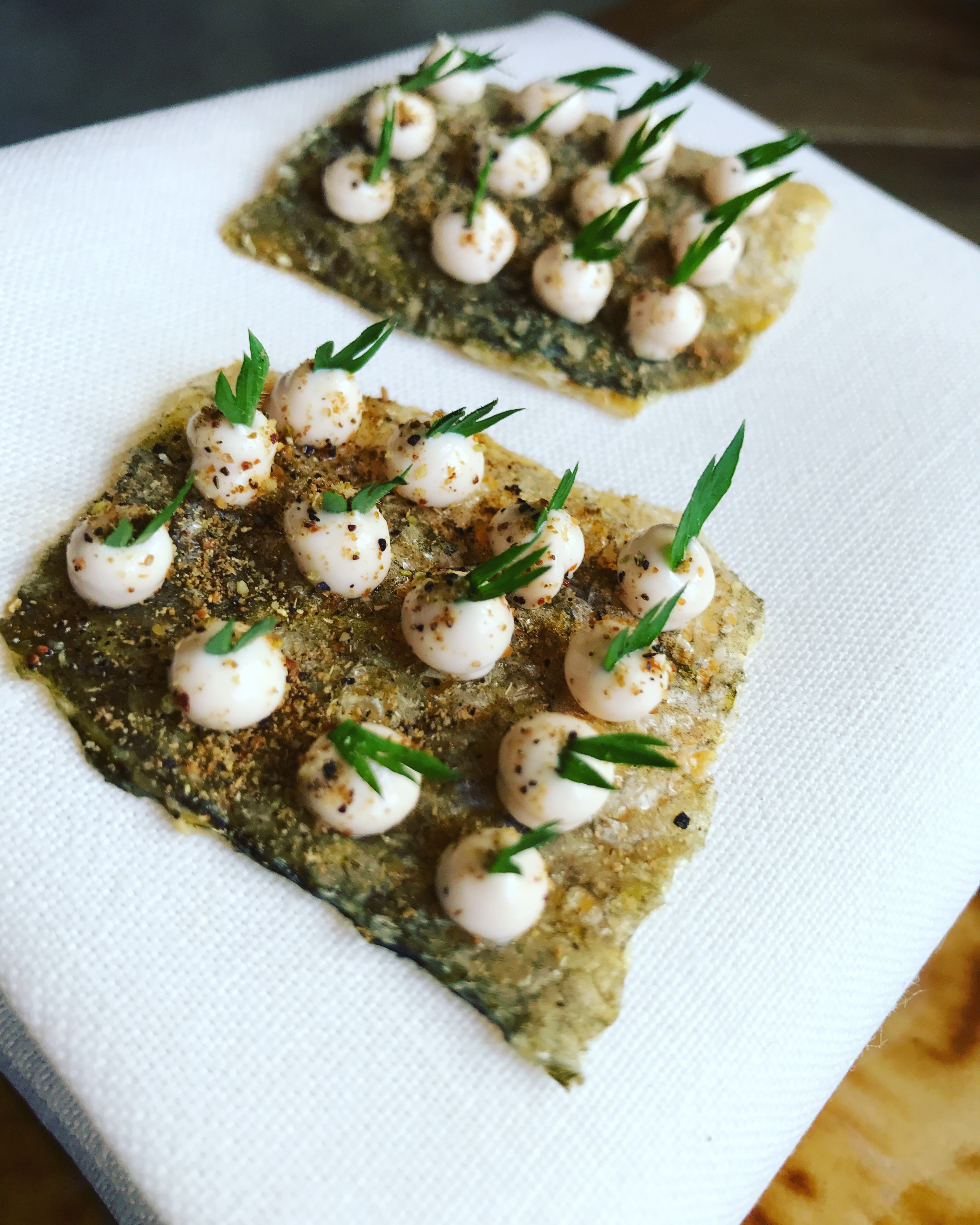 This was switfly followed by the famous Storeos, Tom's take on an Oreo but made using squid ink and smoked eel. These were little mouthfuls of joy, the biscuits so soft they melted, the sweet smokey eel delicate, like a gentle first kiss with a new lover.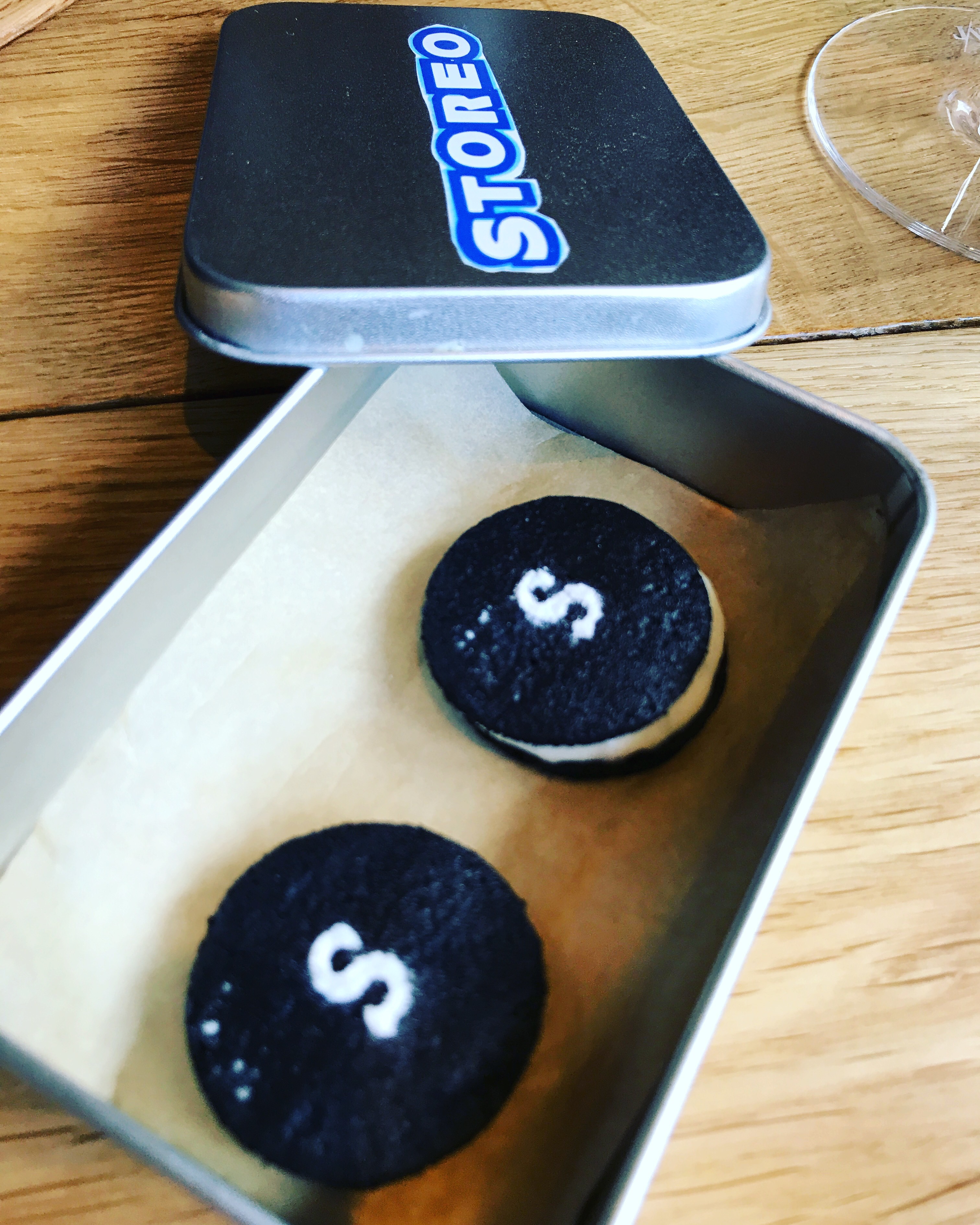 Nasturtiums filled with oyster emulsion and rye crumb, so, so pretty.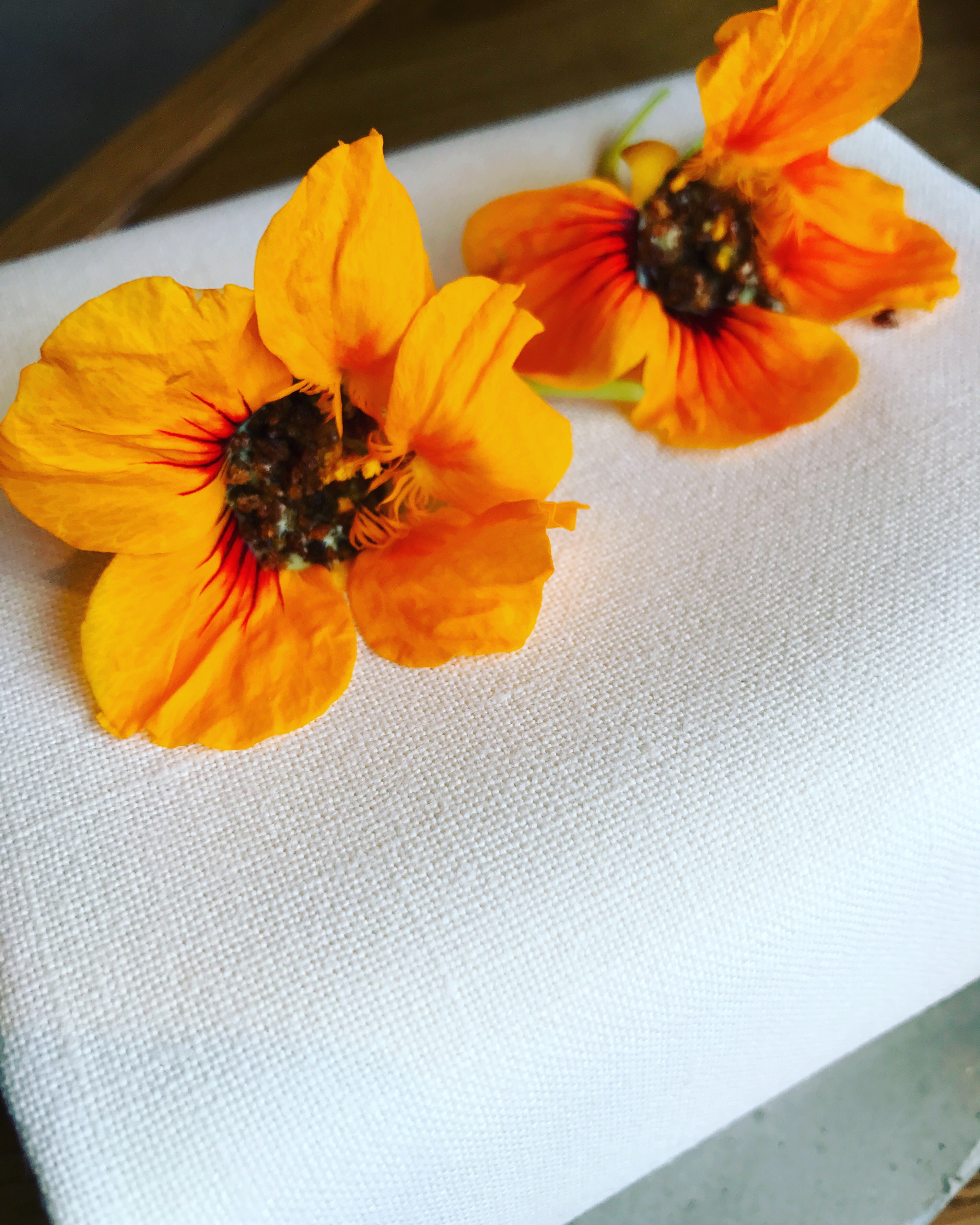 Croquettes of rabbit and polenta, were juicy and delivered on every level, perfectly balanced with pickled carrots and tarragon.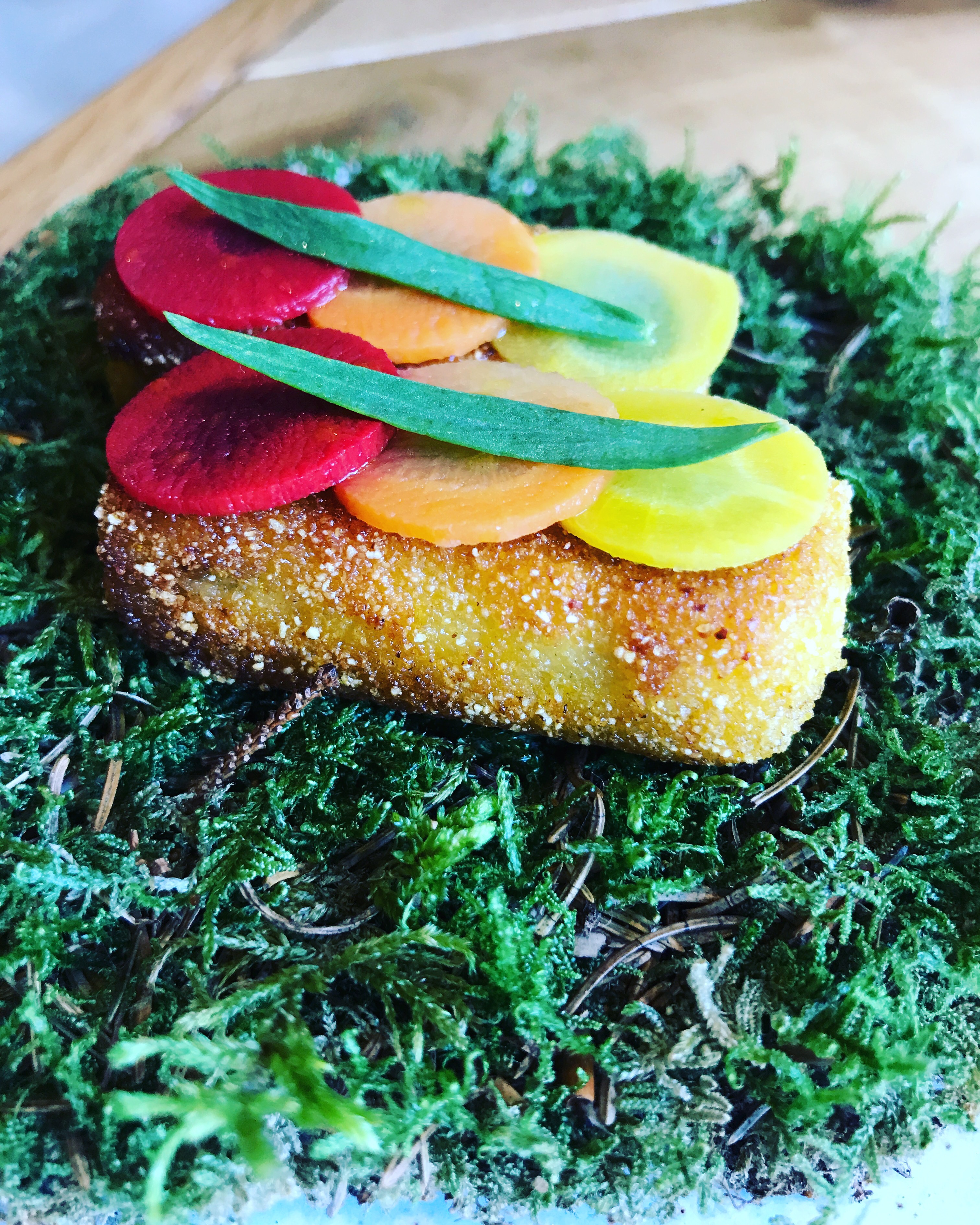 Colchester oysters with horseradish and raspberry were filled with theatre in presentation, but lacked flavour for me, mostly due to the temperature.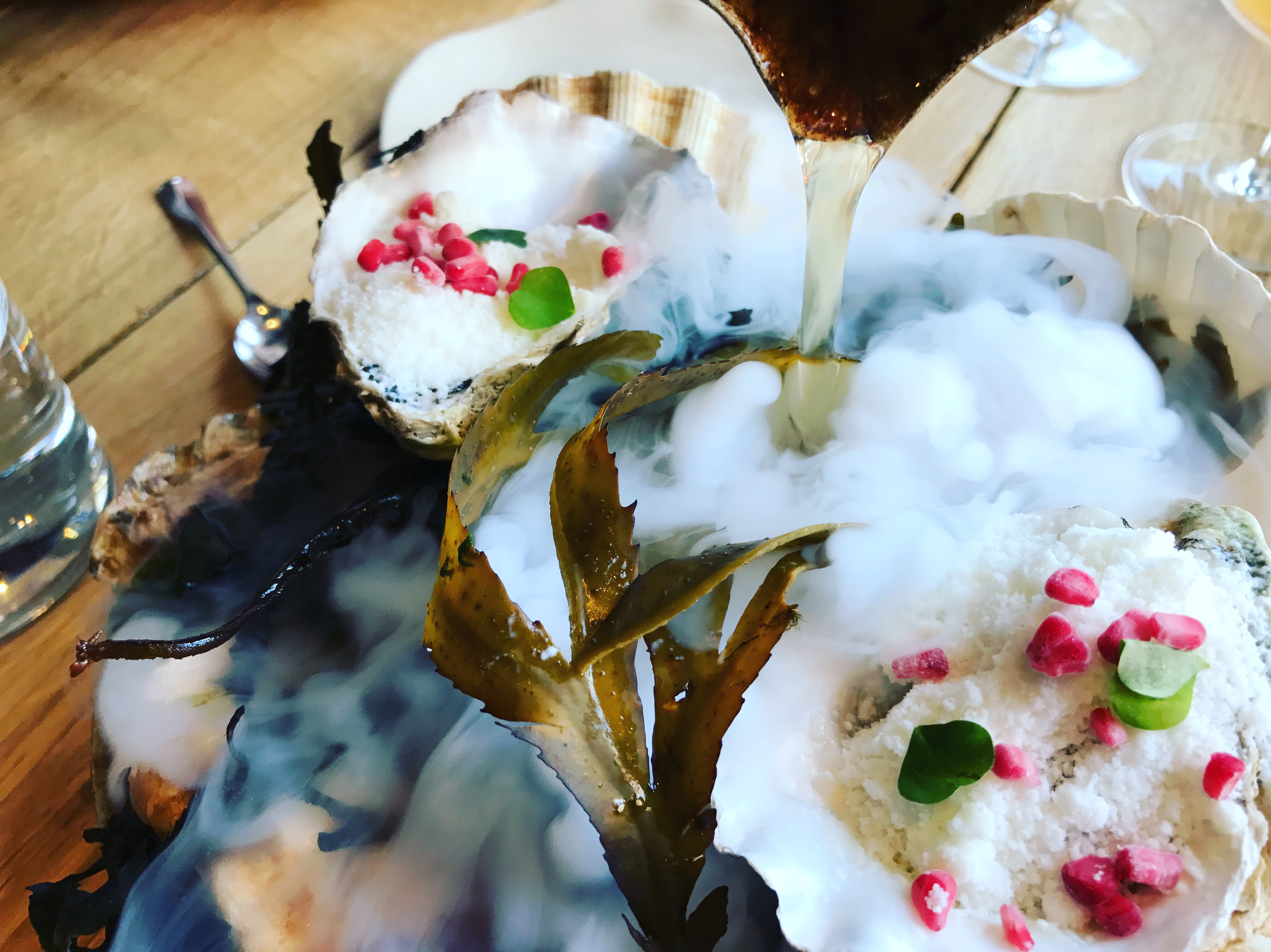 A final extra snack was a tiny bruschetta of Isle of Whyte tomatoes with vanilla. Sunshine on a plate.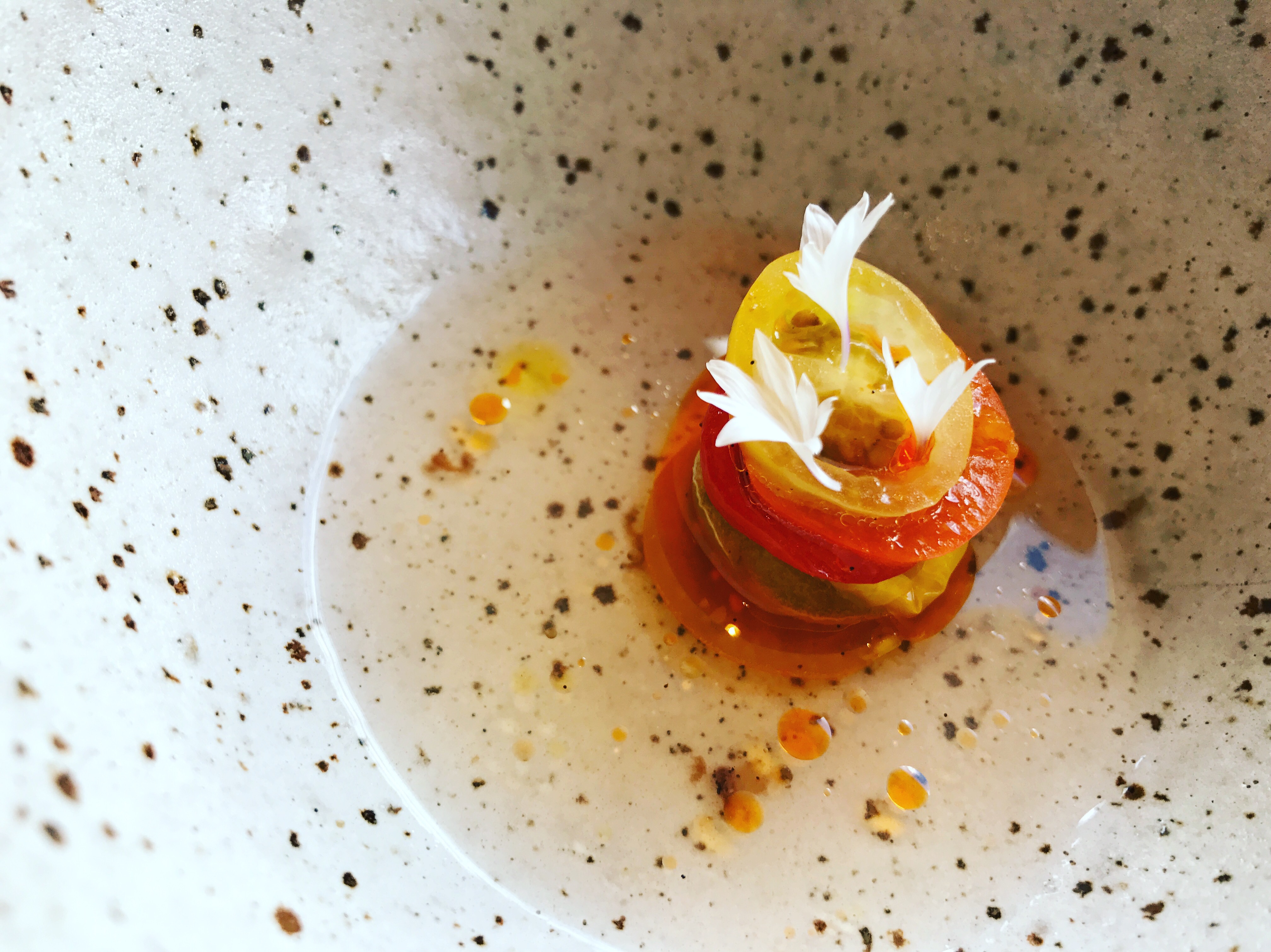 Patrick brought our first drinks pairing, the Winston Churchill ( I think is what it's called). The presentation was quirky, the bottles nestled on a bed of tobacco, inside a cigar box. This cognac, smoked brown ale and orange bitters cocktail was very reminiscent of childhood for me, as the sweet smell of tobacco reminded me of my grandad, a pipe smoker.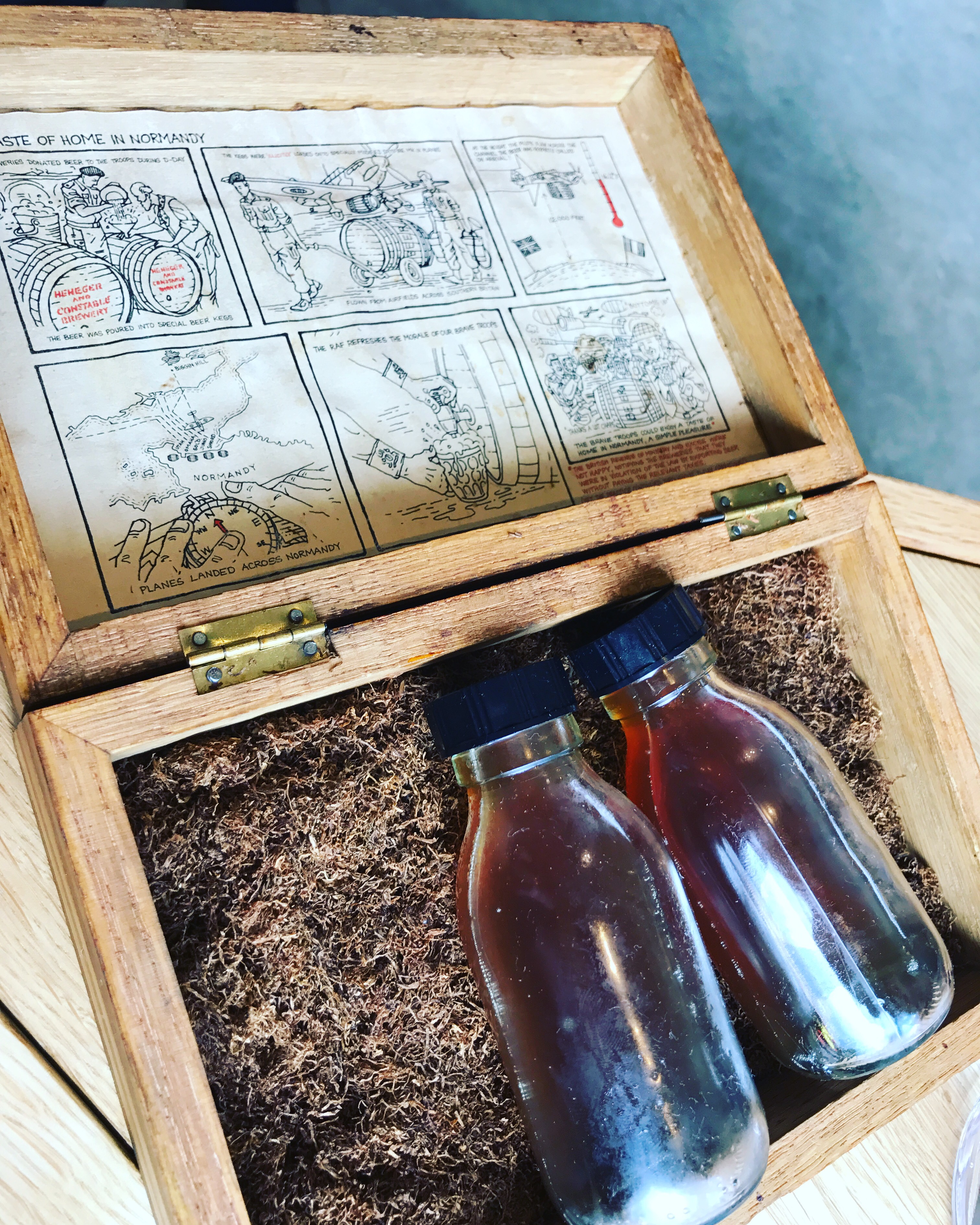 The story begins, Chapter I: Childhood. A little candle arrived with bread, beef extract and celery relish.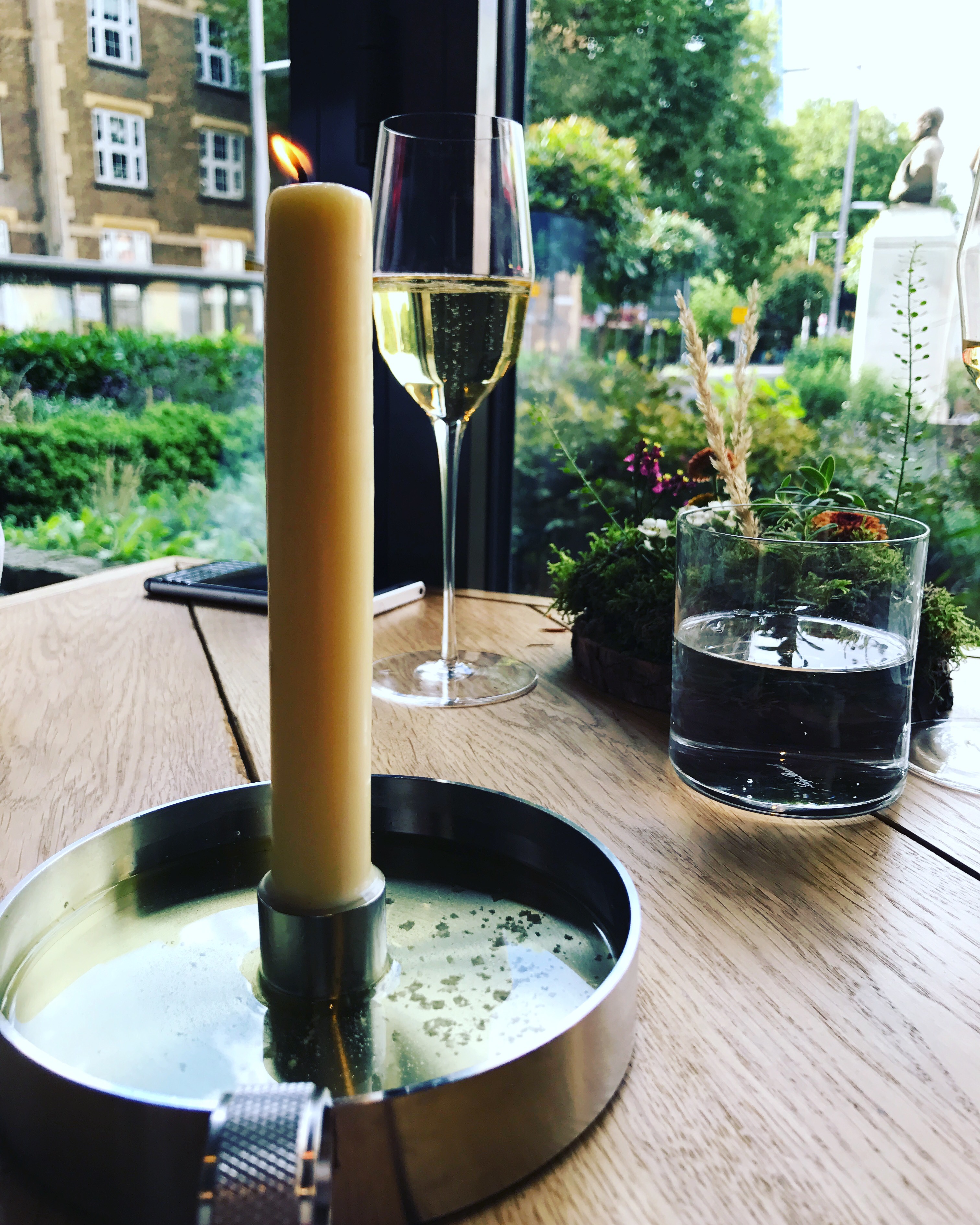 I think I enjoyed Jones' face, hearing the candle was made of dripping and we should dip our bread into the melting wax, almost as much as I enjoyed the dish. We longed for more of the crusty bread but managed to resist, knowing there was much more to come.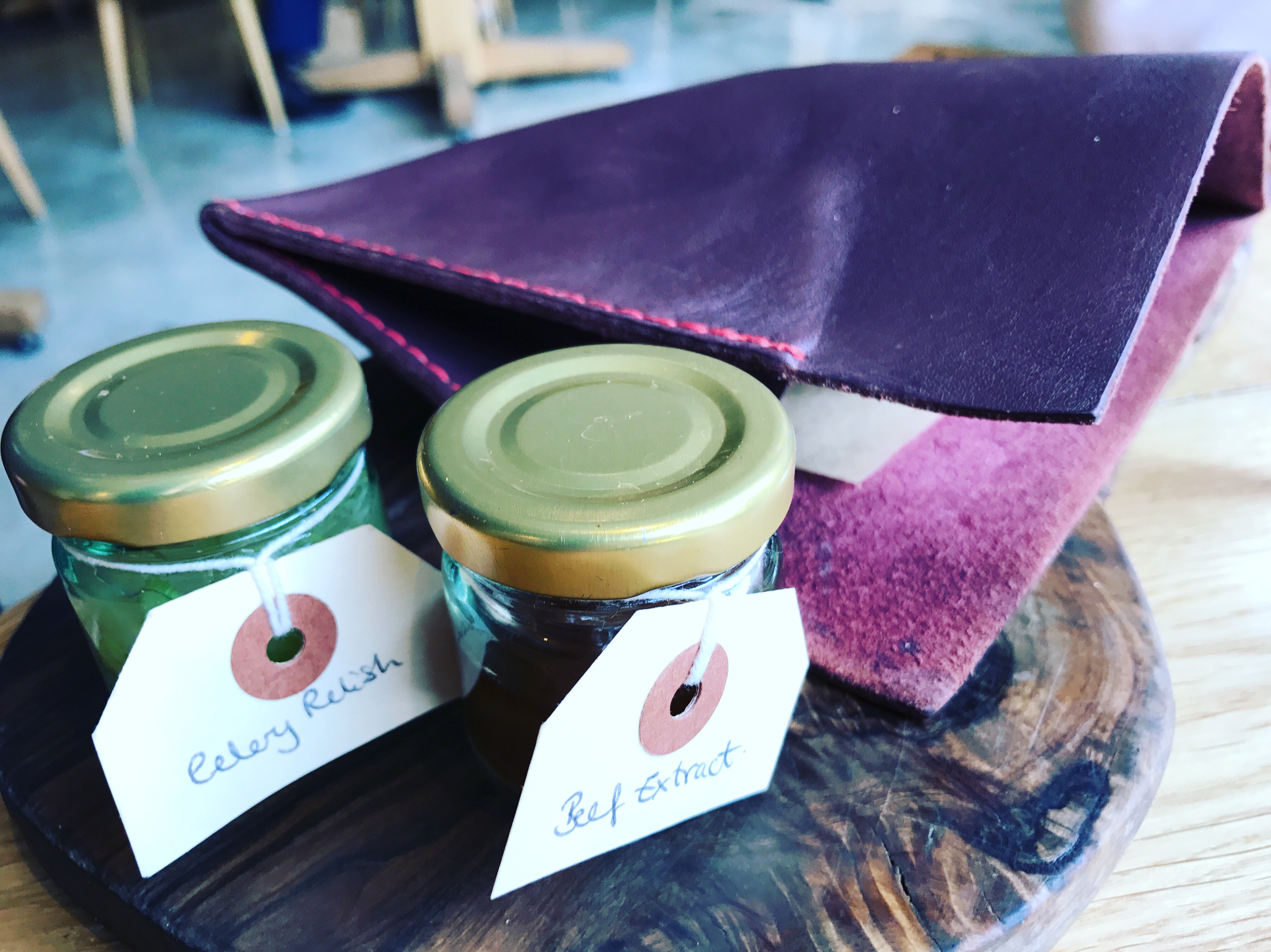 Onions and lovage was a homage to the simple onion, probably my desert island vegetable. The caramelised onions were sweet and sticky, those on top sharp. Gin soaked tapioca was poured around this little mound of love, the flavour subtle but a good contrast to the richness of the onions.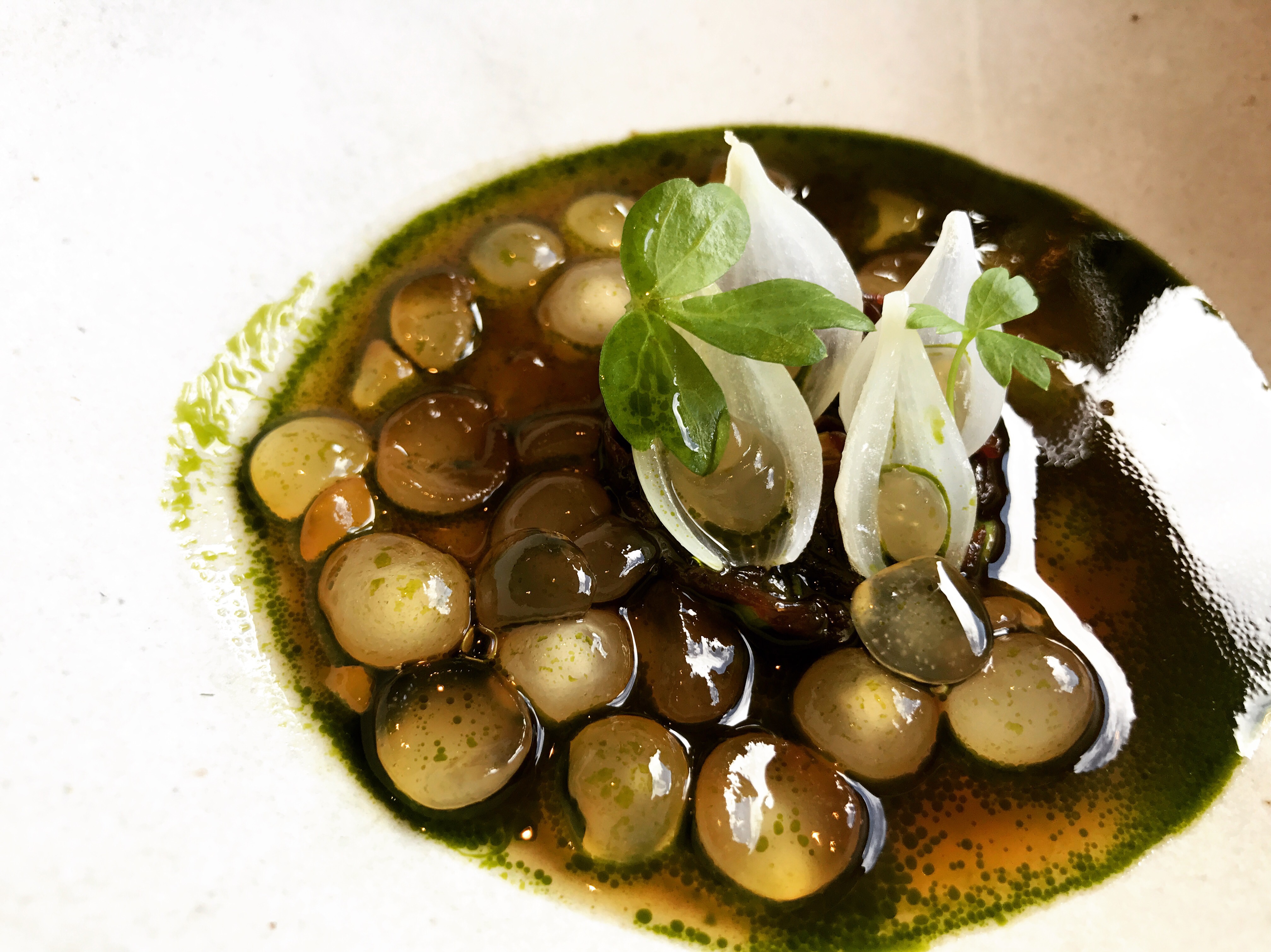 With this, we had a glass of Story's own cider.
Chapter II: Sea, oh hello! I love seafish and these were probably me favourite courses. Crayfish and sweetcorn, was stunning. The tender, sweet crayfish and light foamy bisque, the creamy corn all beautifully offset by the sharp burst of dill berry. Patrick served us an excellent white from California called Holus Bolus.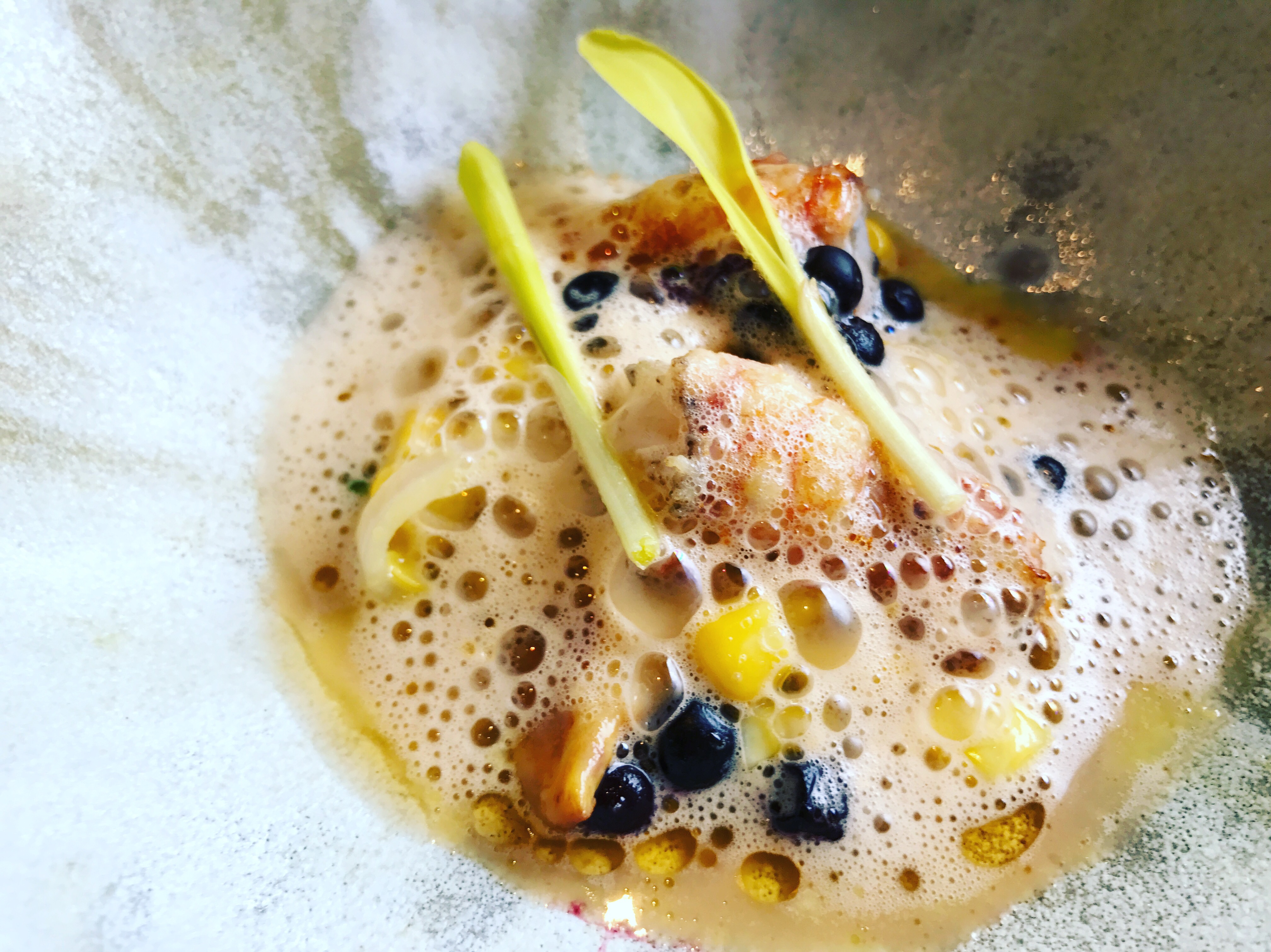 Scallops are one of my favourite things and I was excited to try Tom's version with ash and cucumber. The dish looked like an abstract painting, the scallops so light and fresh. Again, it's an extremely complex but simple dish. Subtle hints of dill and pepper nasturtiums made every mouthful dance.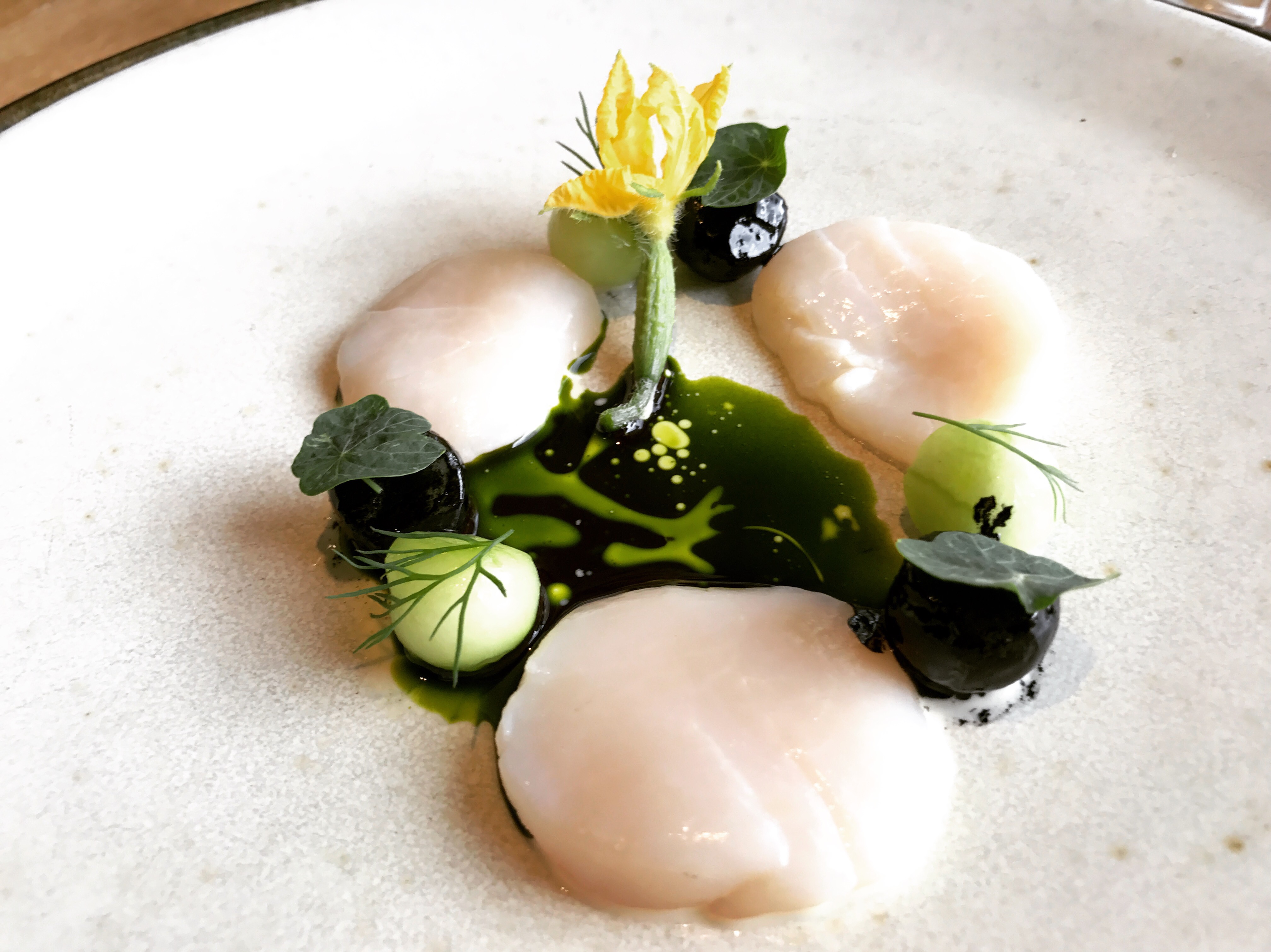 With this, we had my favourite of the drinks pairing, the rum diary. This had two different rums and was made with lactic acid which gave it an incredibly smooth, creamy texture. This isn't available by the bottle, sadly. Had it been, we'd have left with one.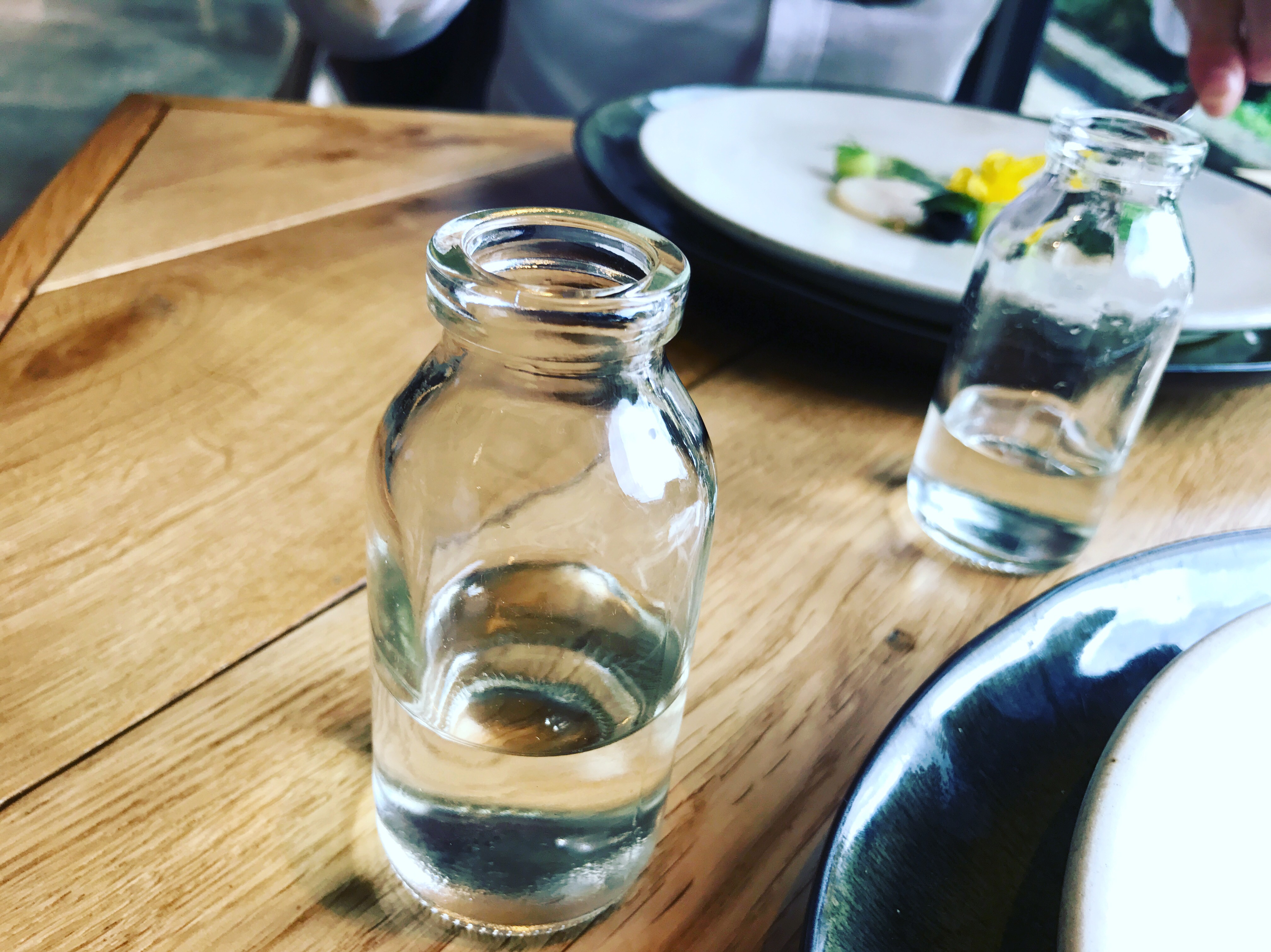 Next was our additional course, celeriac risotto with truffle.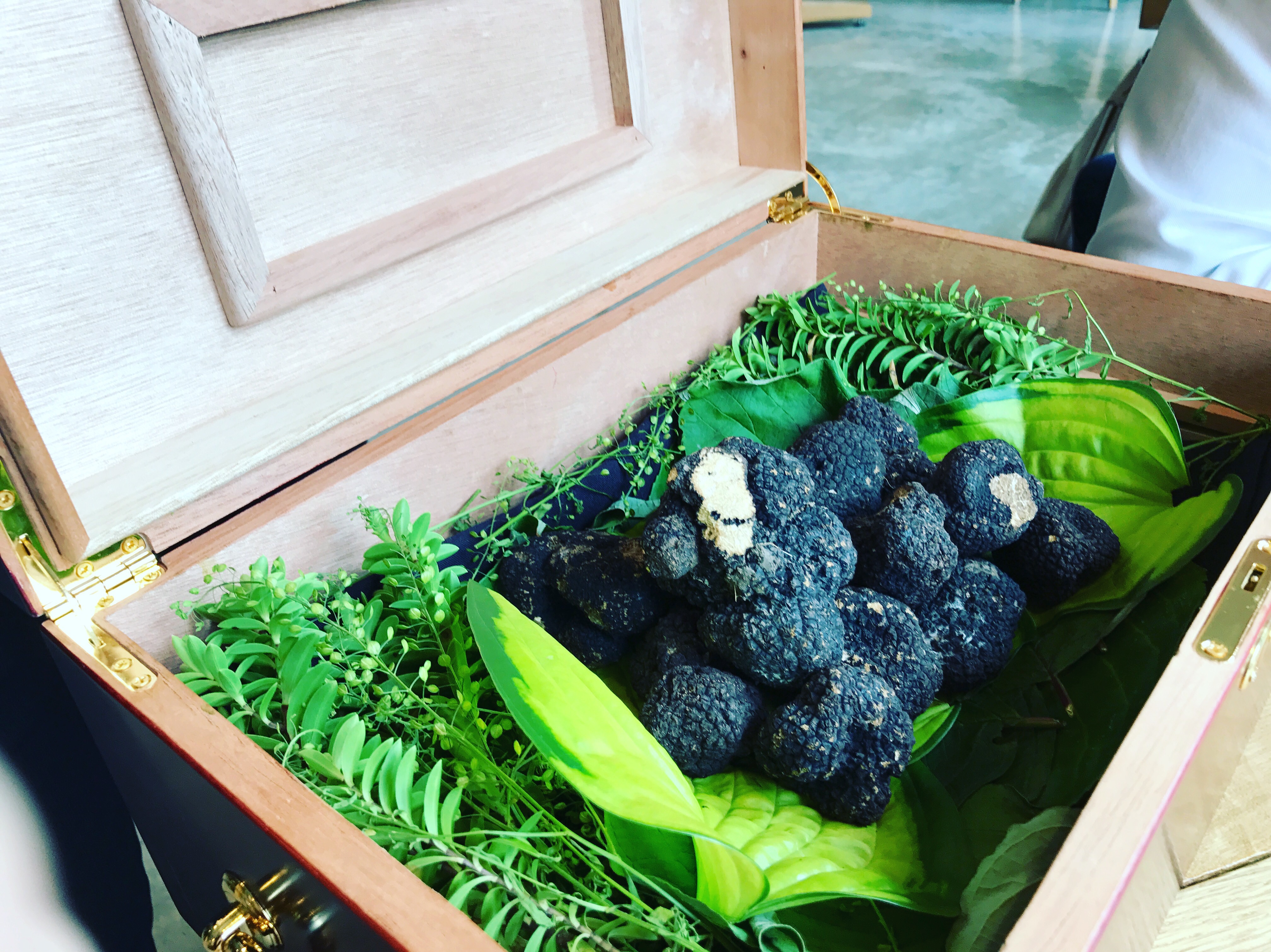 In my excitement over the truffles, I overlooked the celeriac, which I don't really love. I needn't have worried, it wasn't overly strong. What is was, was creamy and unctuous, piled high with woody, fragrant truffles.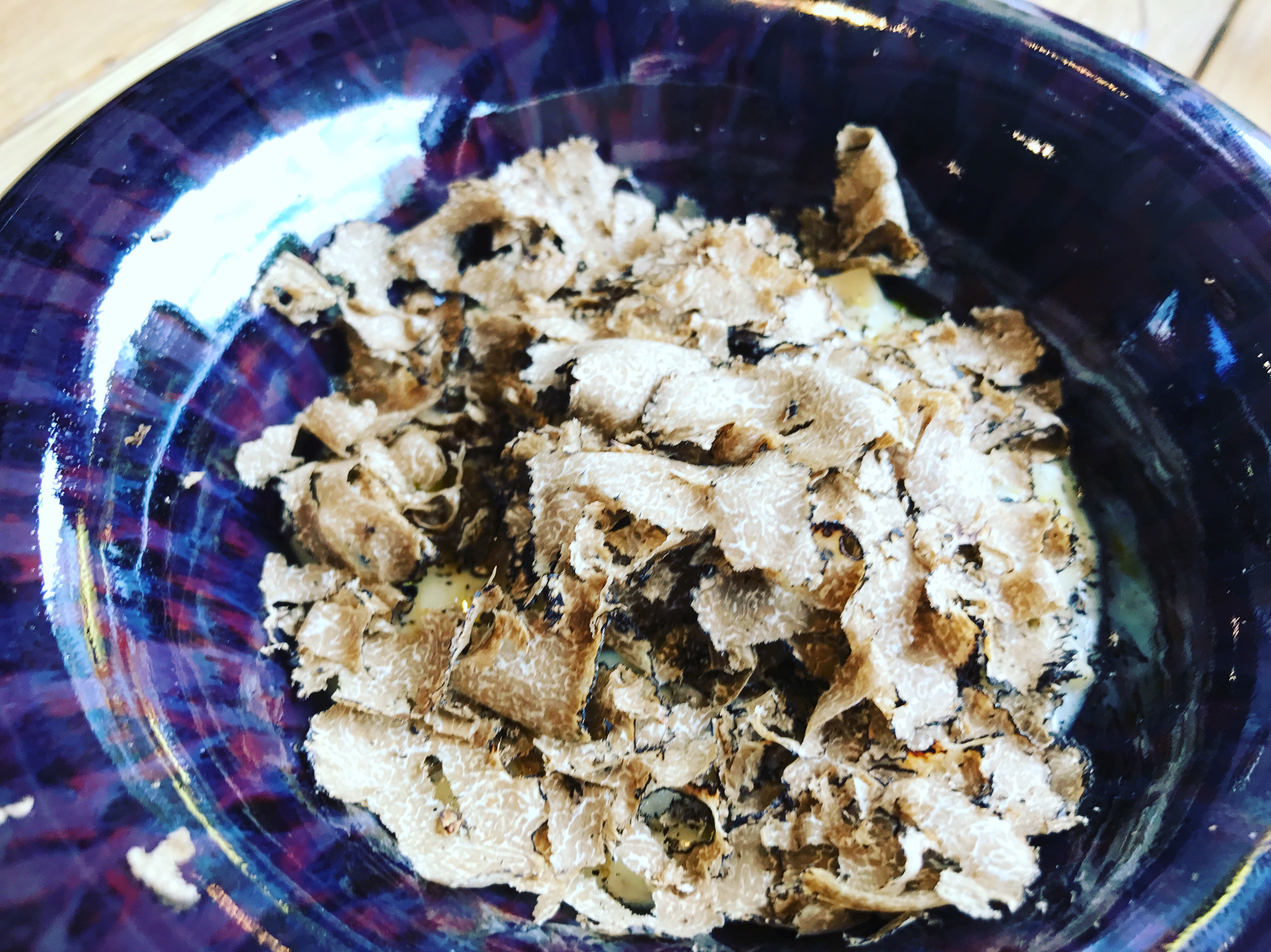 Chapter III: Land; the first course seemed improbable in a Michelin star restaurant, just mashed potato with a little coal and Dijon. The tiny crunch of the beans against that buttery goodness was divine.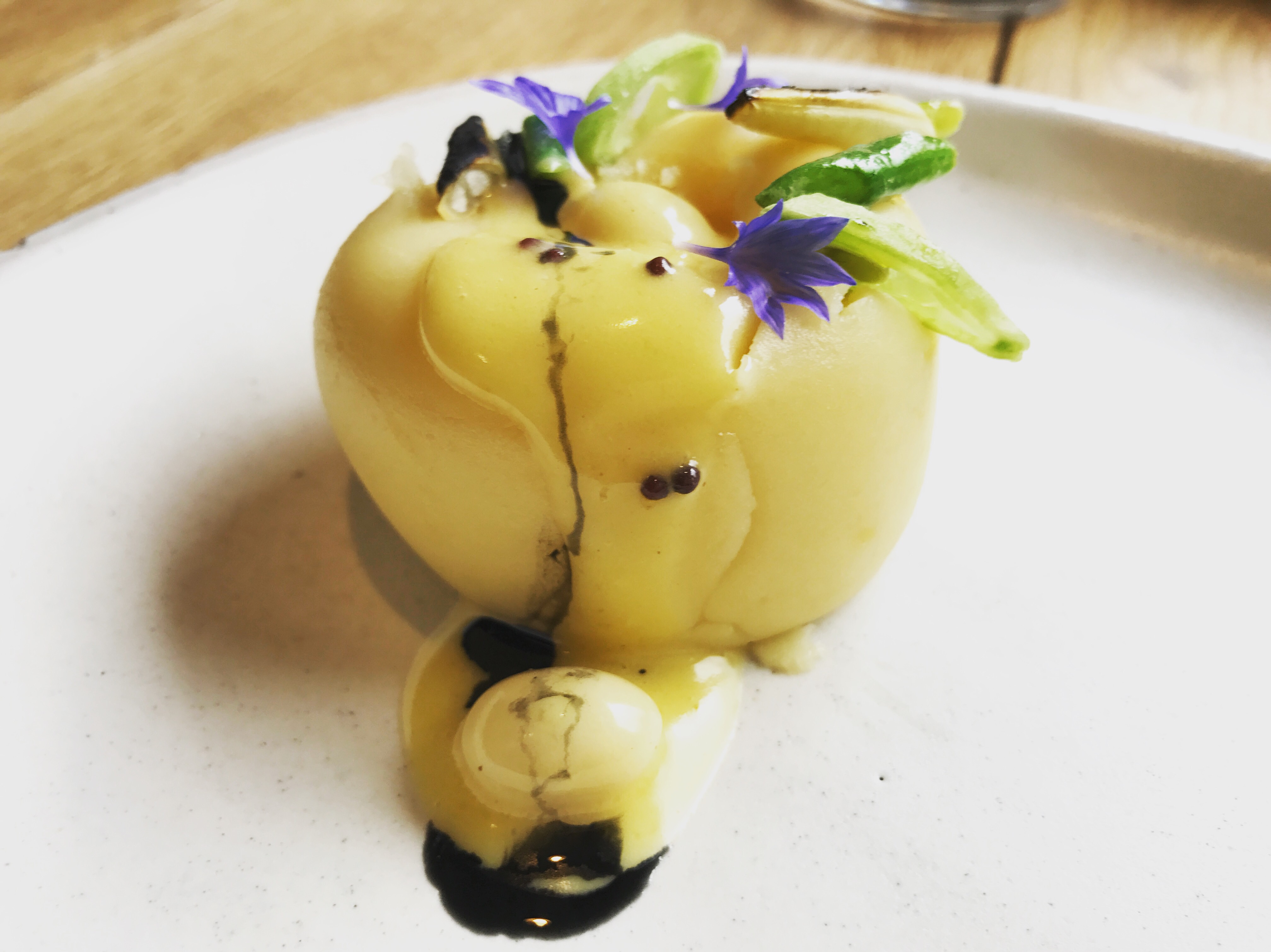 Our final savoury dish was partridge, pear and dandelion, with the storybook title, Partridge in a Pear Tree, at least I'm sure that what Joe the maitre'd called it. While the breast was juicy and perfectly cooked, the little parcel of leg meat wrapped in pastry stole the show, packed with rich, gamey flavour.
Chapter IV: The end. Lemon dill and almond, was all about contrast. Rich, sumptuous ice cream, cold dill snow, sharp lemon, and crisp meringue.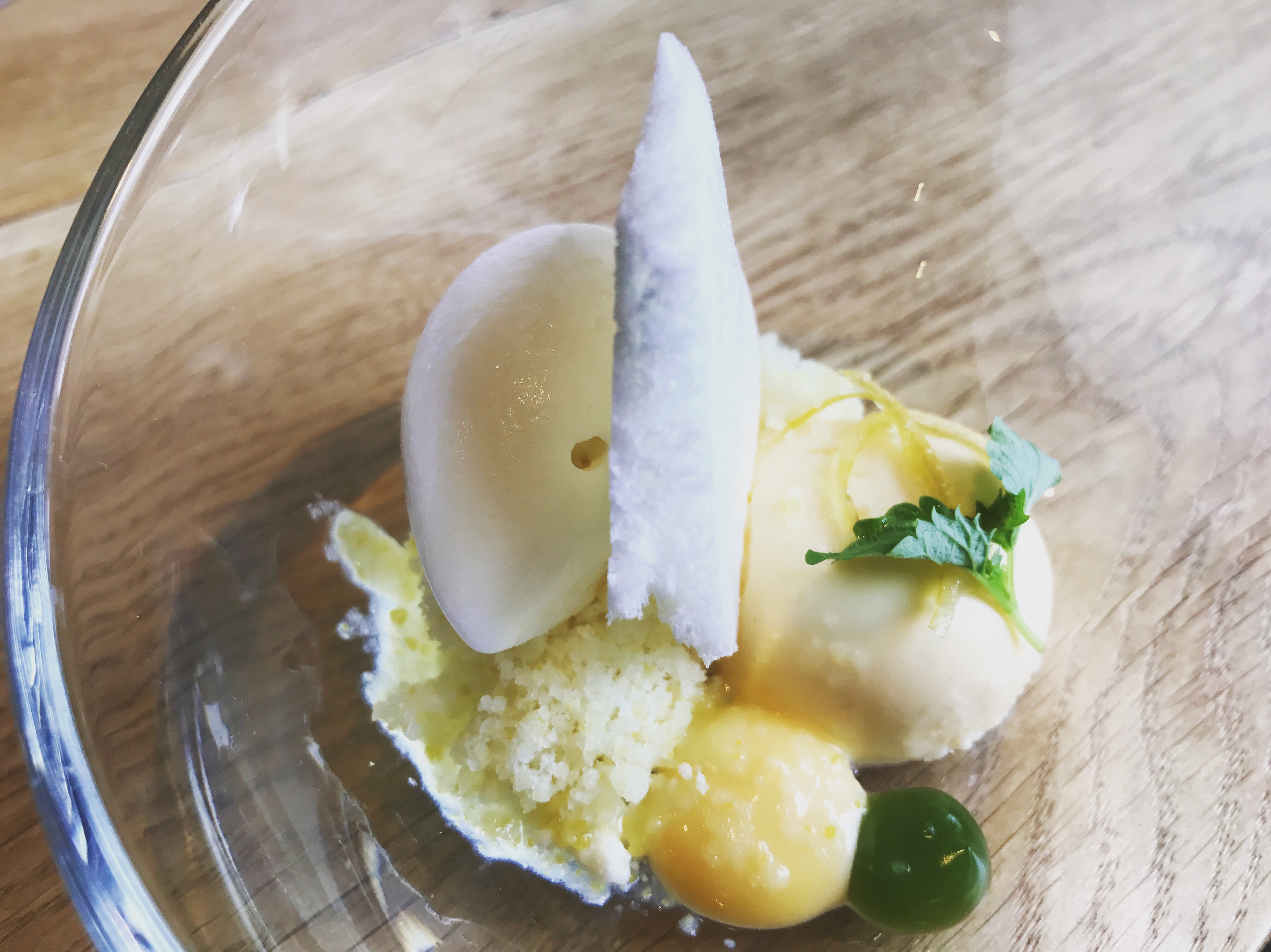 We finished with some magical petit fours and, like all good stories, I didn't want it to end.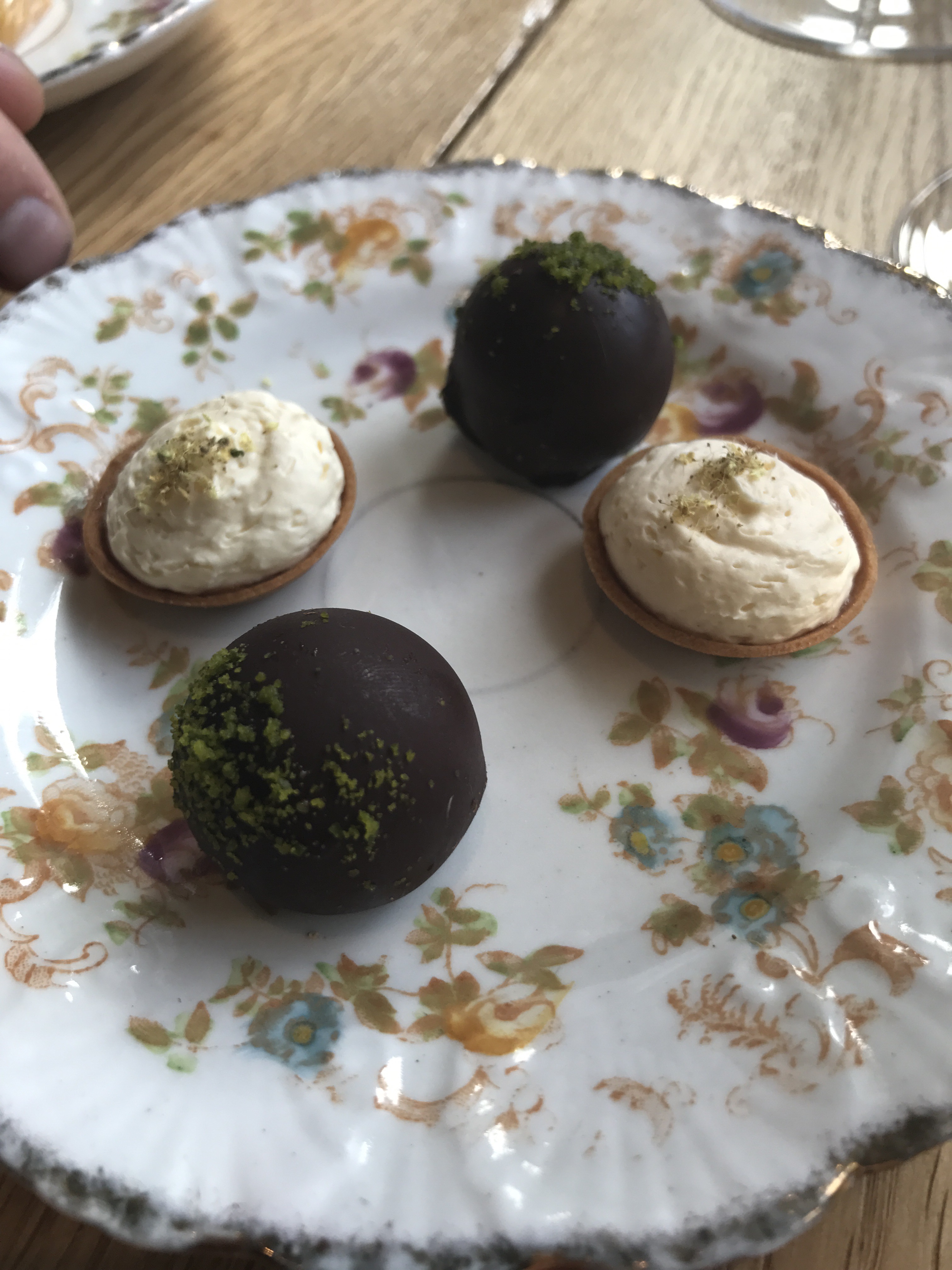 As a child, I devoured The Magical Faraway Tree books which transported me in each chapter to another land. Tom Sellers menu and wonderful team certainly evoked that childhood memory for me.
(Visited 243 times, 1 visits today)