When NN announces at dinner in Malta that she will be in London in a few weeks, I'm delighted. She is an excellent dinner companion, not least because she thinks only in terms of pleasure, rather than cost. I know I can choose somewhere indulgent and she won't flinch.
I am close to booking Roganic of which I have only read reviews but also  heard very good things from real people. But then I remember Typing Room in the Town Hall Hotel in Bethnal Green and my promise to myself to go, and so  this is where we find ourselves on Friday night.
Scandi in style, the dining room is beautifully simple. We are offered a choice of tables and I, of course, opt for one in front of the kitchen where I can watch the action.
There is one tasting menu on offer at £65, five courses, nothing else. And,indeed, why would you, when what's on offer is quite simply perfect and so well priced.
We start with a seasonal champagne cocktail with rub herb and basil. It's the perfect antidote to the warm summer's evening, sweet and sharp. Alex, our sommelier, takes us through the two wine pairings on offer – the seasonal at £42, which we opt for, and the prestige at £100. He continues to be an excellent host and source of information, over the many hours we sit and eat and talk and watch the kitchen.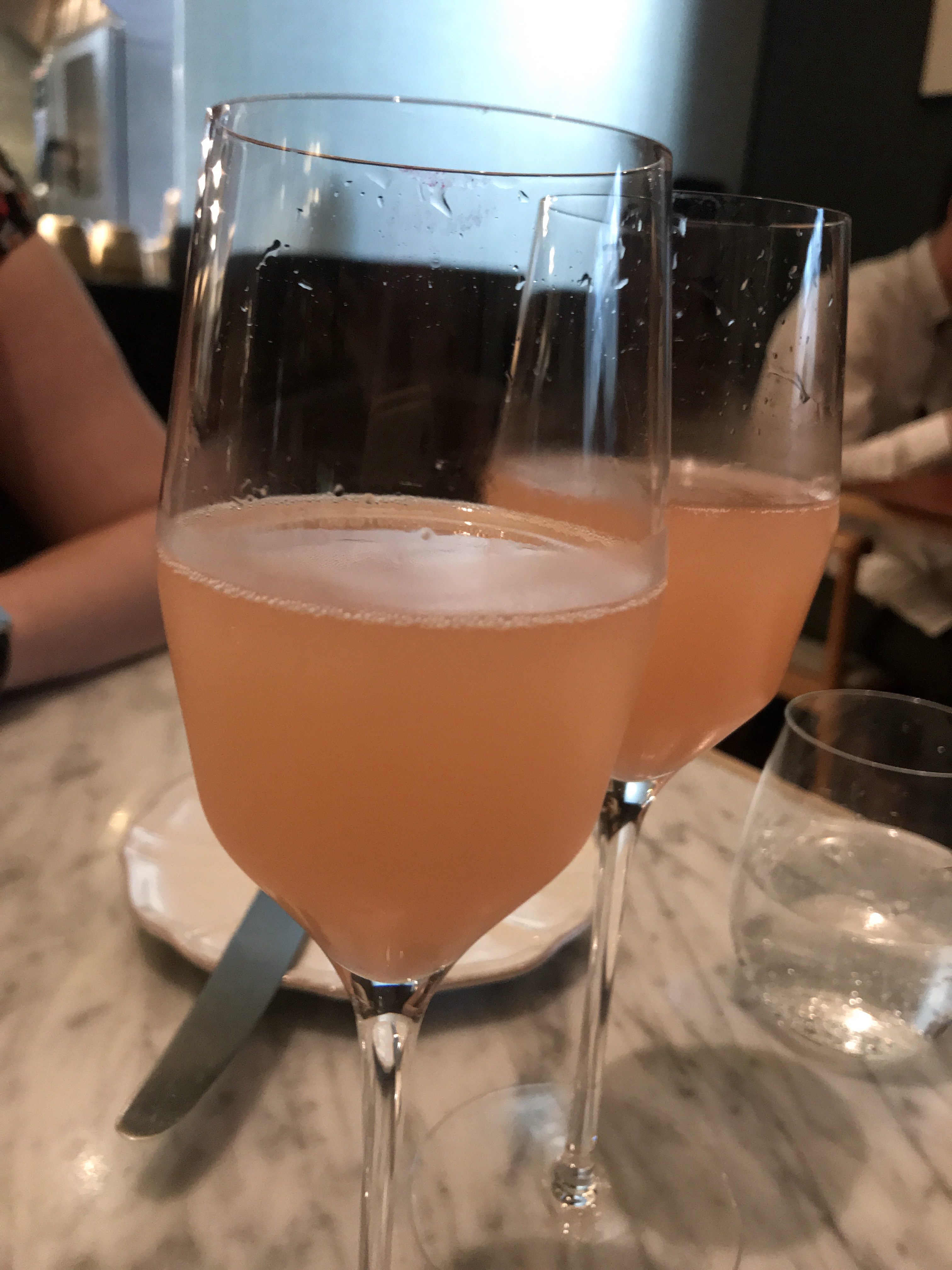 We begin with snacks. First to arrive is crispy cod skin,  topped with tiny turrets of cod brandade, oyster emulsion and dill.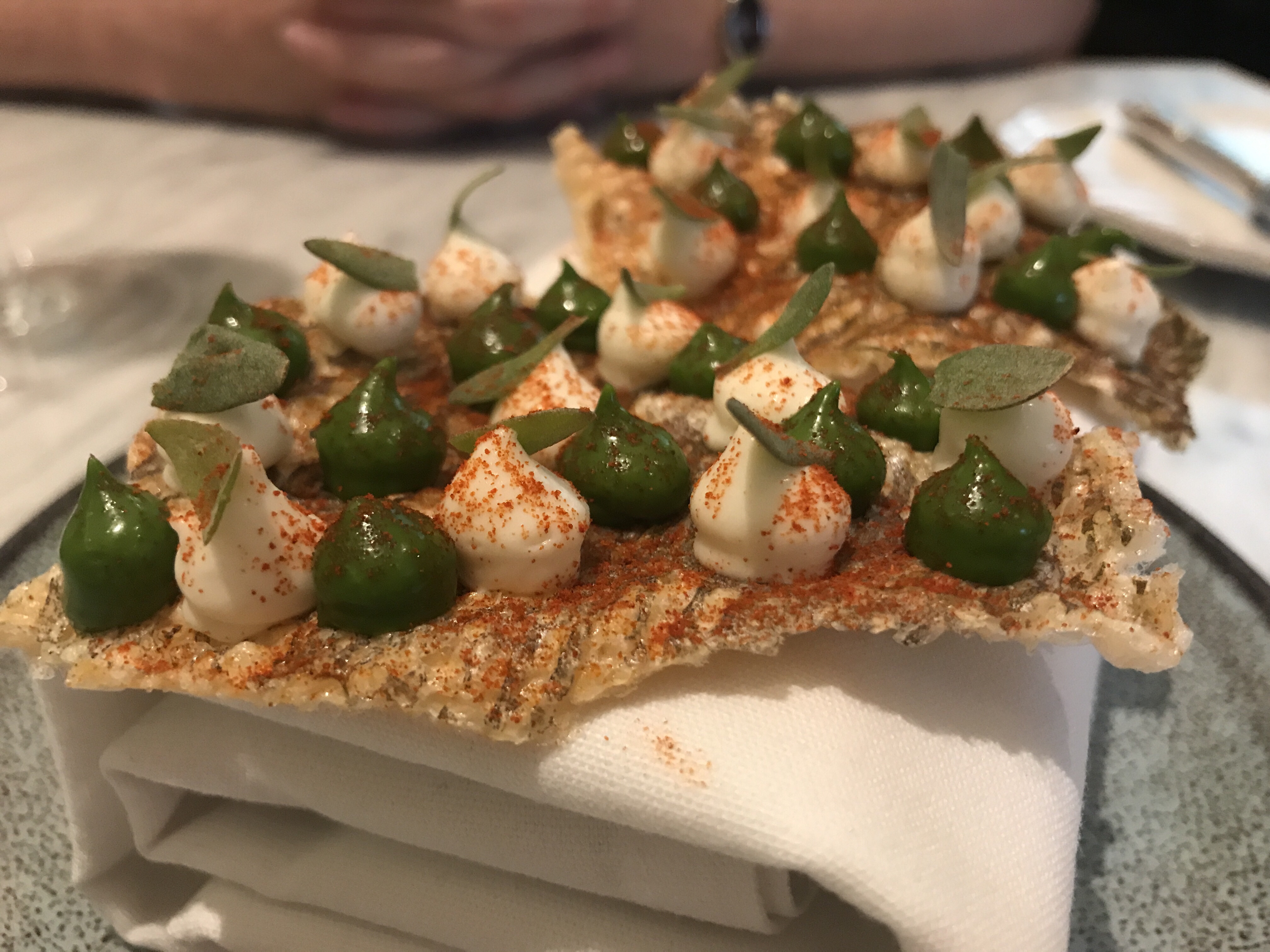 It is light, like a fish pork scratching. The cod is soft and rich with just a hint of bitterness in the dill to balance it out. It's a very good start. NN is delighted by the fact she is eating fish skin, the wonder of it all.
Next to arrive is crispy pig's head with smoked apple. It is simple but perfect. The meat is sweet and slightly smokey inside the crisp casing, topped with tiny puffs of crackling. It is close to Smokestak perfection, and that is saying something.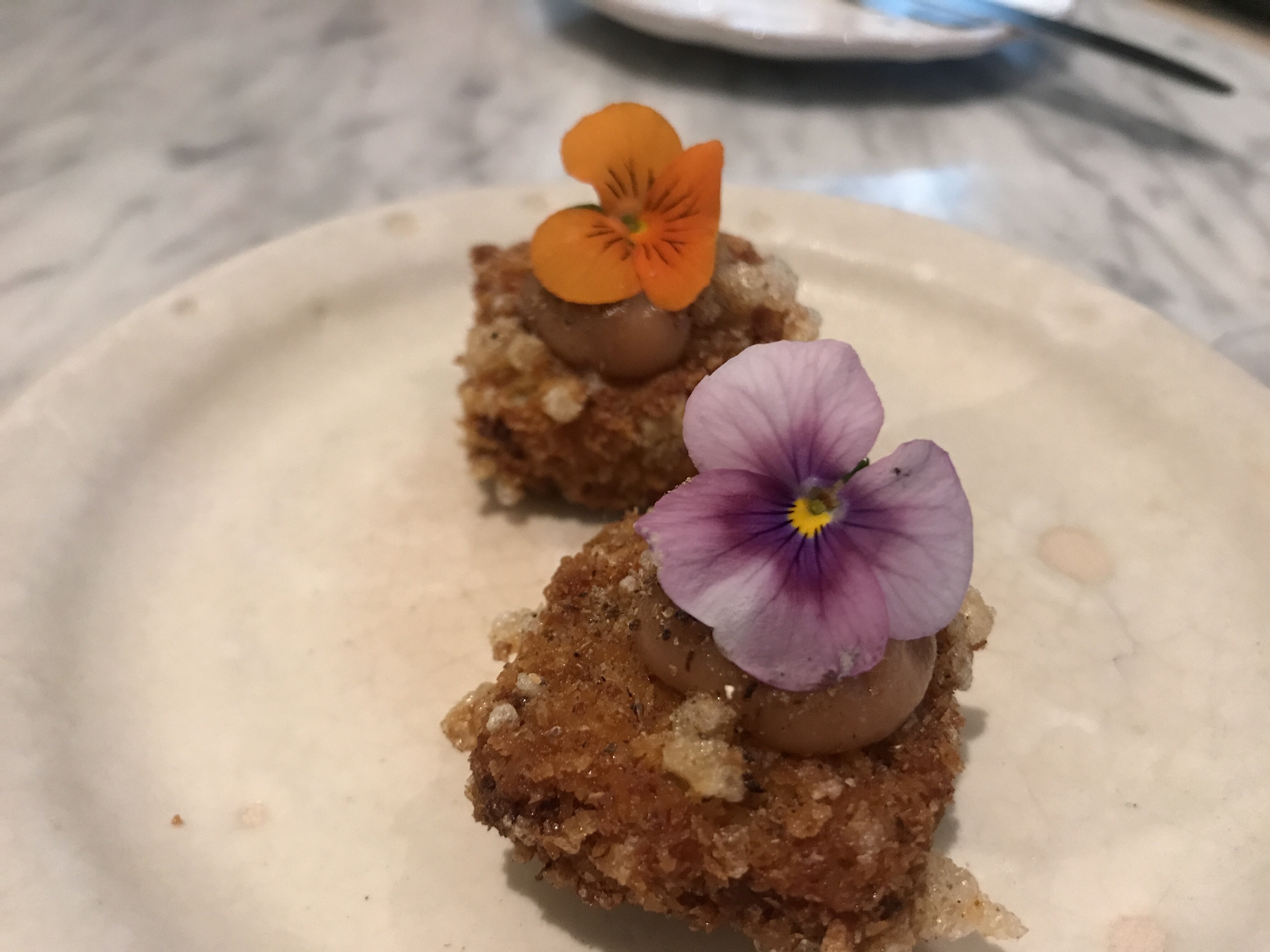 Regular readers will know of my unadulterated love of bread and butter. Here we are served warm IPA sourdough with Marmite butter. Sweet Jesus, why have I never eaten this before? Creamy butter seeps through the chewy sourdough, the marmite salty and yeasty, topped with crunchy snap, crackle and pop puffed barley.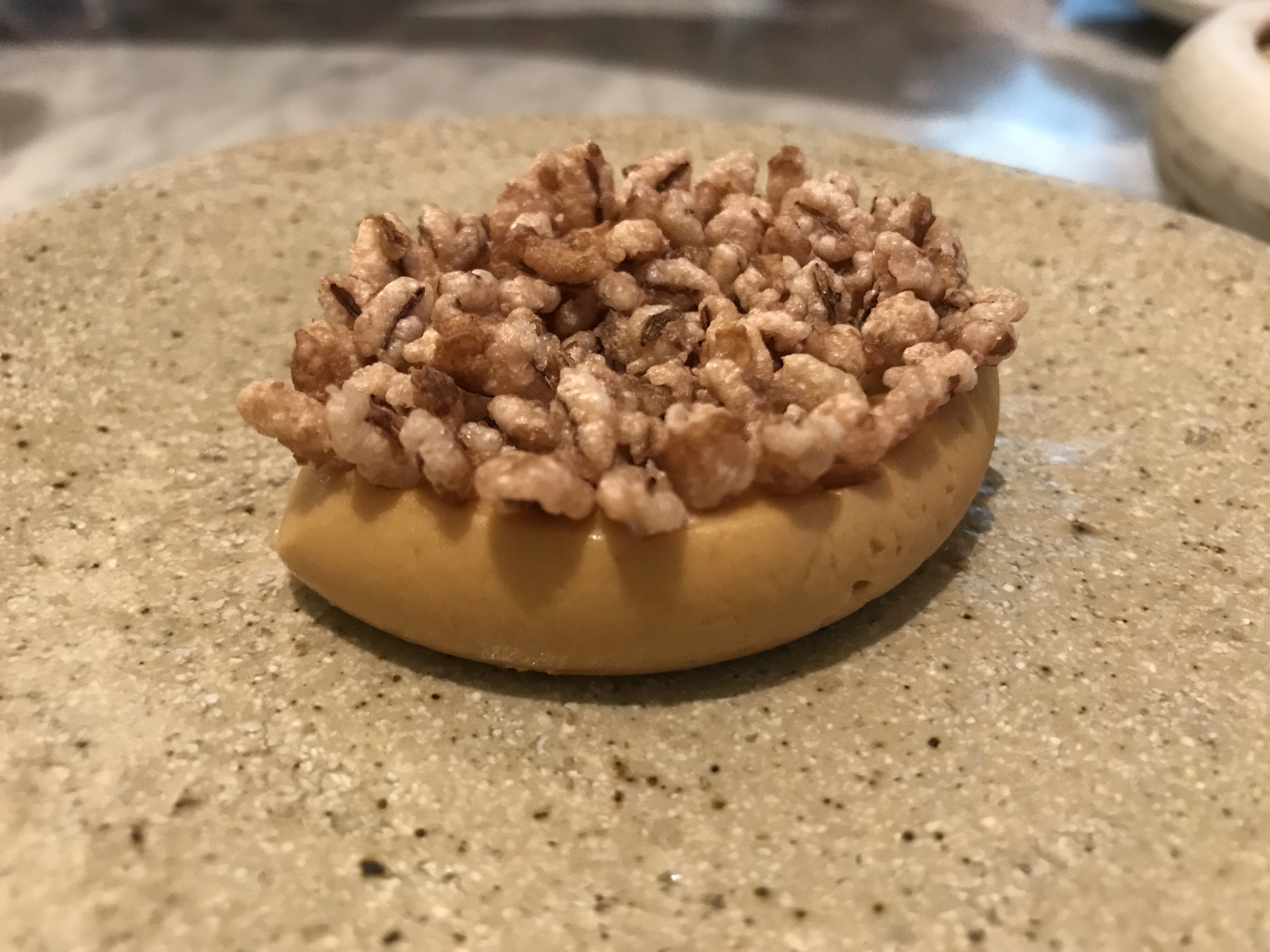 Our first course is scallop, Jerusalem artichoke, apple & monks beard. Some of my stand out dishes over the last year have been scallops.  For me, this dish is up there with Issac McHale's scallop and truffle dish and Clove Club, a dish that I have replayed so often in my mind that if it were an old video tape, there would be fuzz and scratchy lines across the screen.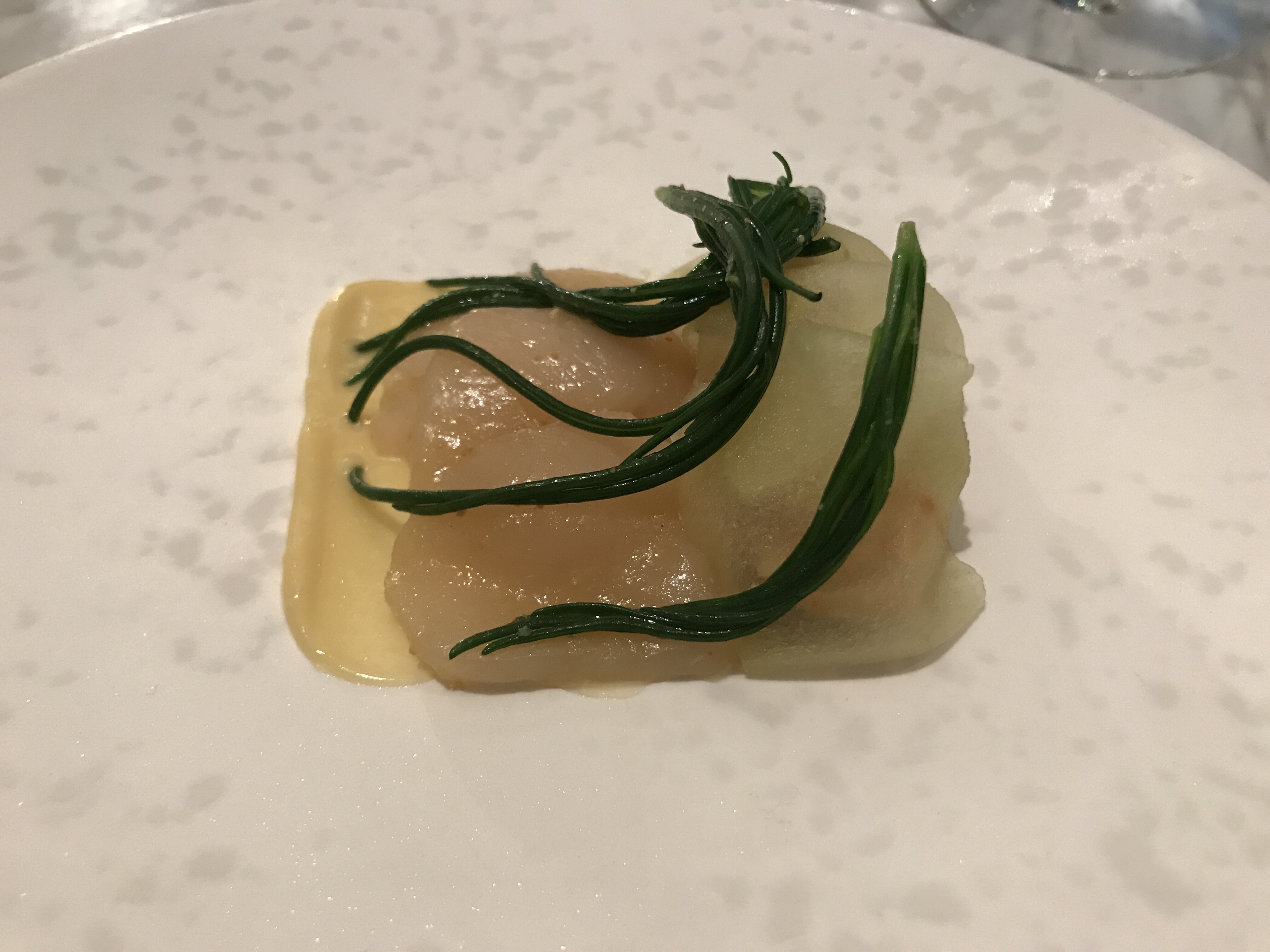 The scallop is sweet and has a hint of smoke, it melts on my tongue. A smear of Jerusalem artichoke is nutty and creamy. These soft, gentle flavours receive a massive punch in the face from the slightly sour, sherbetty apple. It's stunning, it's one I will replay and again.
Yeasted cauliflower, raisins, capers & mint presents as a 'This is your life' of cauliflower. Roasted, it is slightly bitter, sweetened where caramelised. Pickled, it dances on my tastebuds. Finally,  it's burnt wafer thin like a magnificent crisp. With the sweetness of the grapes and fresh zing of mint, it really is a plate of sweet and sour.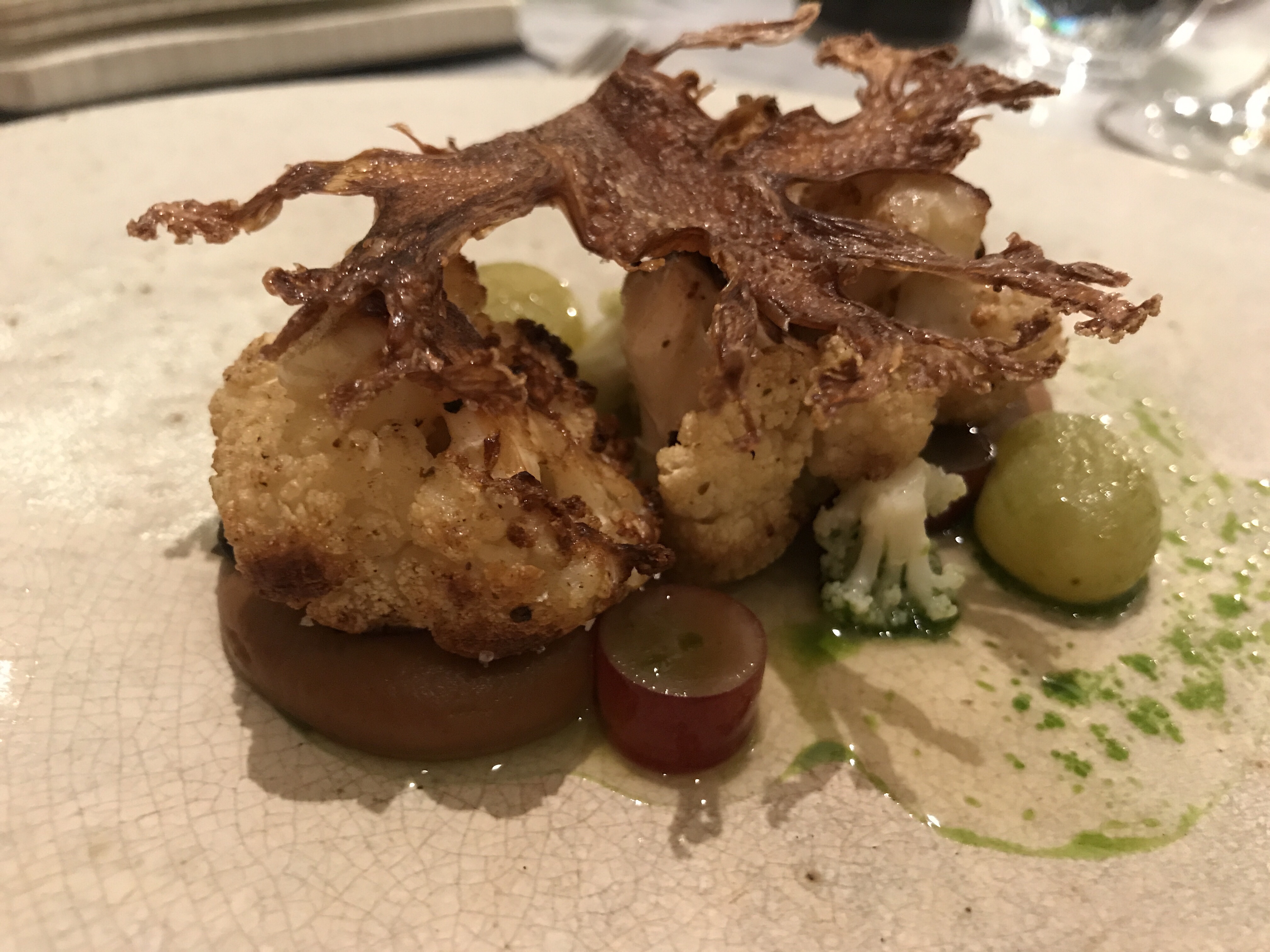 Alex brings us new wine and the tale that comes with it, to accompany cod, celeriac, cep & chicken. Like the dishes before, its every element is executed with utter perfection. Celeriac mash is unctuous, ceps provide an umami element and the cod falls apart, offset, in both texture and flavour, with the salty chicken skin crumble.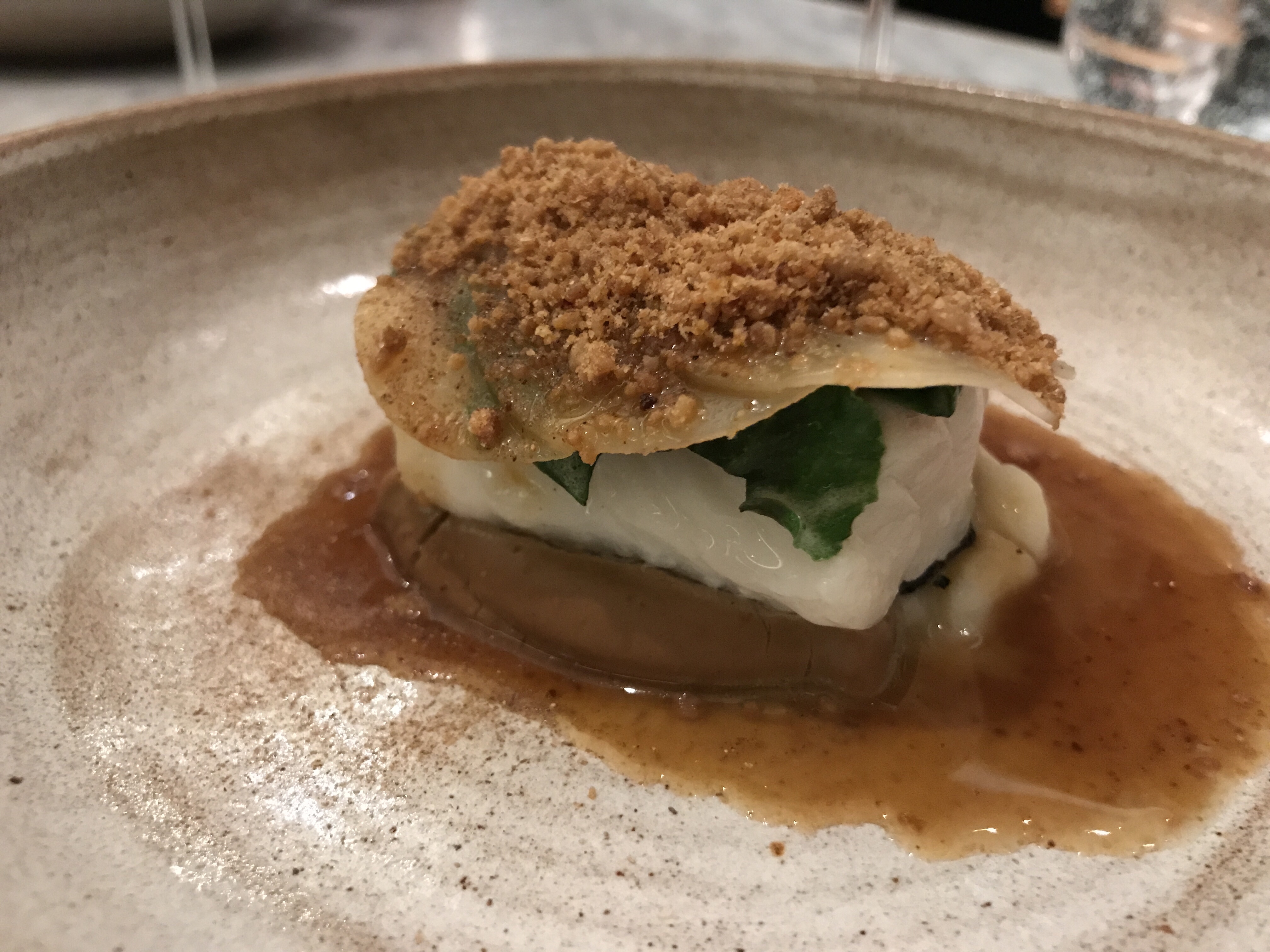 Next is lamb, turnip & black garlic. Loin of lamb is blushing and tender, but it's the breast we need to talk about, the layers of fat embracing the meat, cooked till crisp and caramel, it's flavour intense.
NN is all about the turnip, declaring it the best she has ever eaten, the flavour a complete revelation.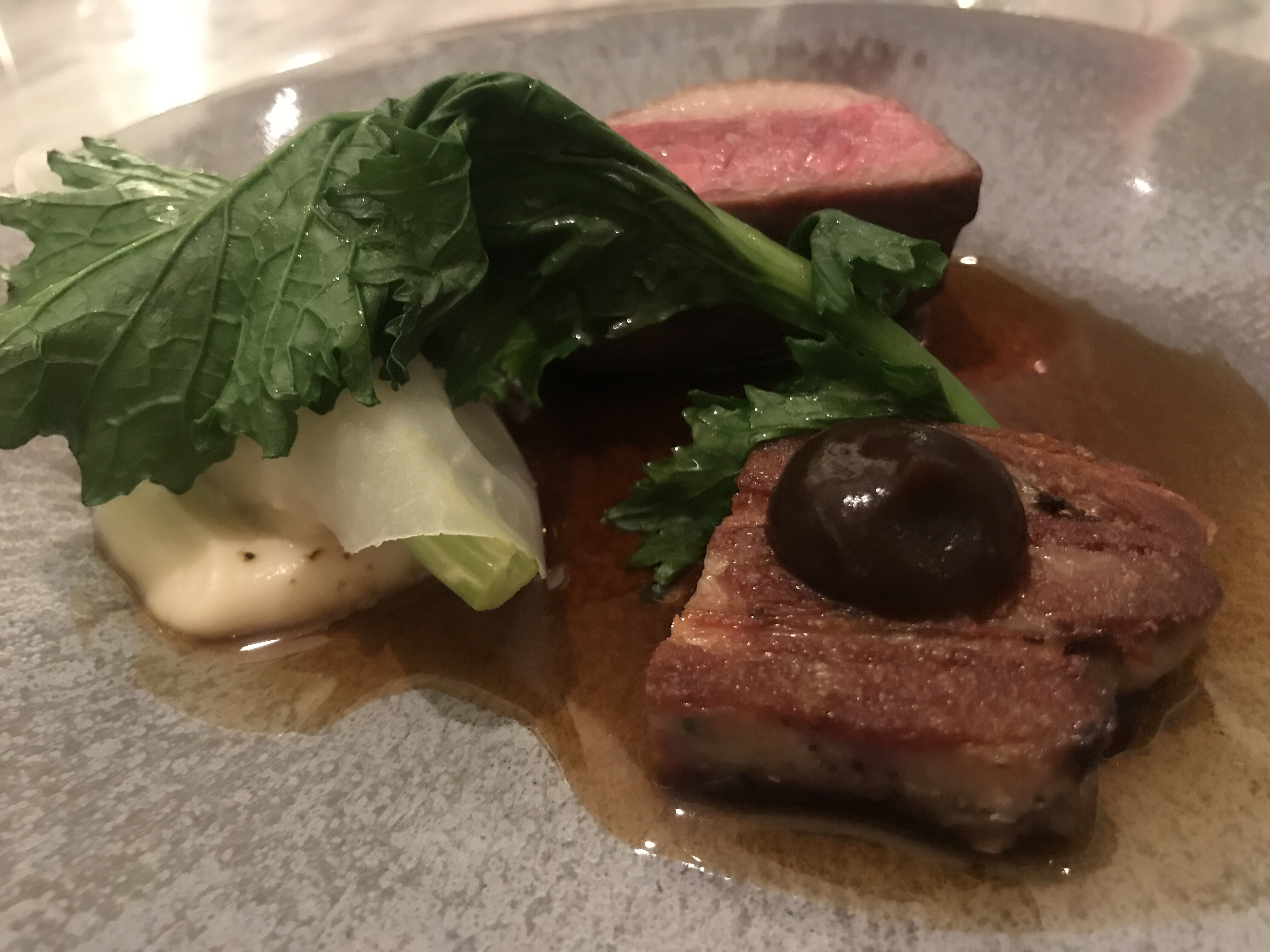 Before desert we have a palate cleanser of pine set cream, honey and lemon cordial. It's gentle and fragrant, the edible equivalent of a spring walk in sun-dappled pine forest.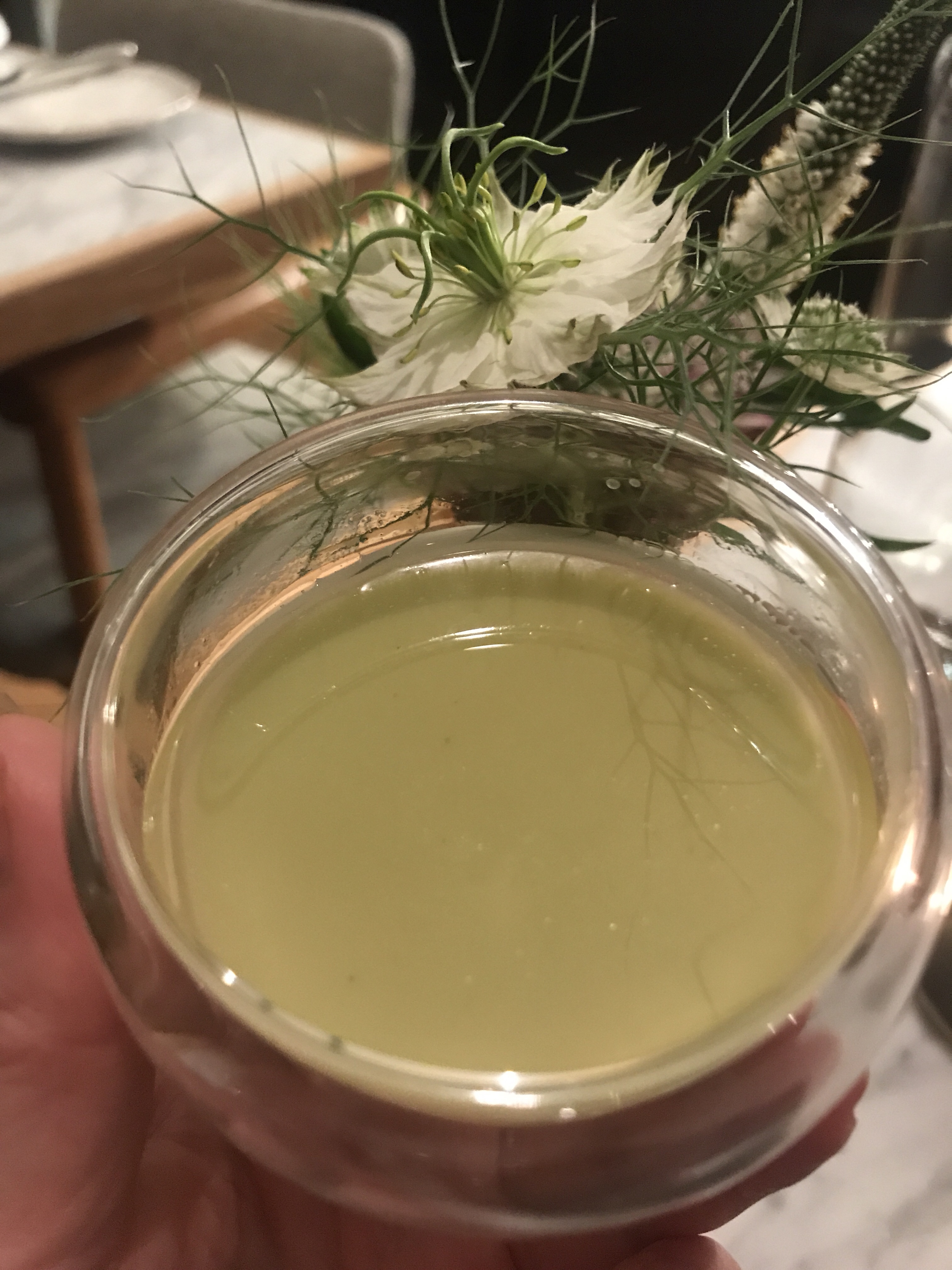 Sheeps' yoghurt, apple & dill is our final dish. It's light and fresh from the dill ice, sour from the sheep milk ice cream, with hints of sweetness from the meringue and the shortbread crumb. The cigar of apple parfait, rolled in shortbread,has a beautiful texture and flavour.
We finish four hours later. There is never any rush as we move from course to course. Our final bite a brilliant lime tea cake.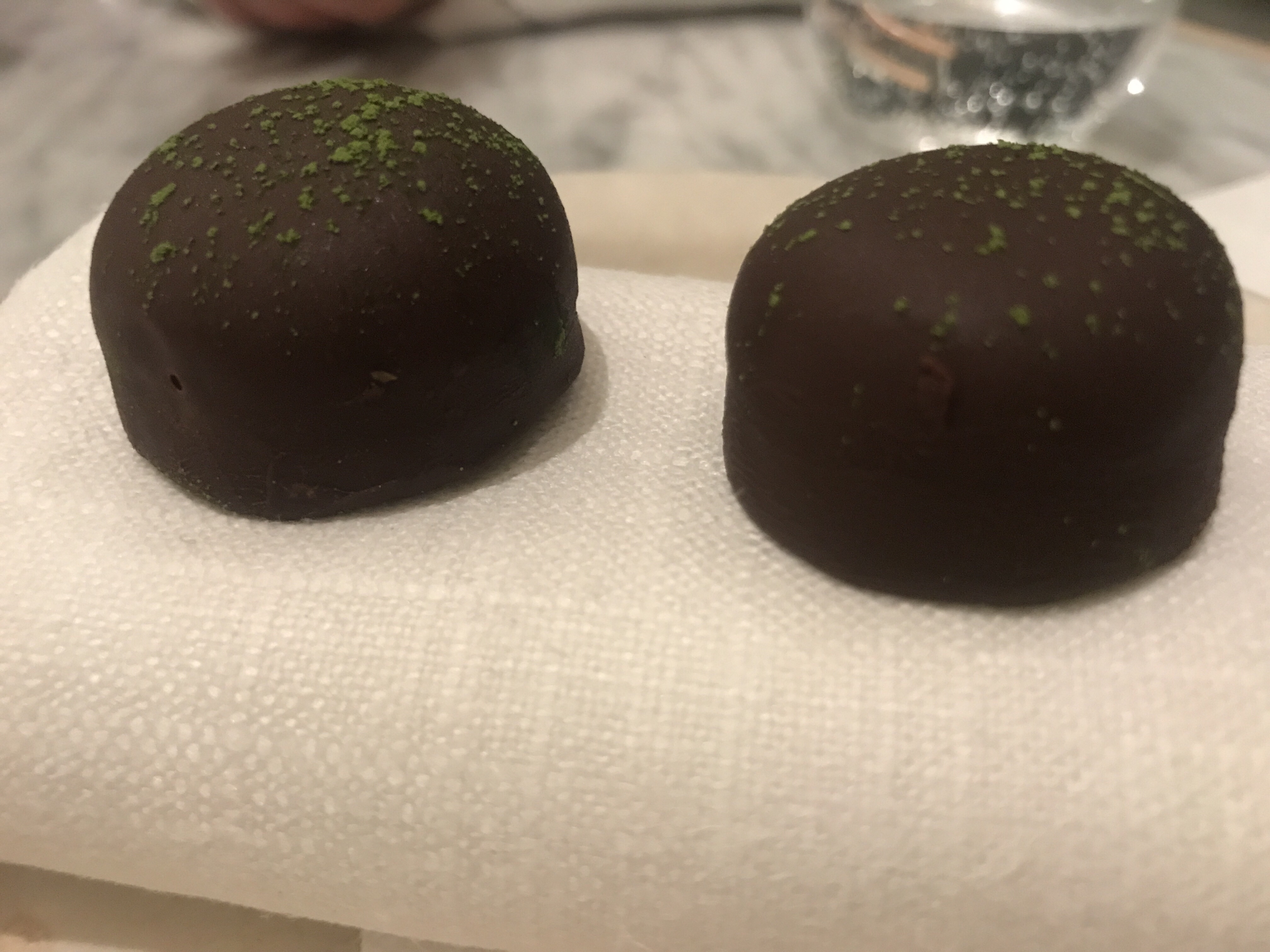 There was nothing I did not love about Typing Room. With the menu about to change with the season, I hope to be back very soon.
(Visited 33 times, 1 visits today)