If you go down to the woods today, you're in for a very pleasant surprise. On the corner of Southwark Street, Tom Sellers, chef Patron of Restaurant Story, has created his very own version of Sherwood Forest, and it's magical.
It's impossible, on entering, not to marvel at the beautiful setting. Down stairs hosts the Merry Men bar, serving ingenious cocktails and bar snacks. It's definitely worth a visit. We tried the Robin Hood with chocolate and foie gras grey goose, Bombay sapphire, raspberry and smoked almond sherry. Wow, it's boozy! It's cold and clean, dry from the sherry, at first filling my mouth with notes of chocolate then giving way to the flavours of foie gras.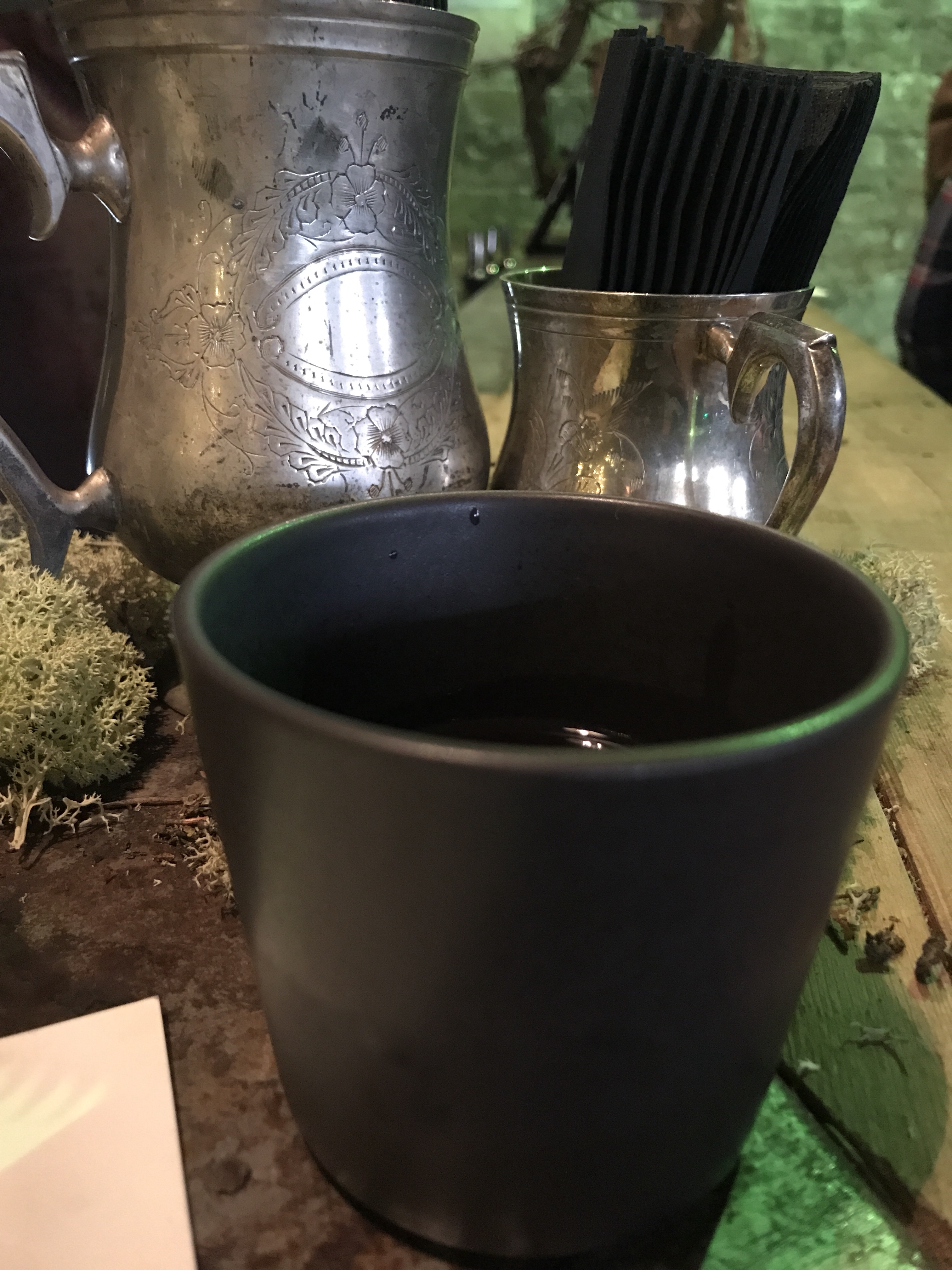 N, my lunching companion, opted for a Maid Marion, Bombay sapphire, plum blossom, woodruff, oat straw and candy floss veil. This was much more floral, sweeter, with the straw very present in each mouthful.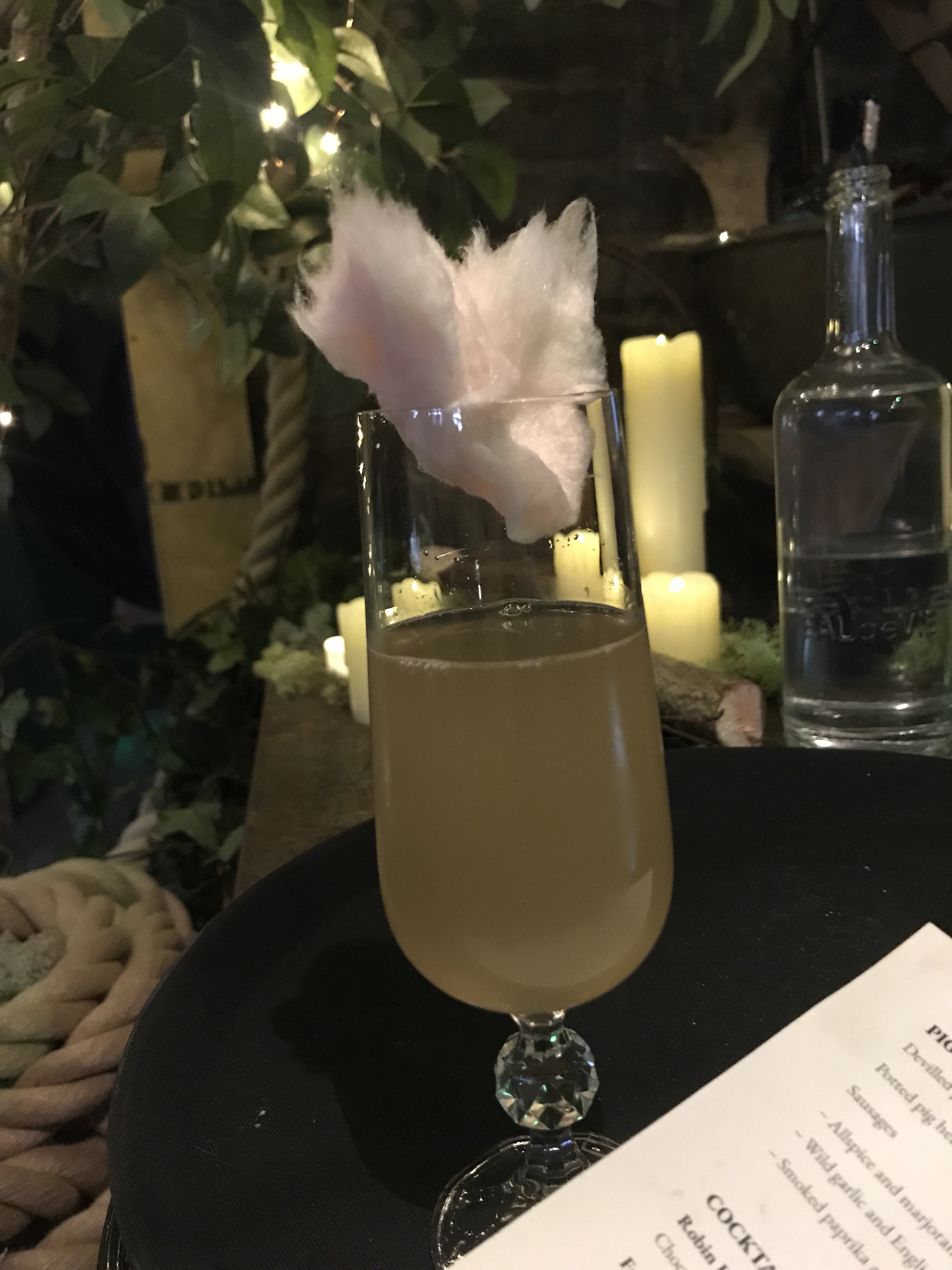 We climbed the stairs to a veritable fairy dell.
Food is served family style which I love. At times, we struggled knowing who we were sharing with, but soon made friends and any worries about enough food were ill founded.
Generous slices of soft and crusty sour dough arrived closely followed by our first dish. There is no menu and, unless you sit next to the food as it arrives, no way of being certain what it is but that's part of the fun.
We started with a terrine which we laid on slabs of bread. Quite what was in there, I'm not sure but definitely some sweet, salty ham.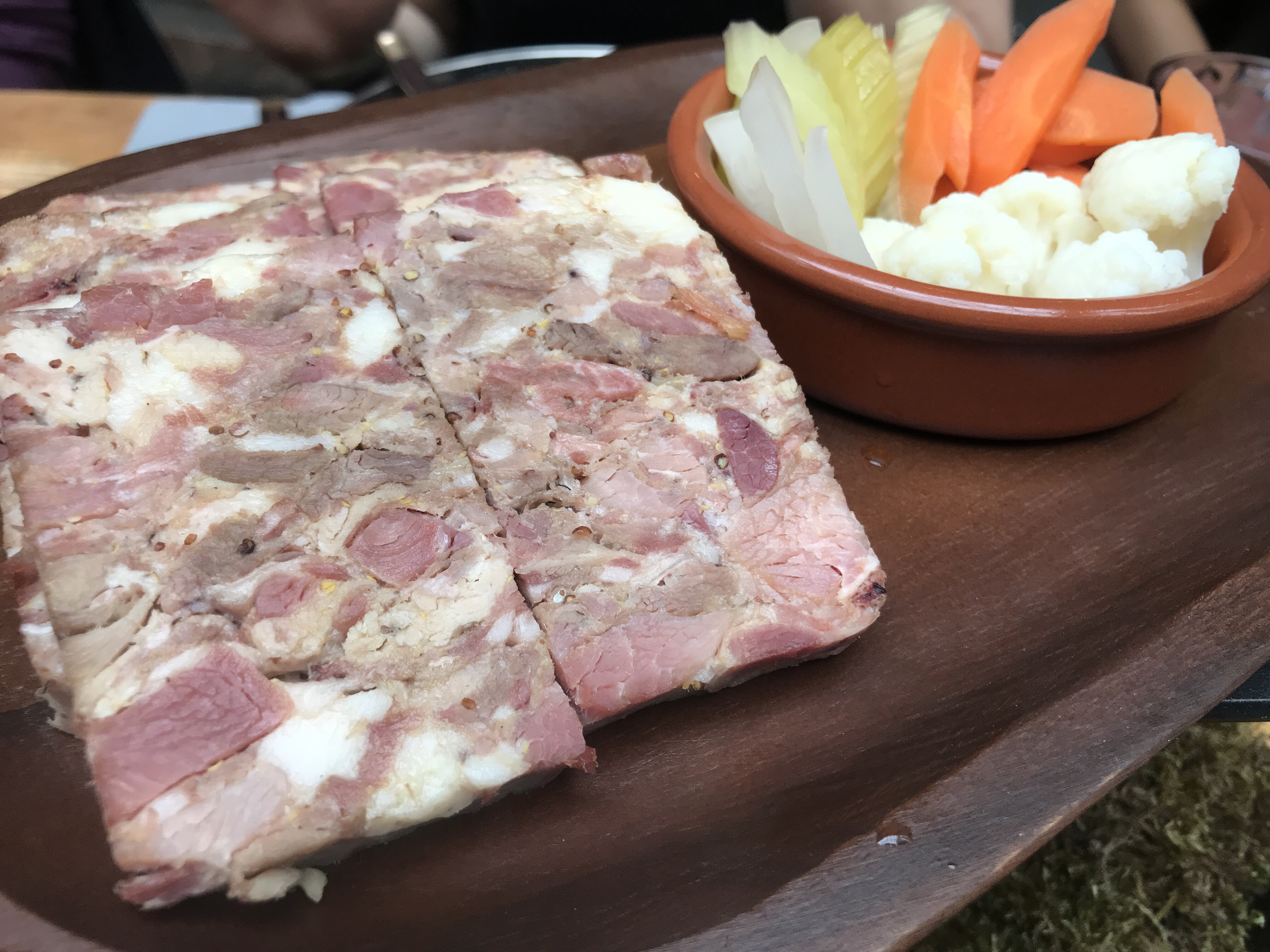 Smoked haddock in milk was gentle and flakey, like a Cullen Skink without the veg and Mum, yours is much more delicious! This required more bread to mop it up, bread we came to regret later.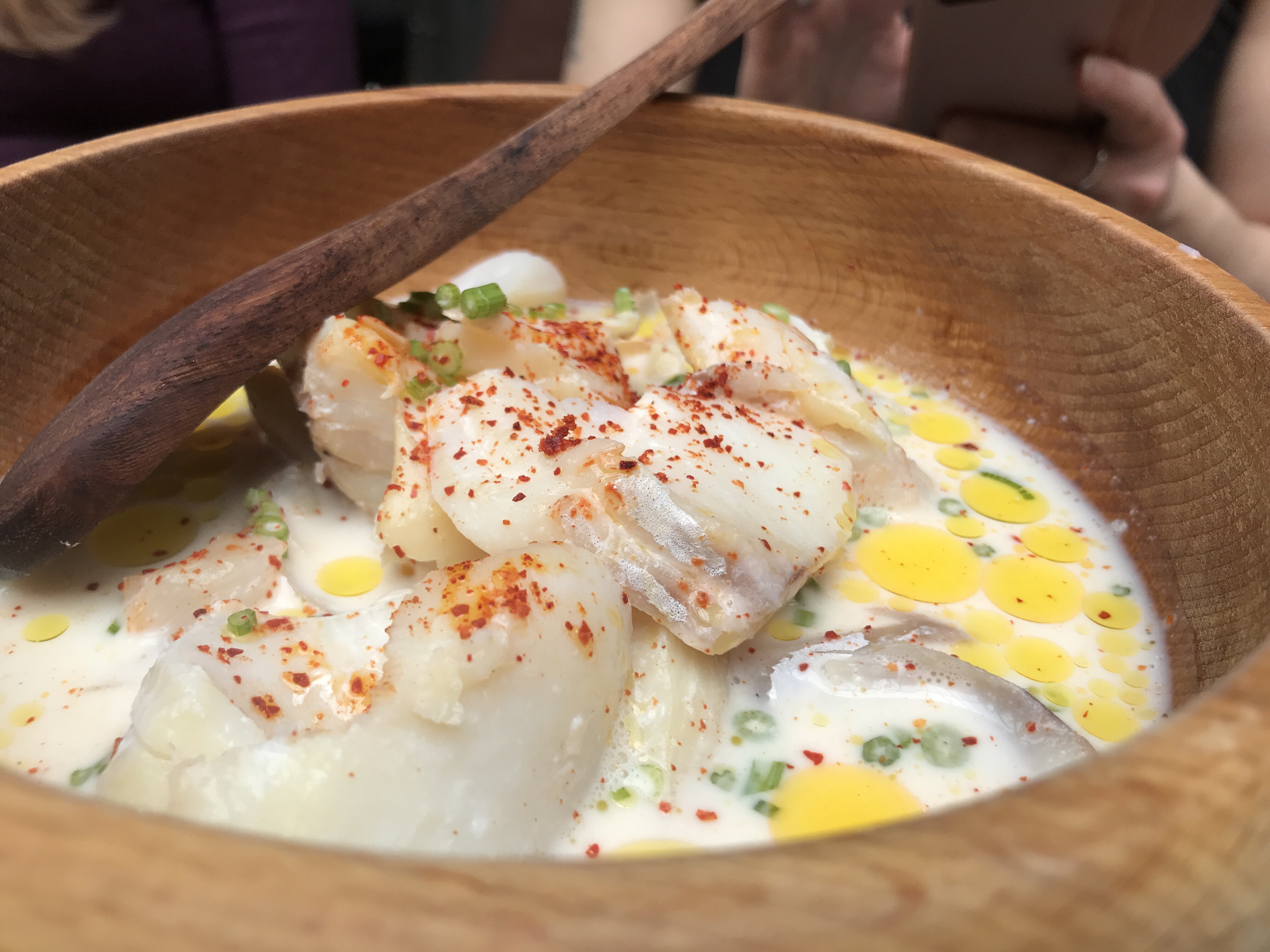 Mossy platters laden with stuffed bones looked and tasted incredible, the marrow soft and yielding, the crumb crisp and herbaceous.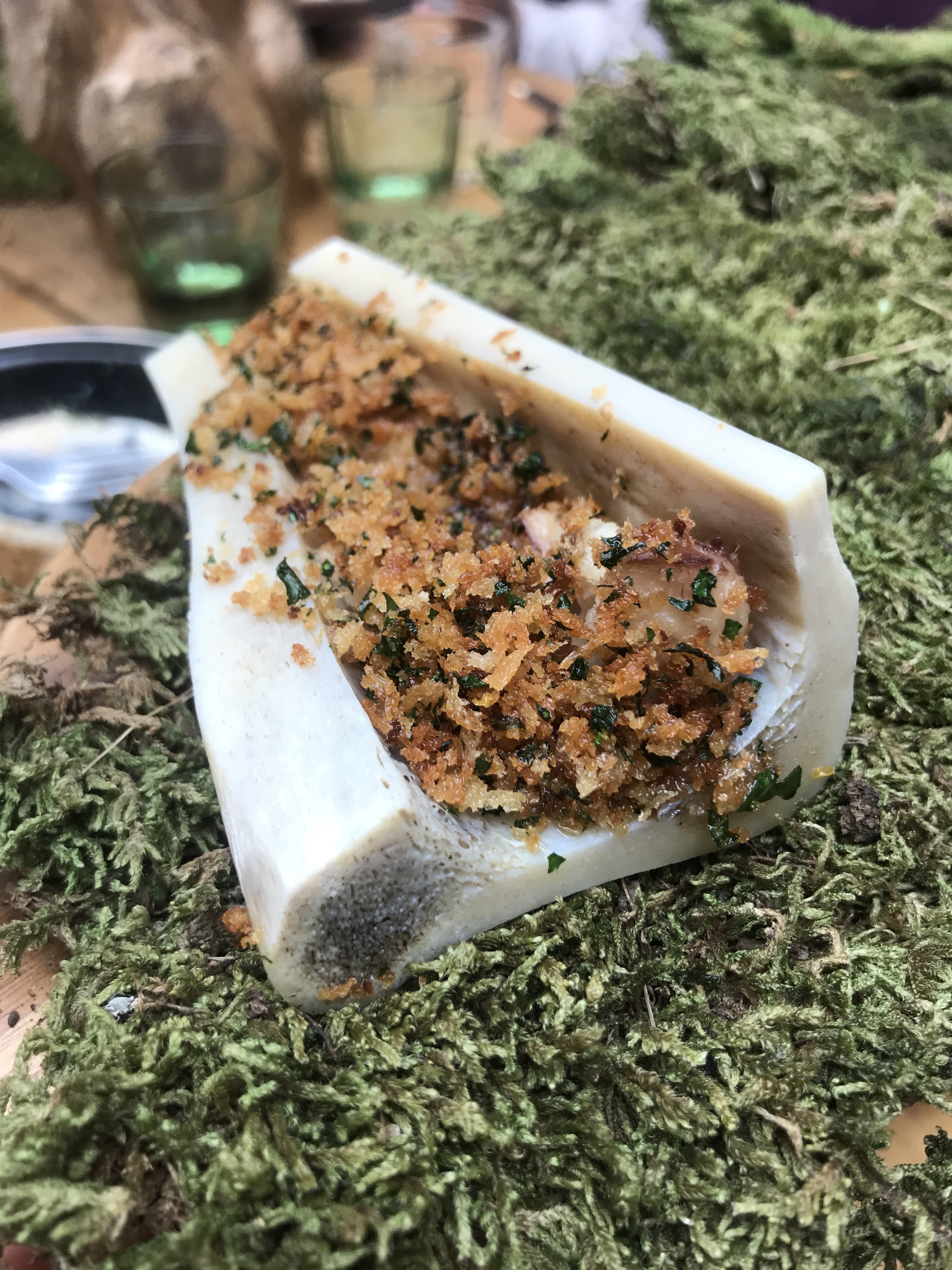 Main courses started to arrive and our table groaned under the weight of food. Golden rabbit pies arrived, one between two. As N had the gluten free version, I had none! I asked about pie for me and almost wished I hadn't. Beside me was a huge pie, enough for six! And this was just one dish. The pie was stunning, the pastry flakey and buttery. The rabbit inside ( I think it was rabbit, there was no menu) was succulent and the flavours in the sauce were so rich.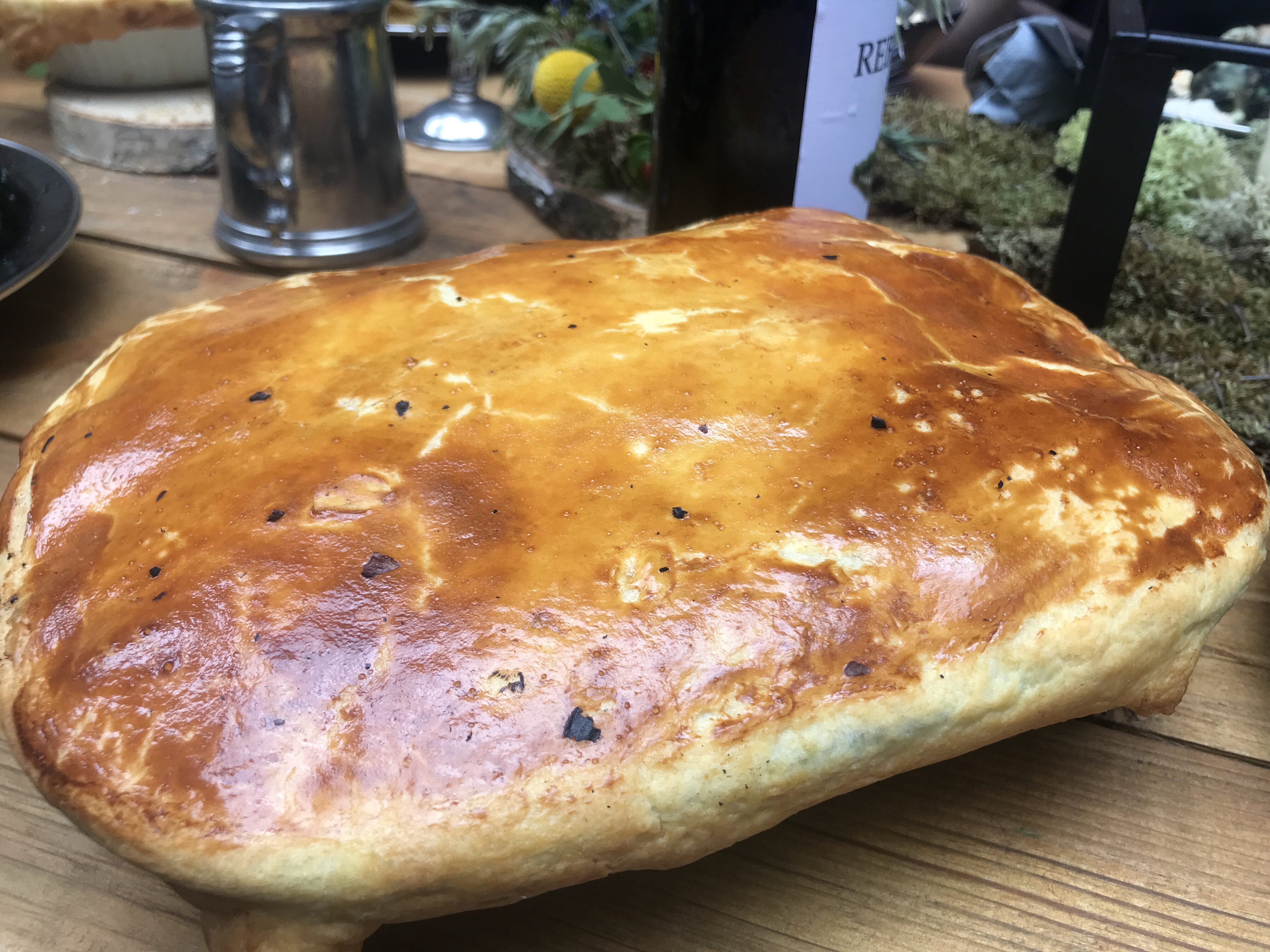 We also feasted upon soft, melting beef cheeks that didn't  require a knife.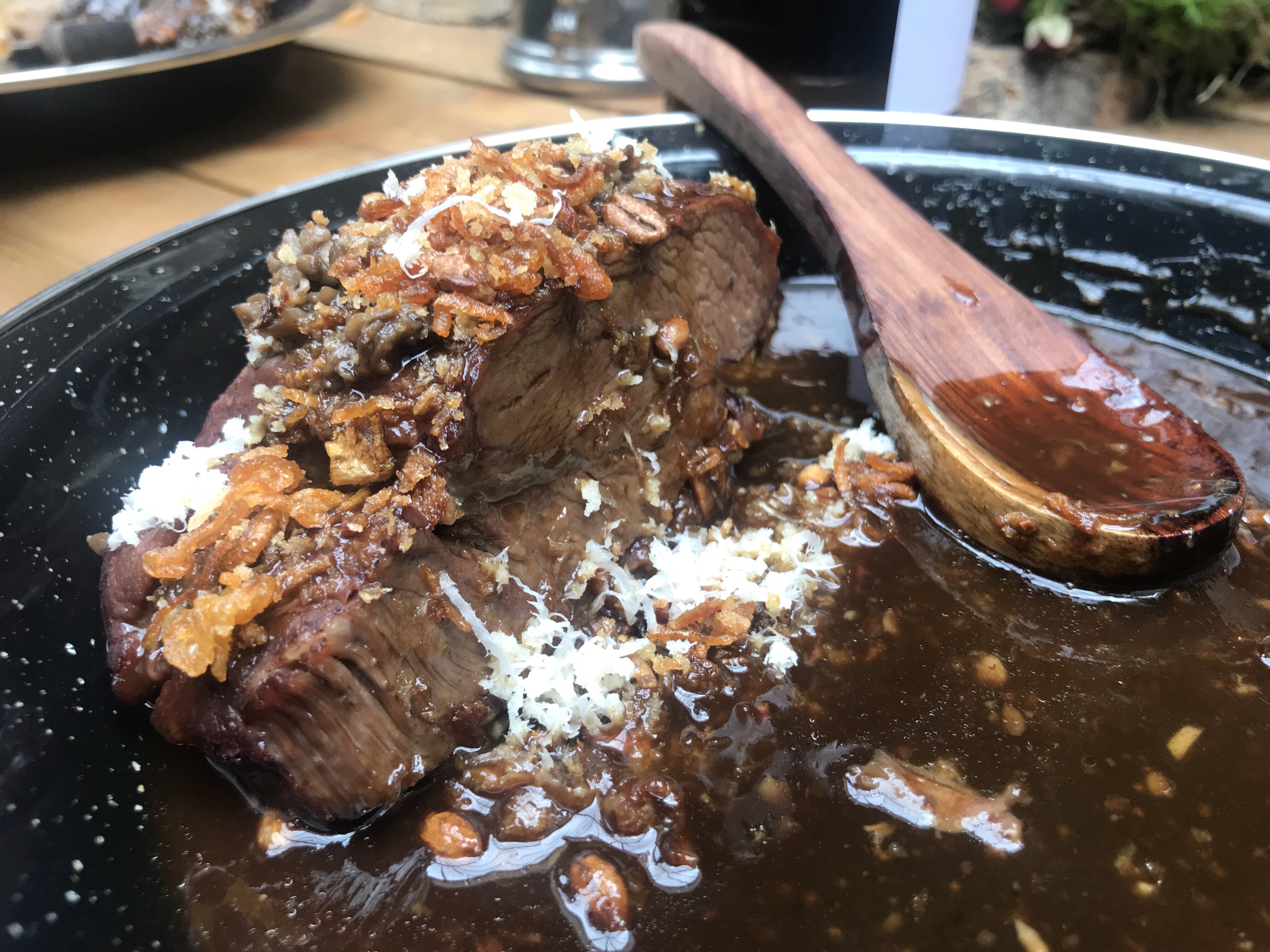 Next up was quail. It was impossibly moist for such a tiny little bird, in a broth with peas and edamame beans. It's so simple but was perfectly executed.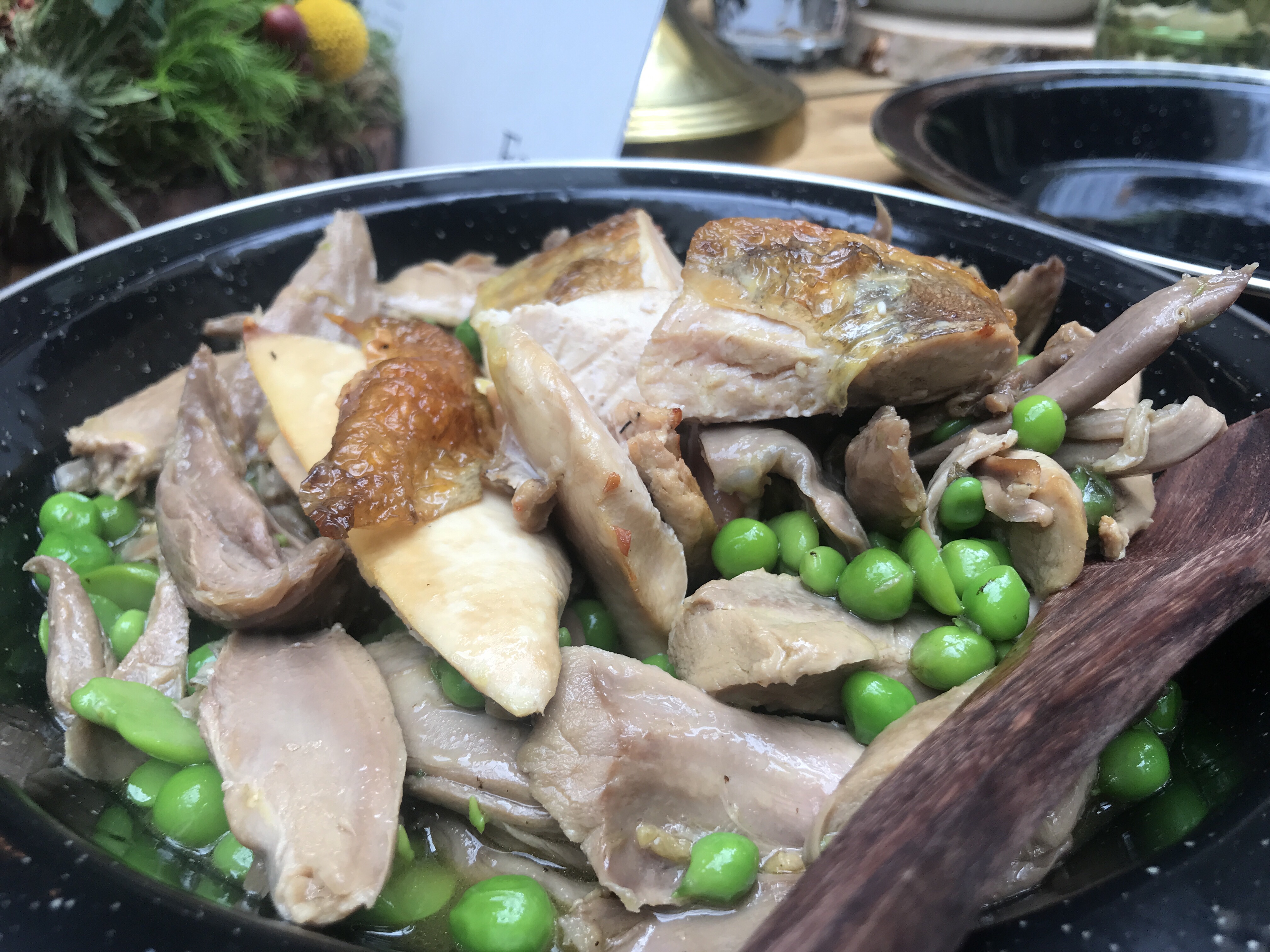 Our final meat was lamb, shredded and served with a caper sauce. The contrast of the sweet meat and sharp sauce worked well. It was a little dry and, for me, paled in comparison to the other meats but I was  grateful for this as I reached bursting point and wished I'd worn a kaftan.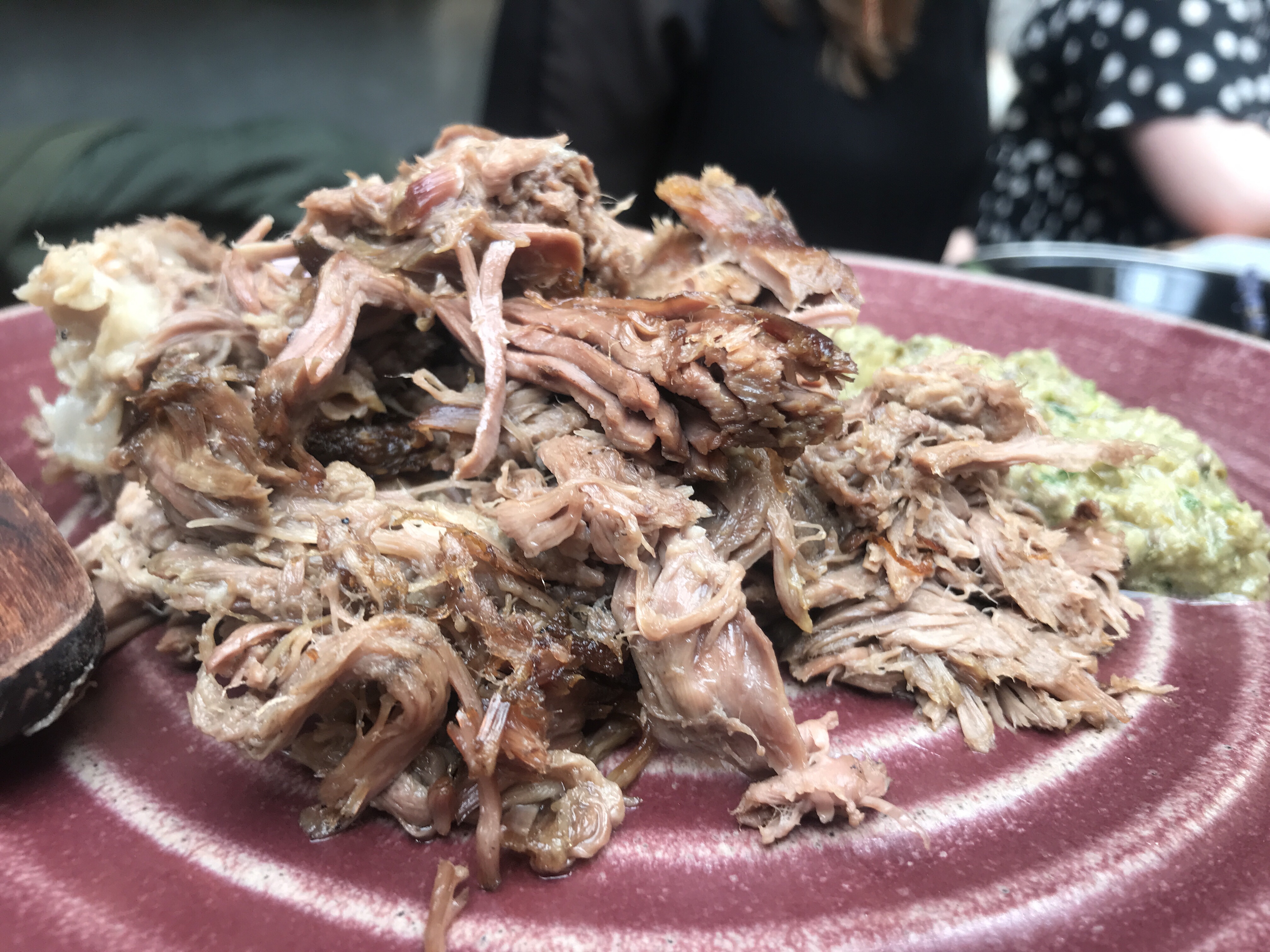 Let's not forget the sides which were certainly no side show. Cavalo Nero, braised onions and pomegranate was a dream dish for me. The bitterness of cabbage, softened with butter, the onions soft and the sharp burst of pomegranate. I could eat just this alone and be happy.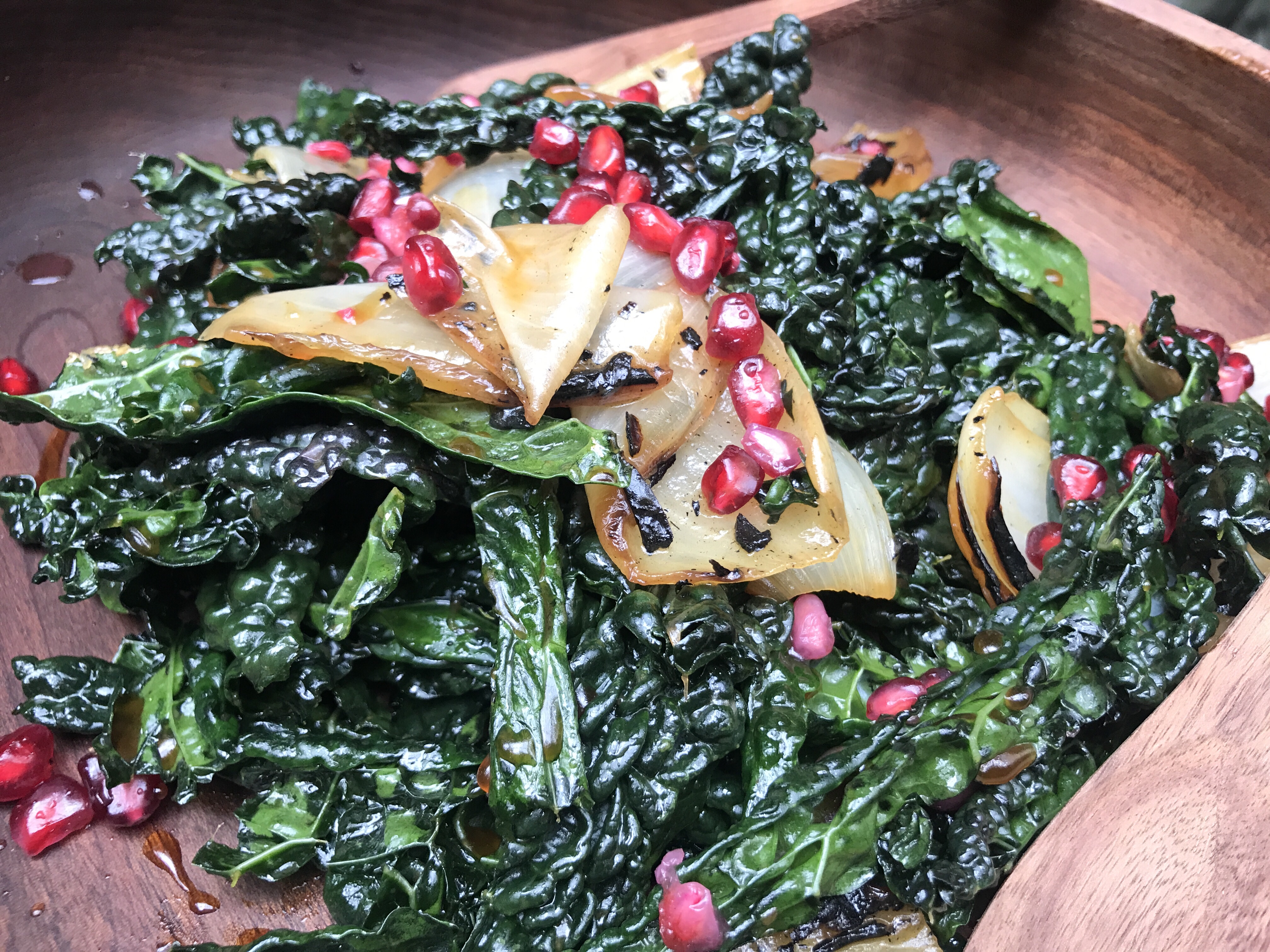 N particularly loved the little burnt potatoes and cabbage, drenched generously in a pungent creamy, garlic sauce.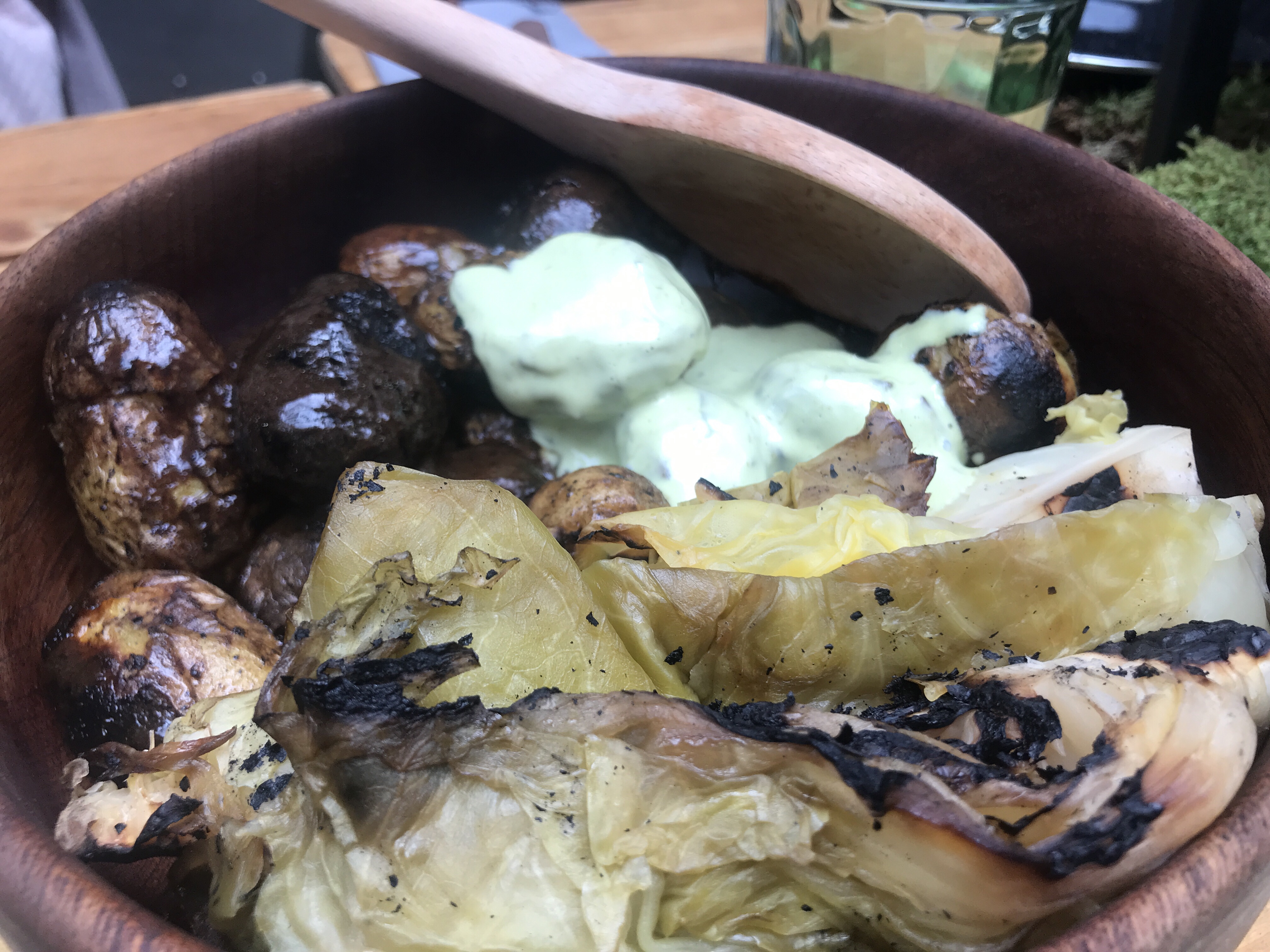 At this point, all we could really have asked for was a bed of leaves in the  forest to lie down quietly and sleep, but there was still dessert to come.
Slabs of Lardy cake appeared, our bowls filled with glossy, vanilla studded Crème anglais.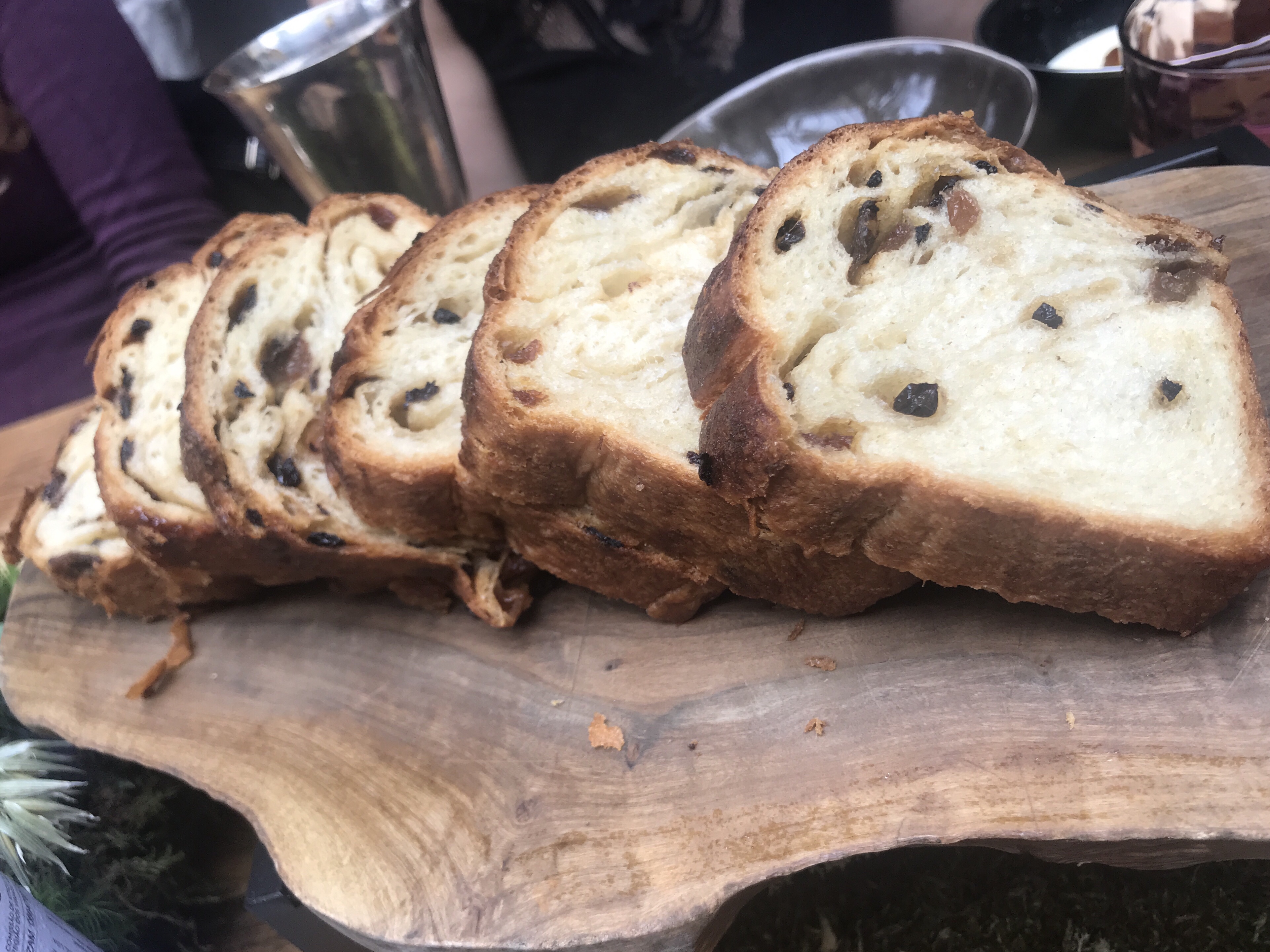 Blackberries were salted and sharp. I wondered what fresh hell this was until I tried them with the Crème fraiche ice cream and it all maked sense.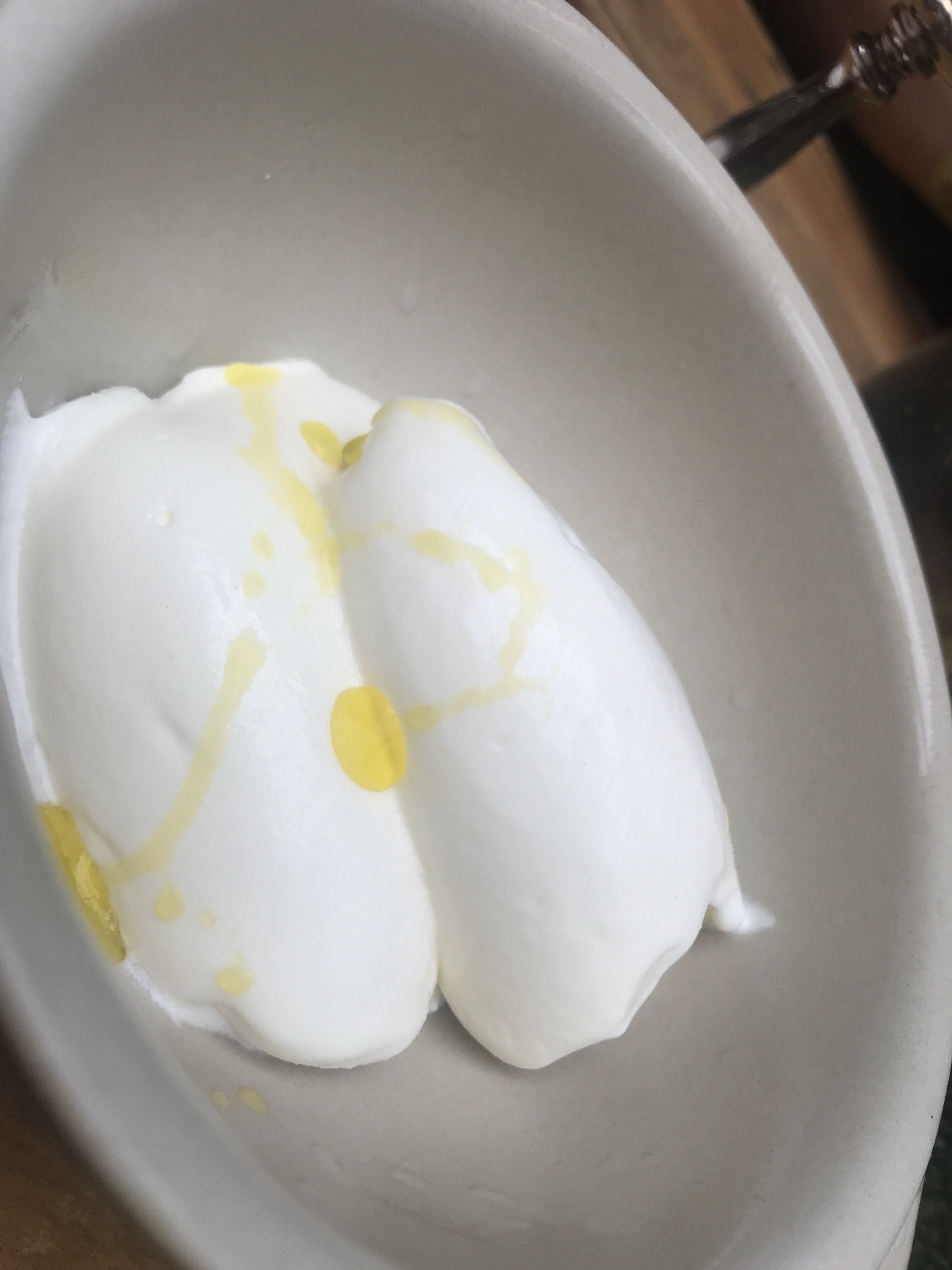 Finally, we finished with a tart of pear and Jerusalem artichoke.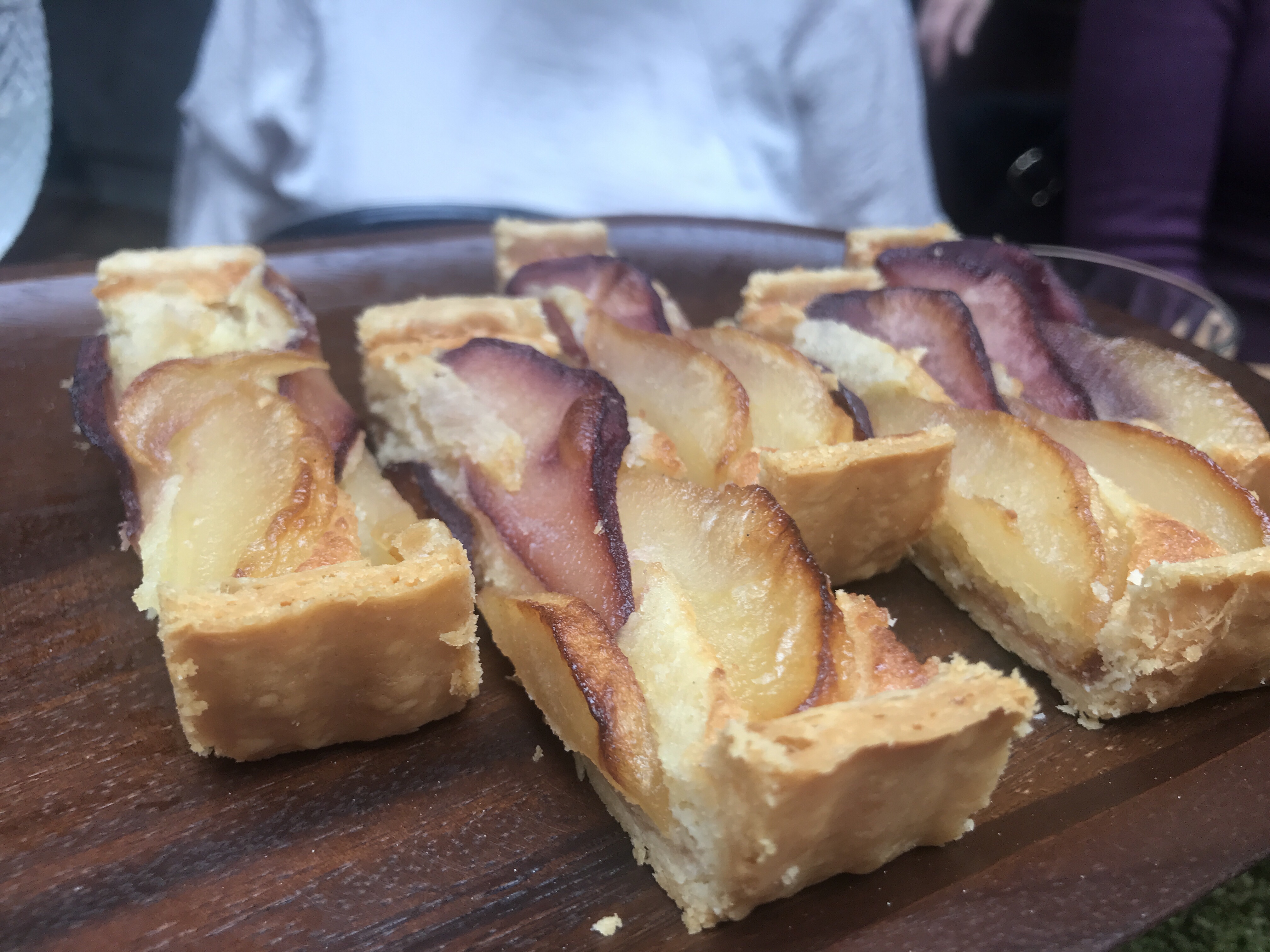 What a feast! It was truly special and incredibly indulgent. Restaurant Story reopens for its next phase on the 10th of May and I, for one,  am so excited to see what Tom has dreamt up.
(Visited 30 times, 1 visits today)