Noma, the name said with reverence, is the holy grail of the food world. Reopened just three months ago, it is the aspiration of many but visited by few. And I, friends,remain aspiring. So,when in Copenhagen last month, I visited 108 instead. 108 is very Noma-esque, the head chef being Kristian Baumann, an apprentice of Redzepi, the renowned chef and co-owner of Noma.
The harbour side setting for 108 is beautiful and the space is light and airy, very scandi minimalist.
It may have a star but it's very informal. We hang our own jackets on arrival and make our way to the table. Crockery and cutlery are custom made, the latter tucked into a leather pouch thus saving us being interrupted by cutlery changes during the meal. There is an a la carte but we, of course, opt for the tasting menu and wine pairing. I have no idea what to expect, other than the unexpected; 108 does not play by the rules, it creates it's own (or possibly borrows Noma's)
We start with a wonderful cider- like champagne and eagerly await our first course. We start with bread and very, very good butter. The crust gently black, crusty and chewy.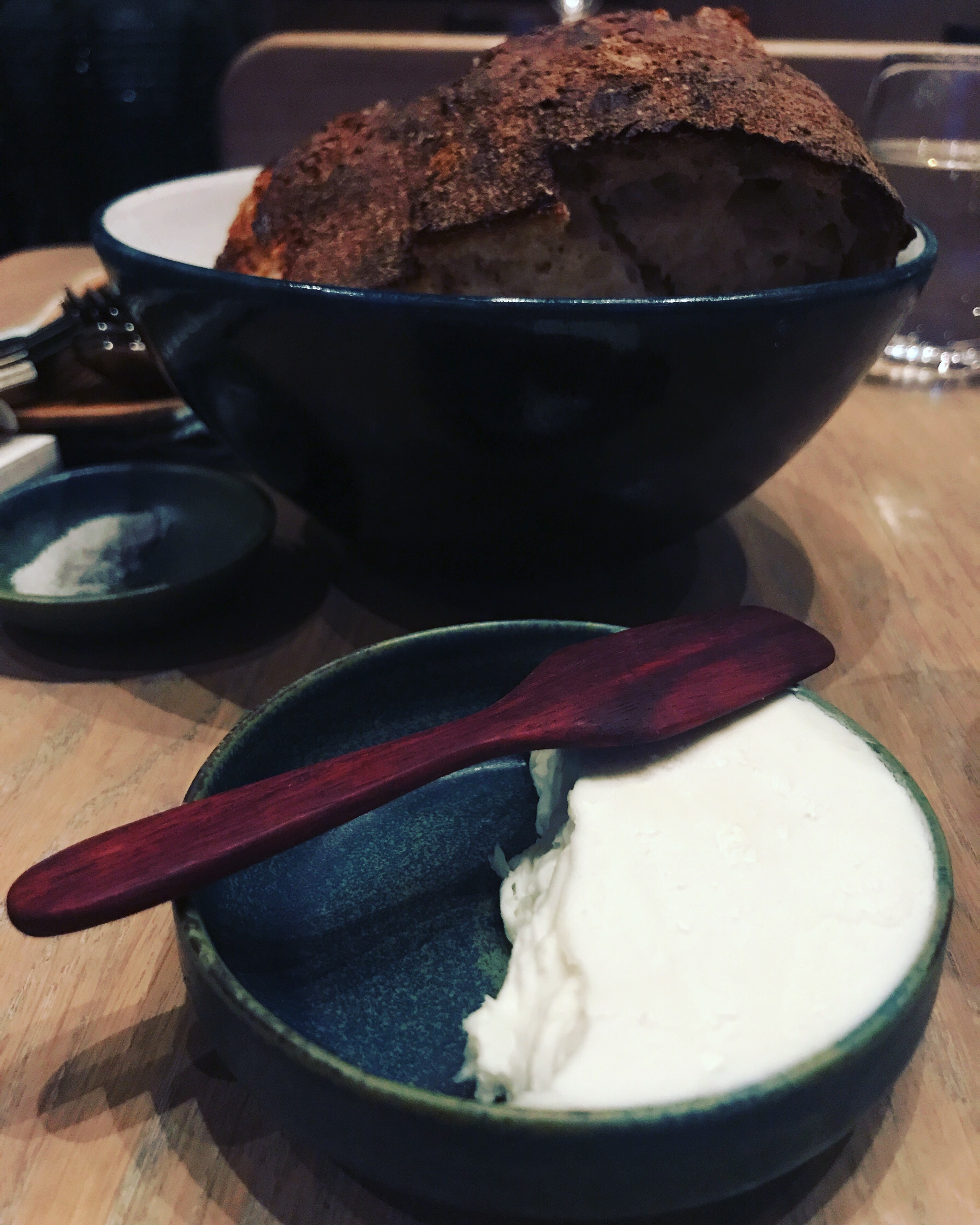 And then it begins, egg yolk potato with royal Belgian caviar. The potato is soft, rich with yolk in a puddle of buttery sauce. The caviar bursts in salty abandon, we mop the plates.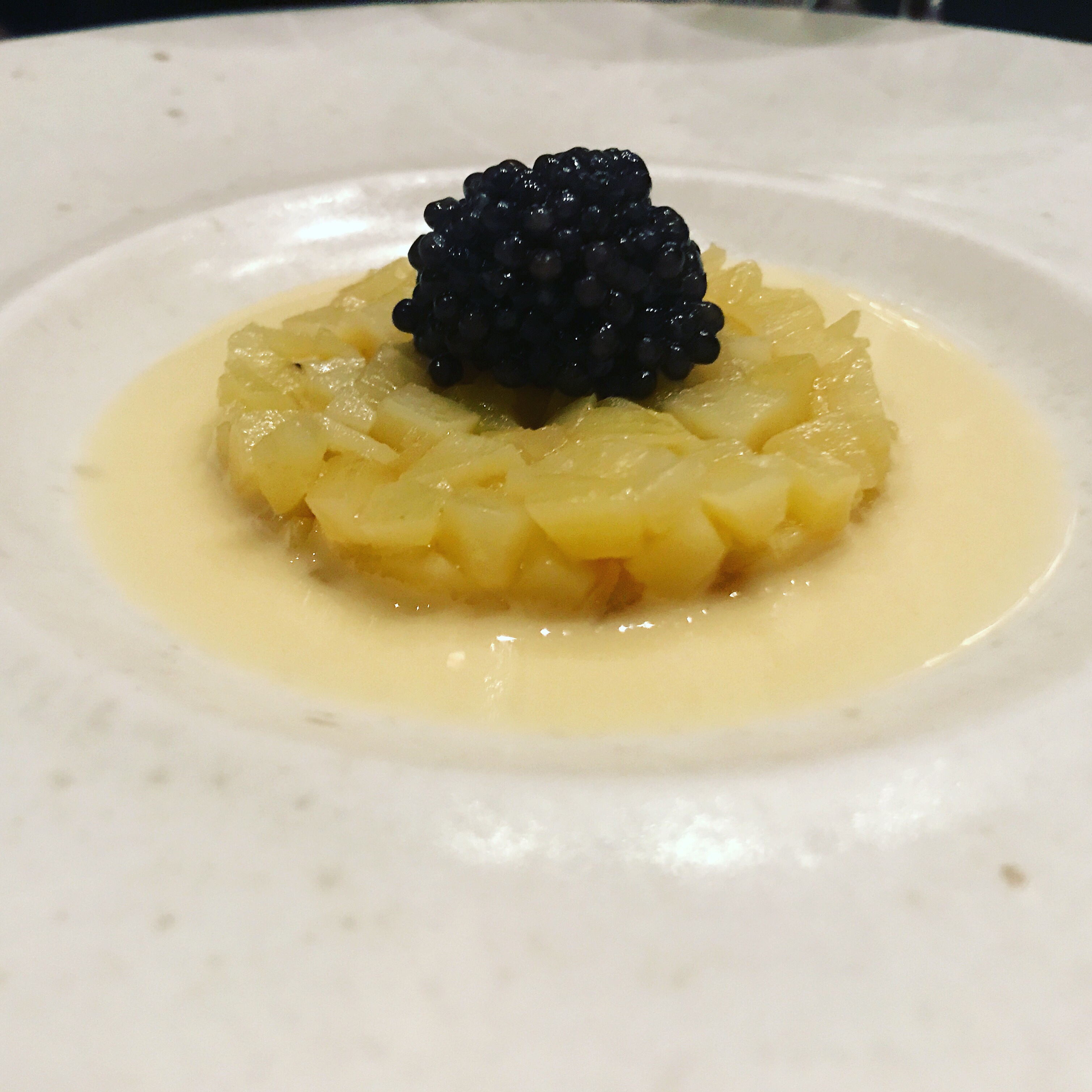 We move to a sake, and an orange wine because our waiter thinks we should try both.  I am, as you know, no wine expert but the drinks pairing was inspired, not least as one was changed on the spot when the champagne that was meant to pair with a dish ran out.
Yellow beets, marinated in almond oil, follow, a mix up in the kitchen changing the order of our menu. They are sculptural. We dig under to find sharp, bitter pickles of unripened black currants and leaves. They contrast with the slick, fat mouthful of the delicate  beets in almond oil.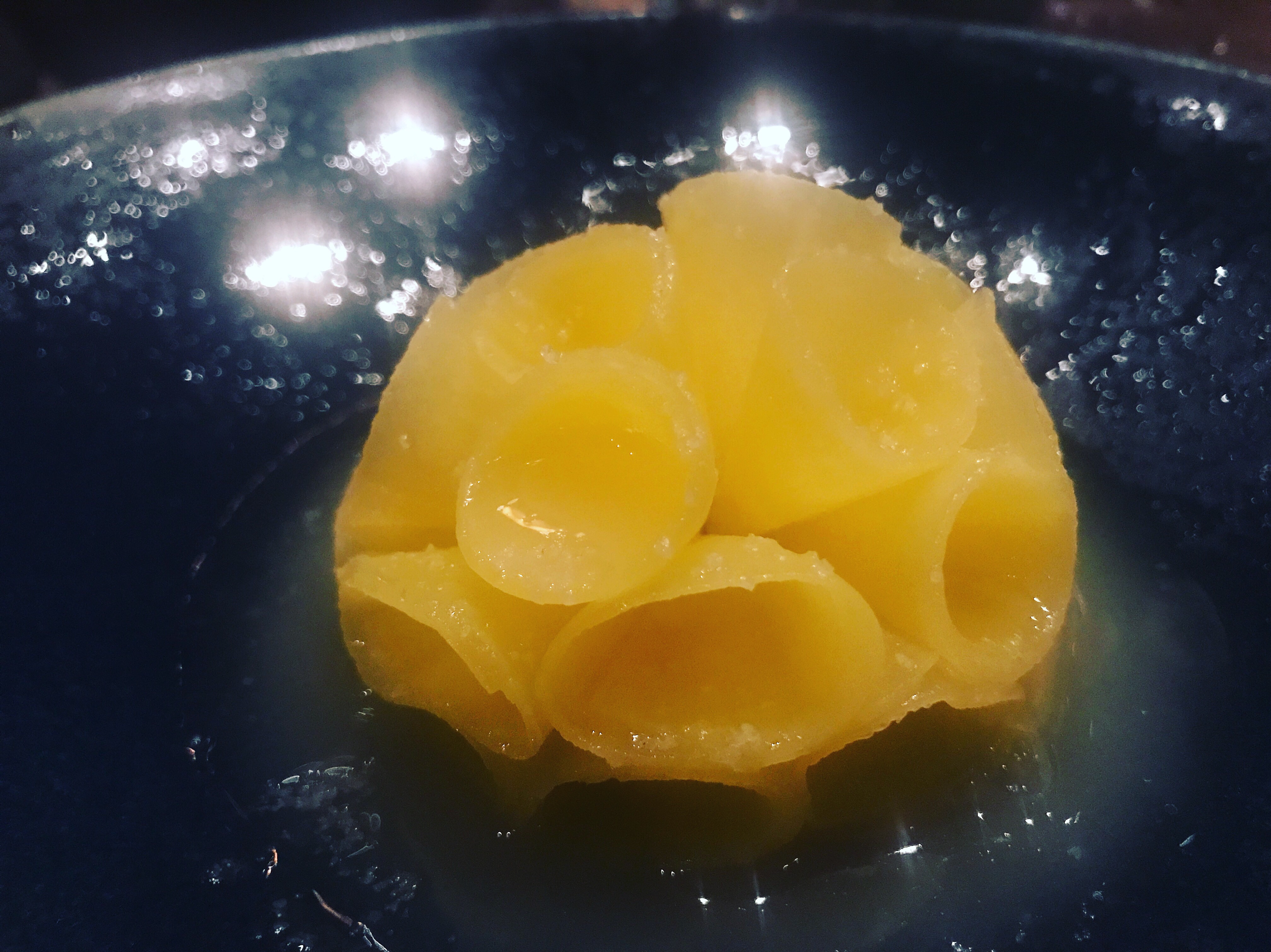 The sturgeon arrives, bathed in the seaweed poaching water and black currant wood oil. I've never eaten sturgeon before and, while it's admiral to try to use this fish not just for its eggs, I hope never to eat it again. There is nothing redeeming about this dish.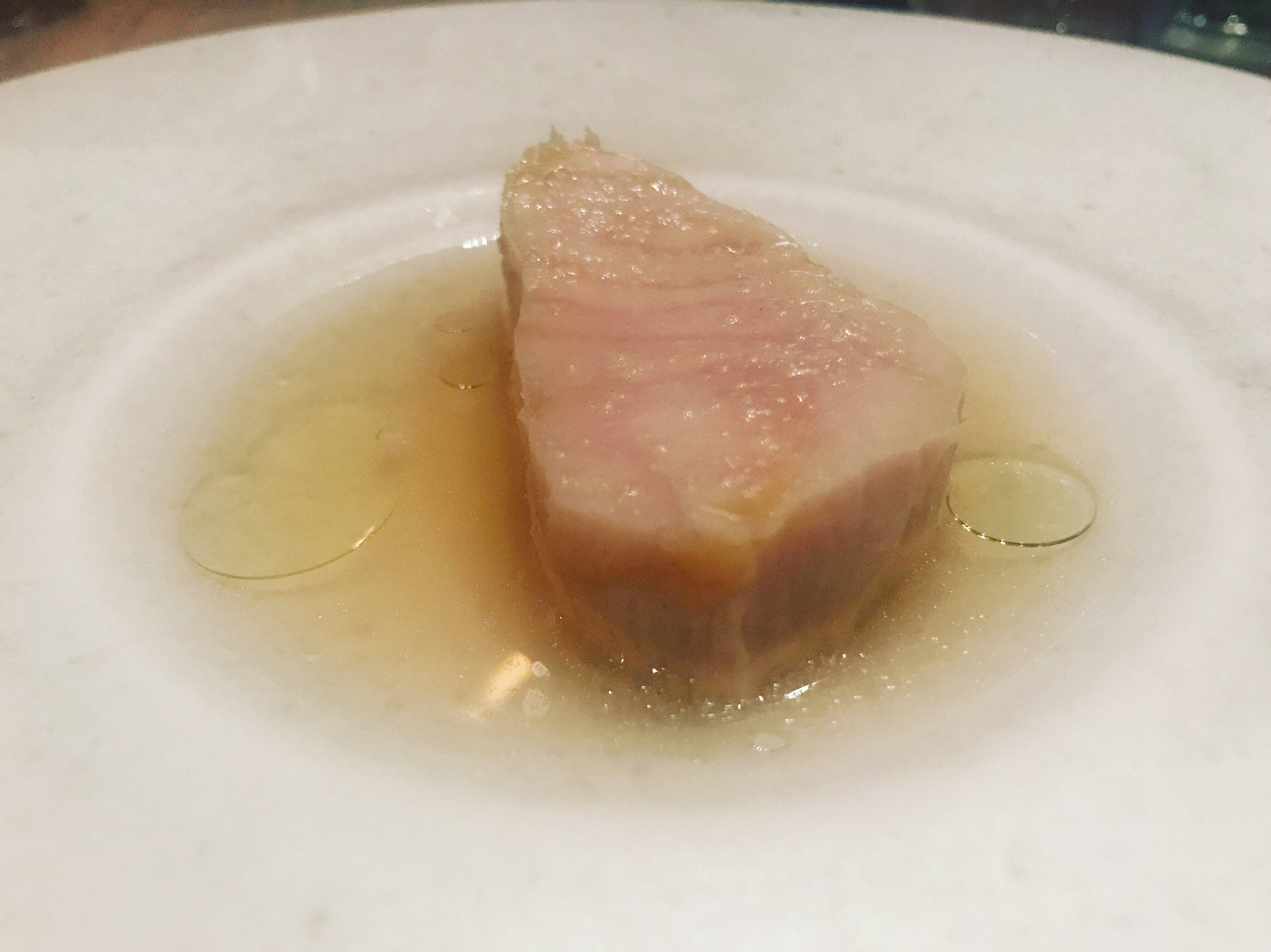 Carrots with wild rose and fjord shrimp sauce, are assembled with surgical precision. The scent of rose wafts from the plate; it's floral and light, the bisque is intense, I wish for more. The carrot is a little underwhelming, again dressed in oil, this time rosehip seed. They seem to really love their oils.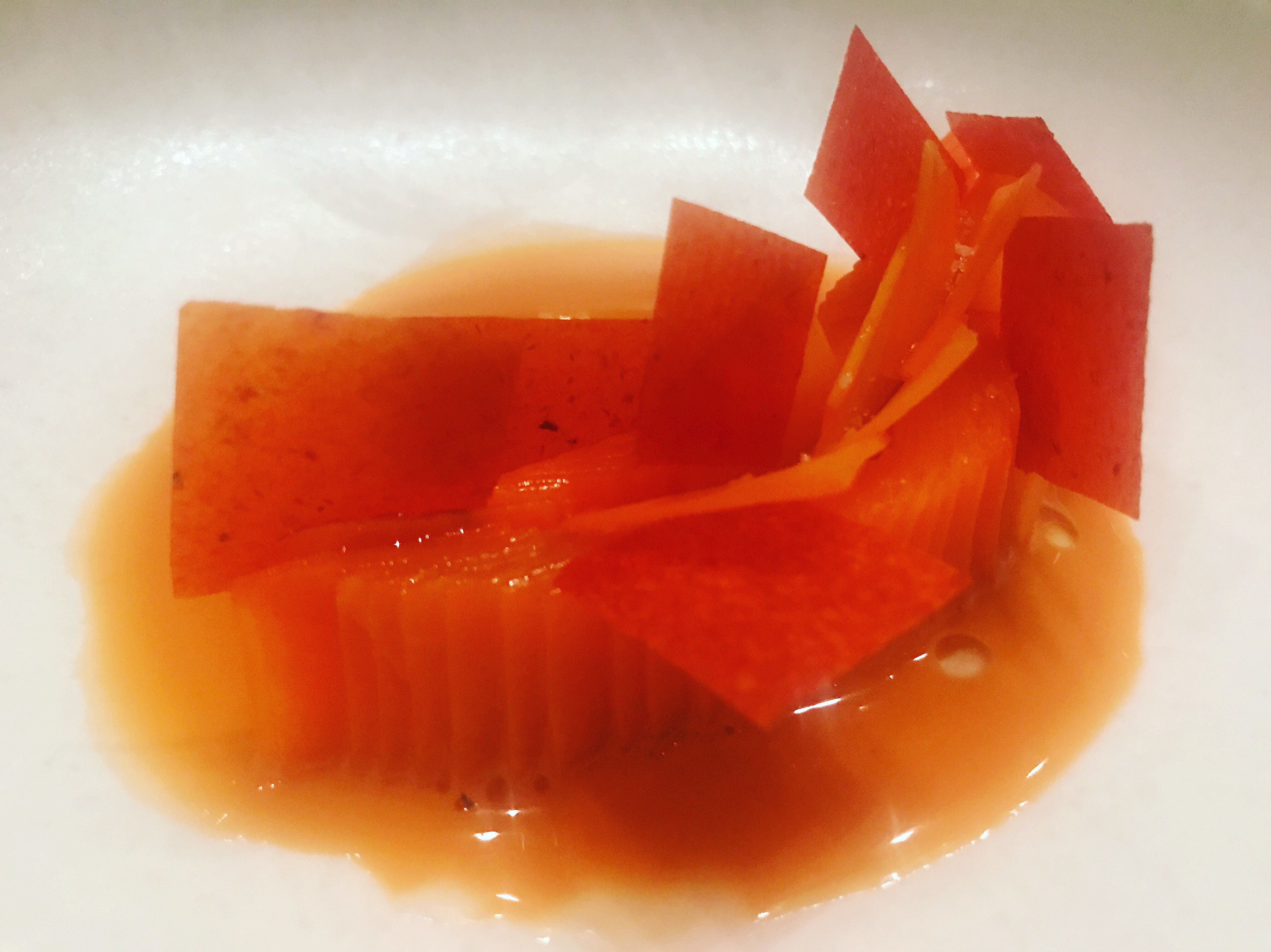 I need a show stopper, something that makes me smile as I eat it. Salted baked celeriac with hazelnuts and aged cheese looks simple but delivers on flavour and textures in a very big way. It's unctuous, rich and has a sweet, nuttiness from the hazelnuts. Ok, we're back on track.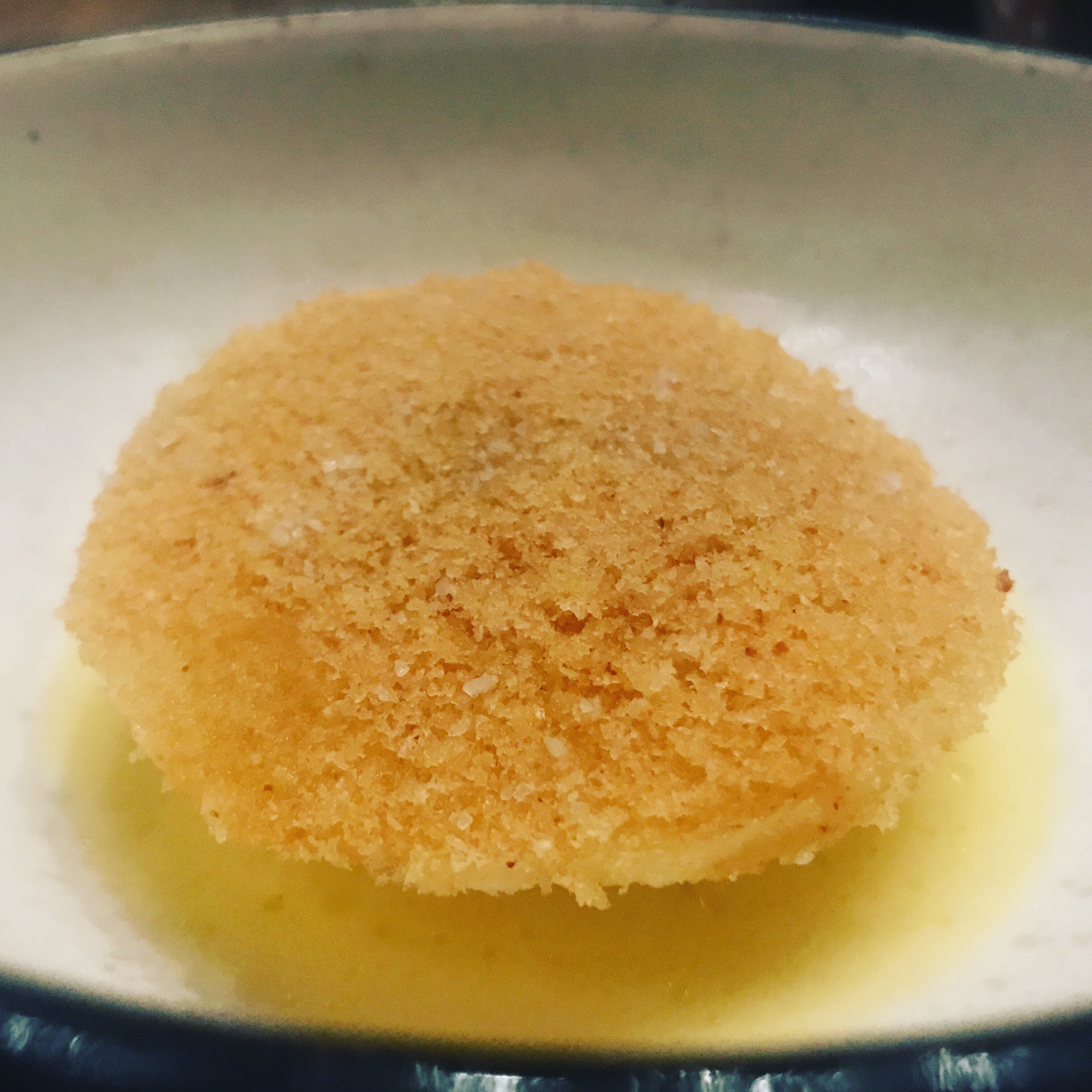 Our final savoury dish is quail with beetroot and spices. There are notes of lemon thyme, the dish is gentle but richly fragrant. I forget to take a picture of this, maybe because by now it's almost midnight and we still have two courses to go.
Pre-dessert is a black currant sorbet with hazelnut milk. It's lip-tinglingly sharp, rounded by the mild, sweet, nutty milk.  Actual dessert is a hot dough not with caramel and seaweed ice cream. It's a brilliant mouthful, a hot donut like tart that is cold, rich and buttery, sharp and sweet.
With this, we enjoy a coffee liquor called Coffee Annan, I'm not the only one who likes a pun.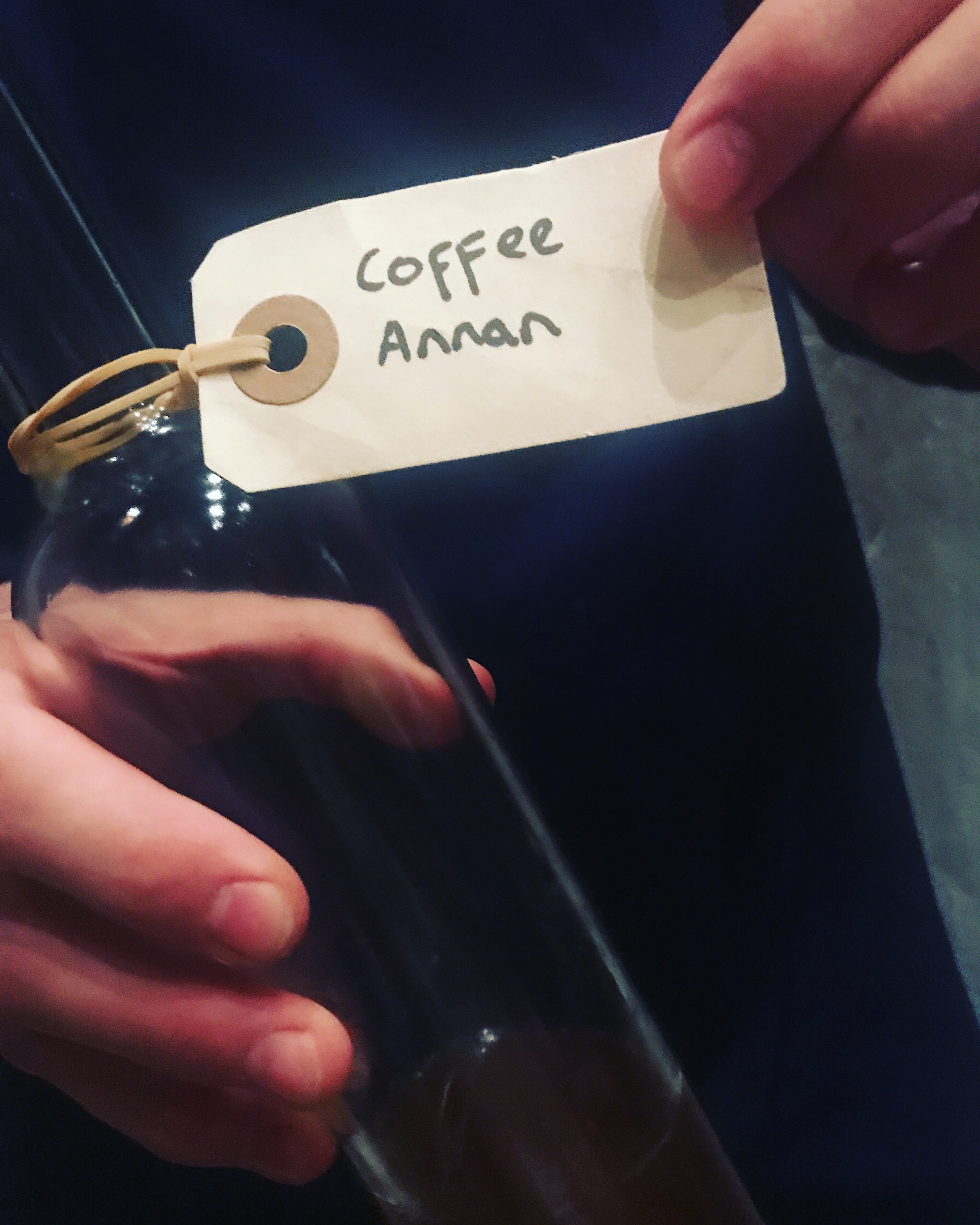 We end with coffee and schnapps, both of which will put hairs on your chest, and possibly not great when you finish a meal the day after you started it.
I loved the service, each dish brought by a different member of the multinational team, all really friendly and united by a love of food. And,given how late we finished, they were very, very tolerant. Did I love the meal? While my dining partner loved that we didn't like everything, taking that as a sign they were pushing boundaries, I'm not so sure. At about £240 a head with the wine pairing,  I think every dish should be well tested before it hits the menu.
Hopefully,  next time I'm back in Copenhagen,  it will be to enter the fallowed place they call Noma.
(Visited 396 times, 1 visits today)