After a false start in May, Georgie, Seetal and I finally made it to The Frog. Only a three minute walk for me, I am admittedly shame faced this was my first visit. If nothing else, with a lot of Scottish voices on the floor and in the kitchen, it would cure any homesickness I ever feel.
The Frog E1 is Adam Handling's first independent London venture but he's no stranger to the kitchen or the public eye, having started cooking at 16 and making it to the final of Masterchef: The Professionals in 2013, where the public fell in love with his incredible skills, passion for flavours and quiet professionalism.
It's a beautiful evening, so Seetal and I start with a chef's gin and tonic. If beer is your thing, then the Frog is a great option, with over 50 craft beers available.
Our G&Ts arrive and are, unexpectedly,Kermit coloured, thanks to the addition of dill, the gin is distilled in house.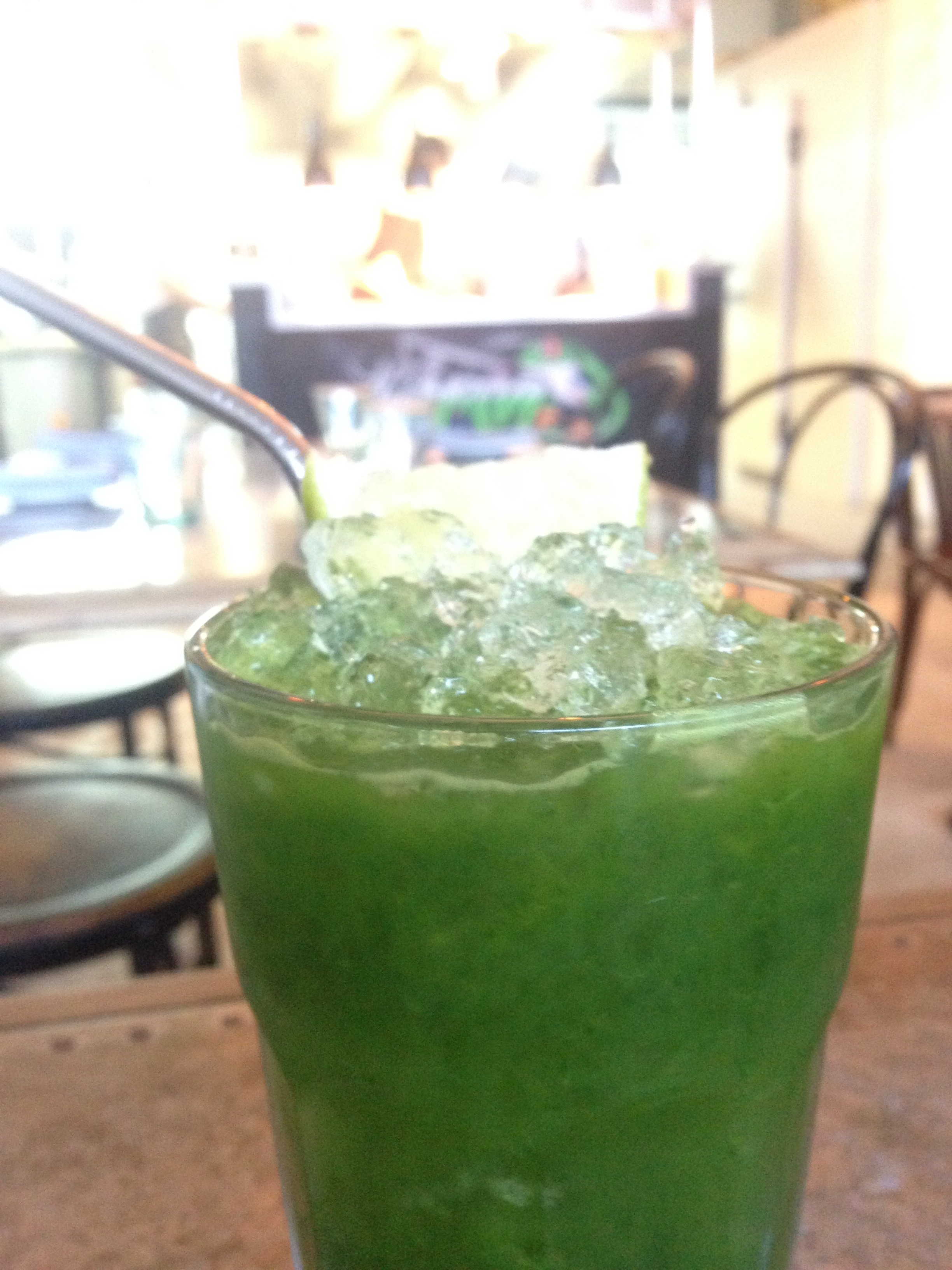 First to arrive are the snacks. Potato and smoked cod, is sensational, fine potato tubes filled with rich creamy, yet light, smoked cod mousse. I could eat this all day.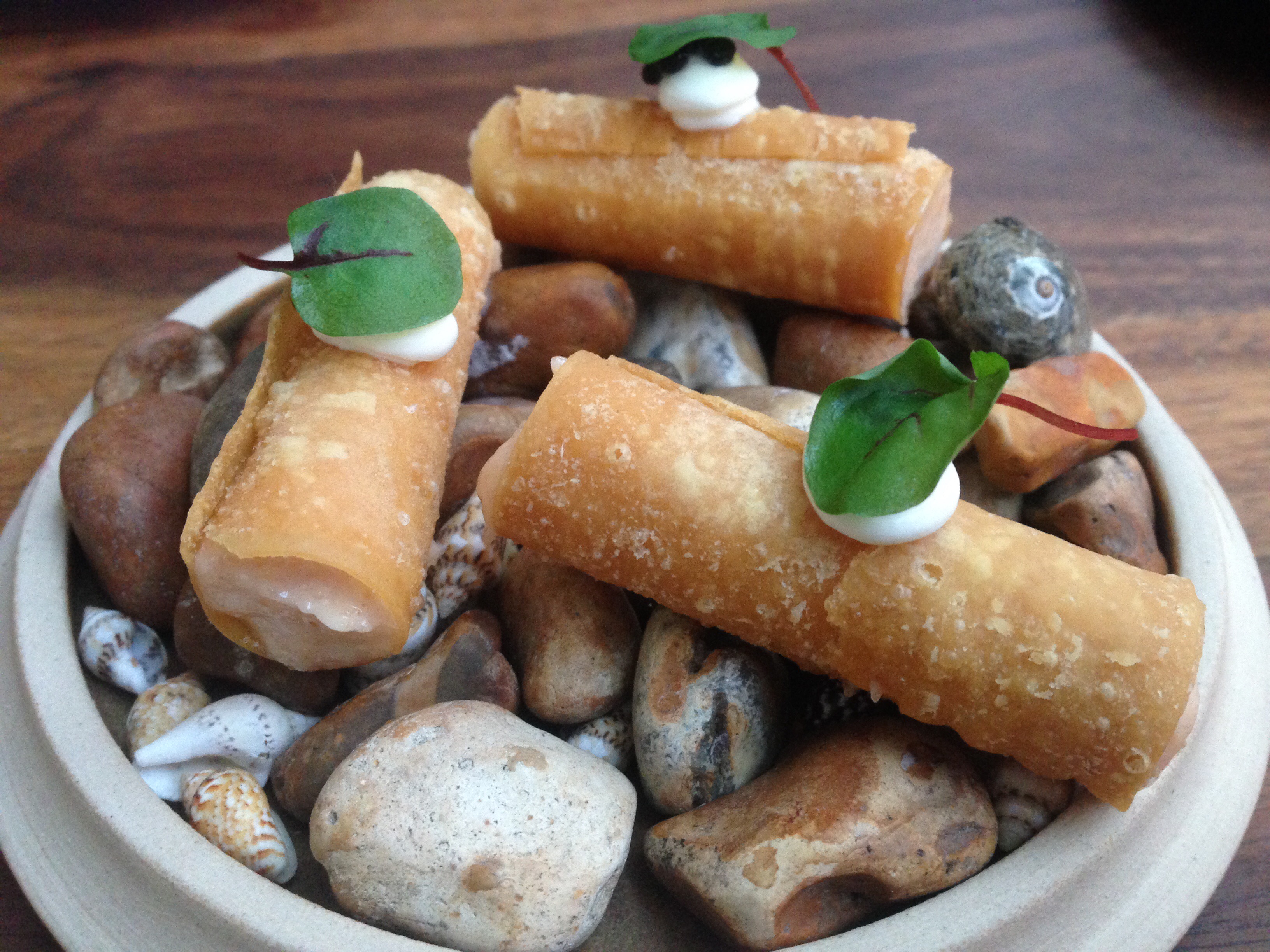 The Frog E1 beef, chilli and lovage is a steak tartare on puffed seaweed, the beef has a smokey flavour and the lovage adds a grassy flavour, the textures are interesting.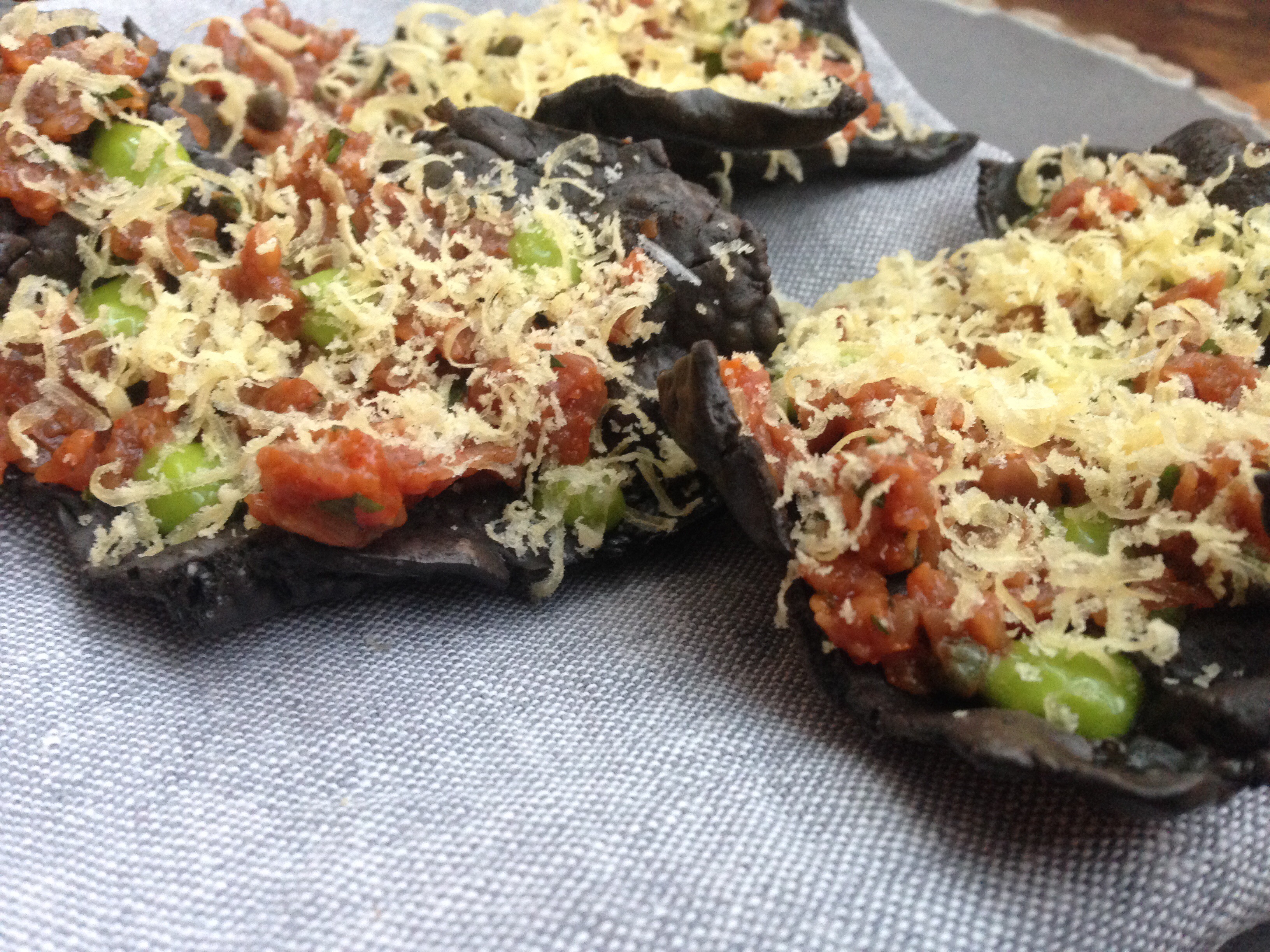 Next is the chicken butter, this is AMAZING, I really could eat this till I was sick. Incredibly light and topped with bits of crispy chicken skin, I can best describe this as the sticky bits on the side of the roasting tin. The flavour is intense, like the best crispy chicken skin you ever tasted. If you only go to try this, it'll be totally worth it.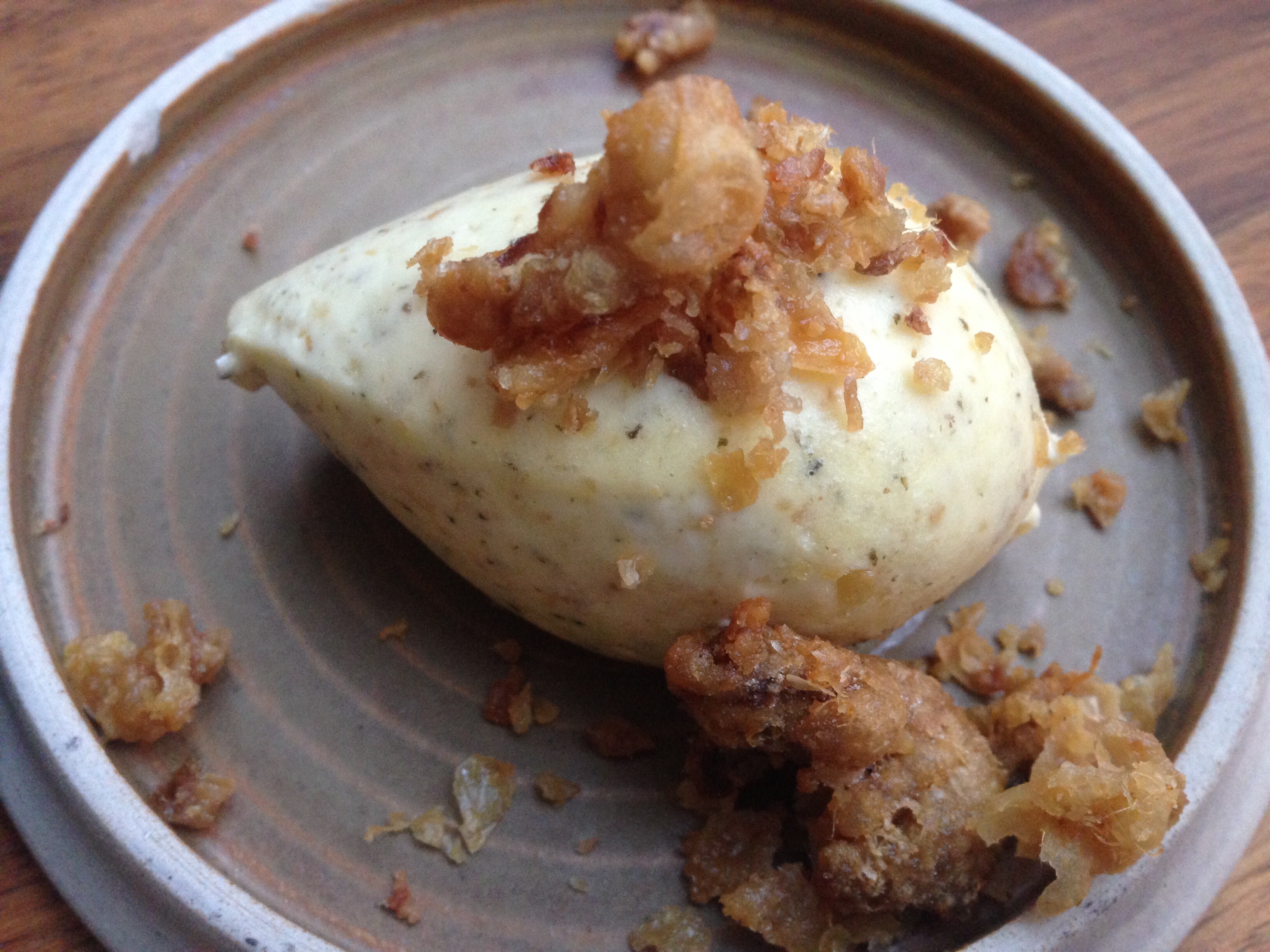 Salmon is not a favourite of mine but Salmon & Pickles is stunning, both on the eye and in the mouth. Soft confit salmon balances with sharp apple, smooth yoghurt, the freshness of herbs and zing of pickled onion.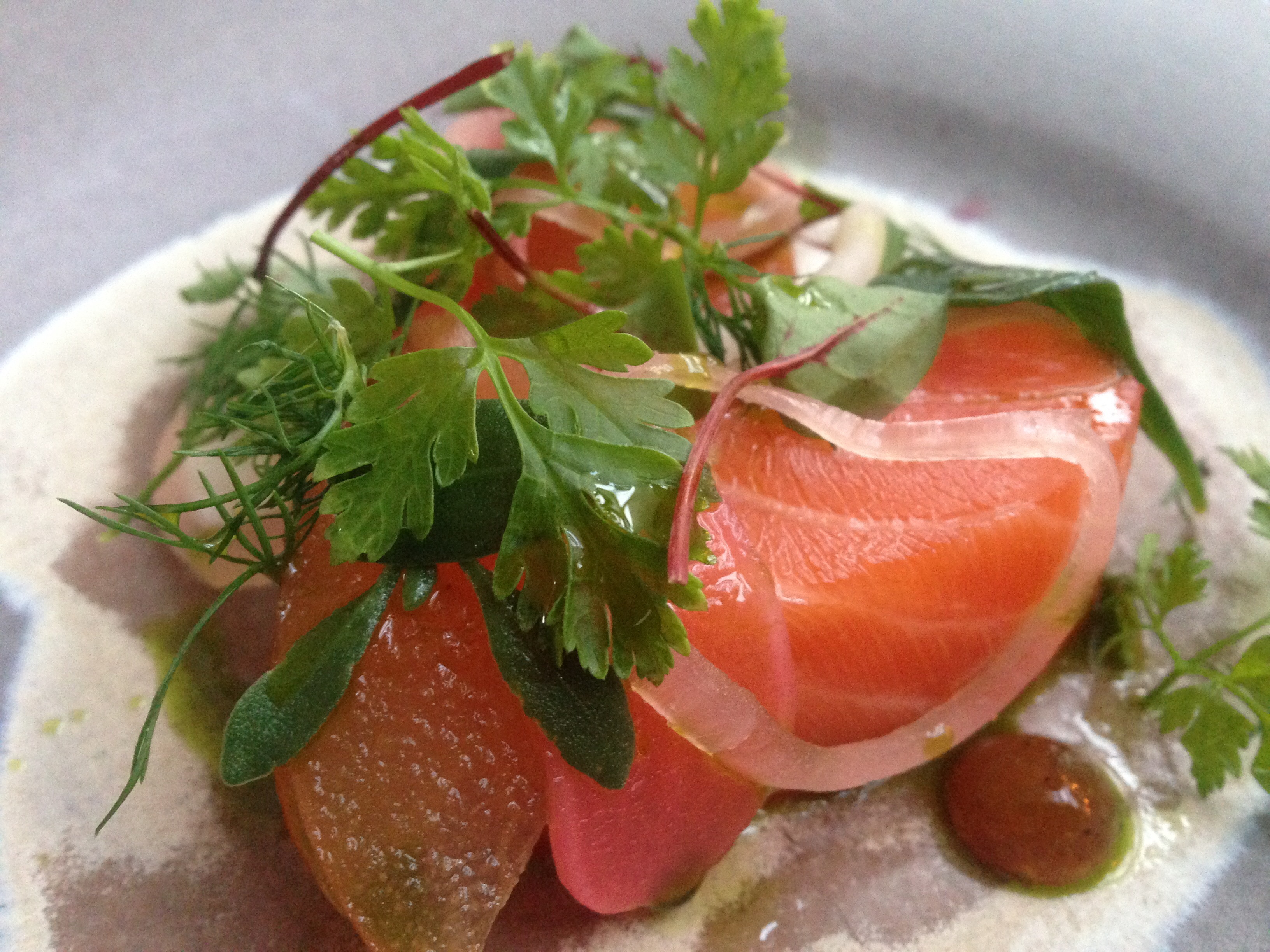 Celeriac, truffle, yolk, apple and dates is my least favourite of the savoury dishes, although I do like the presentation, a little parcel of truffle cream and yolk, wrapped in thin leaves of celeriac.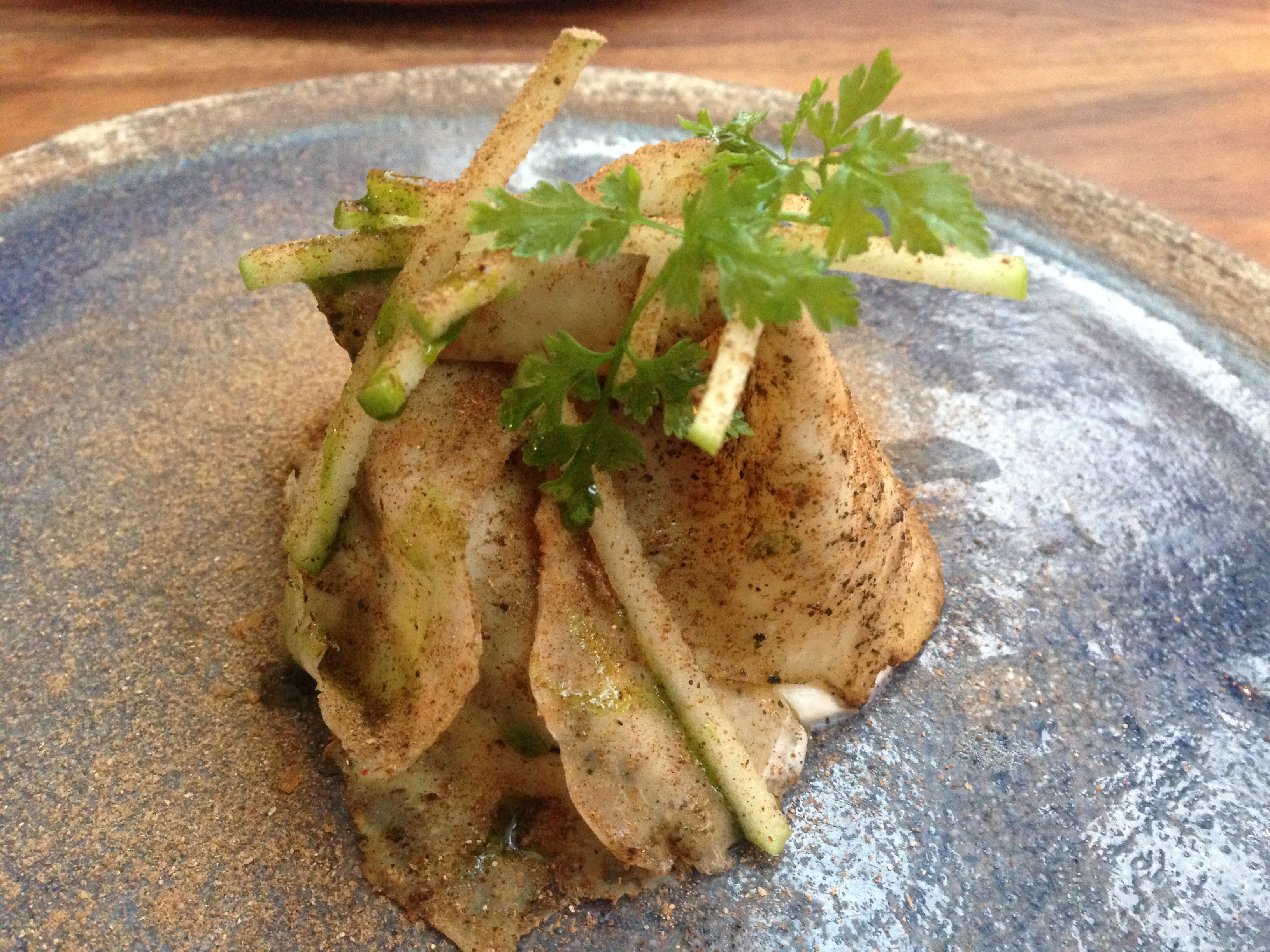 I feel the date overwhelms and doesn't really work with the rest of the ingredients, the apple too although to a lesser degree.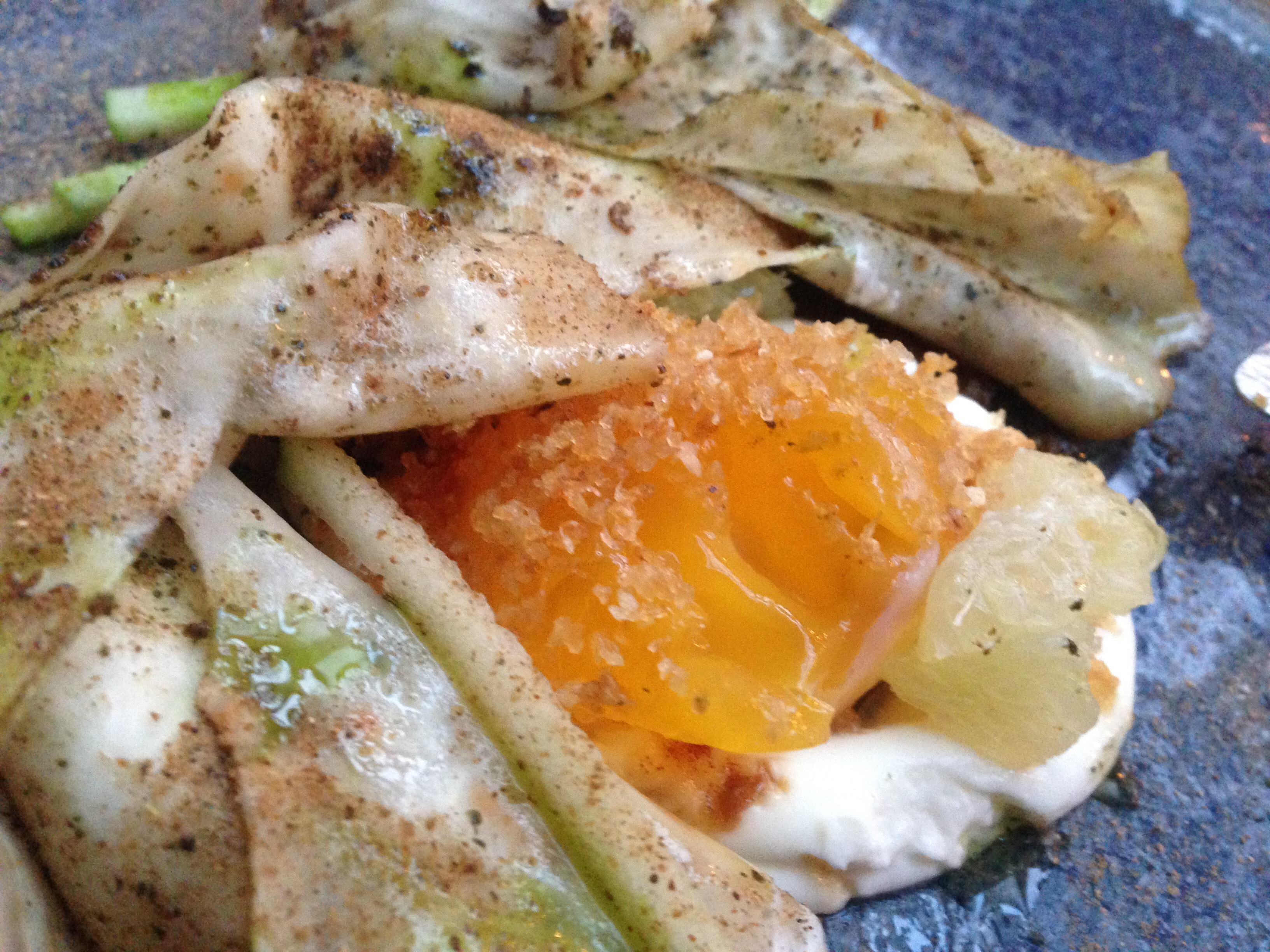 Our fish course arrives – cod, crab and seaweed. Each dish is brought to the table by the chef who has prepared it, which is a lovely touch.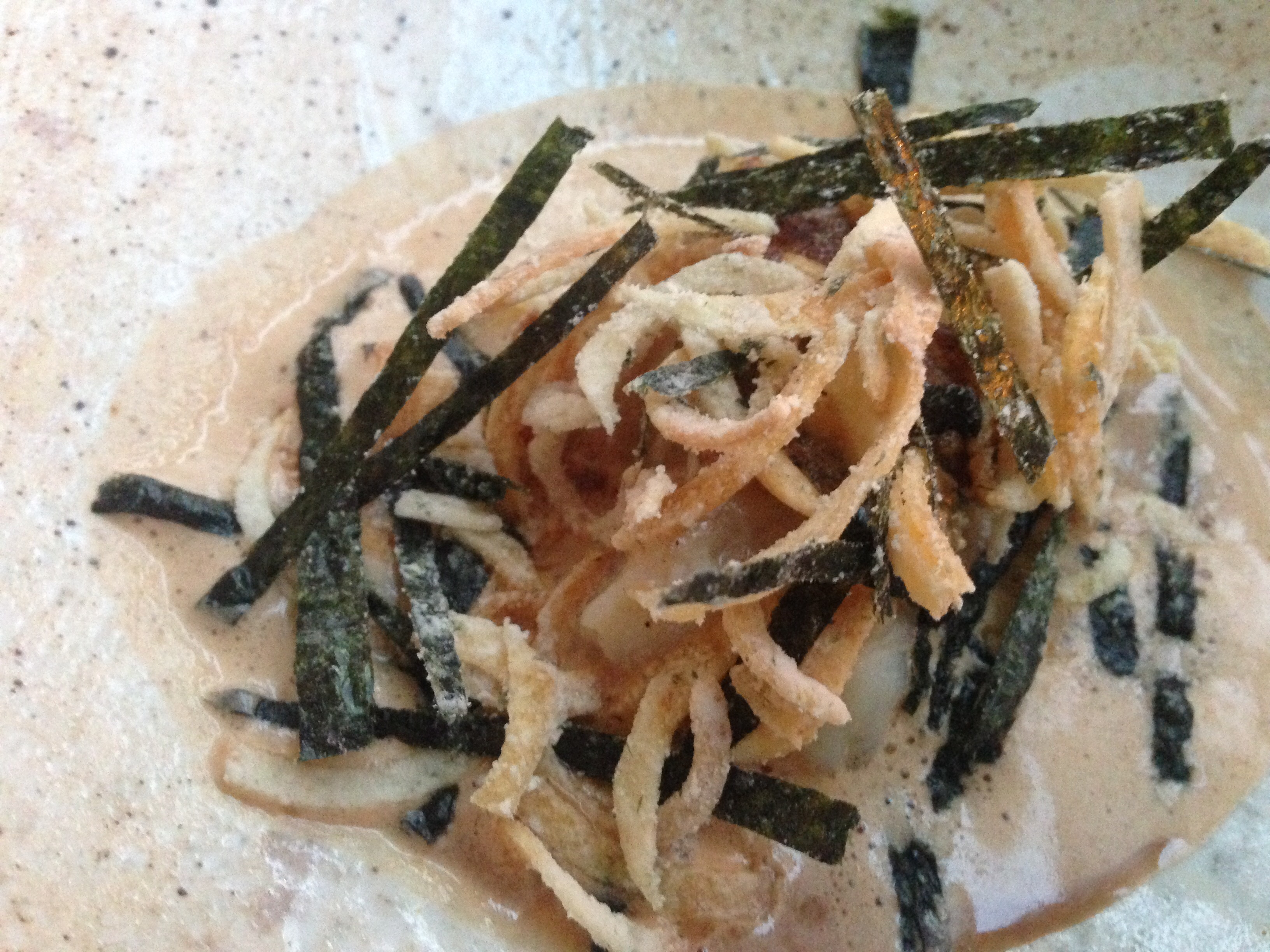 I love the salt and vinegar potato chips on top, adding a lovely crunch to the smooth, richness of the crab bisque and the firmness of the cod.
With our Kermitesque drinks finished, we order On the streets of Kingston, another gin based cocktail, served with ginger beer. It's spicy and refreshing, with a real kick from the ginger.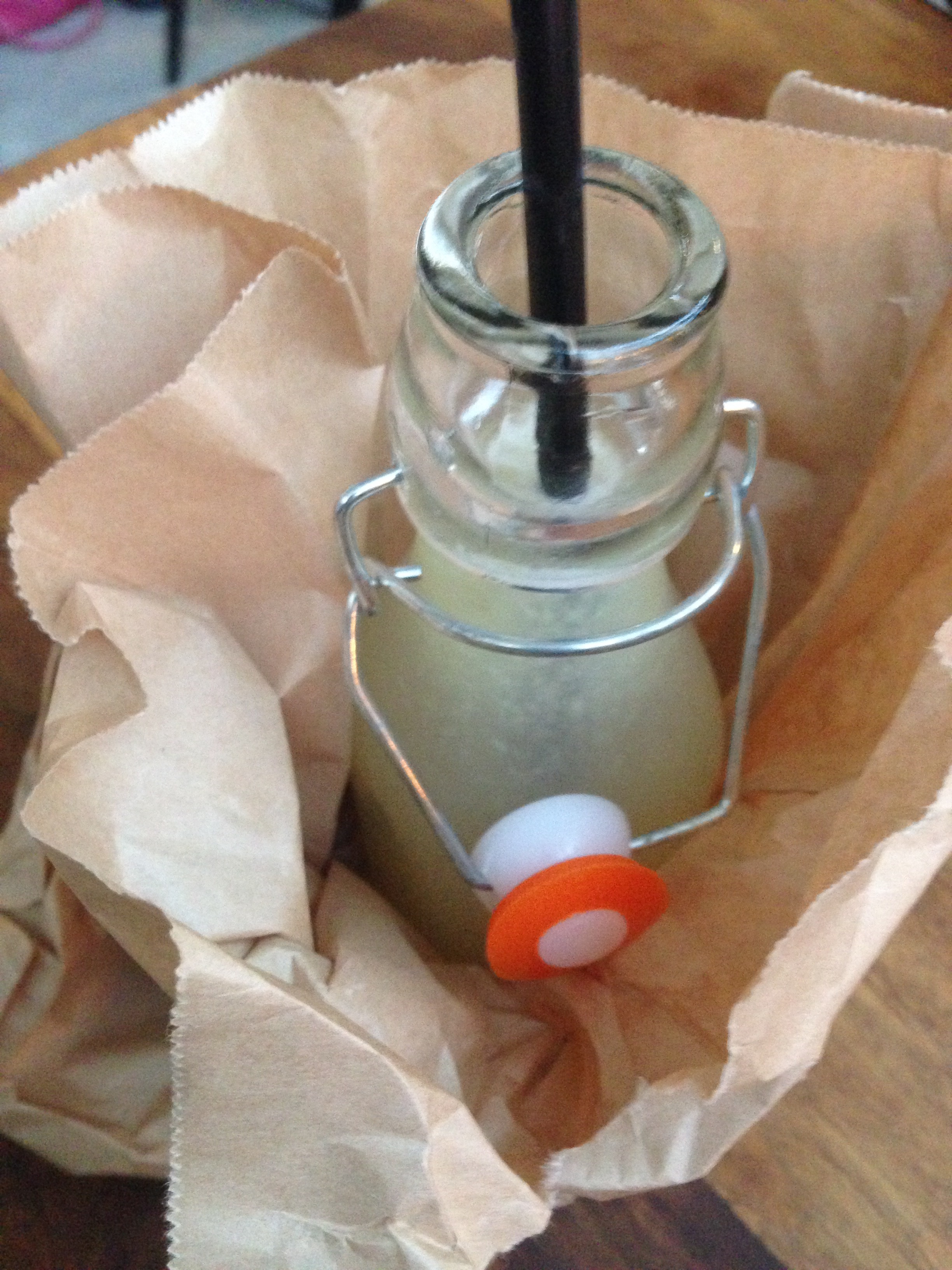 Up next, is the much anticipated Mac and cheese which we had added to our tasting menu. The cheese sauce is unlike any I have tasted, so rich but light and fluffy, covered with piles of finely grated Parmesan.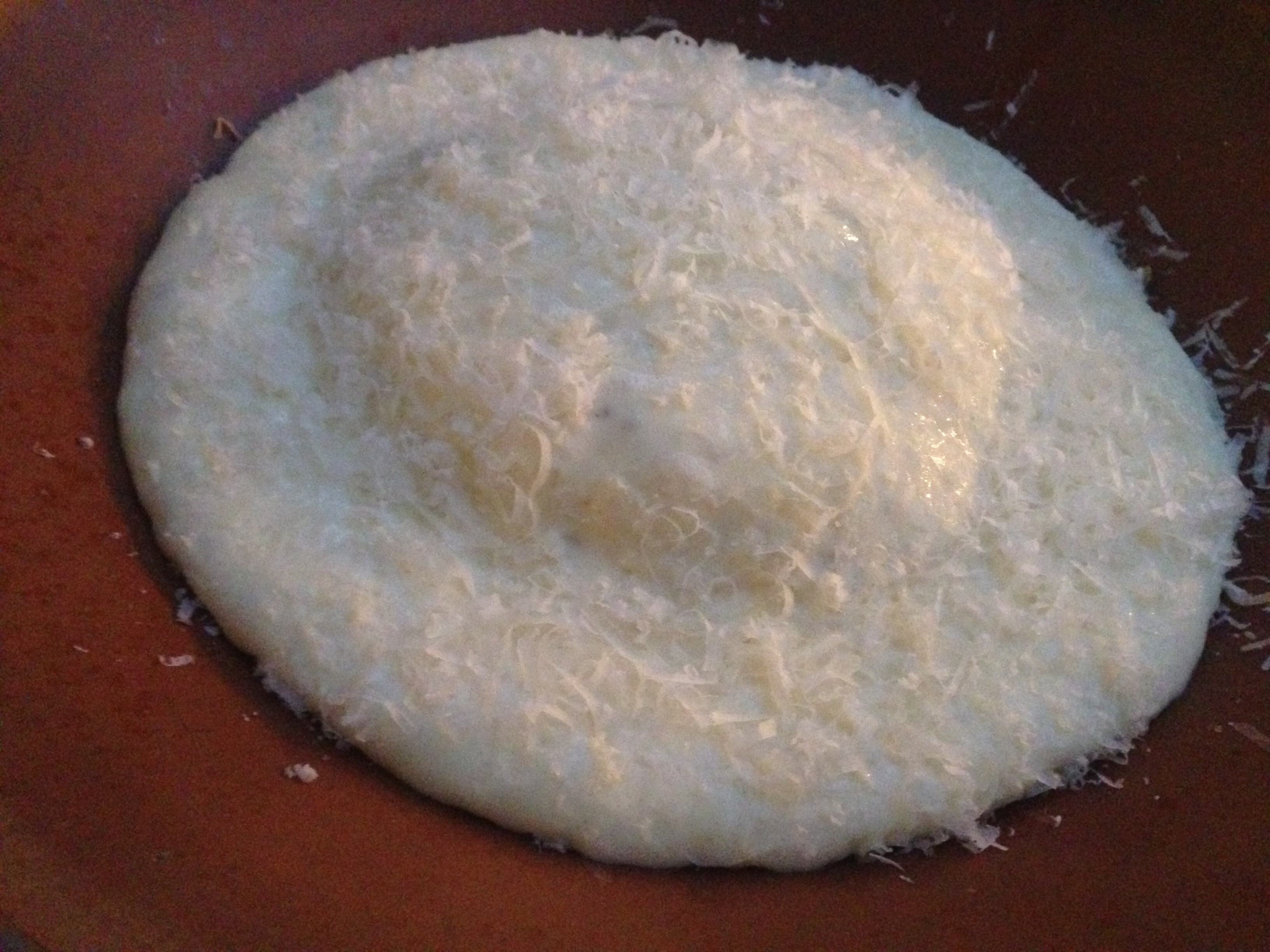 Unusually, the pasta is quite chewy, so we ask if it's meant to be like this, it is. Once cooked, it's arranged in a ring and then it's gratinated, giving it the slightly under cooked chewiness. The girls aren't keen, but I quite like it. It's taken off our bill, even though it was as it was supposed to be.
Our meat course is Pork, Kimchi and cauliflower. The pork belly is succulent and tender, accompanied by a smokey,roasted cauliflower and a creamed cauliflower.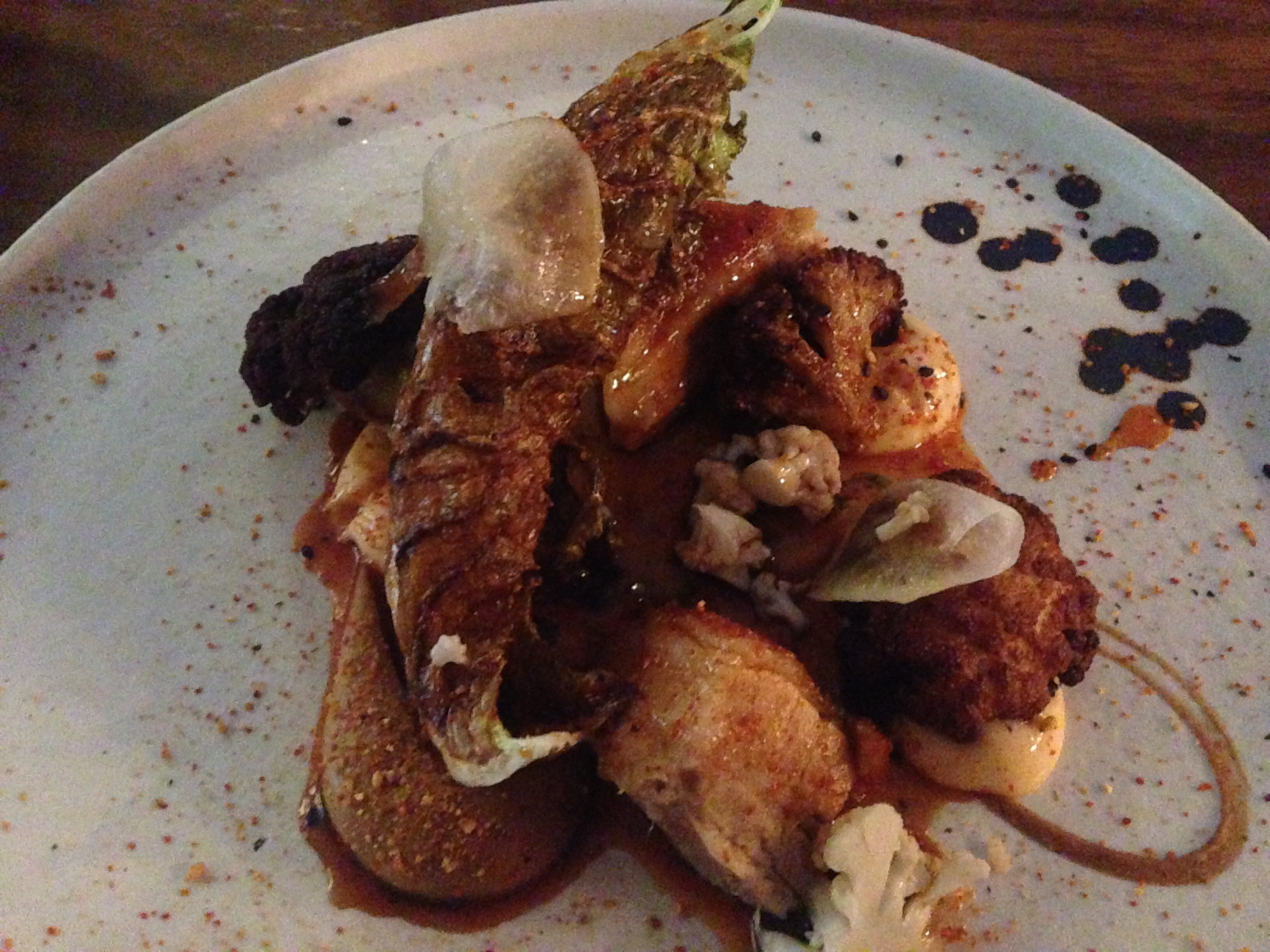 The kimchi is subtle and the plate is dusted with some sort of delicious spice, the richness of it all balanced by crème fraiche with a hint of chipotle.
By now, I am full and we have,of course, opted for the additional cheese donuts. Yet another life affirming moment.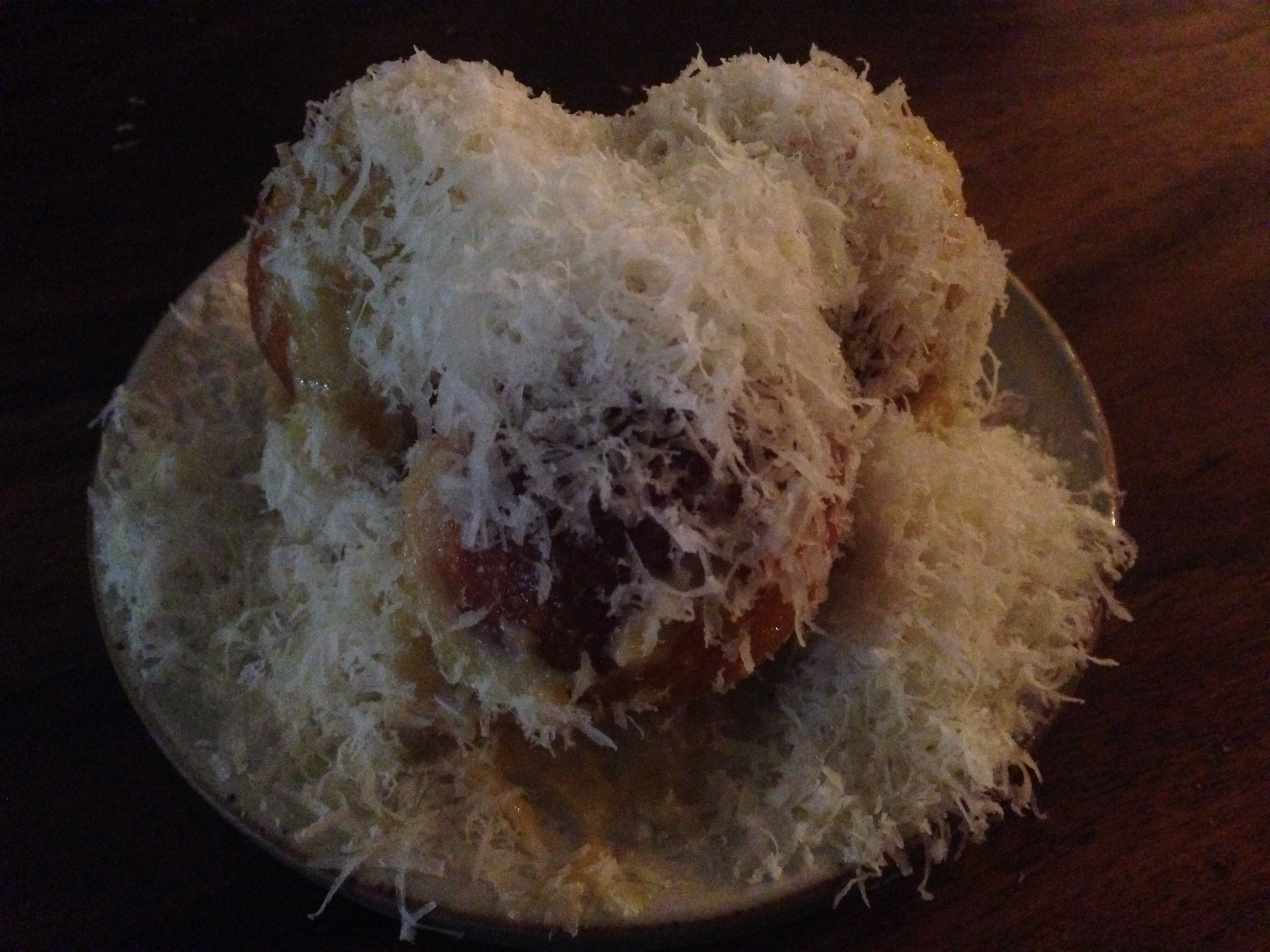 As I lift this doughy bundle of joy, Parmesan curls fall to the table. As I bite it, rich cheese sauce fills my mouth and spills onto my fingers. I repeatedly wipe the dounut across the plate to capture more of this deliciousness.
I may not make it to the next course. I do, somehow make it it, and in complete contrast in both colours and flavour is beetroot, beetroot, and more beetroot.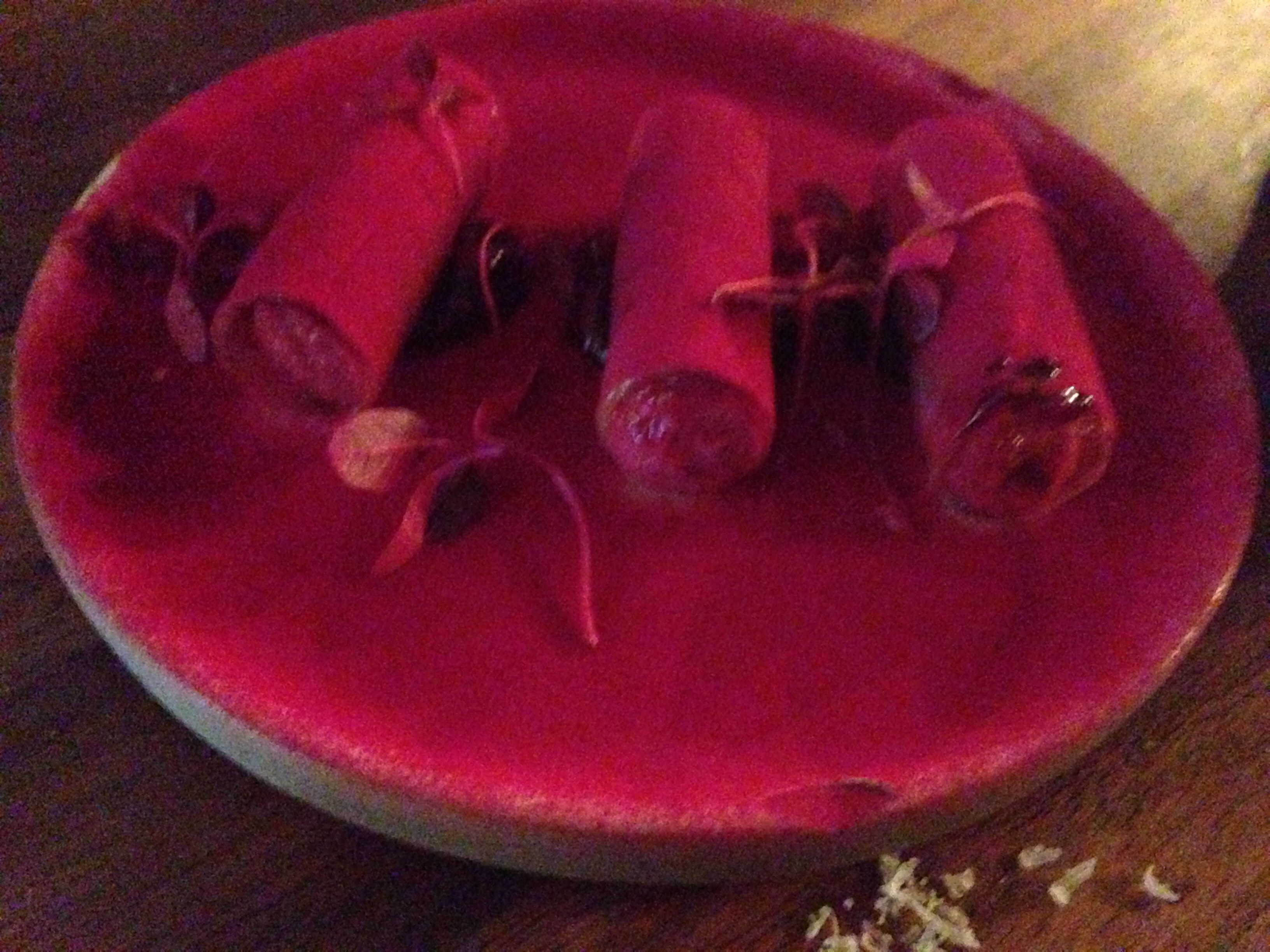 Stunning both visually and to taste. The sugar tube is filled with a delicate but not over sweet sorbet and dusted with a sweet and sour beetroot dust.
Dessert on the tasting menu is chose your own, there are three so we order them all and share.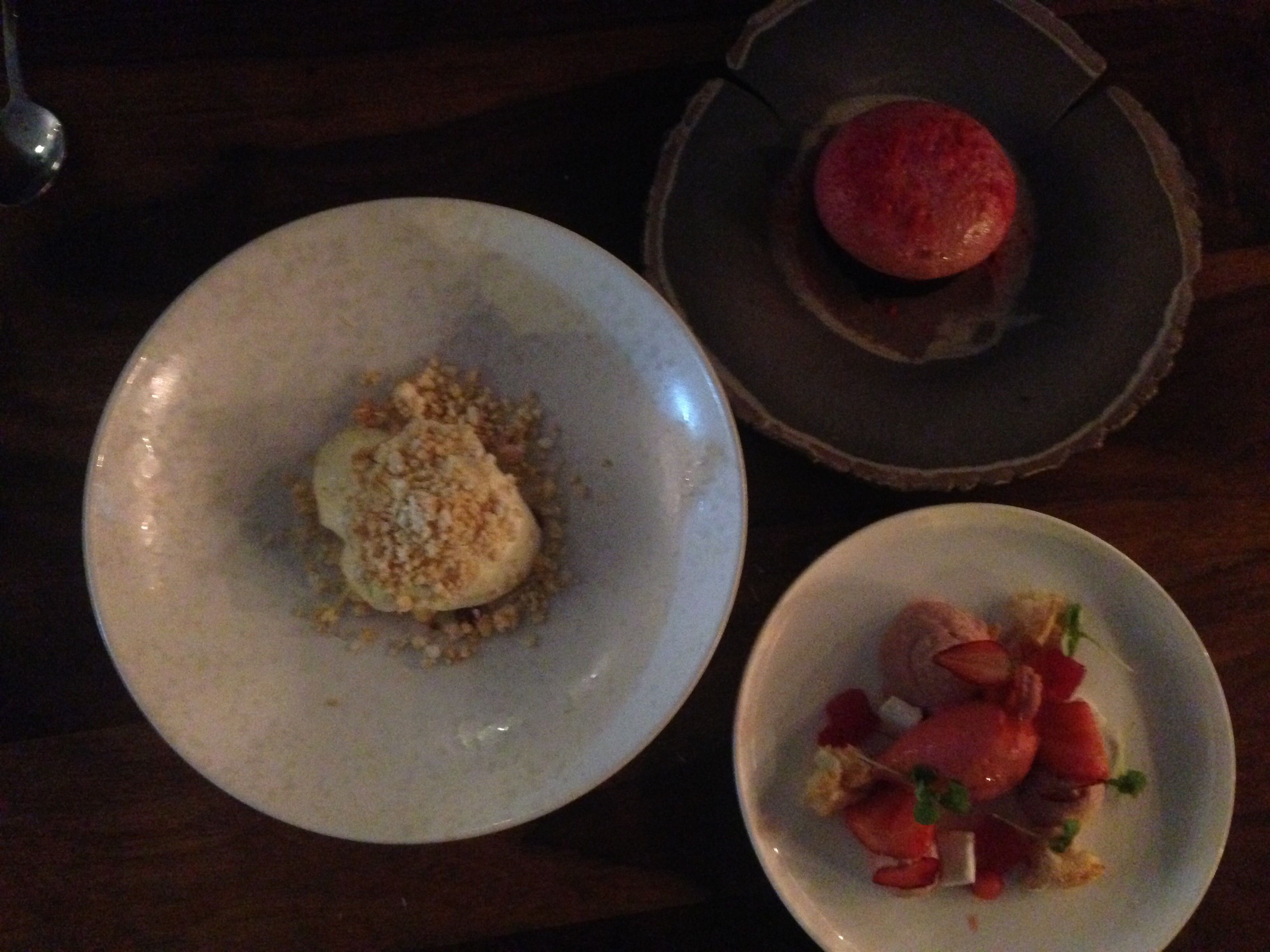 We start with cherry, chocolate, caramel. I love it, the slightly sharp, fluffy mousse sits on top of a rich, dark chocolate cake with a rich, caramel centre. Perfection.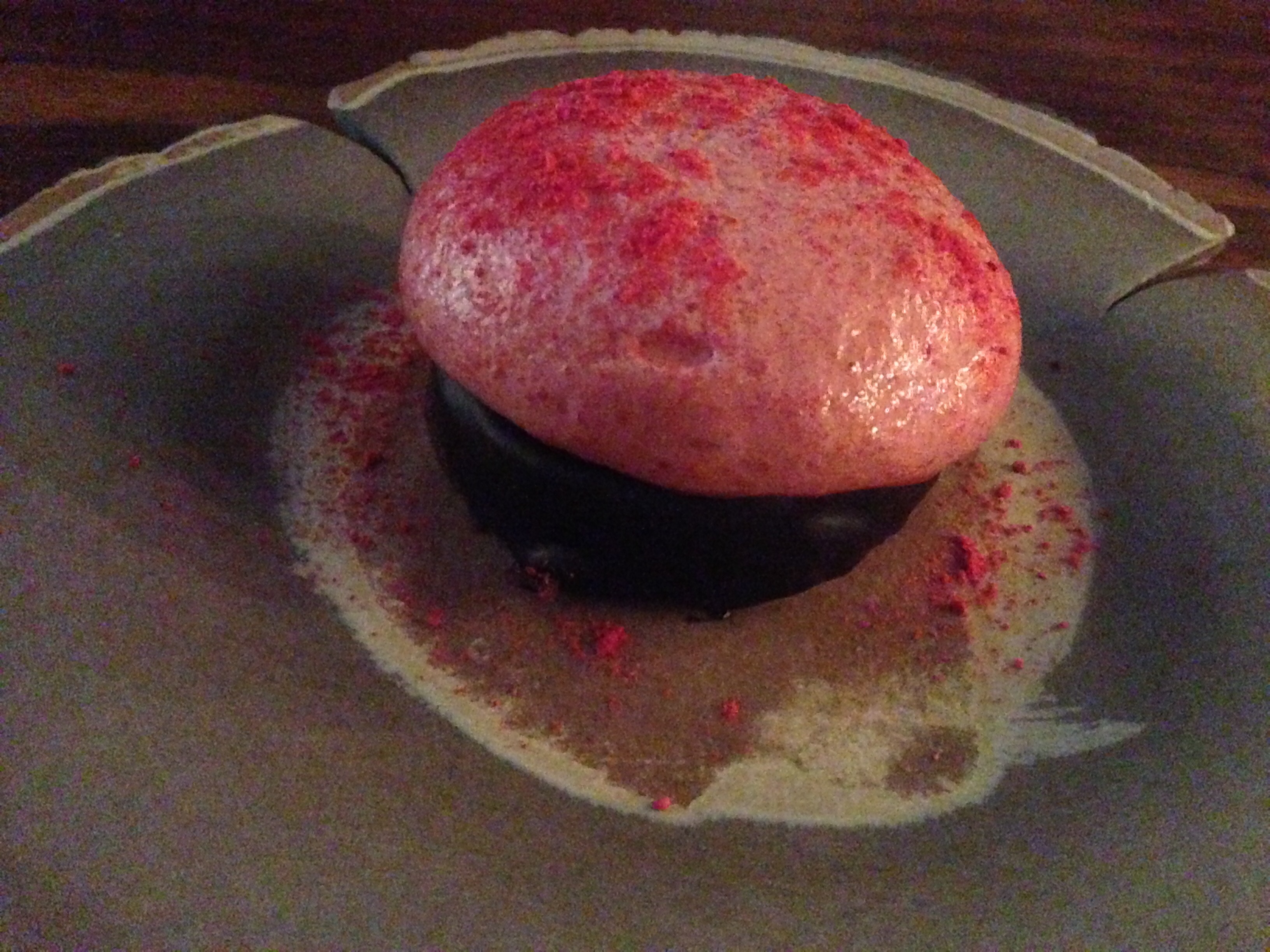 Neither the strawberry, yoghurt and watermelon nor Coconut, passion fruit, honeycomb really hit the mark for me, but they are up against tough competition.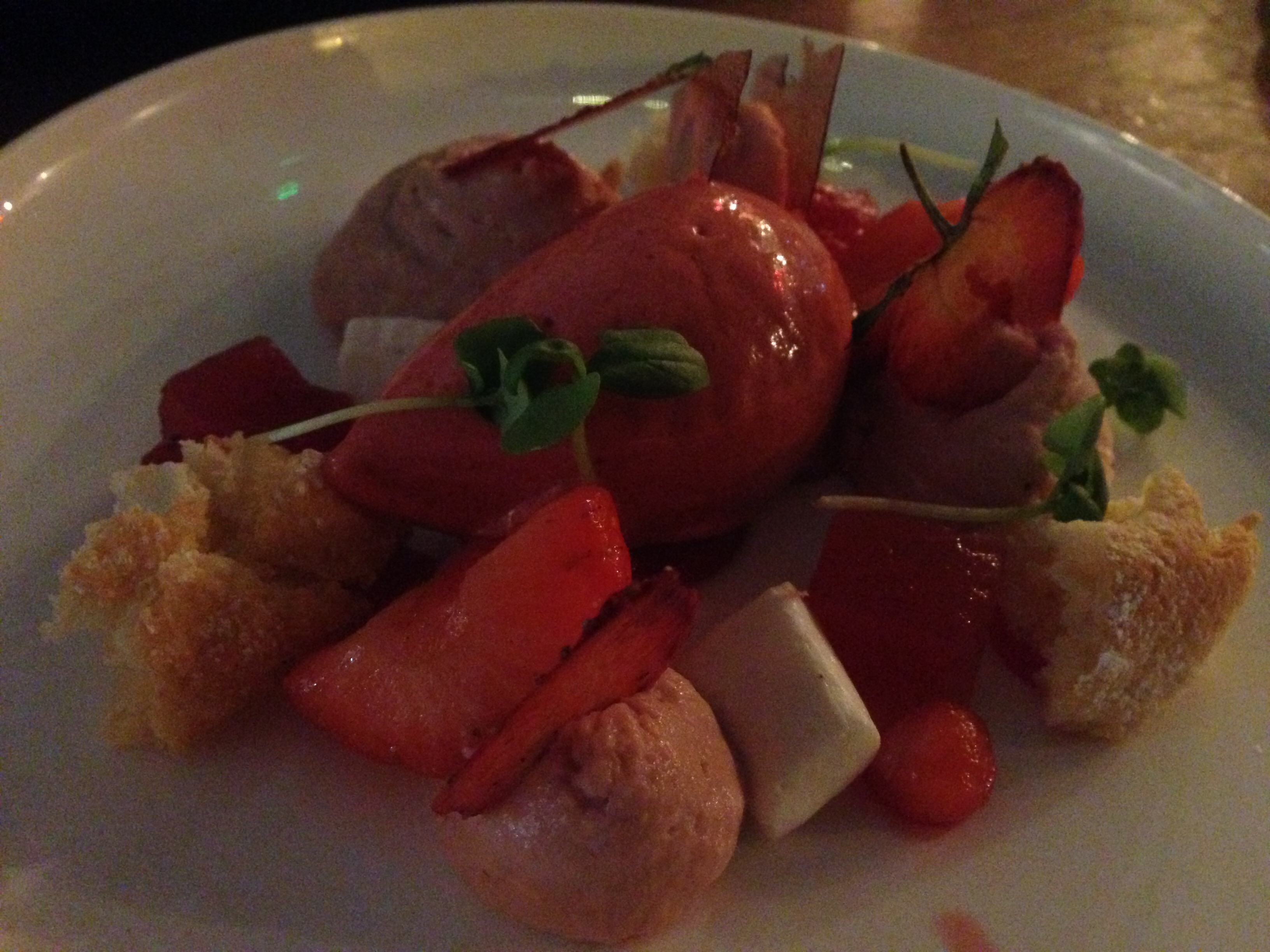 Our bill came to £70 without the mac and cheese, and our first drink was comped because we moved tables. We spent over three hours in the Frog, so I think that's really good value. A new Frog is planned for Covent Garden this summer but I'll be staying close to home, now that I've found some life affirming dishes here.
(Visited 27 times, 1 visits today)