Regular readers know I am a big  huge fan of Gingerline immersive dining experiences.  When I found out they had created something new, I was very excited to go and see what it was all about.
Unlike other Gingerline events, cameras are allowed inside which is both good and bad.  It meant that I knew in advance what the meal was, whereas normally it's all a surprise, and it turns out I like surprises.  
The premise for the night is the classic Saturday night game show from the early 90's, think Supermarket Sweep, (which I have always wanted to go on, and no, I am not kidding even a little bit), but past the watershed.
After hanging out in the studio bar, we are called to the main dining room in our teams, which have been sent in advance by email.  Geeta and I are in the Orange team, also known as the zesty zingers and I have, of course dressed accordingly.  There are twelve people per team so it's a great opportunity to make new friends, our team was bloody lovely.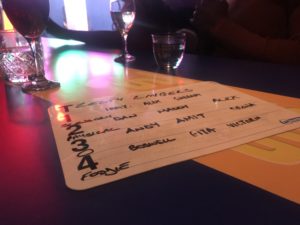 After an introduction from our hosts, the fabulous Mitch and Madge Glimmer, showbiz's most  glamorous couple, and a quick rundown of each round, we all nominate ourselves for the one we think we'll excel in, well we hope so anyway.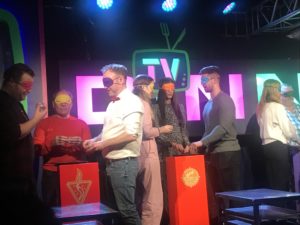 All of the rounds are based on food in one way or another and they were all really good fun, bringing out everyone's competitive streak.  I won't give too much away in case you have an unfair advantage but, I will say the last round determines what you get for dessert, so if you have a sweet tooth that's the one to go for. Winning a round gives you both extra treats and points.  The scoring is kept on track by the hilarious and adorable Snack a Max 2000 microwave robot, be sure to give him plenty of love.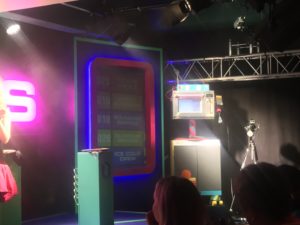 This was my last night of Veganuary, and Gingerline didn't let me down despite not knowing I was vegan in advance (I did give dietary so not sure what went wrong).
After the first round starters appeared at the table. Kedgeree, Smoked Haddock marinated in Yoghurt, Bengali Cholar Dal, Rice Cracker, Quail's Egg, Coriander Gremolata.  I am a big fan of Kedgeree and I enjoyed my Vegan version which just omitted the haddock and egg, apparently it was meant to be topped with tofu but mine definitely wasn't.  It was much wetter than a traditional kedgeree more like a dhal but still very tasty and I like the crunch of the cracker.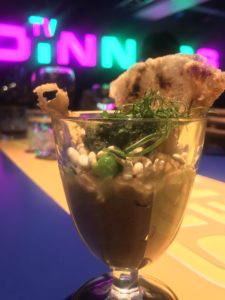 This was followed by Stuff the Pepper, Aleppo Pepper Spiced Pumpkin with Red Peppers 'Agrodolce', Drunken Stilton, Radicchio, Warburtons Croutons, my stilton being replaced with a vegan version.  This was really good, lots of great flavours from the bitter Radicchio to the creamy pumpkin.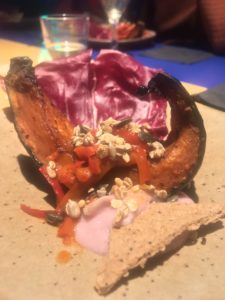 The main course, for meat eaters, was Duck a l'orange, Roasted Duck Breast, Potato Fondant, Carrot and Orange Puree, Kumquat Jelly, Torched Orange, Warm Cucumber Salad. It looked really lovely and everyone on the table really enjoyed it.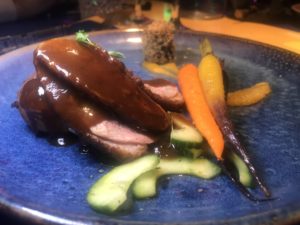 In place of the duck, I had a fennel tart and fennel salad. I have to say, I was really blown away with how good the tart was. Really flakey pastry, sticky bits of caramelized fennel, but it was tiny, I'd have loved some more of it.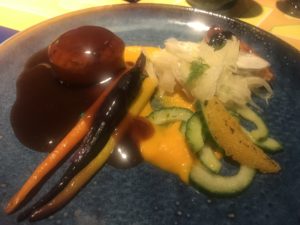 The dessert served to your table is determined by how you do in the last round, so if dessert is your favourite course, you should make sure you play this one.  We had Lemon Meringue Pie, Lemon and Thyme Curd, Whipped Cream, Cardamom Shortbread, Candied Lemon, White Chocolate. I had a vegan version which was really good, the meringue was perfectly balanced between crispy and chewy and it wasn't too tart.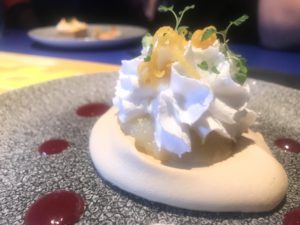 The food overall was lovely, it would be really great if you have dietary requirements if the front of house were able to tell you what you were being given, rather than leaving you to guess. Thats the only thing I'd change, oh and maybe wining.
I went to TV Dinners as a guest on the 31st of January thanks to @lovepopupslondon and it was the perfect antidote to Brexit, not least because it's set in the 90's so you can step back into happier times.  Highly recommend any Gingerline event, yes I am a fangirl, and this one didn't disappoint.
All words, opinions and images are my own and remain the trademark of http://www.sofoodie.co.uk.
(Visited 436 times, 1 visits today)