So, January has come to an end, thank god for that.  This sentiment is entirely unrelated to my vegan journey, it's just been such a long month.  Even a year ago I would never, really never, have imagined myself attempting Veganuary. Honestly, I was a bit of a dick about people that chose to be vegan and this month has taught me a lot.  Here are just some of the things I learnt this month and if you continue you down you can read about everything I ate.
Probably the biggest thing I took from this was experiencing life from someone else's perspective, walking a mile in someone else's shoes. It's quite rare to do this and I found it really enlightening.  It made me appreciate how easy life is as someone with no allergies, religious or cultural catering requirements. 

It's ok for everyone to be different, to think and believe different things.  It doesn't make me wrong and you right or vice versa

Being vegan needs more planning, there is no guarantee you'll always find something you can eat. And sometimes all that's available is chips, I know how even am I, complaining about chips, see point 4. It's worth always having something in your bag, just in case.

It's not always easy but it is possible.

Eating less meat is the single most impactful way for us as individuals to help the environment. I'm no expert but I found

this article

helpful.

I definitely ate way more 'junk food' than normal, but some of this junk food is all plant based and not processed, so sometimes you need to change your perspective.

However,  there is a shit lot of very processed meat substitutes out there, I don't want to eat crap, be it plant or meat based.

I did lose weight

If you are a vegan for ethical reasons you probably shouldn't eat at (most/any) of the big chains without checking out their policy on animal husbandry.  Making a vegan product does not eradicate factory farming. I found this

interview

with Sat Bains interesting.

I didn't find it cheaper, either eating out or eating in.

It's good to be kind to each other
This January I am embarking on my first ever Veganuary. If you'd told me a year ago I'd be doing this I'd have found it unbelievable, but in the last twelve months my opinions on vegetarian and vegan lifestyles have changed significantly. I think given the state of the planet and the excess in all our lives it's time to look at what changes we can make, no matter how small.  And yes, I have watched Game Changers. I found it extremely interesting, a real eye opener but it's always important to check your source. This film was produced by James Cameron and his wife, who have invested US$140 million in plant-based proteins (according to multiple sources) including a company that produces pea protein, which is a key ingredient in Beyond Meat. There is loads of material on the internet debunking much of what Game Changers says, I'm not going to get into it here, but feel free to check it out.
Back to Veganuary, for years I've done the Body Coach plan which is very meat heavy (there is now a veggie plan) and I felt that I was eating a lot of animal protein and I'd like to cut it down. So for me this is a challenge to see if I can do it, not least as I have two trips to Copenhagen and one to Athens this month. Copenhagen should be fine, amazingly my company provides lunch everyday and they will order me a vegan option. Athens, harder, one of my overriding memories is the sweet smell of meat barbecuing in the air.
So here is my Veganuary  journey.
Week one
Happy New Year!  I've been at home for Christmas and New Year so start Veganuary at my sisters in Glasgow.
Day one
Breakfast – A slice of multi-grain toast with a really simple guacamole.  This is how I made mine but it really depends on what's in the fridge. This is enough for a very generous portion on a large slice of bread.
Half an avocado mashed, I like mine quite chunky
4 cherry tomatoes quartered
Juice of half a lime
Pinch of chilli flakes
Salt and pepper 
Lunch – A couple of satsumas and some salt & vinegar crisps
Dinner – Starting the year on date number three with the chef, he is not overly impressed with my veganism and so we choose a non veggie place so he can have free reign.  We go to Pizza East, he likes to sit at the counter, I like to sit at the counter, if only it was as simple as that. There is not a great deal of choice and so I opt for the only vegan options.
Pizza with pumpkin (rather than a tomato base) broccoli and chilli.
Butter lettuce and avocado salad 
The pizza was good and the pumpkin worked well, it was much spicer than I had expected.
Day Two
Back to work.  
Breakfast – Homemade granola with oat milk.  I make a big batch of this and it's great for when the cupboards are bare, like today.  I'll post the recipe at some point.
Lunch – Waitrose ready meal Satay with sofa and rice noodles.  Pretty tasty.
Dinner – I was convinced I had seen a recipe for a shepherd's pie topped with potato and parsnip mash.  Of course when I go to Waitrose I don't have the recipe with me and despite there being three different recipes on Bosh for shepherds pie none was the one I seemed to have imagined. So here is the recipe for my vegan shepherds pie.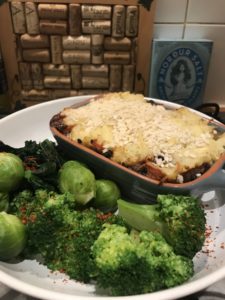 Vegan Shepherd's Pie
Makes three generous individual portions
Topping
One large potato
Two parsnips
Any non dairy milk non sweetened
Non dairy margarine
Salt and pepper
Method
Cut your veg into similar sized pieces and boil until soft.  Add seasoning, milk and marg and mash to your own liking. I have to tell you that I had neither milk nor marg in little brick lane kitchen and so used some plain soya yoghurt which actually worked fine.
Filling
A good glug of oil, olive or rapeseed
One brown onion diced
Two carrots diced
Two sticks of celery diced, try to cut all your veg to a similar size
250g of cooked lentils, I used a packet but a tin would be fine and cheaper
One vegetable stock cube
A tin of chopped tomatoes
Teaspoon of ground coriander
Teaspoon of tomato puree
Salt and pepper to season
Two tablespoons Balsamic vinegar
A good splash of red wine (I didn't add this as the rest would have gone to waste (dry January) but I think it would add to the dish if you have some)
Method
Heat the oil in a large frying pan.
Add the onion and coriander to the pan and cook until soft but not brown.
Add the carrot and celery and cook on a low heat for five minutes before adding the tomatoes, puree, balsamic, and stock cube.
Turn the heat down to very low and add a good splash of water, allow the veg to braise.  This will take about 30 minutes, if you need to add a little more water.
Once the veg is soft add the lentils and season.
Split across three small dishes or one big one, and top with the mash.
Pop it in the oven for about 20 minutes or until lightly browned.
Serve with whatever green veg you fancy.
Day three
Breakfast – Homemade granola with oat milk
Lunch – I work with a vegan, a burger addict, and finally someone that is heavily plant based but loves junk food.  This meant that I was persuaded to try the KFC Vegan burger, which launched yesterday. As someone that couldn't tell you the last time I was in a KFC and rarely eat junk food, it tasted like processed food to me.  It was fine, it reminded me of a McChicken Sandwich, it was a bit dry and overcooked. I won't be rushing back.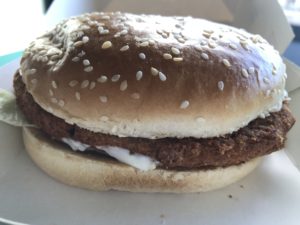 Dinner – N surprises me with a visit and we want something cheap and cheerful and so end up at Mooshies on Brick Lane, for another burger.  This is in a completely different league to KFC.
The bun is a handmade multigrain brioche which is really tasty not sweet and more than up to the job of holding together the large quinoa and black bean patty, even with all of the sauce and cheese.  Everything here is plant based, there are no processed meat substitutes on the menu.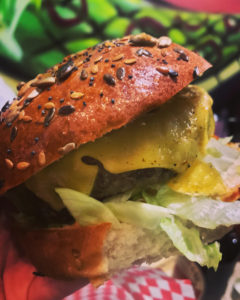 The texture of the burger is very good, it's a little drier than beef but its not dry, it doesn't collapse into rubble as you eat it.  It has great umami flavours and is topped with vegan cheese, homemade burger sauce, which is very similar to that of a very well known chain, caramelised onion, lettuce and gherkins.  It's also massive, I struggled to finish it.
We also shared some sweet potato chips which were perfect, crispy to the last one.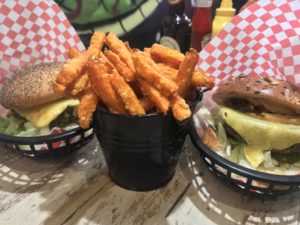 Day Four
Breakfast – slice of rye bread with peanut butter.
Lunch –  B and I went to Bubala for lunch, it's had a couple of amazing reviews and it didn't disappoint. Every thing on the menu is vegetarian with 73% (yes, I did the maths) either vegan or with an option to be so. I'll be writing a review and when I do you can read it here.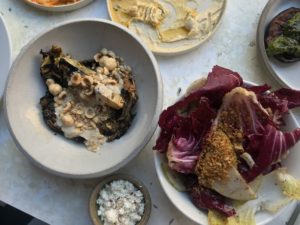 We absolutely didn't miss meat at all. Highly recommend this lovely little place.
Dinner – I have a date tonight, he is not phased when I announce I'm doing both Veganaury and dry January and suggests Redemption on Old Street. This is perfect because it's both dry and vegan. We have a couple of really good cocktails. Special mention for the flu fighter martini. Just be careful not to touch the chilli rim of the glass and then put that finger in your eye!
Anyway, we didn't eat here. You've guessed it, we went for burgers, FFS! This time to Simplicity, the new Vegan, no waste burger restaurant from Neil Rankin, also on Brick Lane. At 9.30 on a Saturday night we are the only table. I go for the cheese burger and we share the salt and vinegar fries and Thai laab (salad). 
The burger is made from fermented vegetables, from what I've seen mostly mushrooms. It's pretty tasty, again very similar in overall flavour to something Mr McDonald makes. It's significantly smaller than the Mooshies burger (I'd say by a third) and the same price.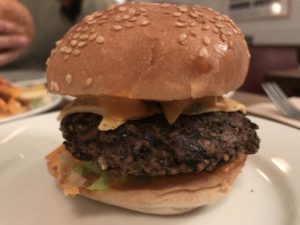 The salt and vinegar fries are not as expected, they are covered in cheese, chilli sauce and fried onions. Good, just not what I'd call salt and vinegar.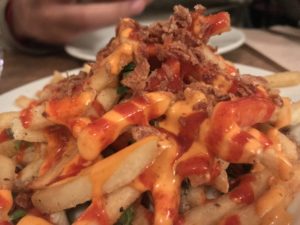 The laab was excellent, fresh, zingy, sharp thai flavours but the broken burger through it was just a bit too much burger in one meal for me.
And no, there won't be a second date. 
Day five
A super lazy day at home. 
Brunch – rice with stir fried veg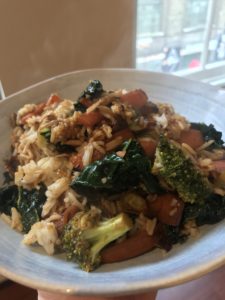 Dinner – vegan shepherds pie and green veggies
Day Six
I'm off to Copenhagen for work so let's see how this goes travelling.
Brunch – Itsu's veggie Rice pot is the best hot, on the go option at Stansted. Just a pity it's so much more calorific than the non vegan ones.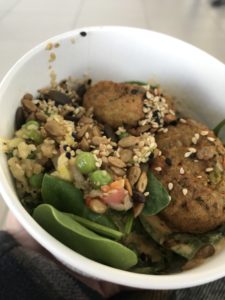 Also how great is this refillable water flask at just 10p more than plastic.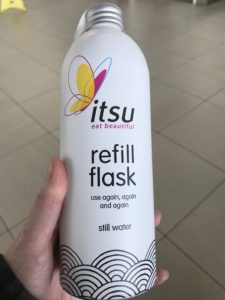 Dinner – head out and end up at California Kitchen where all dishes am be made vegan. I have the Bento Teriyaki rice bowl with teriyaki tempeh and mushrooms, sweet potato, edamame and green veggies with sesame seeds. It's pretty tasty and my first time trying tempeh.  And what is tempeh? It's made from cooked soya beans that are fermented. Traditionally from the Philippines it's less processed than tofu, has more fiber and vitamins, as well as being firmer and tastier. I really like it and will definitely try it again. It's got a nutty hint and an umami flavour.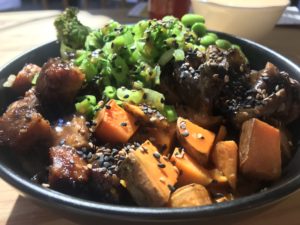 Day seven
Breakfast – a banana 
Lunch – red pepper stuffed with quinoa, salad and roasted carrots.
Dinner – I popped into Borgens food court and had a vegan gyros with asparagus from The Fat Greek. It was very tasty although mostly mushrooms and some more salad would have been great. This place does THE best chips, not sure what's on them, at a guess salt, paprika and oregano, but they are so good, as is the roasted red pepper sauce.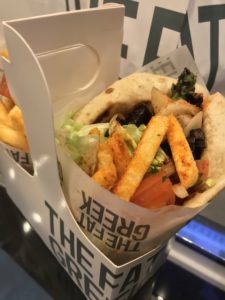 Week one is over and so far so good. 
The week kicks off and I'm here in Copenhagen. So far, eating vegan here has been pretty easy, although I have sought out vegan restaurants rather than looking for vegan options in mainstream restaurants. Right let's go!
Day eight 
Breakfast – granola with oat milk
Lunch – a vegan lasagne which was mostly onions and peas in a tomato sauce. It did remind me how wonderful onions are and of a dish I last made for Mr Gosling, so we are talking five years ago, which was mostly just roasted shallots. I wonder if I can find the recipe?
Dinner – despite lunch being served at 11.30 here, don't ask me why, there seems to be no explanation for it. I'm just not hungry  and so eat a handful of peanuts and two squares of NOMO chocolate. This is vegan and pretty bloody delicious.
Day nine
Breakfast – on Thursdays' breakfast is provided in the office. Gorgeous breads, butter, cheese, cold meat, chocolate spread and slices. I have bread and jam, the only thing that is vegan friendly.
Lunch  – a really delicious pumpkin, chickpea and cashew curry. It's extremely good. I also have lots of salad. I love that every day there are at least 12 different salad items from simple tomatoes, lettuce and cucumber to roasted carrots salad with pumpkin seeds or broccoli and pine nuts 
Dinner – it's my last night here, for now anyway and I head to Choa Viet Kitchen as the menu has several vegan options and boasts a vegan fish sauce. Maybe I order badly but my Bun Cha Gio Chay, which is rice noodles with vegan spring rolls, vegetable salad, herbs, roasted onions, peanuts and homemade vegan fish sauce is disappointing. The spring rolls are tasty but the noodles are really tasteless. I end up adding a lot of siracha to give them some flavour.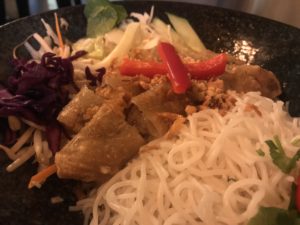 I also have a tofu summer roll which is not bad but lacking a bit of punch.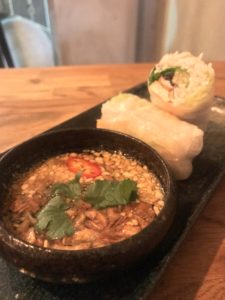 On my way home I stop for some vegan treats and find a vegan Ritter Sport bar with hazelnuts, and some raw truffles.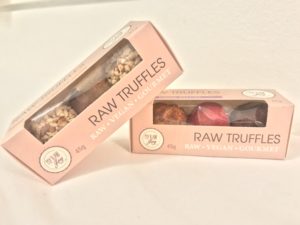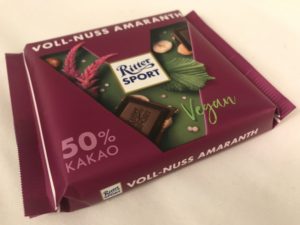 The hazelnut truffles are amazing and surely calorie and guilt free being both vegan and raw. I mean, I'm basically 99% Gwynth Paltrow right now! 
Day ten
Breakfast – Granola and oat milk
Lunch – Skipped as I am on my way to the airport. 
Dinner – Consider a take away, especially when I discover I haven't actually checked out of my tesco order and so have no delivery tonight.  Instead I buy some mushrooms and make a very simple linguine with garlic, mushrooms and rosemary. I also find some cavalo negro in the fridge and tear this up and throw it in. Its simple and tasty.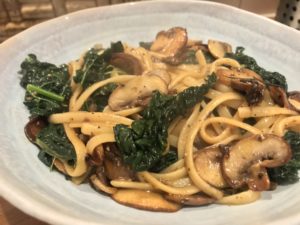 Day eleven
Breakfast – despite waking at 8am I don't manage breakfast.  As a non vegan its never bothers me skipping a meal because its easy to grab something on the go.  As a vegan I am learning never to skip a meal as finding food requires a bit more thought
Lunch – I meet 'the gays of my life' at the new Brewdog Alcohol Free bar for our annual planning day.  This years its sober and tinged with a little sadness, as in May the boys leave London to make a new home in Sydney.  And yes, I did cry when they broke the news to me.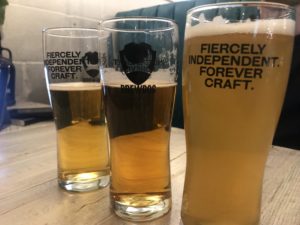 We had agreed not to eat here as the menu is, yes, you guessed it, burgers.  However I'm starving, not having had any breakfast, so we order the buffalo cauliflower, sweet potato fries and mac n cheese (not for me).  Its not bad, the cauliflower could be much crisper, have more sauce and a vegan blue cheese sauce would be brilliant. We plan to go on for lunch but the one thing I've found is that I feel much fuller, so as none of us are hungry we don't end up going for a 'proper lunch'.
We tried a couple of different beers, all of them are really good and the bar staff are super friendly.
Dinner – After much debating, (with myself), if I am hungry? Should I get a take away?  I make some pasta. I whizz up some basil, walnuts and olive oil to make a pesto of sorts.  I fry some courgette and leeks with garlic, add the pesto and some pasta water. Season, add cooked pasta and a splash of soy cream, before topping with some broken walnuts and a parmesan substitute that has good umami flavours.
Oh, I should mention I hadn't planned dinner as I was meant to be on a date, he cancelled at 12.30 with toothache, apparently.
Day twelve
Noting yesterday mistake of not eating breakfast, we start here today.
Breakfast – slice of rye bread with half an avocado
Lunch – Grab a falafel wrap from Planet Falafel, via the Too Good To Go app.  The falafels here are great, they are all made fresh so they are warm, and crisp on the outside, soft and fluffy on the inside.
Dinner – Make my first dish from the  BOSH cookbook that my sis got me for Christmas.  I make the buffalo cauliflower. As I start I realise it requires buffalo sauce, I thought we'd make that.  I, as is standard, go off recipe and use all of the siricha I have which isn't quite enough for the half portion I make, but it's only just short.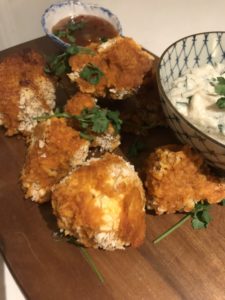 I don't think the ranch dressing tastes anything like ranch but on the whole it's pretty tasty and there is enough for lunch tomorrow.
Day thirteen
Back into the office and hopefully a bit of a routine which should make Veganuary a bit easier.
Breakfast – Homemade granola and oak milk, I know its a bit dull but its really easy and it's easy to pimp it up with some fruit.
Lunch – The boys headed to Subway for the new Meatless Meatball Marinara Melt but I stay in with my buffalo cauliflower.  I am aware that I have eaten a lot of vegan fast food this month and Subway would never be something I would normally pick.
Dinner – more pasta, with leeks, mushrooms and courgettes, home made pesto and cream
Day Fourteen
Two weeks in, can't believe it.  
Breakfast – homemade granola and oat milk
Lunch – pasta from last night
Dinner – I make Pad Thai from the Bosh cookbook, I love Pad Thai.  It's really tasty but the quantities are very small and I double the amount of noodles and tofu per portion, making it perfect. I am a bit worried when they talk about catching lime pips. I've never, ever seen a lime pip.  It just goes to show how important recipe testing is.
Two weeks in and its going ok, although I feel like my cooking has been a bit repetitive, but then I often have the same dish two or three times a week to minimise food waste, so it probably not much more than normal.
If you missed week one, click here.
Right, here we go, just past the halfway mark as I write this.
Day fifteen
Breakfast – yes, I know it boring but most of us eat the same thing everyday.
Granola and oat milk
Lunch –  Leftover pasta from the night before.
Dinner – I'm out with the lovely ER tonight for dinner and our plan is to go to Mildreds in Soho, however when we arrive it's a two hour wait!  Normally finding dinner in Soho is easy but finding something vegan is a bit harder.  We decide to head to the new (ish) Seven Dials Market and the first place we see is Club Mexicana.  We wander round checking out other options, but end up back here which is great as they also have seats.  We share the loaded nachos and add vegan cheese, which is quite hard to find and probably not worth adding.  For me I like my loaded Nachos to be really loaded and I think the toppings were a bit mean.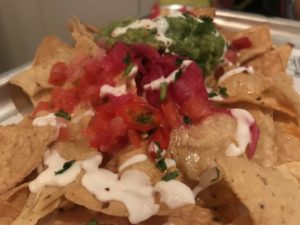 We have one of each of the tacos, all of which are tasty.  The mushroom and smoked tofu was my favourite.
Day sixteen
Breakfast – granola and oat milk
Lunch – As I was out last night, I didn't make falafels and hummus as I'd planned.  Lucky I had a pouch of puy lentils, (these are so handy) and when I get in I knock up a quick salad for lunch.
Dinner – Tonight I have Fi over for dinner, we had planned to go out but as shes in a hotel all week I think it's nicer to stay in, chill and have a home cooked meal.  It's also a great way to use up the massive piece of tofu in the fridge.
We eat Pad Thai on the couch while catching up on each others lives.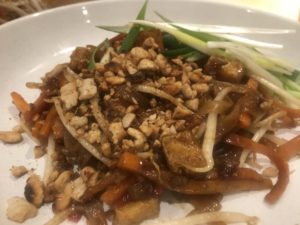 Day seventeen
Breakfast – I attempt to get a Pret vegan croissant, but neither Pret I go to has one. So Granola it is.
Lunch – Pad Thai from last night.  This I can see myself eating a lot.
Surprise treat – my Vegan colleague returns from lunch with a Pret vegan croissant for me. It's not a croissant, it has none of the light, airiness that makes a croissant what it is.  And essentially much of what makes a croissant, a croissant is the butter, layer upon layer folded over and over.  And this being vegan has no butter.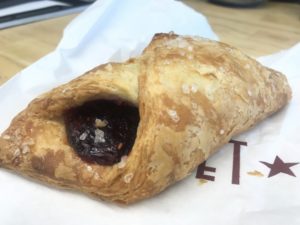 I would however like to point out that it is a very good pastry, I'd liken it to a Danish pastry, crispy, sugary, flakey pastry and rich sweet jam.  If I wanted a sweet treat I would definitely eat this again.
Dinner – I am out with AP, my old boss, bestest friend and dad to my beloved godson. 
I head into soho and get our name son the list at what's being touted as the best Sri Lankan in London, Paradise.  There will be a full review, but for now let me tell you it was brilliant and I can't wait to go back in February to try the pork cheek curry.