The week kicks off and I'm here in Copenhagen. So far, eating vegan here has been pretty easy, although I have sought out vegan restaurants rather than looking for vegan options in mainstream restaurants. Right let's go!
Day eight 
Breakfast – granola with oat milk
Lunch – a vegan lasagne which was mostly onions and peas in a tomato sauce. It did remind me how wonderful onions are and of a dish I last made for Mr Gosling, so we are talking five years ago, which was mostly just roasted shallots. I wonder if I can find the recipe?
Dinner – despite lunch being served at 11.30 here, don't ask me why, there seems to be no explanation for it. I'm just not hungry  and so eat a handful of peanuts and two squares of NOMO chocolate. This is vegan and pretty bloody delicious.
Day nine
Breakfast – on Thursdays' breakfast is provided in the office. Gorgeous breads, butter, cheese, cold meat, chocolate spread and slices. I have bread and jam, the only thing that is vegan friendly.
Lunch  – a really delicious pumpkin, chickpea and cashew curry. It's extremely good. I also have lots of salad. I love that every day there are at least 12 different salad items from simple tomatoes, lettuce and cucumber to roasted carrots salad with pumpkin seeds or broccoli and pine nuts 
Dinner – it's my last night here, for now anyway and I head to Choa Viet Kitchen as the menu has several vegan options and boasts a vegan fish sauce. Maybe I order badly but my Bun Cha Gio Chay, which is rice noodles with vegan spring rolls, vegetable salad, herbs, roasted onions, peanuts and homemade vegan fish sauce is disappointing. The spring rolls are tasty but the noodles are really tasteless. I end up adding a lot of siracha to give them some flavour.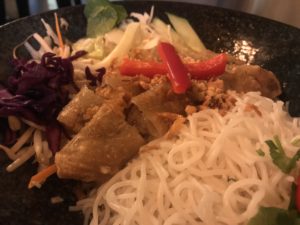 I also have a tofu summer roll which is not bad but lacking a bit of punch.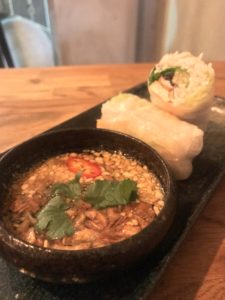 On my way home I stop for some vegan treats and find a vegan Ritter Sport bar with hazelnuts, and some raw truffles.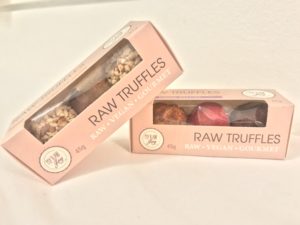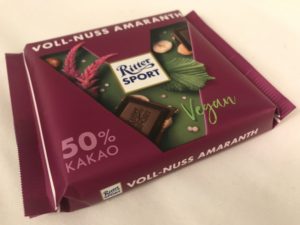 The hazelnut truffles are amazing and surely calorie and guilt free being both vegan and raw. I mean, I'm basically 99% Gwynth Paltrow right now! 
Day ten
Breakfast – Granola and oat milk
Lunch – Skipped as I am on my way to the airport. 
Dinner – Consider a take away, especially when I discover I haven't actually checked out of my tesco order and so have no delivery tonight.  Instead I buy some mushrooms and make a very simple linguine with garlic, mushrooms and rosemary. I also find some cavalo negro in the fridge and tear this up and throw it in. Its simple and tasty.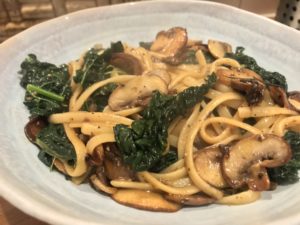 Day eleven
Breakfast – despite waking at 8am I don't manage breakfast.  As a non vegan its never bothers me skipping a meal because its easy to grab something on the go.  As a vegan I am learning never to skip a meal as finding food requires a bit more thought
Lunch – I meet 'the gays of my life' at the new Brewdog Alcohol Free bar for our annual planning day.  This years its sober and tinged with a little sadness, as in May the boys leave London to make a new home in Sydney.  And yes, I did cry when they broke the news to me.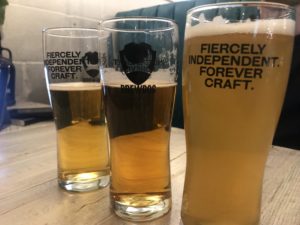 We had agreed not to eat here as the menu is, yes, you guessed it, burgers.  However I'm starving, not having had any breakfast, so we order the buffalo cauliflower, sweet potato fries and mac n cheese (not for me).  Its not bad, the cauliflower could be much crisper, have more sauce and a vegan blue cheese sauce would be brilliant. We plan to go on for lunch but the one thing I've found is that I feel much fuller, so as none of us are hungry we don't end up going for a 'proper lunch'.
We tried a couple of different beers, all of them are really good and the bar staff are super friendly.
Dinner – After much debating, (with myself), if I am hungry? Should I get a take away?  I make some pasta. I whizz up some basil, walnuts and olive oil to make a pesto of sorts.  I fry some courgette and leeks with garlic, add the pesto and some pasta water. Season, add cooked pasta and a splash of soy cream, before topping with some broken walnuts and a parmesan substitute that has good umami flavours.
Oh, I should mention I hadn't planned dinner as I was meant to be on a date, he cancelled at 12.30 with toothache, apparently.
Day twelve
Noting yesterday mistake of not eating breakfast, we start here today.
Breakfast – slice of rye bread with half an avocado
Lunch – Grab a falafel wrap from Planet Falafel, via the Too Good To Go app.  The falafels here are great, they are all made fresh so they are warm, and crisp on the outside, soft and fluffy on the inside.
Dinner – Make my first dish from the  BOSH cookbook that my sis got me for Christmas.  I make the buffalo cauliflower. As I start I realise it requires buffalo sauce, I thought we'd make that.  I, as is standard, go off recipe and use all of the siricha I have which isn't quite enough for the half portion I make, but it's only just short.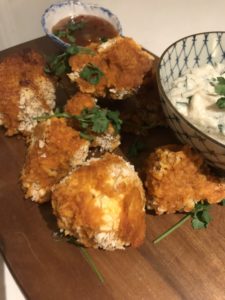 I don't think the ranch dressing tastes anything like ranch but on the whole it's pretty tasty and there is enough for lunch tomorrow.
Day thirteen
Back into the office and hopefully a bit of a routine which should make Veganuary a bit easier.
Breakfast – Homemade granola and oak milk, I know its a bit dull but its really easy and it's easy to pimp it up with some fruit.
Lunch – The boys headed to Subway for the new Meatless Meatball Marinara Melt but I stay in with my buffalo cauliflower.  I am aware that I have eaten a lot of vegan fast food this month and Subway would never be something I would normally pick.
Dinner – more pasta, with leeks, mushrooms and courgettes, home made pesto and cream
Day Fourteen
Two weeks in, can't believe it.  
Breakfast – homemade granola and oat milk
Lunch – pasta from last night
Dinner – I make Pad Thai from the Bosh cookbook, I love Pad Thai.  It's really tasty but the quantities are very small and I double the amount of noodles and tofu per portion, making it perfect. I am a bit worried when they talk about catching lime pips. I've never, ever seen a lime pip.  It just goes to show how important recipe testing is.
Two weeks in and its going ok, although I feel like my cooking has been a bit repetitive, but then I often have the same dish two or three times a week to minimise food waste, so it probably not much more than normal.
If you missed week one, click here.
(Visited 460 times, 1 visits today)