Right, here we go, just past the halfway mark as I write this.
Day fifteen
Breakfast – yes, I know it boring but most of us eat the same thing everyday.
Granola and oat milk
Lunch –  Leftover pasta from the night before.
Dinner – I'm out with the lovely ER tonight for dinner and our plan is to go to Mildreds in Soho, however when we arrive it's a two hour wait!  Normally finding dinner in Soho is easy but finding something vegan is a bit harder.  We decide to head to the new (ish) Seven Dials Market and the first place we see is Club Mexicana.  We wander round checking out other options, but end up back here which is great as they also have seats.  We share the loaded nachos and add vegan cheese, which is quite hard to find and probably not worth adding.  For me I like my loaded Nachos to be really loaded and I think the toppings were a bit mean.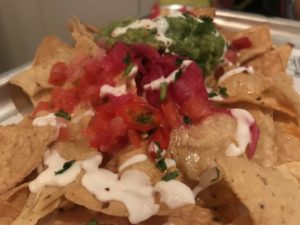 We have one of each of the tacos, all of which are tasty.  The mushroom and smoked tofu was my favourite.
Day sixteen
Breakfast – granola and oat milk
Lunch – As I was out last night, I didn't make falafels and hummus as I'd planned.  Lucky I had a pouch of puy lentils, (these are so handy) and when I get in I knock up a quick salad for lunch.
Dinner – Tonight I have Fi over for dinner, we had planned to go out but as shes in a hotel all week I think it's nicer to stay in, chill and have a home cooked meal.  It's also a great way to use up the massive piece of tofu in the fridge.
We eat Pad Thai on the couch while catching up on each others lives.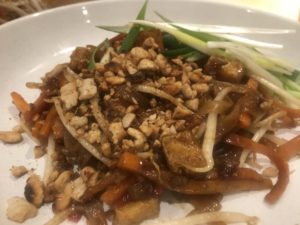 Day seventeen
Breakfast – I attempt to get a Pret vegan croissant, but neither Pret I go to has one. So Granola it is.
Lunch – Pad Thai from last night.  This I can see myself eating a lot.
Surprise treat – my Vegan colleague returns from lunch with a Pret vegan croissant for me. It's not a croissant, it has none of the light, airiness that makes a croissant what it is.  And essentially much of what makes a croissant, a croissant is the butter, layer upon layer folded over and over.  And this being vegan has no butter.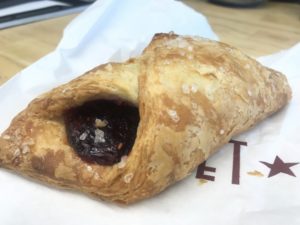 I would however like to point out that it is a very good pastry, I'd liken it to a Danish pastry, crispy, sugary, flakey pastry and rich sweet jam.  If I wanted a sweet treat I would definitely eat this again.
Dinner – I am out with AP, my old boss, bestest friend and dad to my beloved godson. 
I head into soho and get our name son the list at what's being touted as the best Sri Lankan in London, Paradise.  There will be a full review, but for now let me tell you it was brilliant and I can't wait to go back in February to try the pork cheek curry.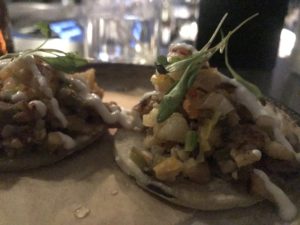 Day eighteen
Breakfast – skipped as I'm off the the Mindful Drinking Festival. Watch out for a post on Dry January soon.
Lunch – As I'm at Truman Brewery for the festival I stop in at the Turkish food stall and grab a vegan halloumi and falafel wrap. Very good, probably wouldn't bother with the halloumi next time.
Dinner – After being trapped in a room with a zombie with some old friends we head to Westfield at Stratford.  Don't ever let it be said I don't compromise, we eat at Zizzi's. The food is ok, I have the vegan jackfruit pepperoni pizza, it's pretty good, cold, but tasty,  Service is dire. And I mean DIRE.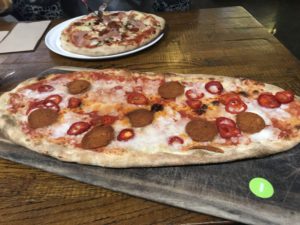 Day nineteen
Breakfast – shreddies 
Lunch – I am cooking for friends today and despite pouring through cookbooks I can't find anything I fancy.  I settle on a paneer dish from East. It's only when I'm standing in the shop that it occurs to me that Paneer is in fact, not vegan.  This is also just 90 minutes before everyone arrives, and so I do what I do best and make up a recipe as I go. We end up with a very tasty vegan curry.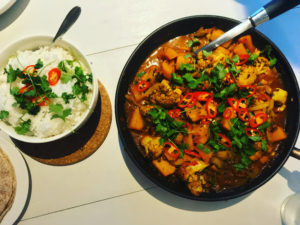 Dinner- having had a big lunch at 3.30 I'm not hungry although it's likely that eating my own weight in Bombay mix has largely contributed to this.
Day twenty 
Breakfast – Monday is breakfast day at We Work. Last week we were outraged to be offered cereal. This week it's all pastry, not very vegan friendly. But there is some lovely bread and jam so I have this while listening to the harpist in the lounge, I'm not even shitting you, today is Blue Monday so we have all sorts of treats. Normally I eat just bread and butter, lashing of thick butter, so thick each bite leaves teeth marks but not today. Yes, I miss butter a bit at times like this.
Lunch – as the boys are working through every vegan fast food option today has been nominated as Greggs day. I think we can all agree Greggs won the vegan fast food war last year. This year they've only launched a vegan steak bake. What better way to beat blue Monday than this. Well there is actually. We Work have a terrarium workshop at lunch, so I do this while Lee heads to Gregg's. 
Delighted with my terrarium I await the Gregg's with mounting anticipation.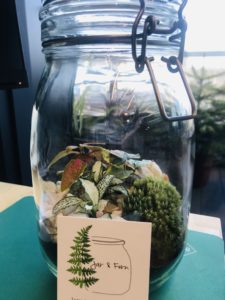 I can confirm it's exactly like I remember a steak bake, exactly. At points I wonder if it's definitely vegan.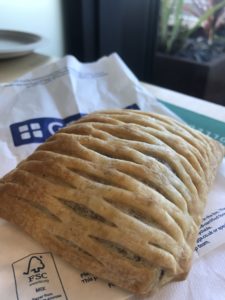 I also, have a vegan sausage roll which is slightly less moist than it's original but still very similar and tasty.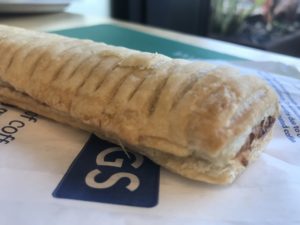 After a slightly stressful last day in the office, (missing awards, awards that weigh the same as me, luggage allowances), before heading to Athens (I'm on my way to the airport as I write) for my first event at my new company, Nina from We Work appears at my office with a bag. This bag that I'd forgotten to collect contains all the ingredients for kale pesto pasta.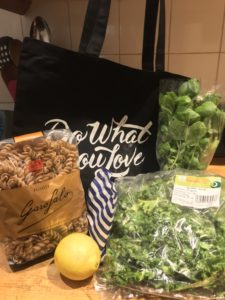 Dinner- despite having dinner to cook, I end up not eating dinner, that bloody Bombay mix! 
Day twenty one
Wish me luck, I'm in Athens until Friday and Athens immediately evokes memories of ancient history and the smell of grilled meat. 
Breakfast – skipped as I realise I can't manage to take over  60kg on the train by myself. Once I am finally checked in, after repacking and paying my excess baggage fees, I head to Pret.  
Lunch – Falafel, avocado and chipotle flatbread, really tasty, packed with filling.  Pret have also just launched a new Veggie menu of which 15 items are vegan.
Dinner – I'm here finally in Athens to deliver my first event.  On the recommendation of the front of house manager I head to Mama Tierra a vegan restaurant near where I stayed last time.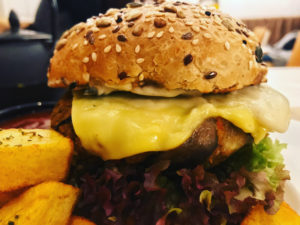 On the recommendation of the waitress and hearing two other diners refuse menus and order the mushroom burger immediately I do the same.
It's a great choice, the texture is perfect, it tastes rich and unctuous and despite being loaded with caramelised onions and a really great, gooey vegan cheese the wholemeal bun holds it together well.
So, that's a wrap on week three. It'll be interesting to see what the next few days in Athens present, especially as I wont be able to go out and find Vegan food, more just relying on places being able to feed me something.
(Visited 202 times, 2 visits today)