Finally, after eight months of splitting my time between London and Copenhagen, I've spent my first weekend in Copenhagen.  I know. It's ridiculous, but having done it, it's just as well.  I might have bankrupted myself and I didn't even go to Noma. At which, let me just tell you, having tried many, many times, is impossible to get a booking.  I was online, primed and ready, to take any date for Vegetable season at 3pm on a Wednesday, not a single fucking table for two and NONE, not one, for one person.  As if it isn't bad enough being single and unloved, now seemingly us singles are no longer welcome at the world's finest restaurants. Newly two starred, the Alchemist, also, only takes bookings for two and up.
Anyway, this story is a happy one, and not the first time I've gone from Michelin star to dive bar. The gays of my life are leaving me, I can't talk about it, they are going home, well B's home, back to Sydney, sorry, happy story!  Before they go, we are packing in as much as we can, and so, they flew out to meet me on Friday night. The weekend was to centre around our meal on Saturday night.  I consulted every list, I asked anyone that would listen in the office, the pressure was real. We settled on Alouette, partly because it was shrouded in mystery, with no information available on what we might be eating.  Little did we know just how mysterious it would be.
Our taxi drops us at the address we have and it's clear immediately, we have no idea where we are or where to go.   We find an entrance way with a list of businesses, none of which is Alouette but we decide to go for it anyway. What happens next, I cannot tell you.  Sorry. It's for your own good, but trust me, it is brilliant. A little like finding Narnia via East London.
Guided by Nick, chef and co founder, we open a door into what will prove to be one of the best nights of our friendship.  Alouette is beautiful, a toasty, warm haven from the cold wintery Copenhagen night. The warmth extends beyond just the design-led room, architectural radiators and spotlit tables.
The industrial space feels welcoming, friendly, the hum in the air suggests everyone here, guests and staff are happy, comfortable, that fun is being had. 
We have no idea what we will eat and I have to be honest, I'm going to struggle to recall exactly what we did.  This is in part due to drinking a lot of wine, thanks Darragh, and in part because I didn't take notes, I wanted to just enjoy the night.  Oh, and there is no menu.
We are all in. Tasting menu and drinks pairing.  Champagne kicks things off and soon snacks arrive.  A bite sized, glossy, glazed parfait. It's rich and smooth, the berry gel offsetting this, the pastry case wafer thin. A mouthful of sheer joy and indulgence.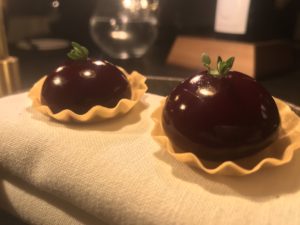 Before this, we eat a tiny, salty piece of speck. Then a cube of buttery brioche piled with sweet and soft onions and shavings of winter truffle.  The smell of truffle arrives before the plate hits the table, pungent, deep and marvellous in its anticipation.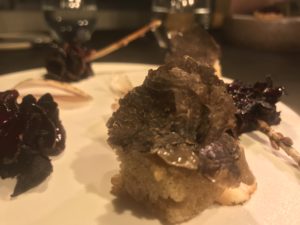 Unless you are D who hates truffles. He picks it up and says 'I'm doing this for you', like he's being asked to euthanize a beloved family pet.  I, of course, don't offer to eat it for him, but he's all in. Approaching it like a bush tucker trial, rather than one of the world's most expensive and luxurious ingredients. There is a lot less of the flavour in the eating, it is much more perfumed on the nose than in the mouth, the sweetness of the onions the overriding flavour.
Skewers of tree branches hold fine folds of beetroot, cooked in their own juices, which have layers of flavour, at once both sweet and savoury, smokey and almost meaty.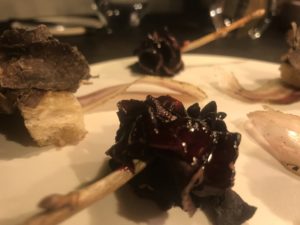 Mostly, we are looked after by Nick and Darragh but by the end of the night, we meet most of the staff at some point. Different courses are delivered by someone new as the night progresses, perhaps as we become more 'spicy' as Darragh puts it.  The staff are brilliant, I mean really brilliant. So often at starred restaurants, staff are so serious, so earnest, it's almost off putting. This is not the case here. Nick sings to us, and then takes the piss out of our ingredient bingo. Darragh and one of the waitresses have a heated argument about gendering wine at the table and both end up sitting at the table drinking with us.  Perhaps they have created the perfect American (Nick is owner is American) Danish hybrid.
Warm brioche that have been cooked on the wood fired hearth in the kitchen, are torn apart and smeared with smokey maple and apple butter.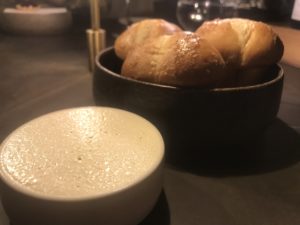 We start with seafood; essentially, a seafood salad but in the same vein that Pele was pretty good at football.  Razor clams have been just kissed with a breath of heat, they are sweet and tender. Many other exotic, yet local, ingredients featured in the dish which is topped with a silky mussel foam and lumpfish roe (I think). It's stunningly fresh, sweet and delicate. We eat slowly, not wanting it to end.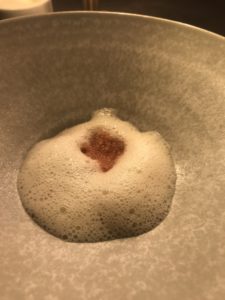 Celeriac is the star of the next dish, despite the fact it is adorned with caviar, it is the celeriac we all remember and talk about. Frozen, then cooked hasselback style, basted (I imagine endlessly and lovingly) in its own juices, it's incredible.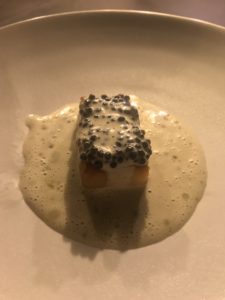 Every mouthful taste slightly different, some delicate, some almost meaty, the texture of the celeriac is soft yet firm, flaking almost like cod.  The sauce is rich and light. Like many things we eat, it's a contradiction. A little like Alouette, this American Danish love child.
Back to the sea for a piece of monkfish, bathed in the most incredible sauce, made from the bones of halibut, served all over the city and gathered here.  Flavoured gently with lemon thyme, I spoon it eagerly into my mouth and am delighted when the tiny pan appears again and fills my plate with more.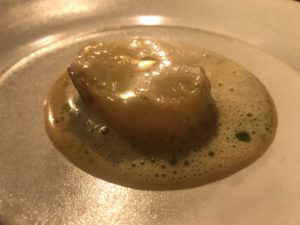 B describes it perfectly as  like lemon meringue and that's exactly what it's like, without the sugary sweetness. 
It's hard to say how long we've been here,  it could be an hour, it could be a day. As if by making the journey here and pushing open the door, all time as we know it ceases to exist and Alouette sits in the balance of another time and place.
We move from sea to land, in whatever land we are in.  A tender breast of pheasant, its skin crisp and brittle, is covered in crumbs of more crispy skin, what a clever idea, there's no such thing as too much crispy skin.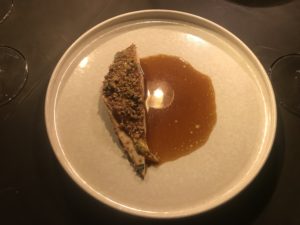 I have no idea what is in the sauce, but B finds it overly salty and I think it has soy in it, and it is a little on the salty side, but I enjoy it.
We have an amazing wine, I think it's Spanish but it could equally be Italian or Portugese or French, but it's fantastic and the bottle never makes it back to the wine fridge.
Catherine, who is Danish, one of the few in the restaurant, genders the wine, which upsets D and then Darragh tells her not to, and so she gets her WSET book out to show that she is only doing what she's been taught.  
This marks the end of the savoury dishes and the beginning of the end of our time here, something none of us wants to end. Well, that's not strictly true, I think as the meal progresses, Darragh is definitely keen that it does and sooner rather than later.
With dessert comes a rare experience, a wine none of us like, even with the dessert.  So much so that B and I don't finish it and D almost dislocates his shoulder moving his glass to stop it being refilled, having necked it to 'get rid of it'.  Don't ever let it be said we are not classy.
The dessert arrives and Darragh asks us our favourite song, I suggest Whitney, not knowing why, I almost wonder if Nick might appear to serenade us. He doesn't.
Dessert is a magnificent ice cream made from goat and cow's milk, making it rich, creamy and slightly sharp, offsetting the delicate hazelnut mousse beneath it.  Topped with tiny crisp biscuits.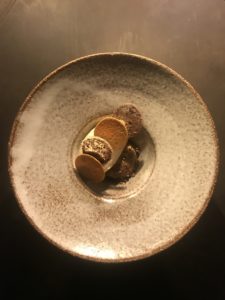 We are the last ones in the restaurant, I know hard to believe.  D declares this to be his best every michelin dining experience and requests Schnapps, which we haven't drunk on this trip.  I, having spent lots of time in Denmark and with Danes, have no desire to drink this fire water. Darragh responds by bringing us two, one regular and one that he has been brewing with figs.  HIs home brew is served as a long drink, it's better than I've had but it's still fire water.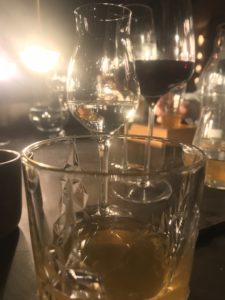 Coffee and petit fours appear and, like much of the meal, I don't remember the details.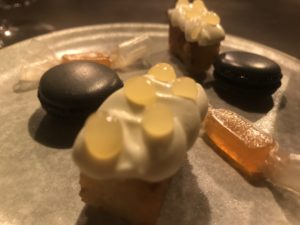 And you might be wondering why I have written about this meal which I don't fully remember. Well, because it was unforgettable. Because it is some of the most incredible hospitality I've ever experienced.  Because the food was stunning and I know I felt joy eating it. Because I sat at a table with two of the people I love most in this world and shared this experience. Because it was an adventure. Because great dining experiences are not just about the food. Because every bit of this night filled me with joy, (well maybe apart from when we left and D tried to borrow a bike, or when he went downstairs to a clearly off limits space).
We left, happy that it happened and sad it was over.  Except as we stepped into that lift, leaving Narnia behind us, it wasn't over.  I can't tell you what happened but I can tell you it was truly one of the most fun surprises ever.  And when we stepped out of that lift back into the cold Copenhagen night our hearts were overflowing.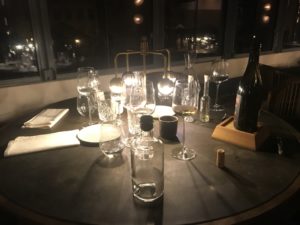 For booking and more info www.restaurant-alouette.dk
(Visited 184 times, 1 visits today)