T and I were long overdue a girl date, partly because I'd had to travel for work and had to postpone and partly, well, life!
With me in the US, T was given responsibility for booking brunch, so we picked a restaurant and she booked. Except she didn't, she went renegade and booked somewhere entirely different, somewhere that wasn't even on our original list. Fortunately for all involved, she made an excellent choice and so, at 11.47, I arrived at Hotbox to find my first drink already ordered.
Hotbox is very Shoreditch, stripped back and simple. Seating is mostly on long communal tables which, depending on the size of your group,  you may have to share. 
The focus here is on smoking, which is done in their one tonne rotisserie smoker.
We, of course, opted for the bottomless brunch package. This gave us two and a half hours of unlimited prosecco, mimosas (when did we stop calling this Buck's Fizz?) and a choice of five, that's right, five Bloody Marys. 
T had ordered us the Smoked Bloody Mary (which I'd spotted on the website because it has smoked pork jus in the ingredients list,)what I didn't spot was that it had a bourbon base. Talk about a stiff first drink! But, you know me,  I'm a trooper so I managed to drink it.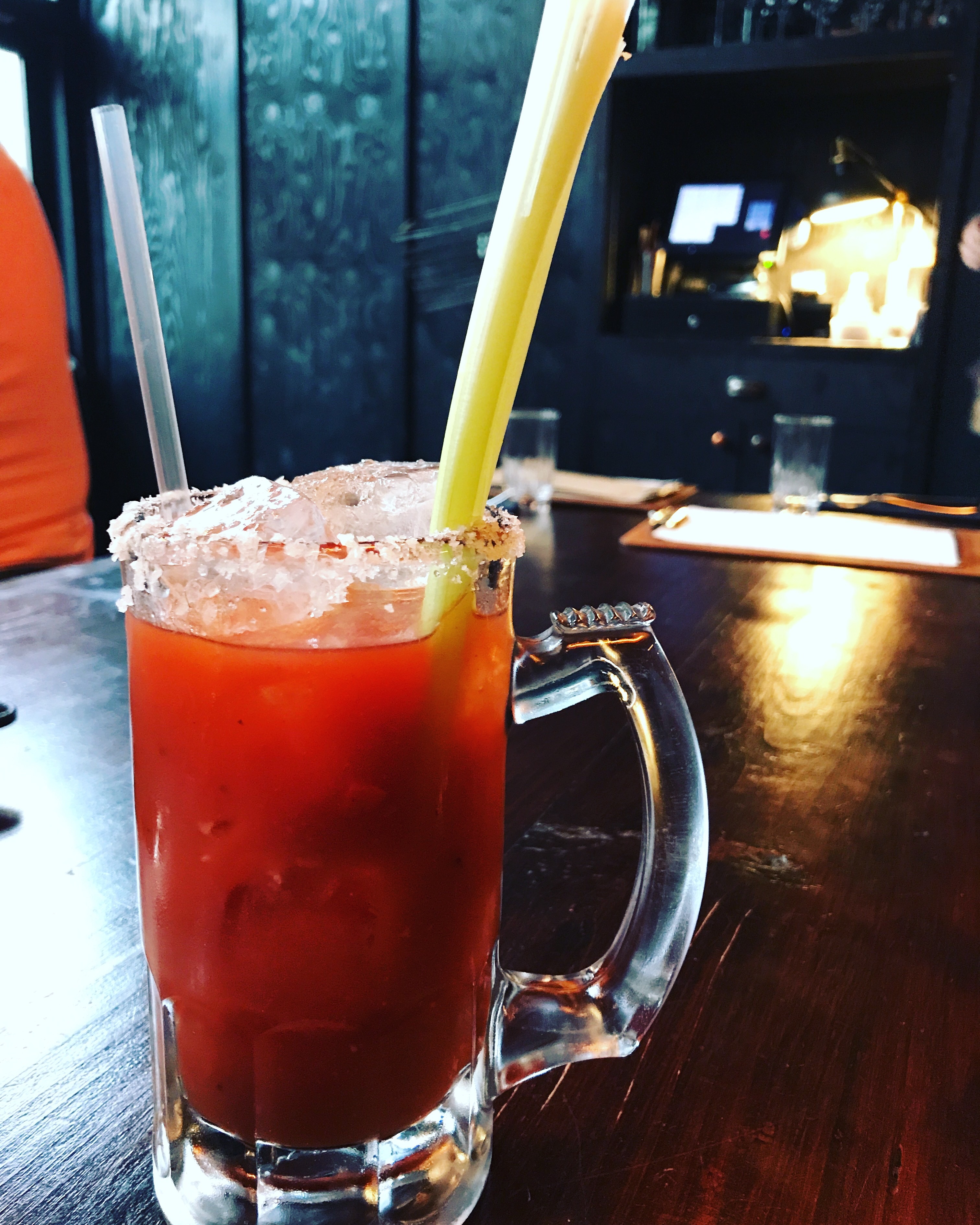 We were spoiled for choice with brunch classics like pancakes, crushed avo and poached eggs and French toast.In the end, we opted for the beef short rib tacos.
These were filled with soft, smokey beef which contrasted with the pickled chillies and creamy mayo. I inhaled mine, in an attempt to banish my hangover and memories of last night's terrible date.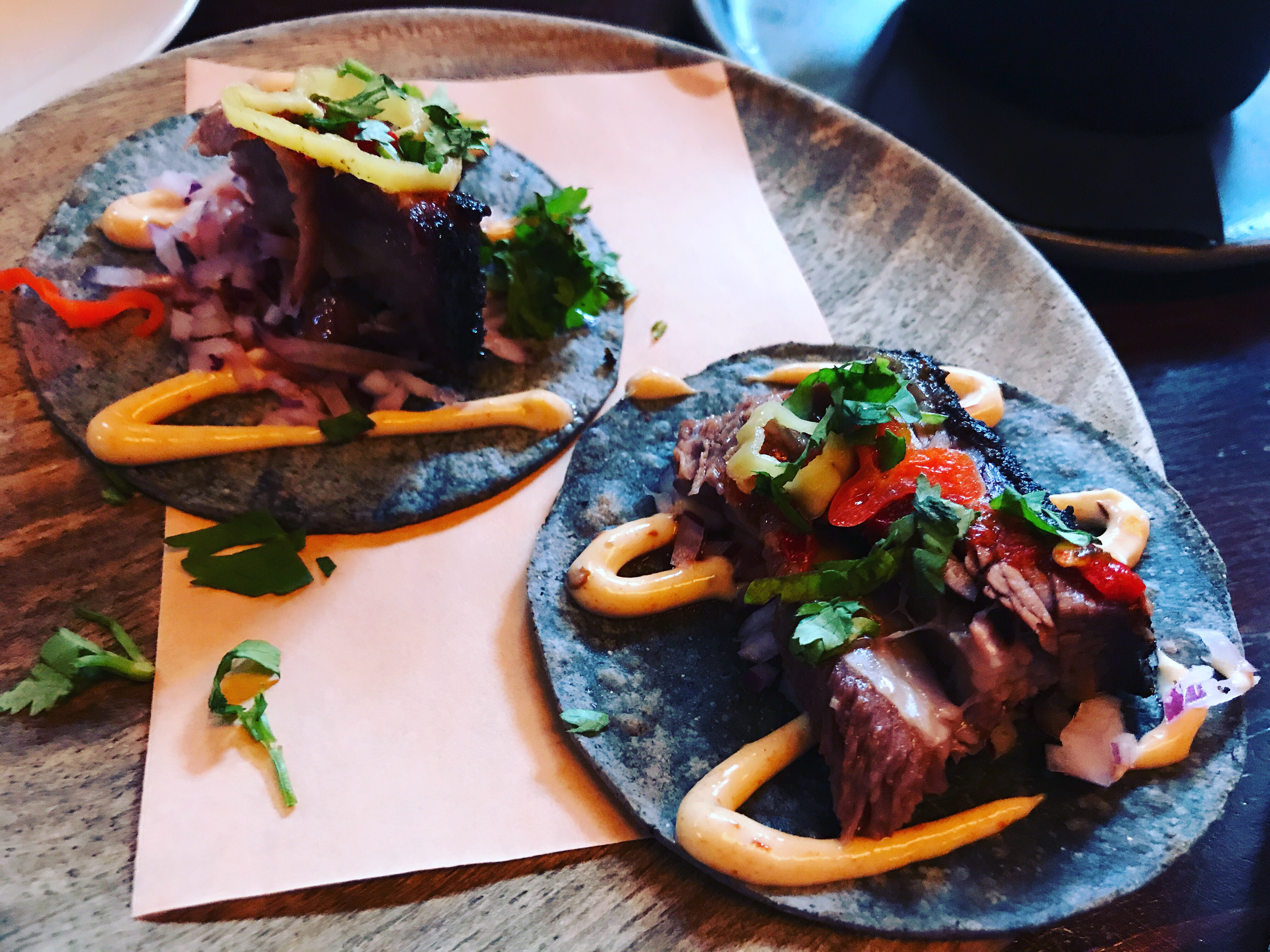 Mac and cheese is impossible not to order and this didn't disappoint.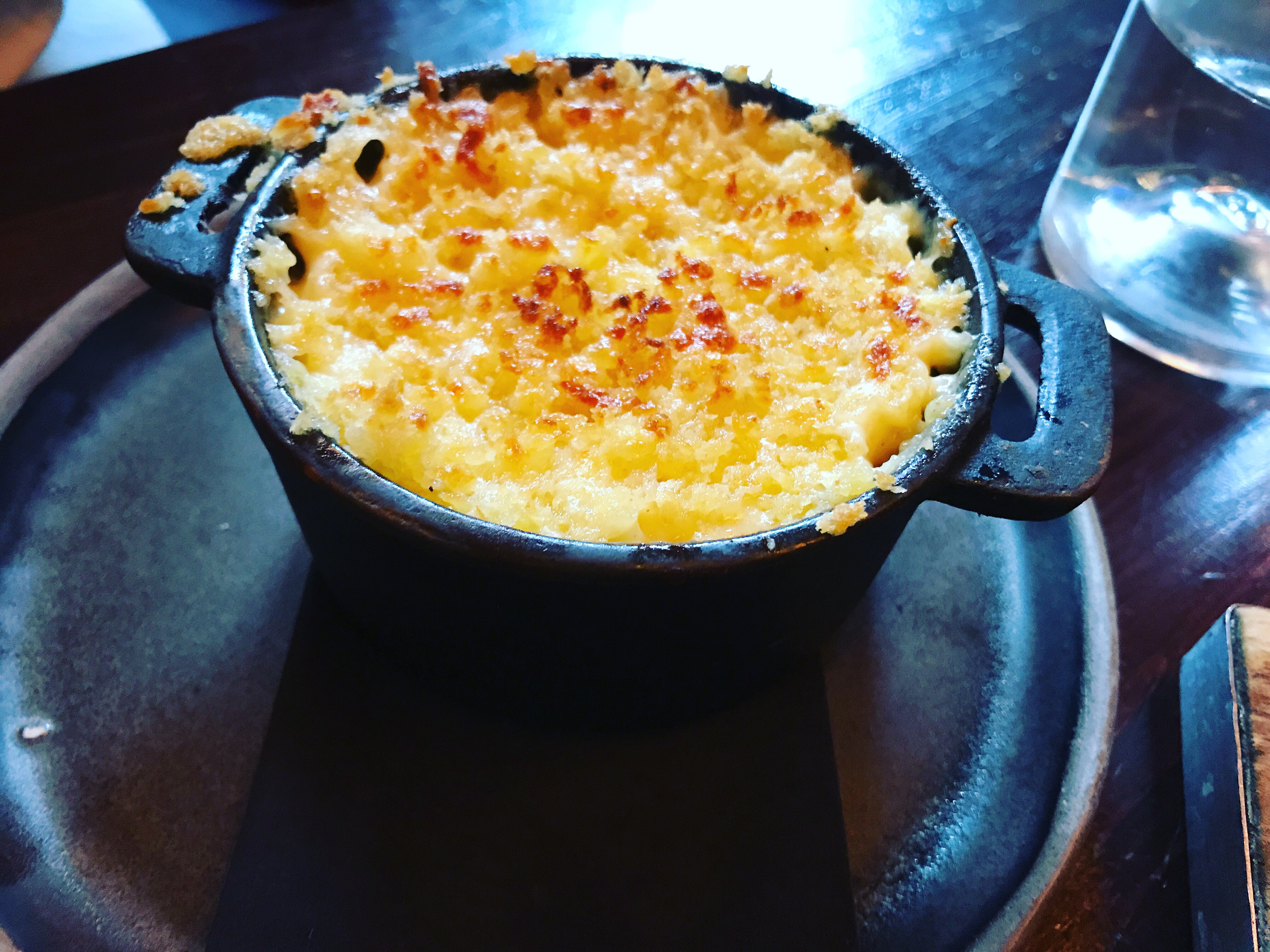 By now, I'd finished my drink and opted for a green Bloody Mary, with jalapeños, chimichurri and cucumber it was a clean, fresh, spicy hit.
Chicken wings are available with sritacha buffalo or a fish sauce glaze, sesame seeds, pickled chilli and lime, we opted for the latter on advice from our waiter. The marinade was rich, sticky and intense.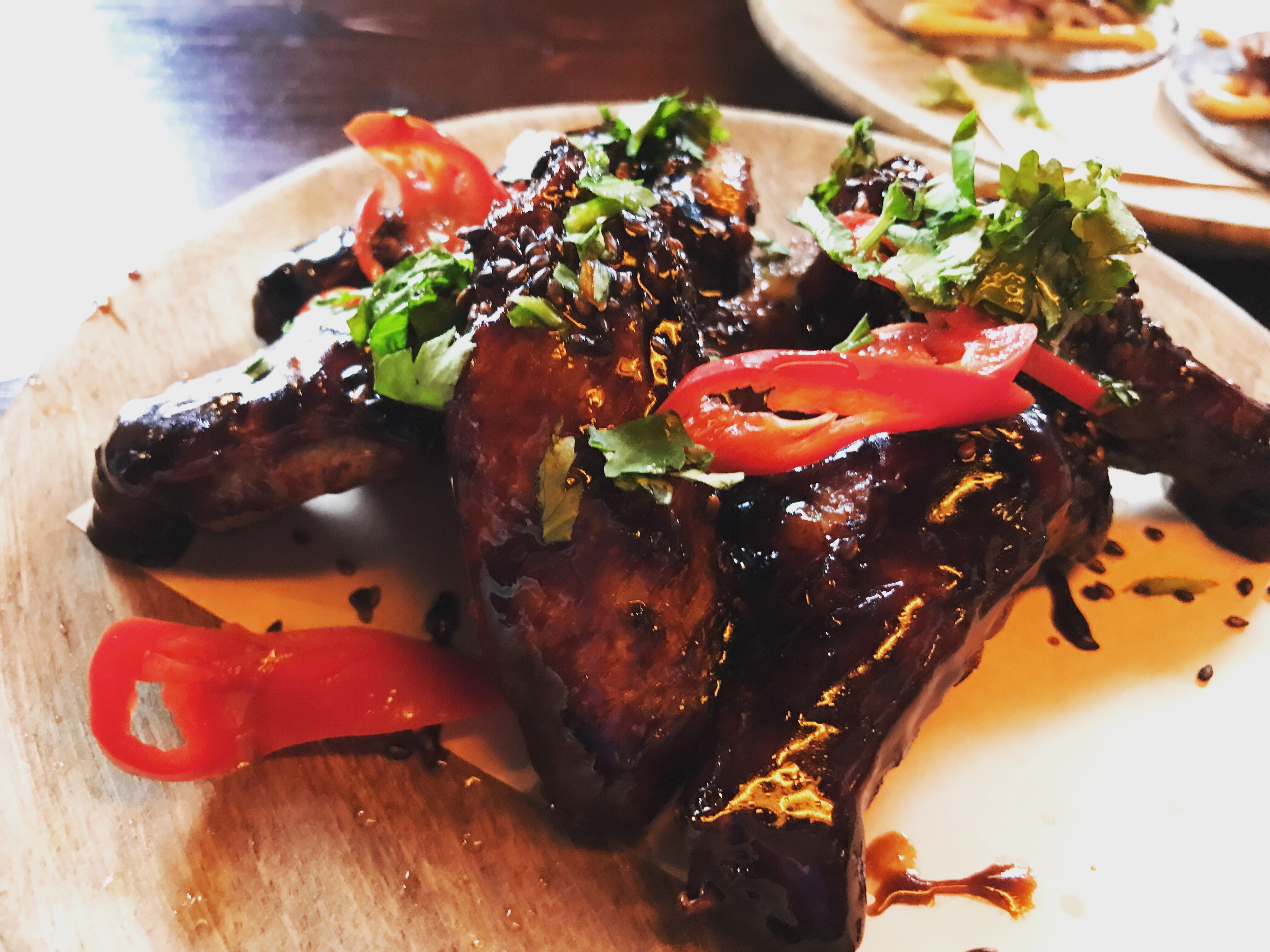 Fries were ok. I like mine really crispy and these just did cut it. Luckily, we had over ordered and we really didn't need these. 
Our final dish, which we washed down with an unknown number of glasses of mimosa, was the best. Falling off the bone was soft, smokey and sweet pork ribs. We were beaten.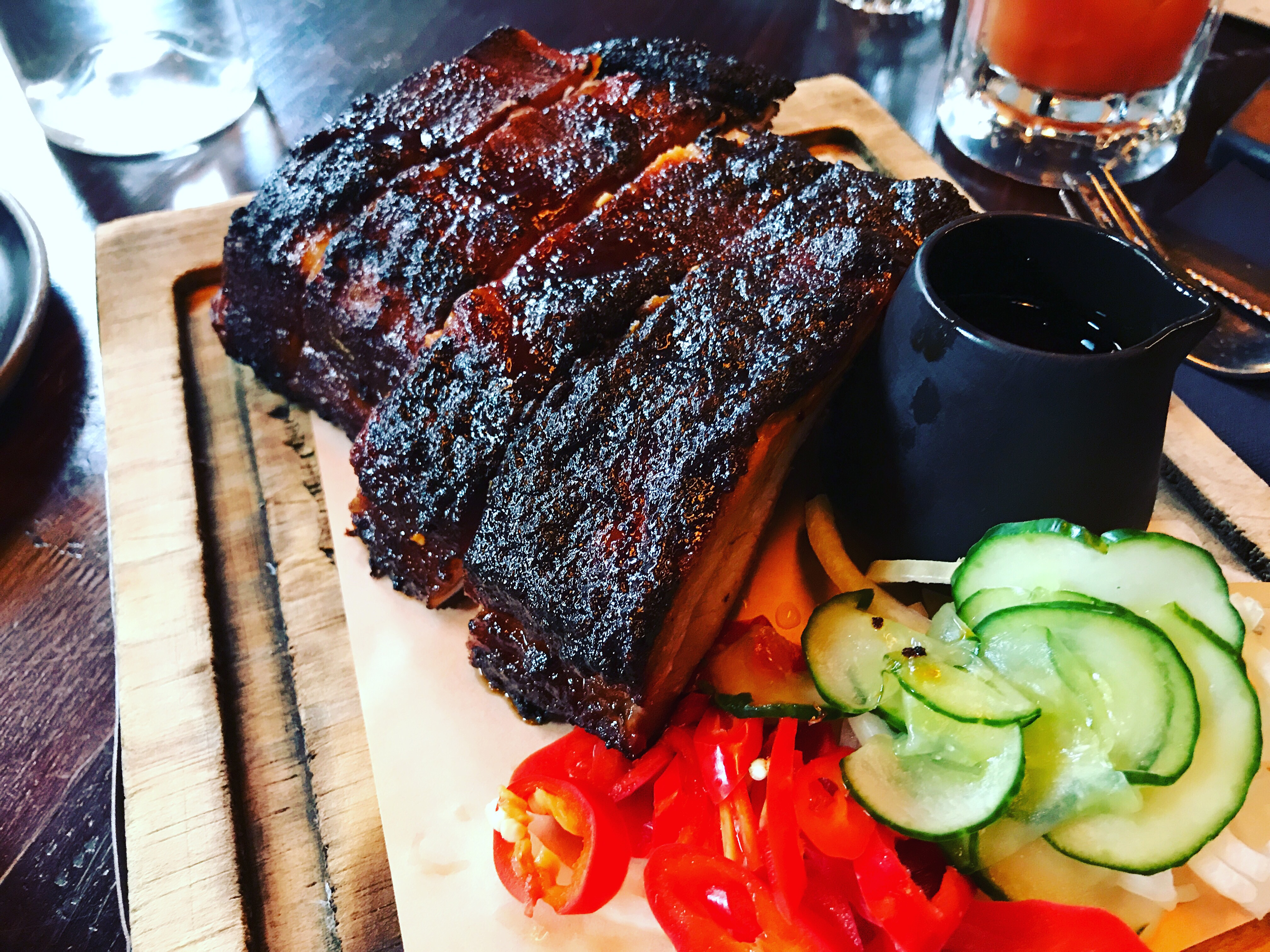 Service was friendly and our glasses never empty, particularly when we moved onto mimosas. 
We did over order but not by much. Our bill, with service, came to £99 which was really good value for what we had. We especially loved the cheeky final mimosa top up at the end when we moved to the bar after our two and a half hours ran out. Hotbox would be brilliant for big group gatherings. If you google it, just a note, they don't use opentable for bookings, despite it being listed. So best go old school and call them or drop them an email. 
(Visited 267 times, 1 visits today)