On Easter Saturday, I enjoyed an eggcellent girl date with Georgie, a friend and fellow food blogger. We chose Temper, the first solo opening from fellow Scot, Neil Rankin. Rankin, originally from Edinburgh (well, no one's perfect and his cooking more than make up for this ;)) is no stranger to great kitchens, having cooked at Rhodes 24 and the French Table. It was at Barbecoa his love for cooking over fire began. He then went on to Pitt Cue and Smokehouse so our expectations are high.
The space itself is pretty amazing, the focus being the fire pit and open kitchen in the centre where we sat, in awe of the slabs of meat cooking and plating that seemed never to stop.
Service was bloody amazing. On discovering I was Scottish and had never tasted the infamous Buckfast, a glass was swiftly produced. It wasn't nearly as bad as I expected. They also have Irn Bru, should you be in London with a craving.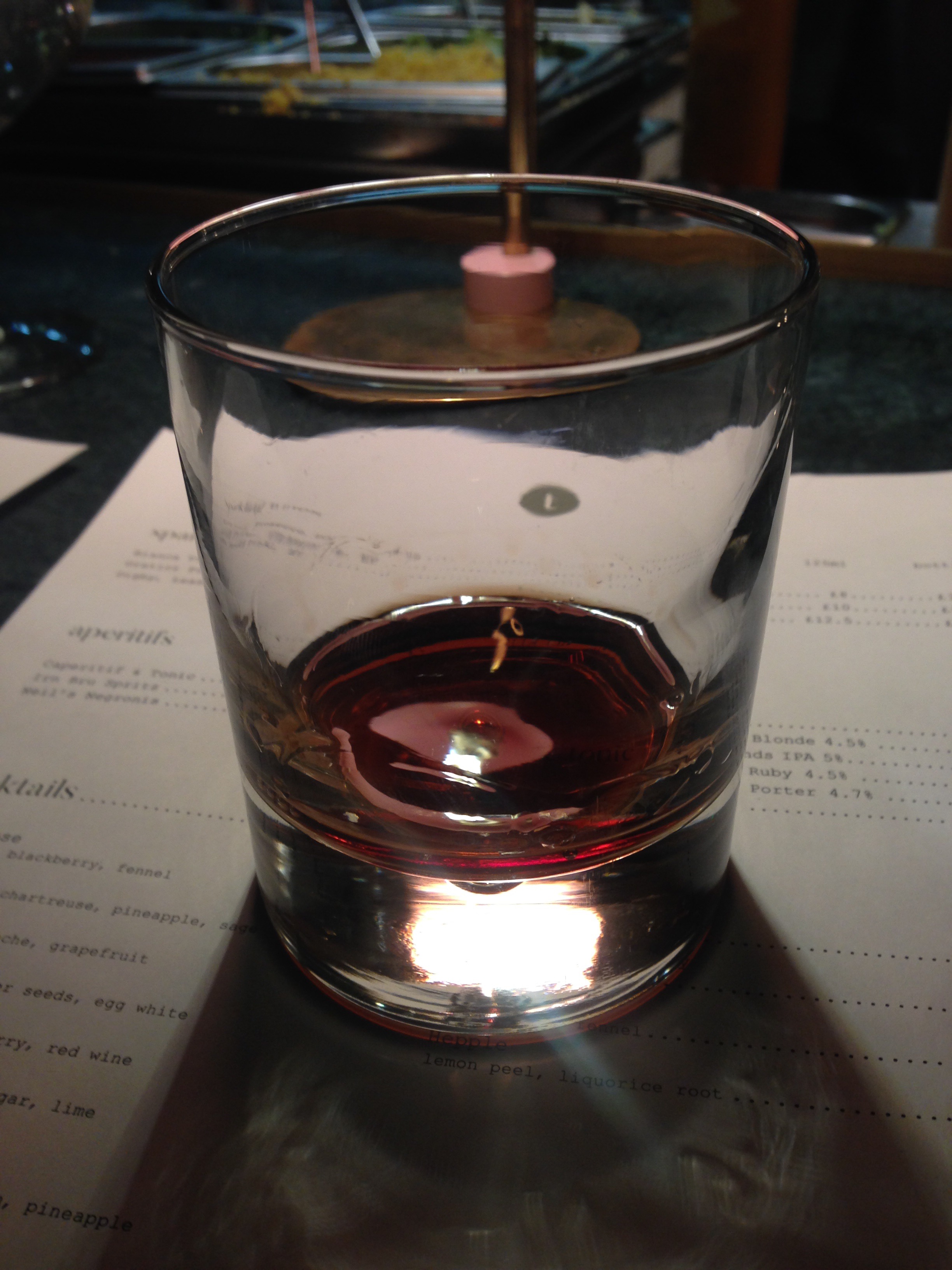 We ordered two different tacos to start and then all the meat, no really, all the meat! This is why I love eating out with Georgie. Each meat is served in 100g portions so it didn't feel too extreme, as they recommend 200g per person. Our waiter told us we must order the goat and he also favoured the lamb so, with only pork and beef left, we, like I said just ordered them all. Because our mums will read this, we also had some vegetables and a selection of sauces.
The gins we ordered arrived dusted with nutmeg in massive goblets.
The prawn taco was good, lovely flavours, but the prawn was a little lost in the excellent taco and that oil was crying out for some bread to soak it up. By the end, we understood why there was no bread.
By contrast, the soy cured beef portion was more than generous, it was soft and tender with a warm chilli heat. Each dish came with three tacos on the side and we ate four of them with the beef.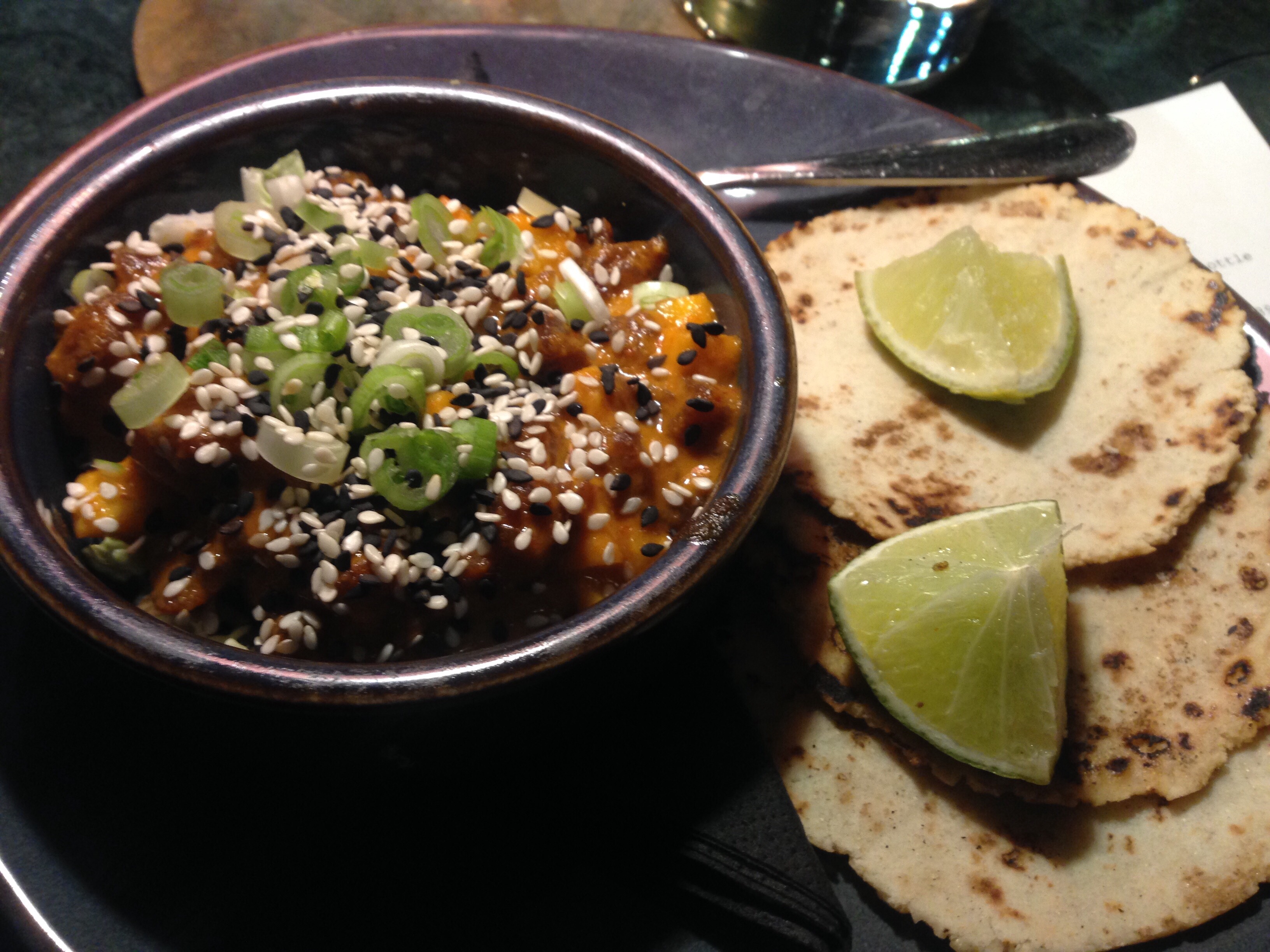 All of our meat arrived at the same time. If we had someone on both sides of us at the counter, we wouldn't have been able to fit it all in. I'd suggest ordering in stages, to avoid this problem.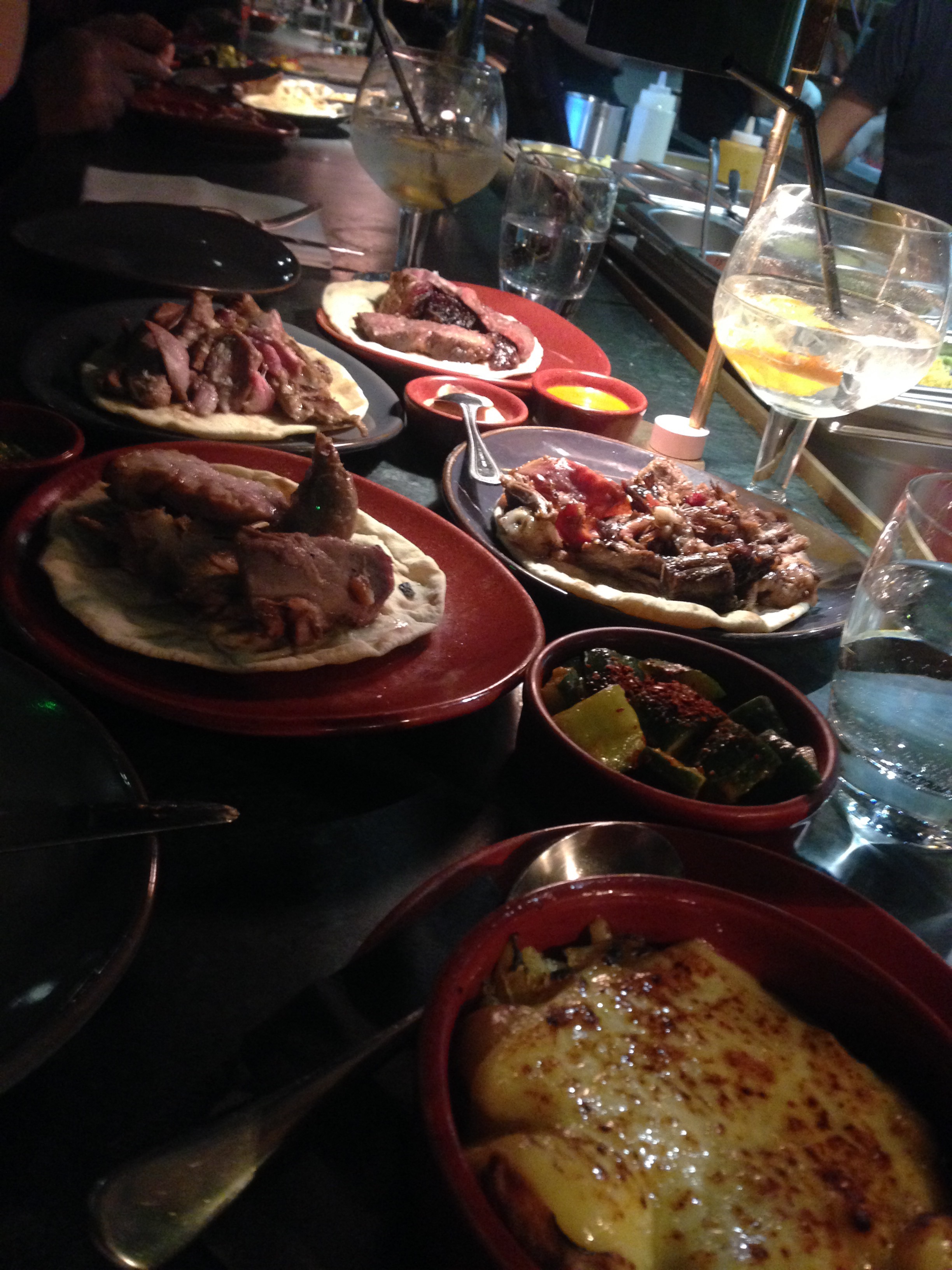 The meat was served on a flat bread which we watched puff up on the charcoal grill in front of us.We started with the goat. It was stunning, smokey from the charcoal, lean, tender and juicy. I piled it into the flat bread, alongside some of the house sauces, all at £1 a go. We had opted for the MSG ketchup, magical, the green sauce, fresh, clean and spicy and,finally, the chipotle sour cream, soothing and creamy.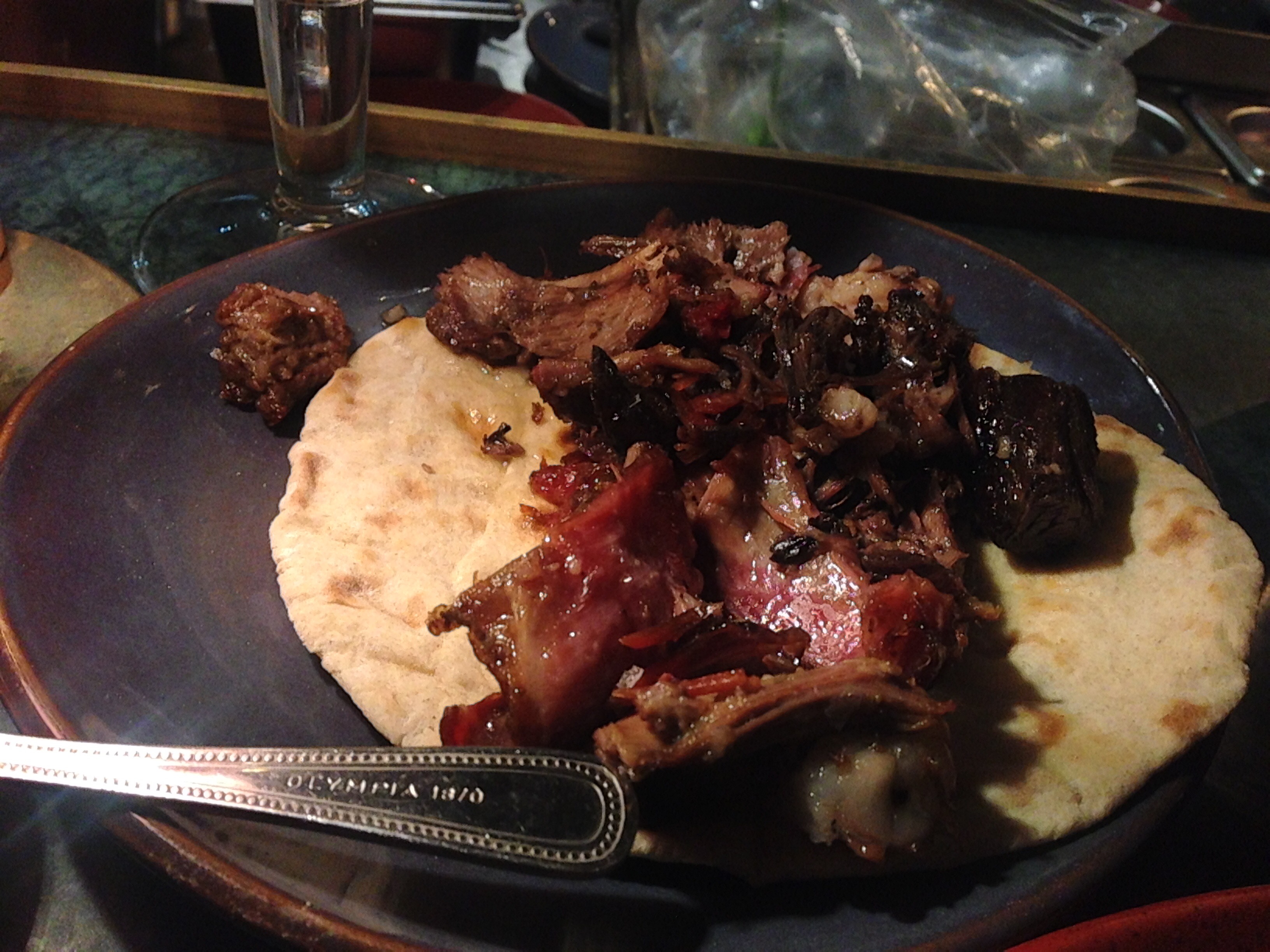 In amongst the meat, we also tried the smacked cucumber and beef fat potatoes with Ogleshield. I'll be honest, they were ok, I didn't hugely rate them and, unless your worried about your vitamin count for the day, I'd skip them.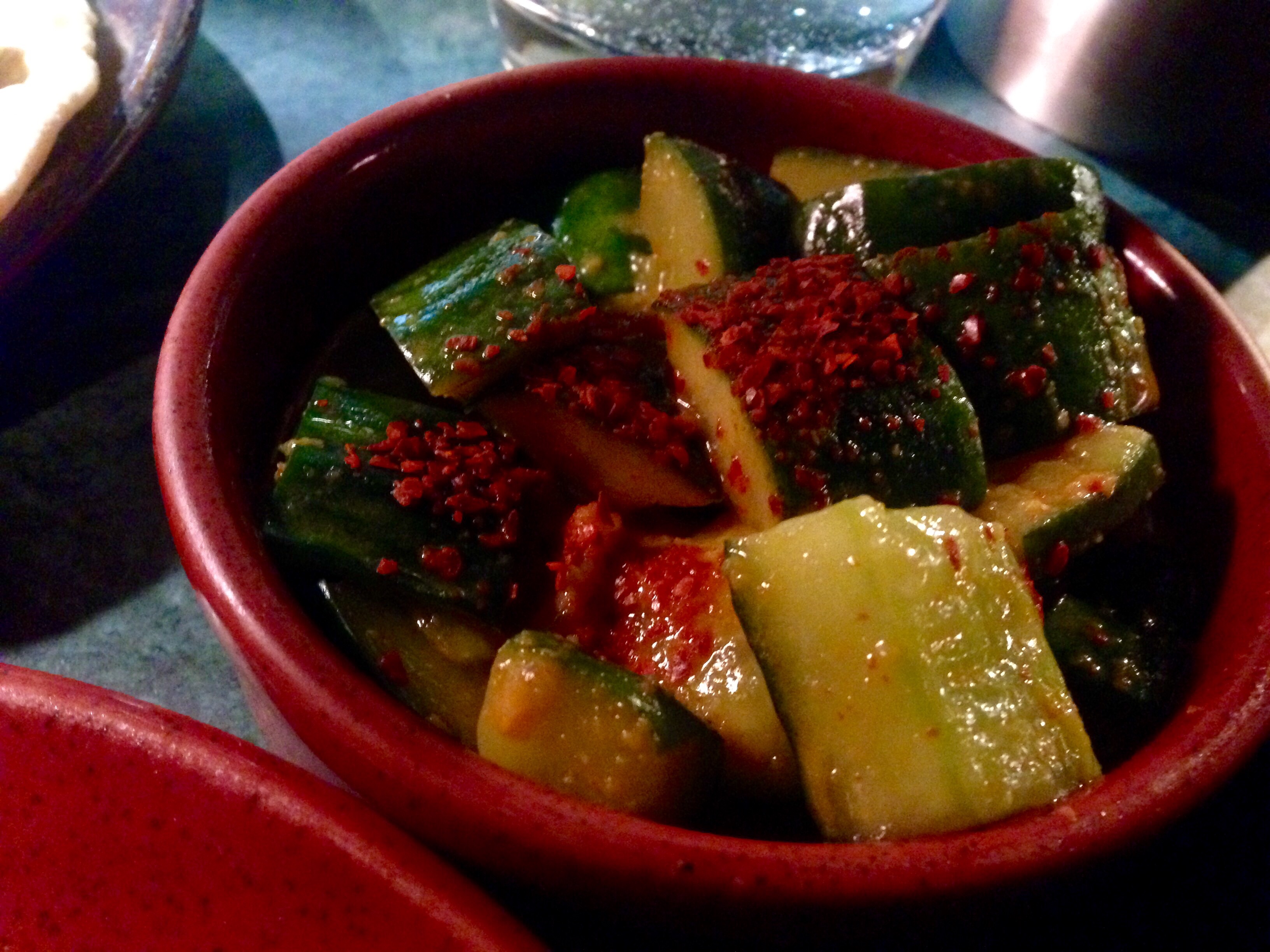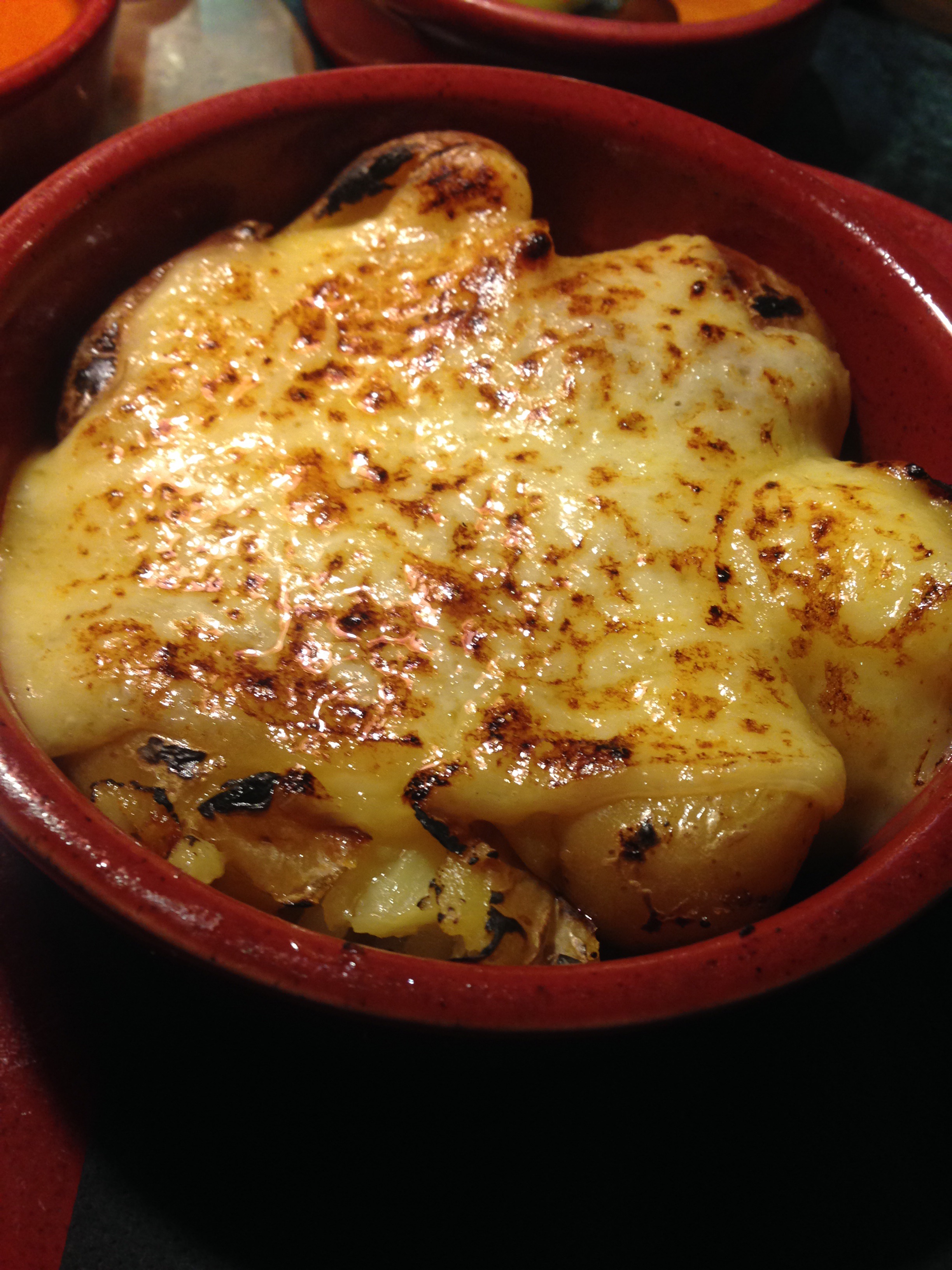 The lamb was beautifully pink, layered with fat, sweet and tender. The flatbreads did a wonderful job of soaking up the meat juices.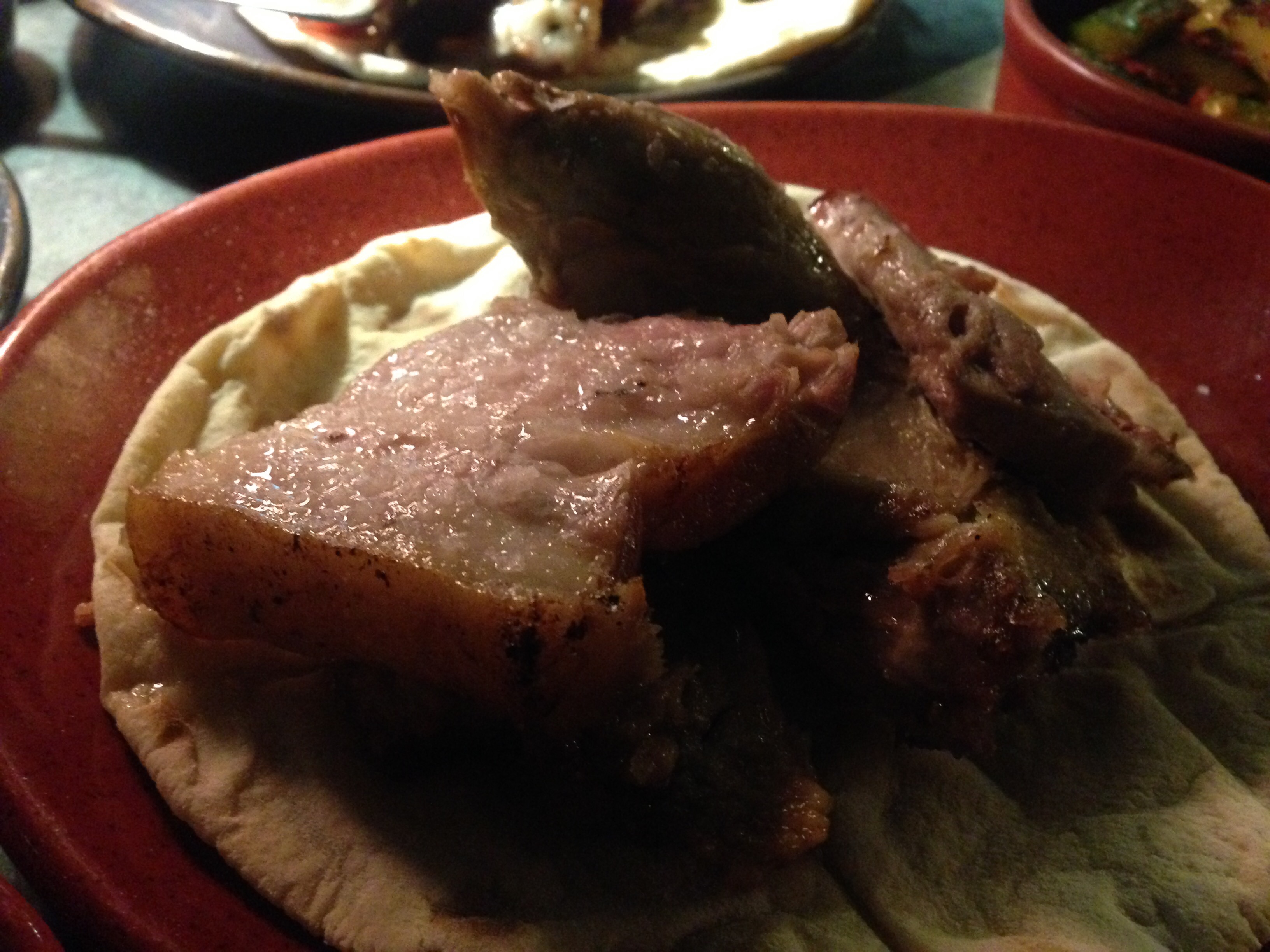 We washed this down with a brilliant Merayo, bursting with cherries. It was new to me but a brilliant recommendation.
Beef was marbled with melting veins of fat and our portion had a lovely mixture of cuts from the joint.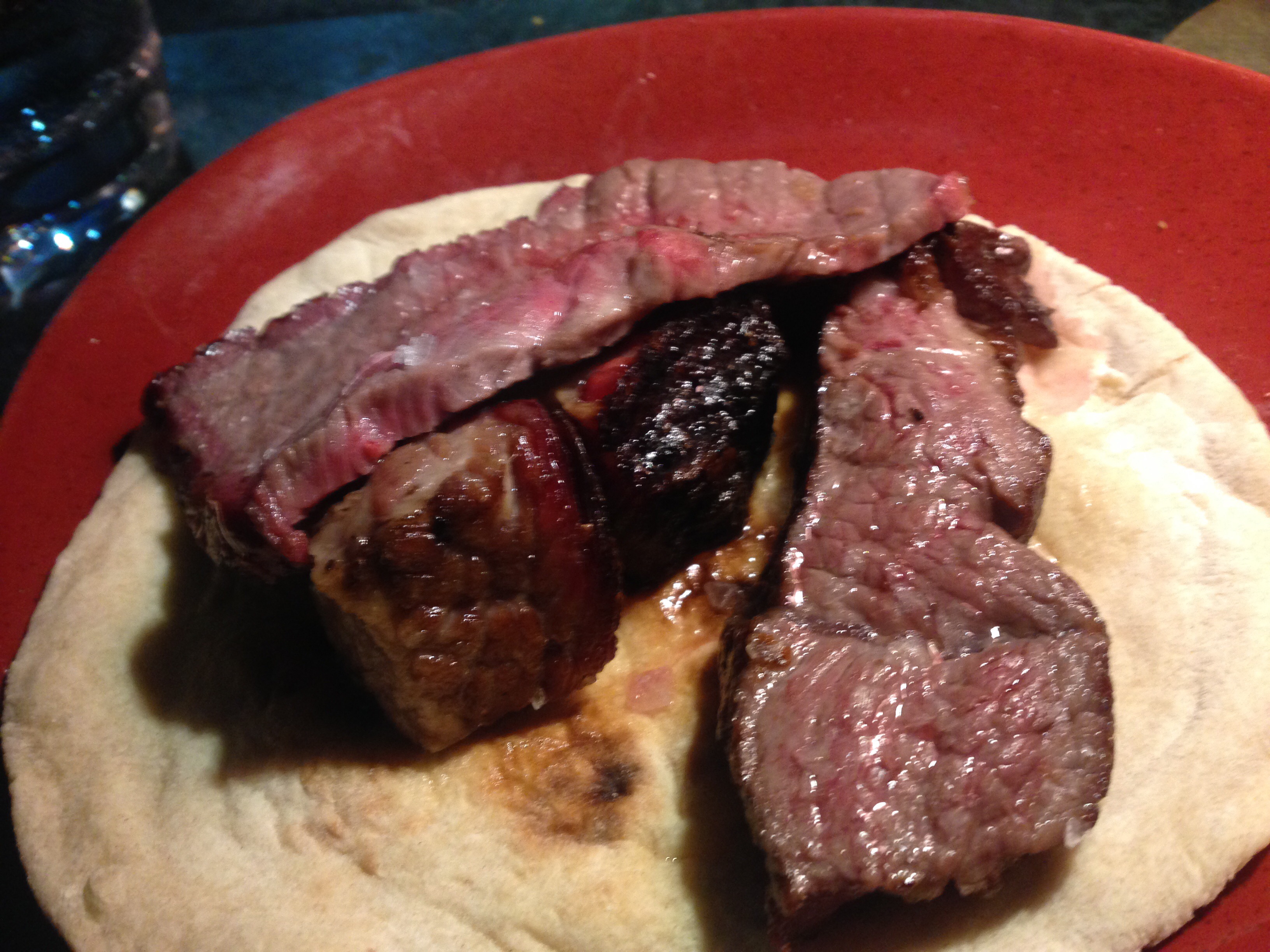 By the time we got to the pork, it was cold but still delicious. Again, it was moist and enveloped in fat. Every piece of meat we popped into our fat little cheeks was divine. It was the simplicity of the dishes that made them so good.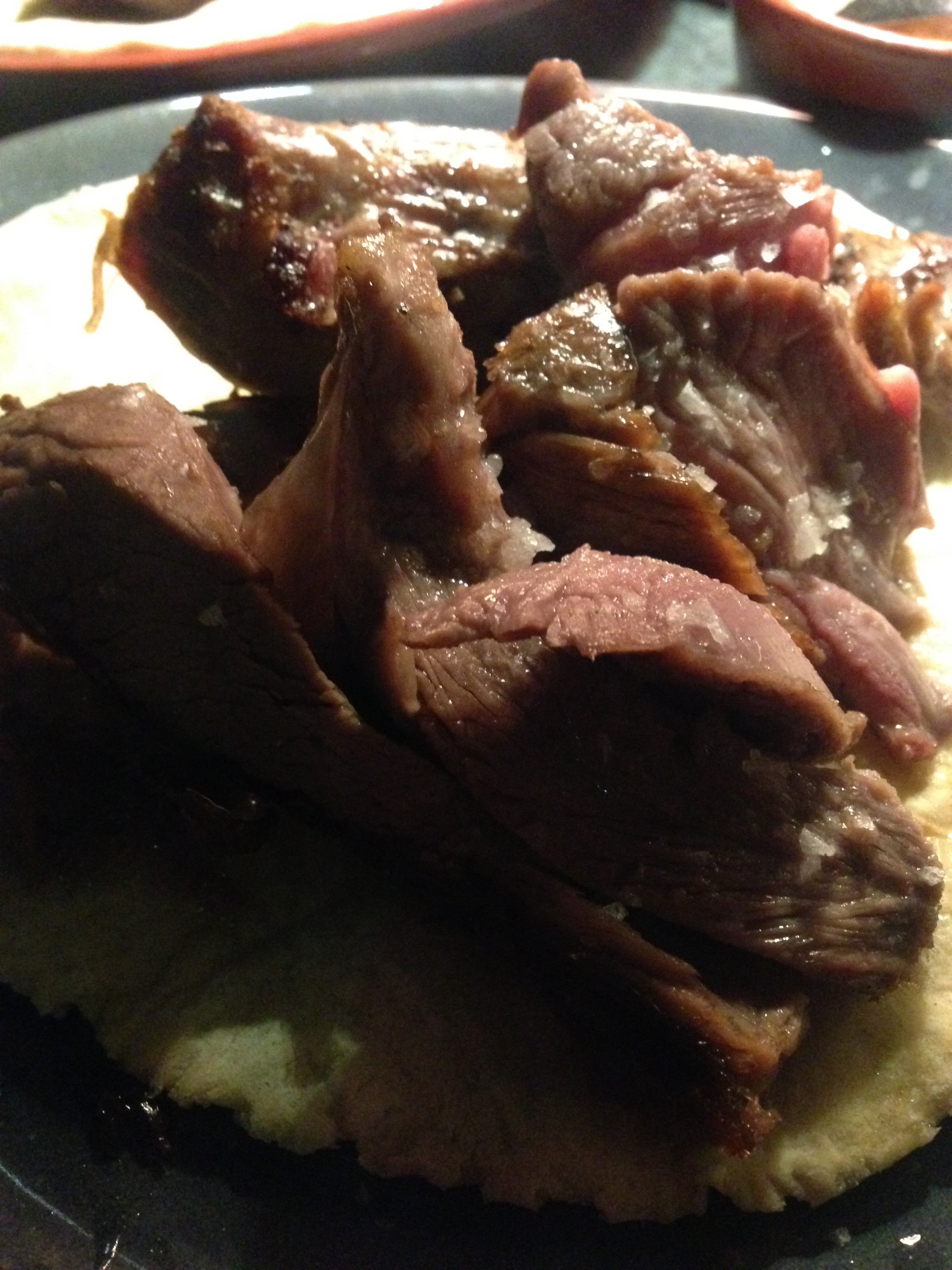 Sitting at the counter is like theatre, watching meat move up and down on grills, pans in and out the ovens and the chef on the pass literally never stopping but to ask for more tacos.
We felt rather pleased and self congratulatory on not feeling too full and definitely having space for dessert. We immediately ruled out the lighter options of sorbets and dived straight in with the deep dish brigaderio cookie with fior di latte ice cream and butterscotch kouigin amann with dulce de leche ice cream.
The cookie arrived in a tiny pan, when we plunged our spoons in its liquid, studded with molten pools of chocolate. The cookie had spent so little time in the oven they didn't even have time to exchange pleasantries. If you have a sweet tooth, it's a dream come true, for me it was just too much sugar which is basically what the chef told us it was.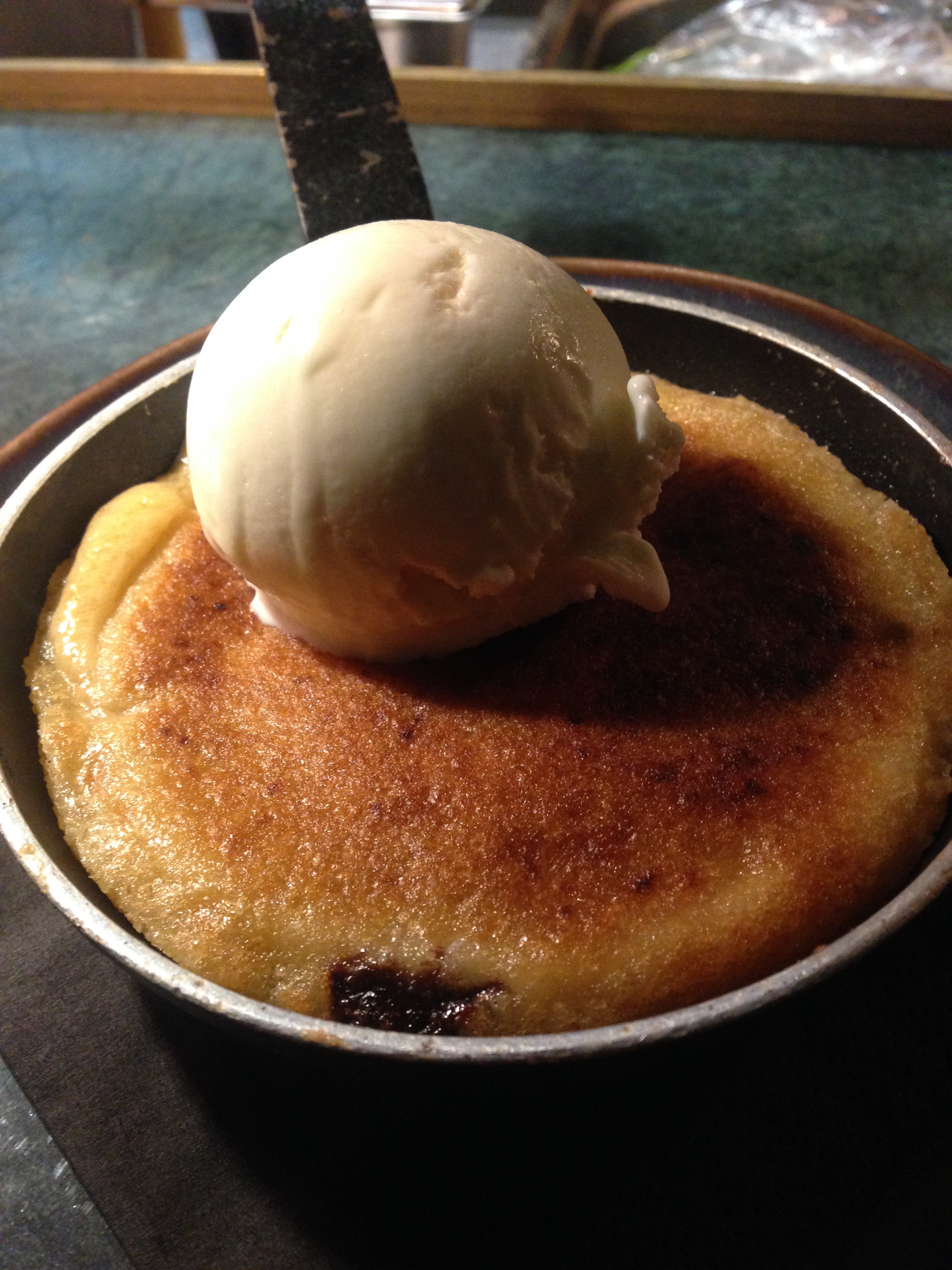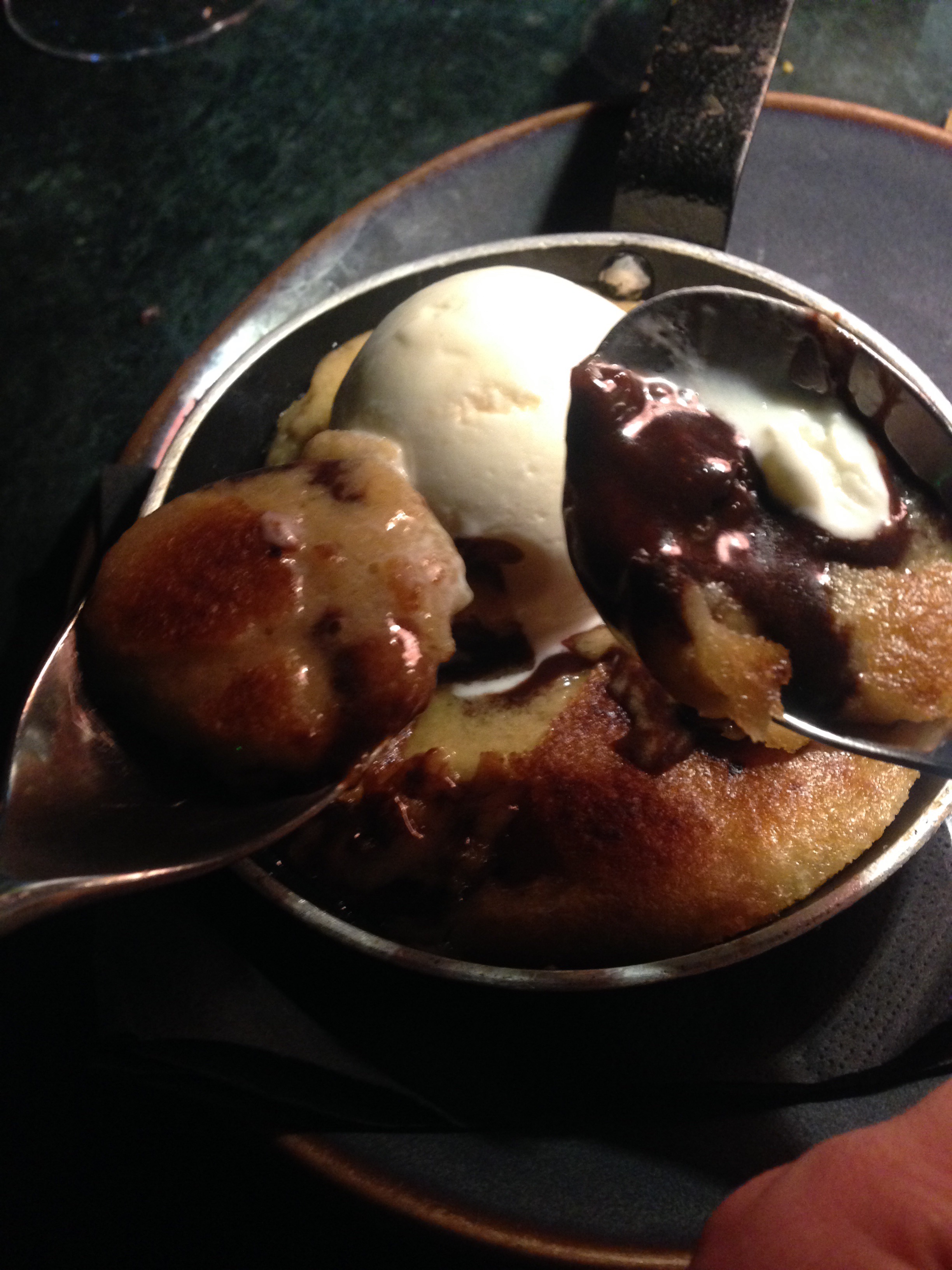 The Kougin amann is a cake made from bread dough, sugar and butter, lots of butter. Drenched in butterscotch sauce and topped with the beautiful ice cream, it was soft inside and beautifully crisp and flakey outside, a sprinkle of sea salt might have enhanced this even further. It was utterly delicious, each mouthful absolutely joyful.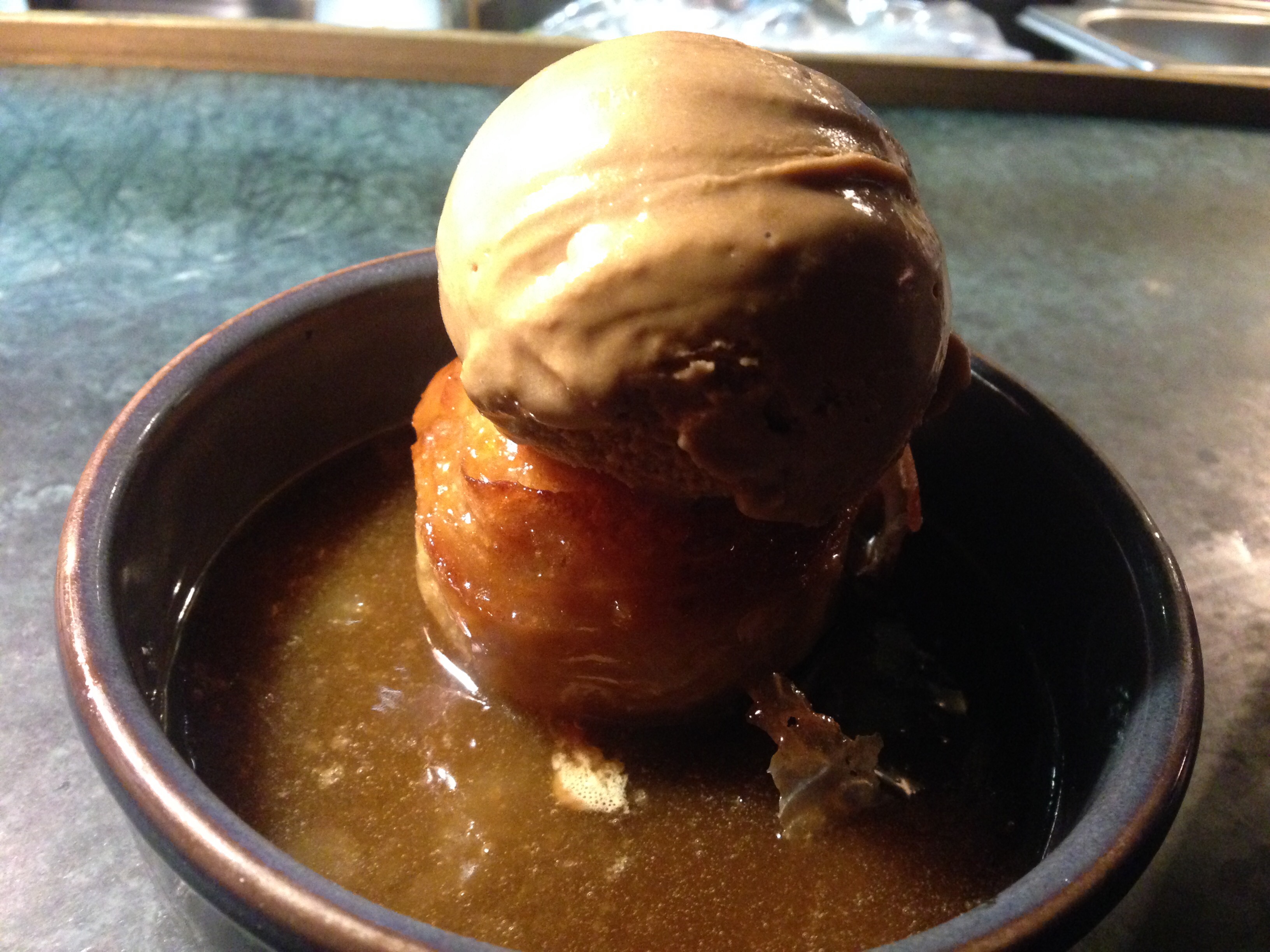 Our bill was just £67 each, including service, which was quite frankly a bargain for everything we had. I'm already looking forward to going back, even if I did need a lie down when I got home.
(Visited 34 times, 1 visits today)