After much researching and availability checking, NN and I decided our blow out meal in Madrid would be lunch at the Michelin starred Punto MX. Run by chef Roberto Ruiz, this is the first Mexican restaurant to be awarded a star. The menu aims to use traditional and modern methods to create authentic yet contemporary flavours. Organic tortillas are lovingly made using a traditional process; this is the only place in Spain doing this and they also have Spain's only Mezcal lab.
Housed over two floors, the restaurant is downstairs with the bar at street level. Despite this, it is lovely and bright, the tables well spaced. We start with cocktails and decide to go with Mezcal based drinks, seeing as it's the speciality here. I learn that tequila is,in fact,a type of mescal. Our drinks, the Tamarind Margarita and the Punto MX arrive. The Punto MX is fresh, sweet and salty and has a soft heat from the jalapeño that hits the back of your throat. The star of the show, however, is the Tamarind Margarita, it's just stunning. It's warm and spicy from the chilli, but salty at the same time. This is just oh, so good.
We spend a long time questioning our waiter as to why the couple next to us have different menus but we don't really get an answer that we understand. Our fear of missing out is overwhelming. We needn't be worried. Once you have ordered, you are given a personalised menu with your choices, a really lovely idea and memento.
Our amuse bouche is fluffy corn bread with fresh cheese, black beans purée and avocado. The bread is extremely light, the flavours intense, the beans rich and avocado creamy, the heat from the chilli perfect.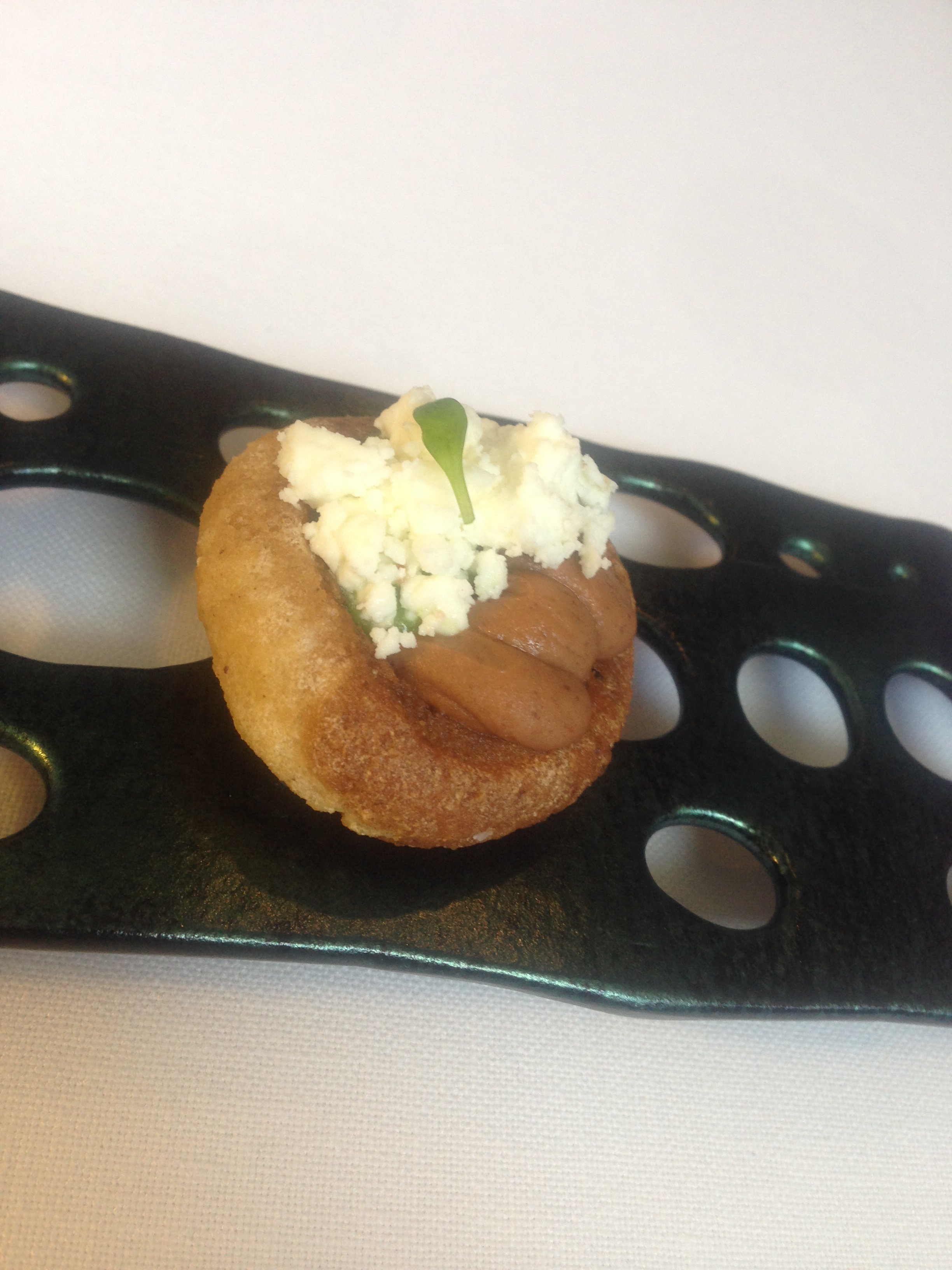 One of the dishes Punto MX is renowned for is it's guacamole which is freshly prepared in a huge blackened, lava mortar at the table. It's rich and creamy, with jewels of pomegranate adding a wonderful sweetness. I have to say, pomegranate enhances most things. ​
​The tortilla chips are perfect to scoop it up.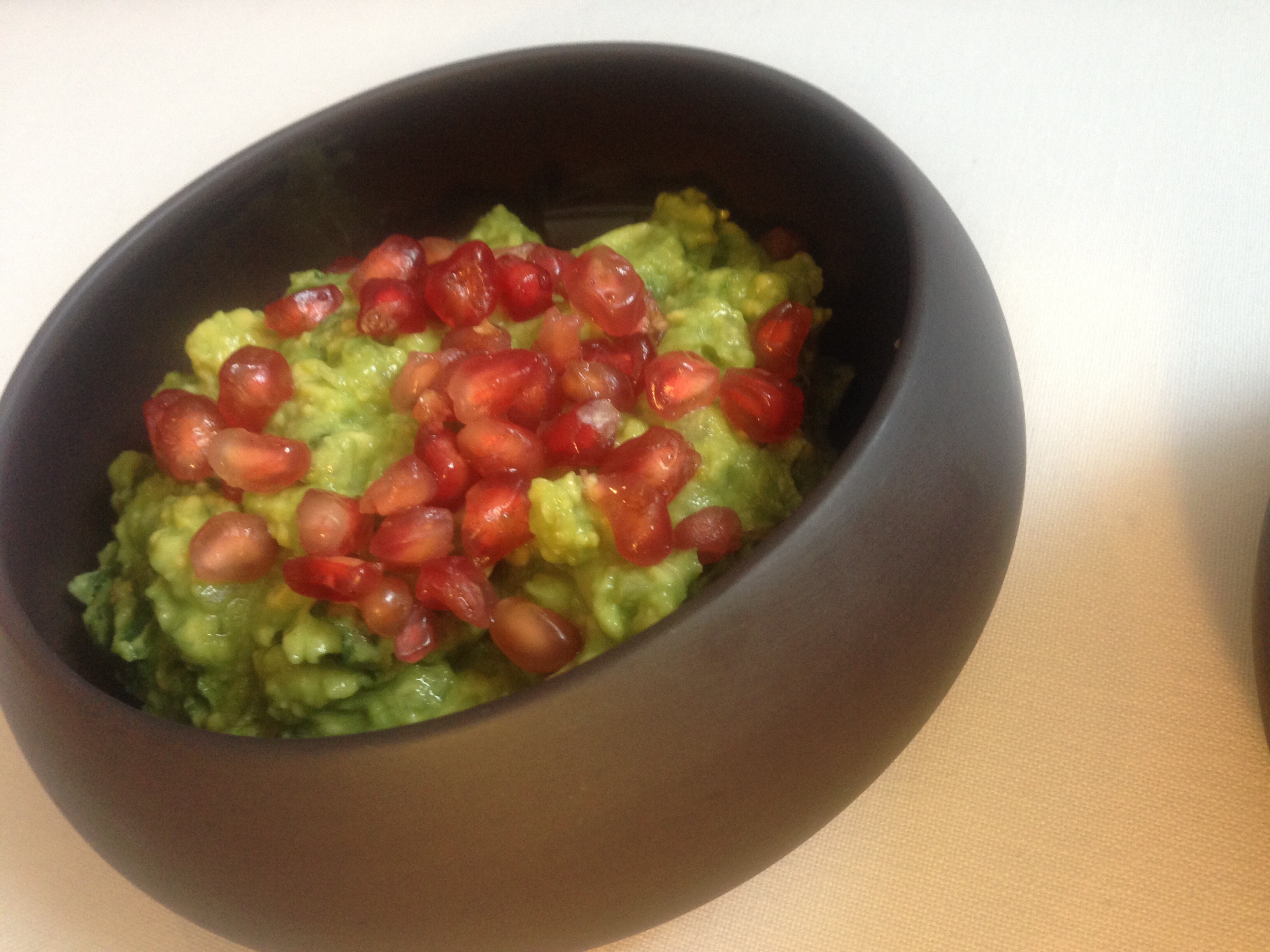 The first dish to arrive is Scarlet King Prawn. Guajillo. Citrics.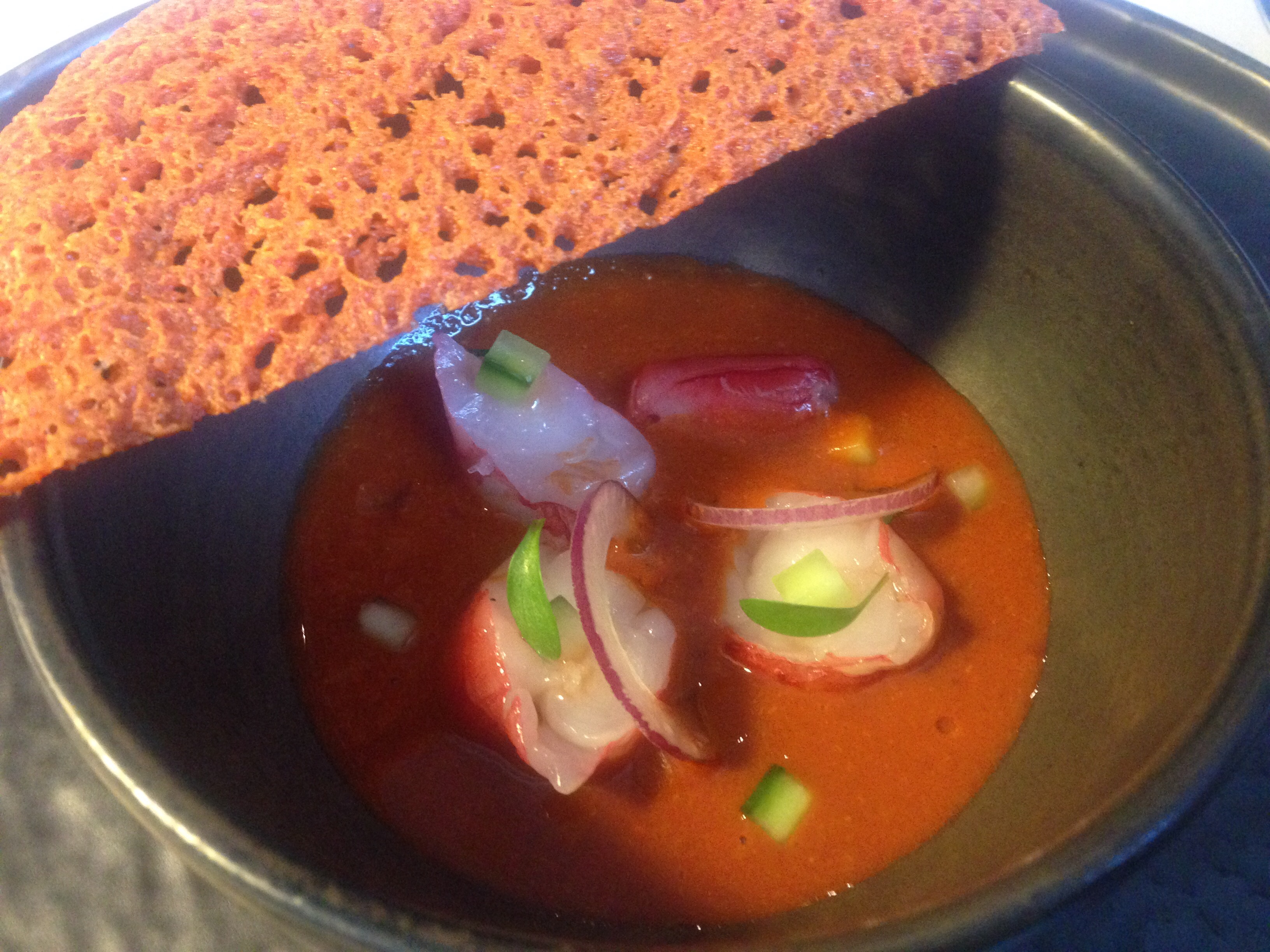 We had both expected this to be warm, although we're not sure why. The prawn is bathed in a rich tomato and prawn sauce with bits of red onion and cucumber. The prawn itself is ice cold, so cold that it has little flavour, the texture is soft not firm, almost liquid. The prawn toast is light, with an intense flavour. This dish just didn't work for me. NN was extremely disappointed by her first choice.
NN has a huge love of spicy food and our waiter suggests we order some 'off the menu' habereno sauce. It's very good, very hot, made at the table with chilli oil, lime and, of course, habereno chillies. At the end of our meal,this is packaged up so we can take with us what we did eat.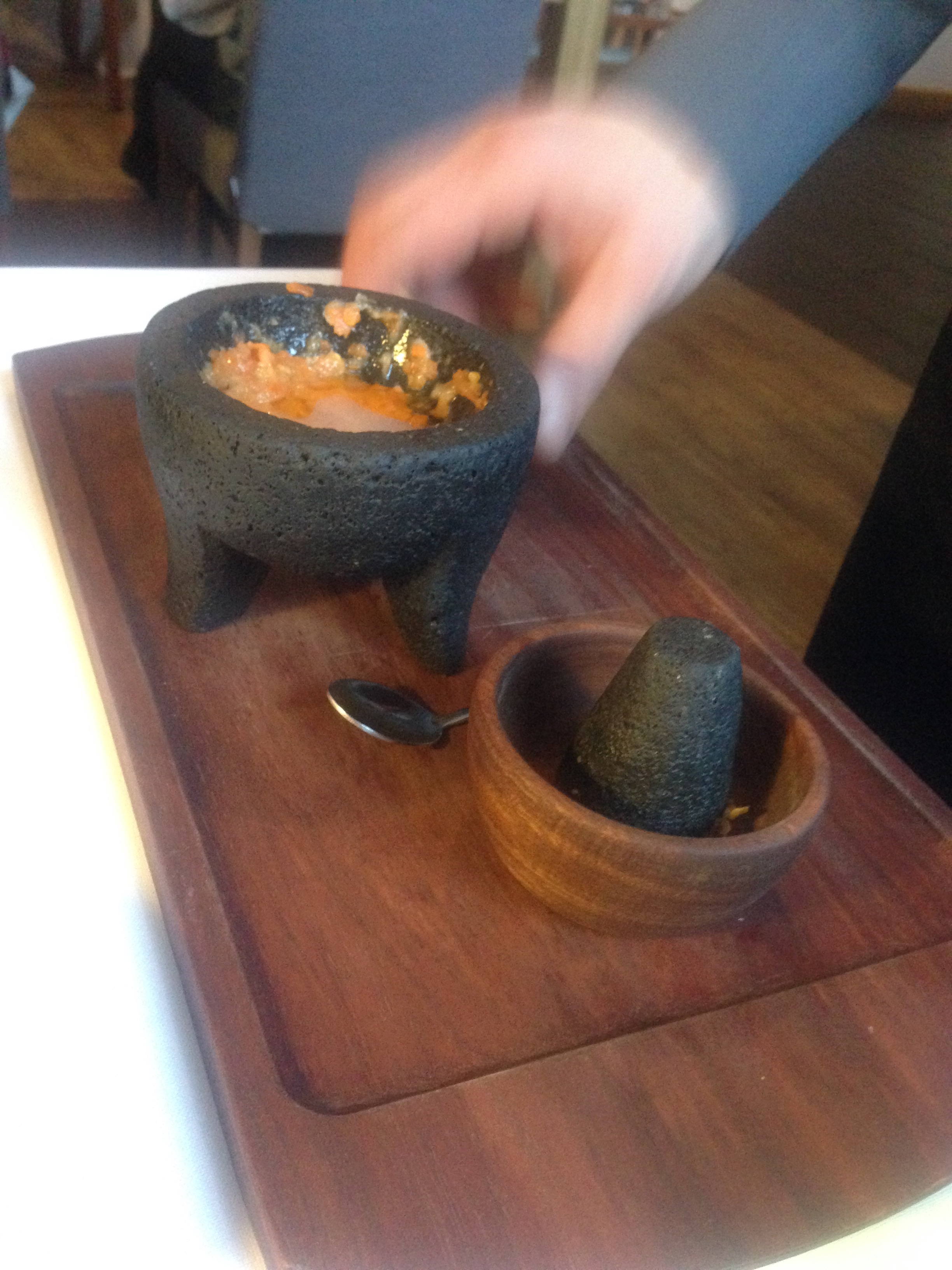 We then receive a visit from the mezcalier and the Mezcal trolley. She takes us through what's on offer but, with dinner at Botin this evening, we decide not to go with the shots she suggests. They do push the Mezcal quite hard, with every table receiving a visit from her during our visit. We order more cocktails.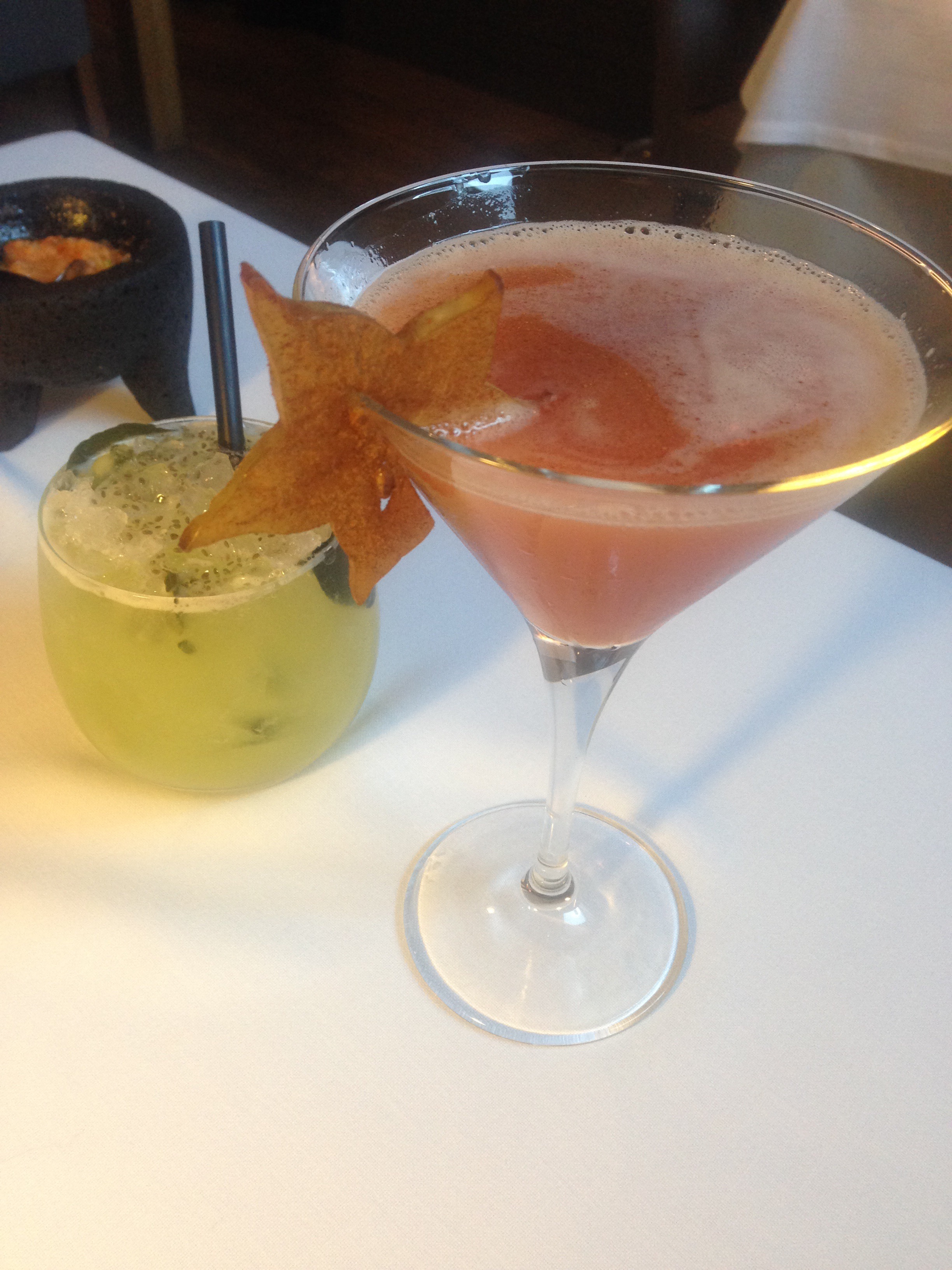 Mine is smokey, warming and deeply alcoholic, all you could ask for really.
NN opts for one that is fruity and fresh, a great drink but definitely the weakest of the four we order.
Ibérico lean pork fillet pastor tacos with chipotle salsa is served to much anticipation. It's been almost an hour and half since we sat down. The pork is tender yet crispy and very tasty, but there is not much of it. The black tortilla it sits on is good with a strong flavour from the corn. The chipotle sauce offers a rich warmth which is cut through by the pineapple salsa. It's delicious, it just needs more pork.
A plate of vibrant green is the Braised duck enchilada with squash seed and green salsa. The salsa is very good, a contrast to the fatty, flavoursome duck that is hidden under the sauce. The toasted pumpkins seeds are a nice addition, both in flavour and texture. Another good dish and the sauce is delicious but the amount of it overwhelms the enchilda.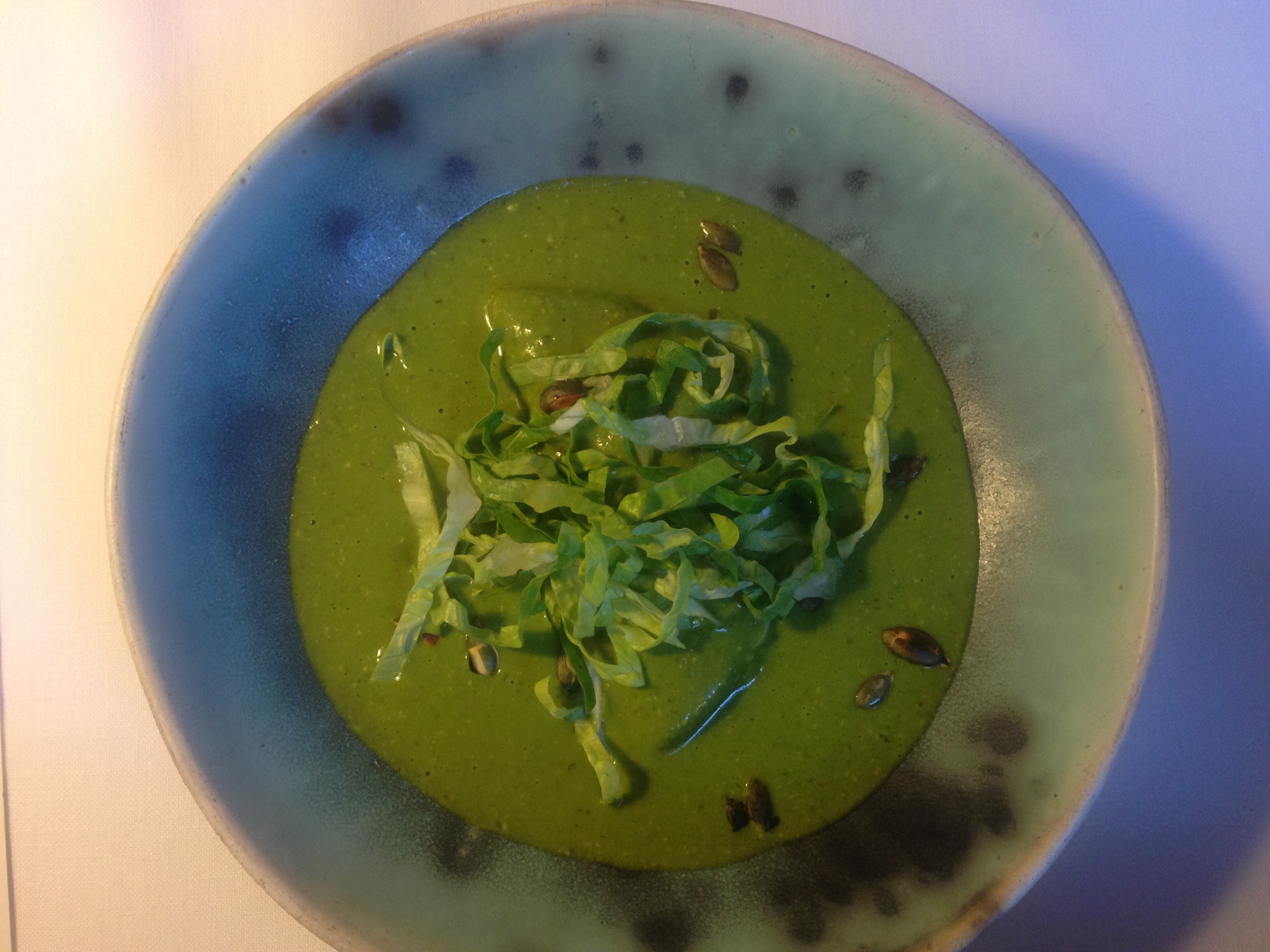 Service is a little slow and inattentive; we wait over 30 minutes at one point to get a waiter's attention. When we do, he brings our final dish and what is,undoubtedly, my hero dish. Bone marrow, charbroiled in ember oven, with crushed, roasted tomato salsa and herbs.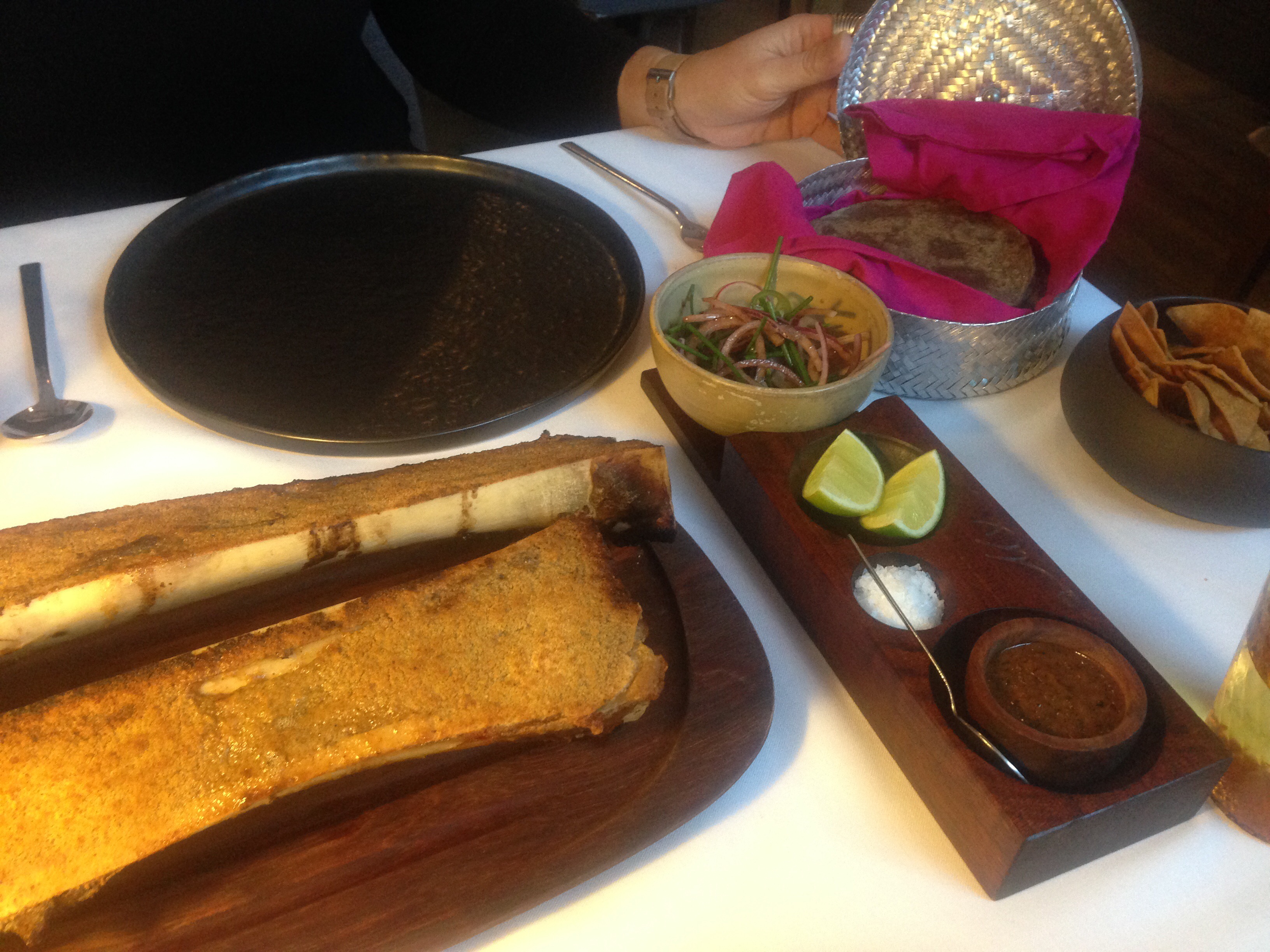 This is so incredibly tasty, juicy and salty and crusted on top. We pile it into more totillas and top with the salsa, it's fresh acidity the perfect antidote to the richness of the marrow.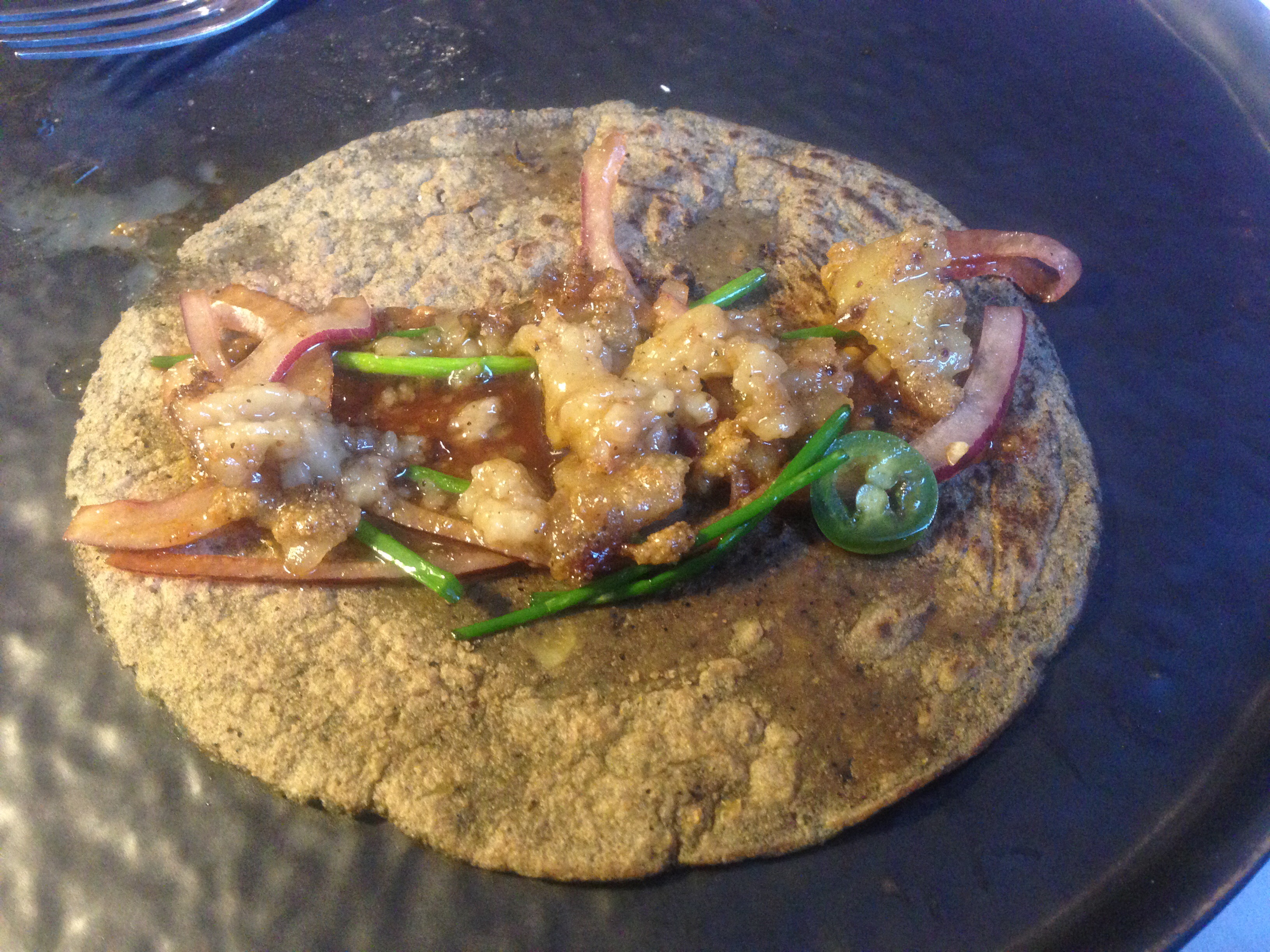 Dessert we share, although all dishes here are designed to share, dessert perhaps less so. Cajeto crepes are thin and light, the pistachio biscuit is more like a sponge, it's so light and fluffy. Goats cheese caramel cream is sensationally good, as is the crepe ice cream.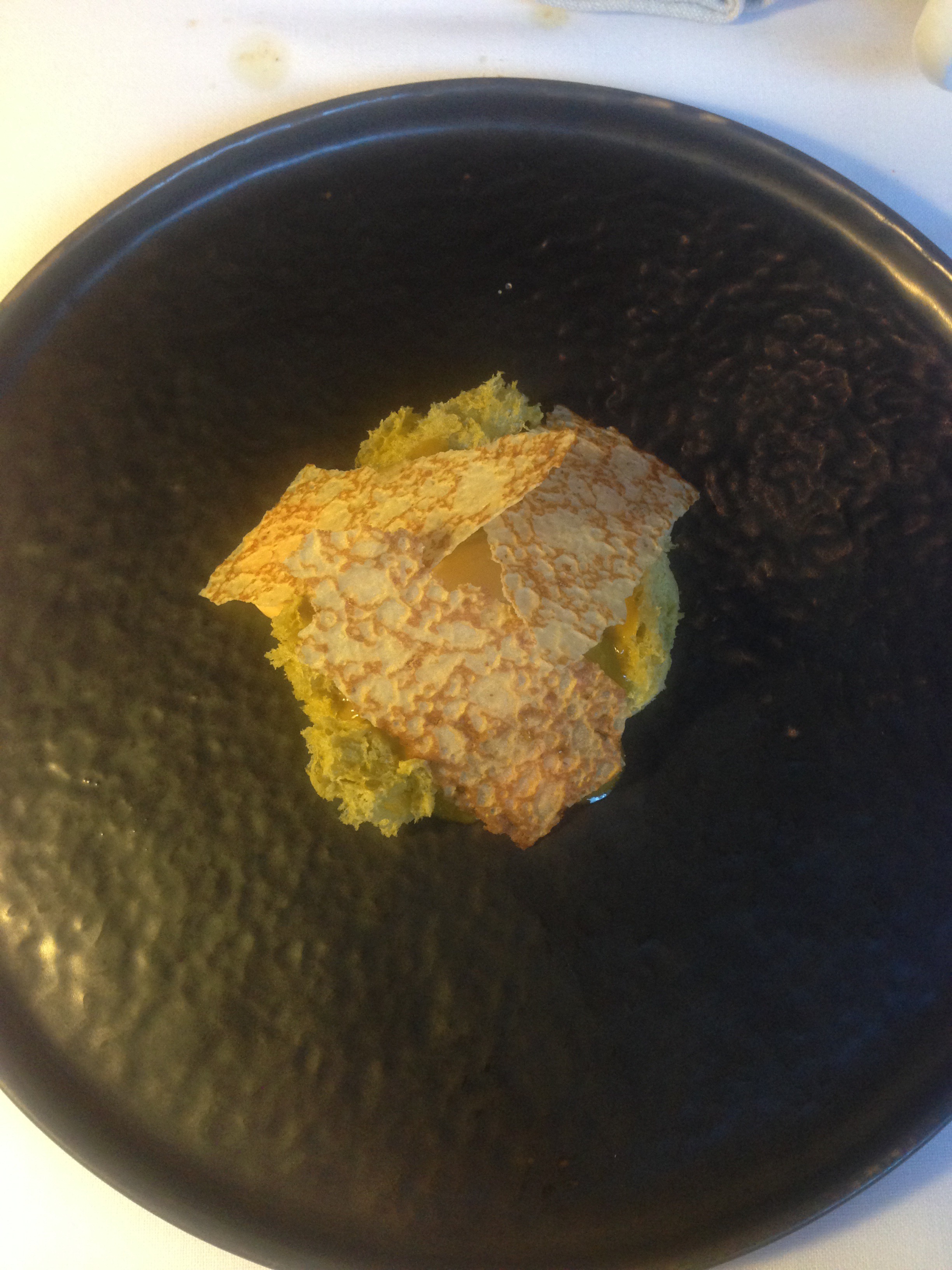 We finish with a great coffee and wander back through the park at sunset to see the statue of Satan, the fallen angel. With full bellies and the sun glinting of Satan's bum, it's a pretty lovely way to finish off the day.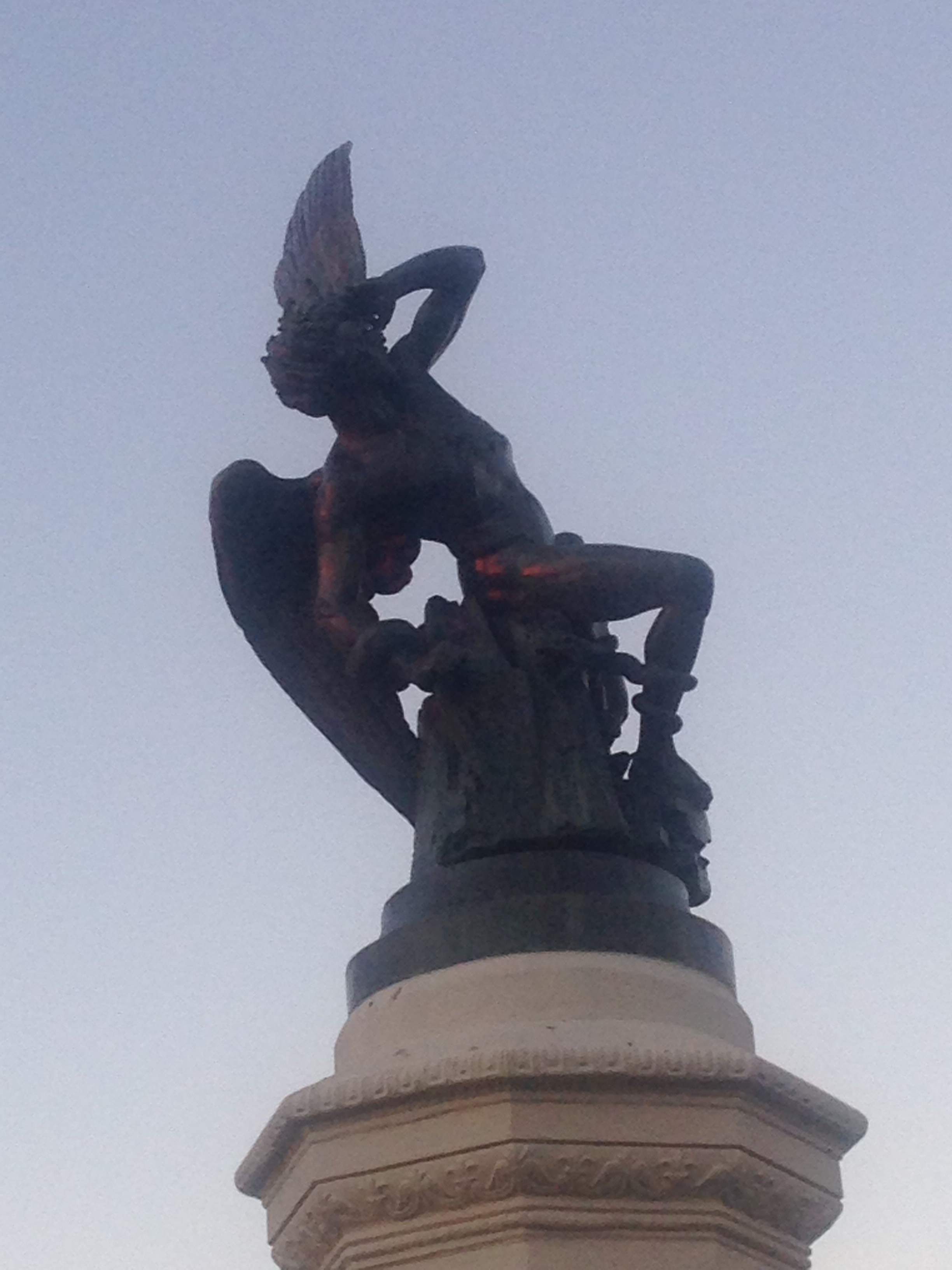 Even if you can't make lunch or dinner here, I'd highly recommend the cocktails in the mezcal lab upstairs and they do have a bar menu,so you can at least try the guacamole.
(Visited 53 times, 1 visits today)