I am, currently, in a very happy place, not literally but mentally. Last night, NN and I had a truly spectacular, joyful, mind blowing meal, at the two Michelin starred restaurant at the Yeatman Hotel in Porto; well, technically, it's in Gaia which overlooks Porto.Literally, I am sitting in Burger King, in the airport,  because I refuse to spend €7 on a dry, scabby sandwich. While I might be willing to part with vast sums of money in the pursuit of happiness via food, I hate to spend money on crap food, which I am sure some of you will feel Burger King is. For me, it is a rare occasion, always in an airport and I am nothing if not egalitarian about my food choices.
We started with a glass of champagne on the terrace, watching the sun fade behind the horizon. The dining room was silent, starched linens and whispered conversations. It did not remain so. We opted for the longer of the two tasting menus. Of course, we opted for the wine pairing, and I'm not even sorry.
[wpvideo Ztsa7VGa ]
The menu was long and at some point you'll need to attend to life so let us start. First a plate cleanser of ginger, cabbage and apple which was sweet at first then warmed the back of my throat.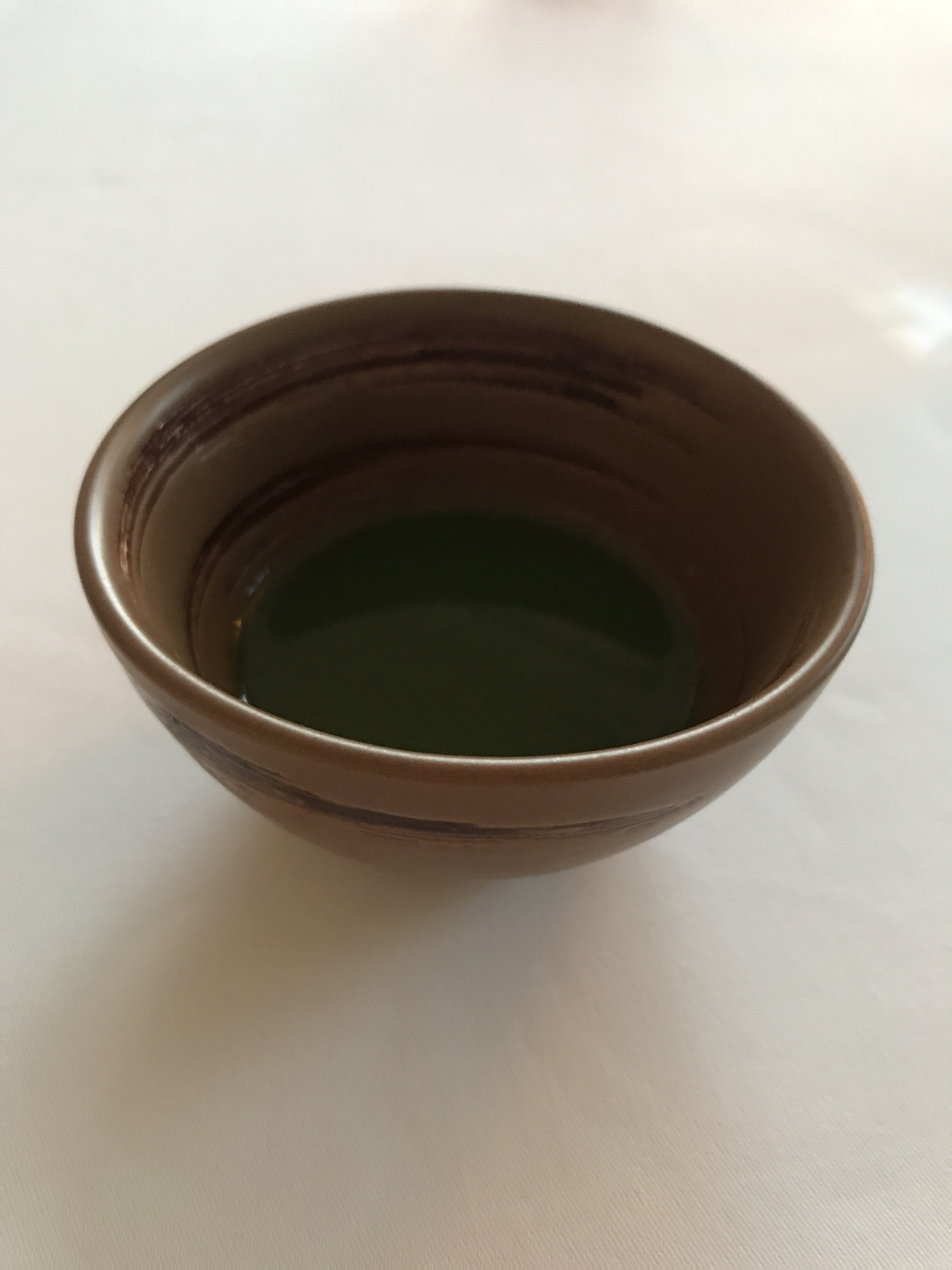 Then a trio of tuna delights which increased in flavour and delight as we moved across the plate, finishing on the stunning tuna sandwich, light, intense and quite unlike anything my gran ever served us as children.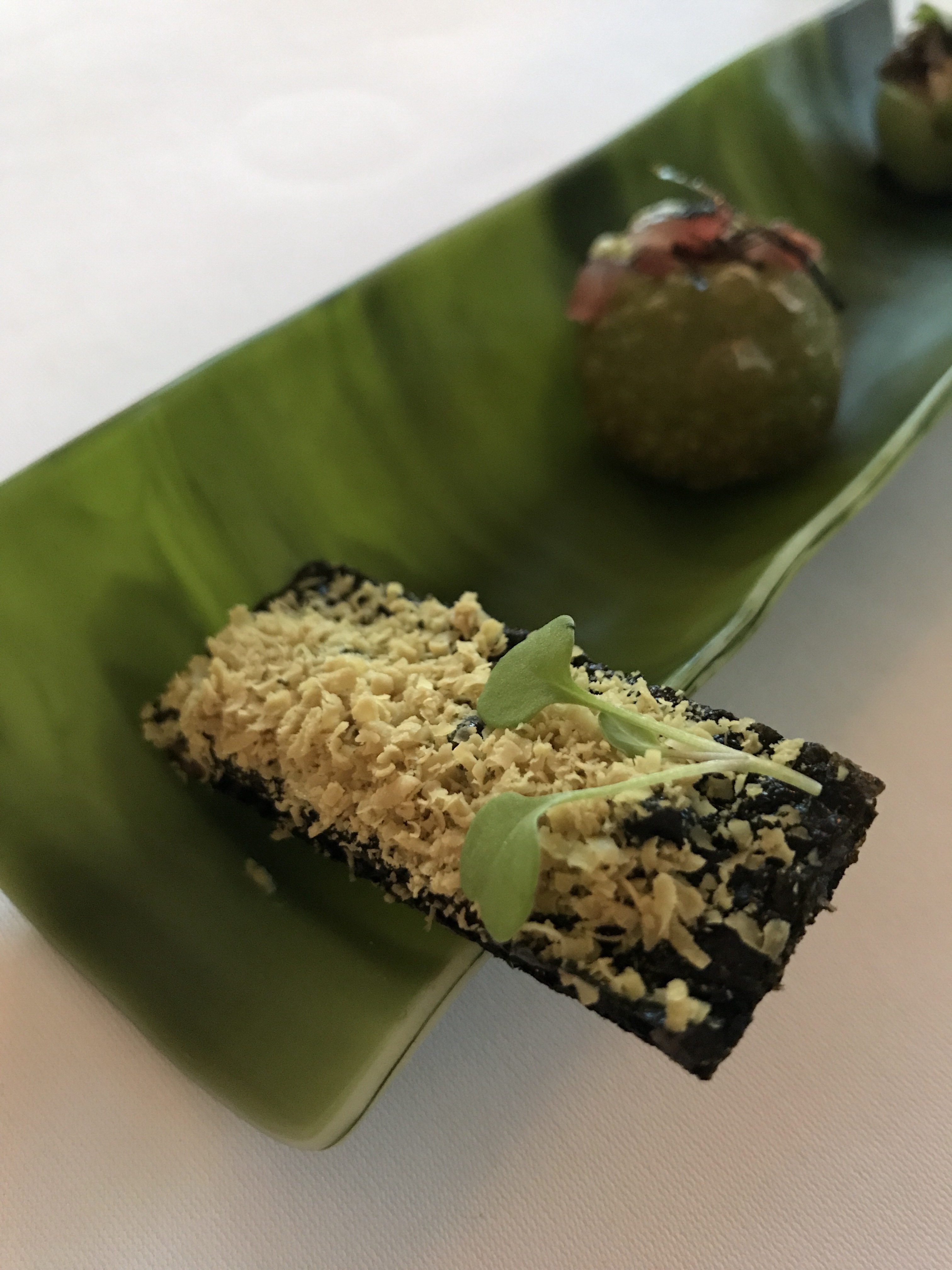 The flavours on Turnip, Matcha, Yukon were bold, sharp yet silky.  It burst with flavour in my mouth.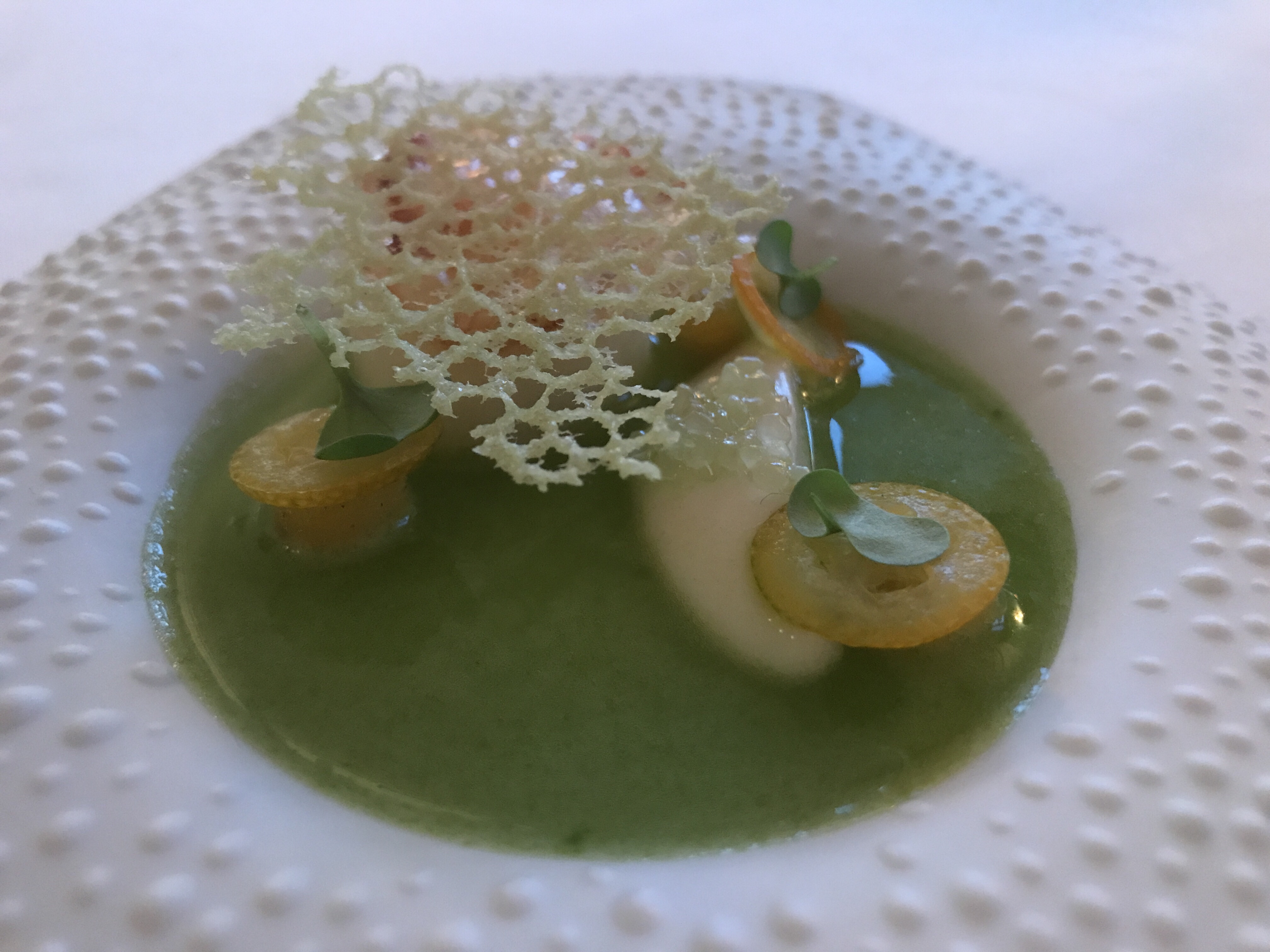 Frango de Churrasco 2018 might, literally, translate into welcome to heaven, for all I care. Yet another favourite dish that elevated the humble chicken. Juicy, popcorn-like chicken oysters and a sandwich made from crispy, salty skin. If loving this is wrong, I don't want to be right.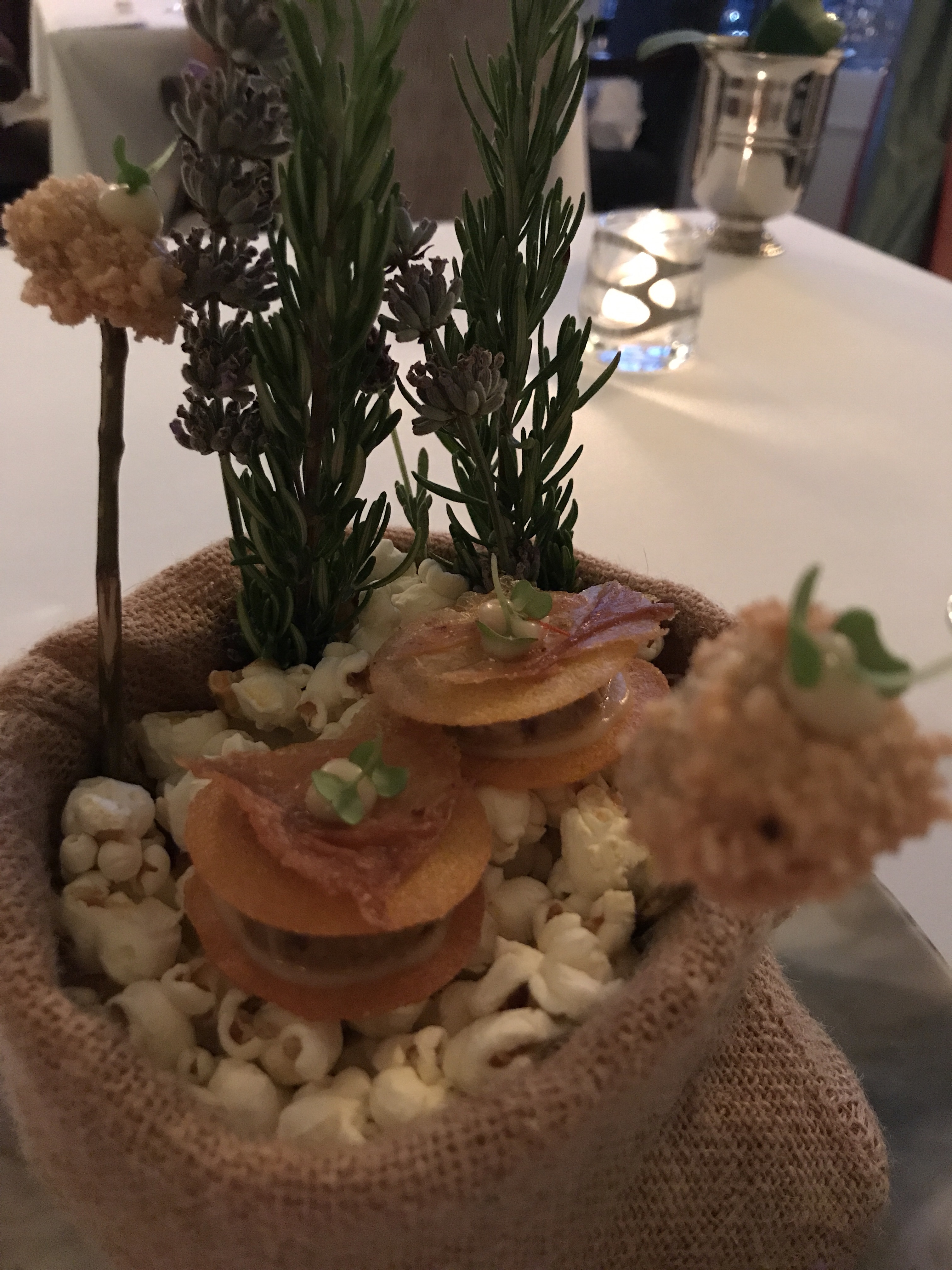 Tomato, foam, sorbet and chilled water was as contrasted as day is to night. It was a deconstructed Greek salad, refreshing with sharp, salty bursts  of deconstructed kalamata olives and soothing foam which, in contrast to its texture, was sharp and cold sweet tomato iced water.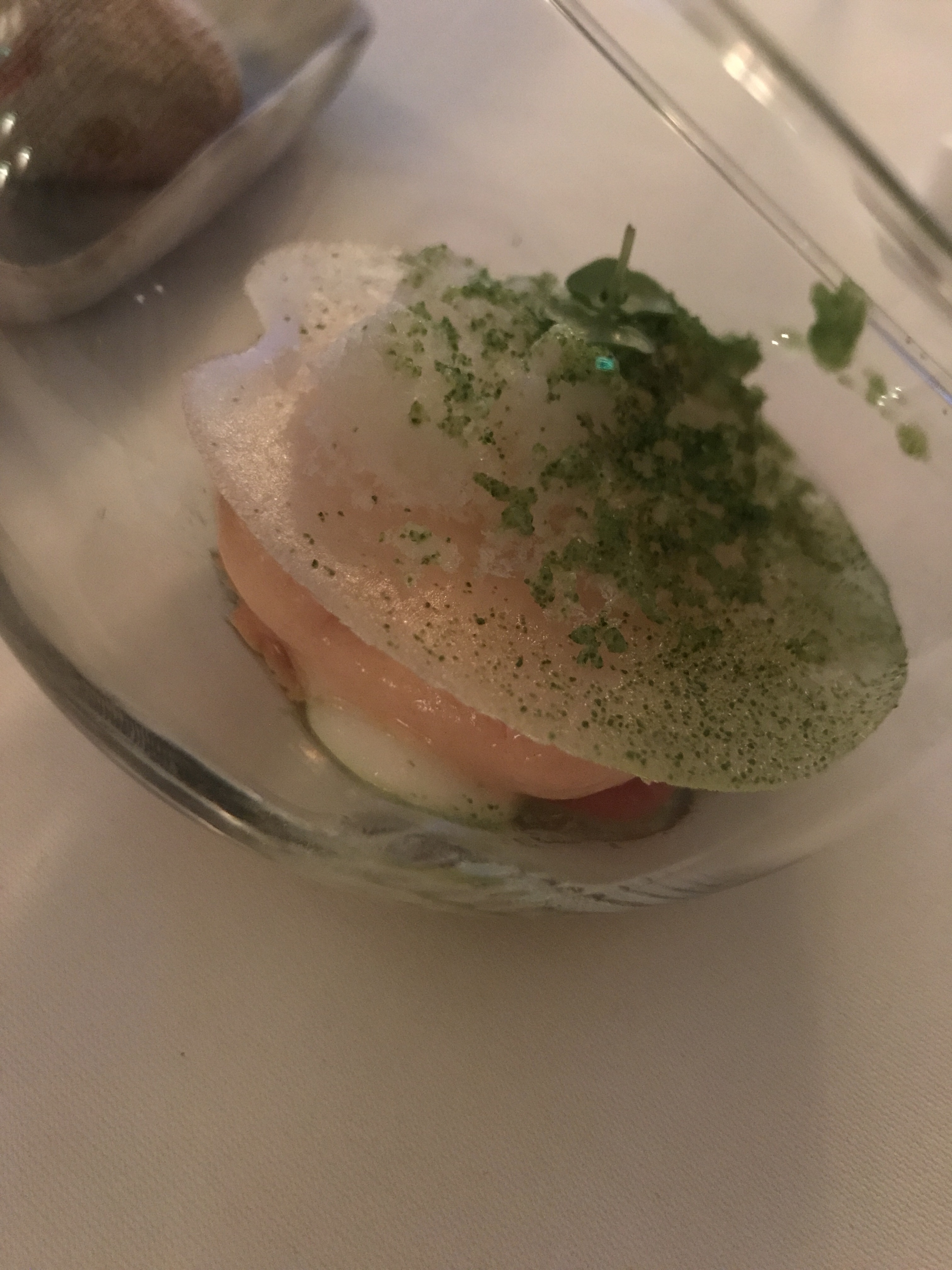 The wine came, always with a story from the wonderful Eric. It was good, it was all very good.
Nitro amberjack played cleverly with texture, with burst of tapioca and sweet amberjack tussling for top spot, bathed in silken foams and tiny, frozen caviar of cucumber. It ended with mouth- puckering pickles.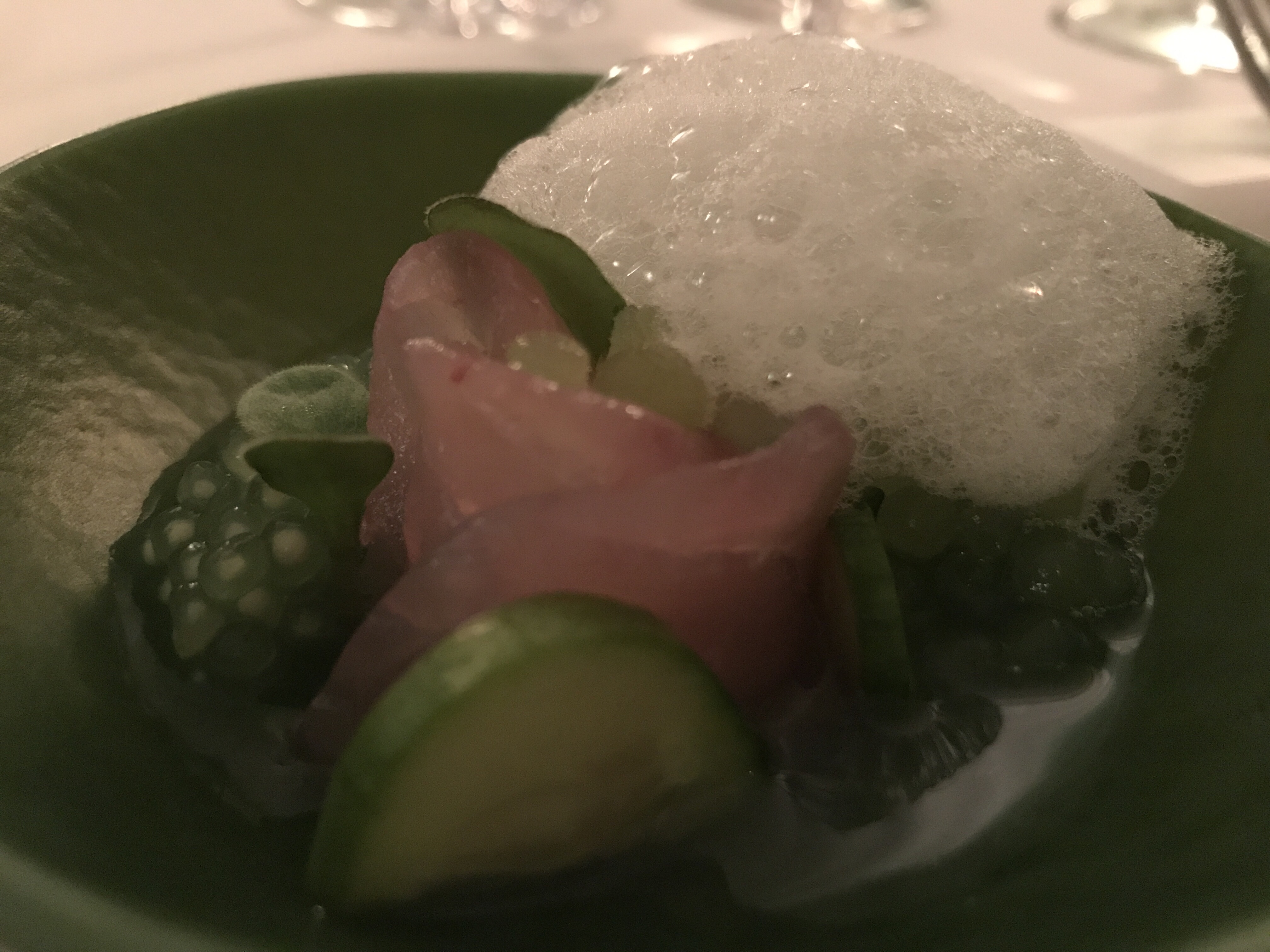 Lobster with melon, smoked ham and tarragon was as complex as it was simple, sweet, juicy, salty, bitter. I didn't want this plate to finish.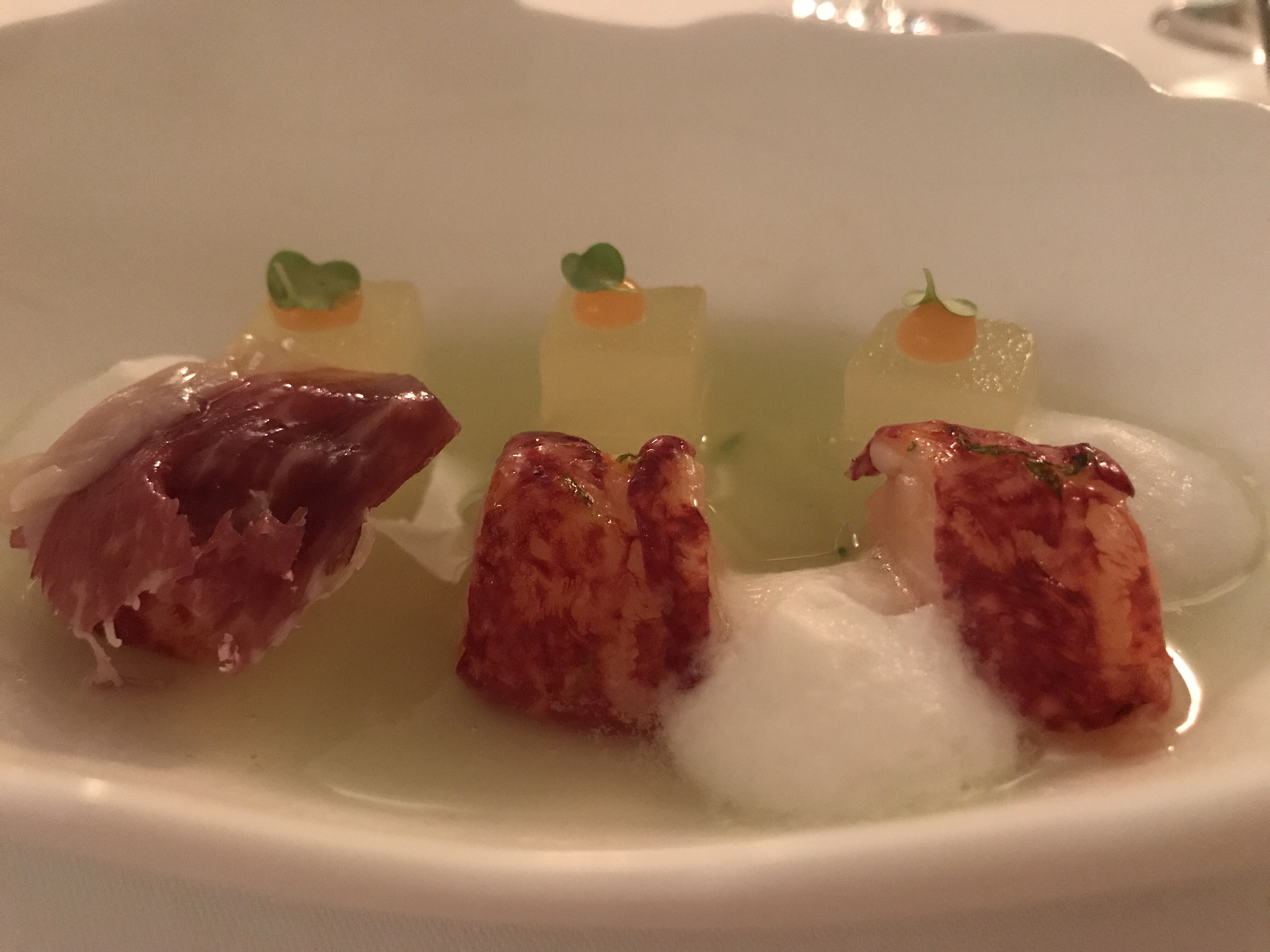 Beef cannelloni melted into both sweet and umami.
Spider crab gave intense sweetness against velvety, comforting cauliflower. Then there was delicate, smokey eel and a hint of sourness from the yeasty, yoghurt crisps.  This really was world-class cooking.
We broke for bread, with the richest butter and greenest olive oil.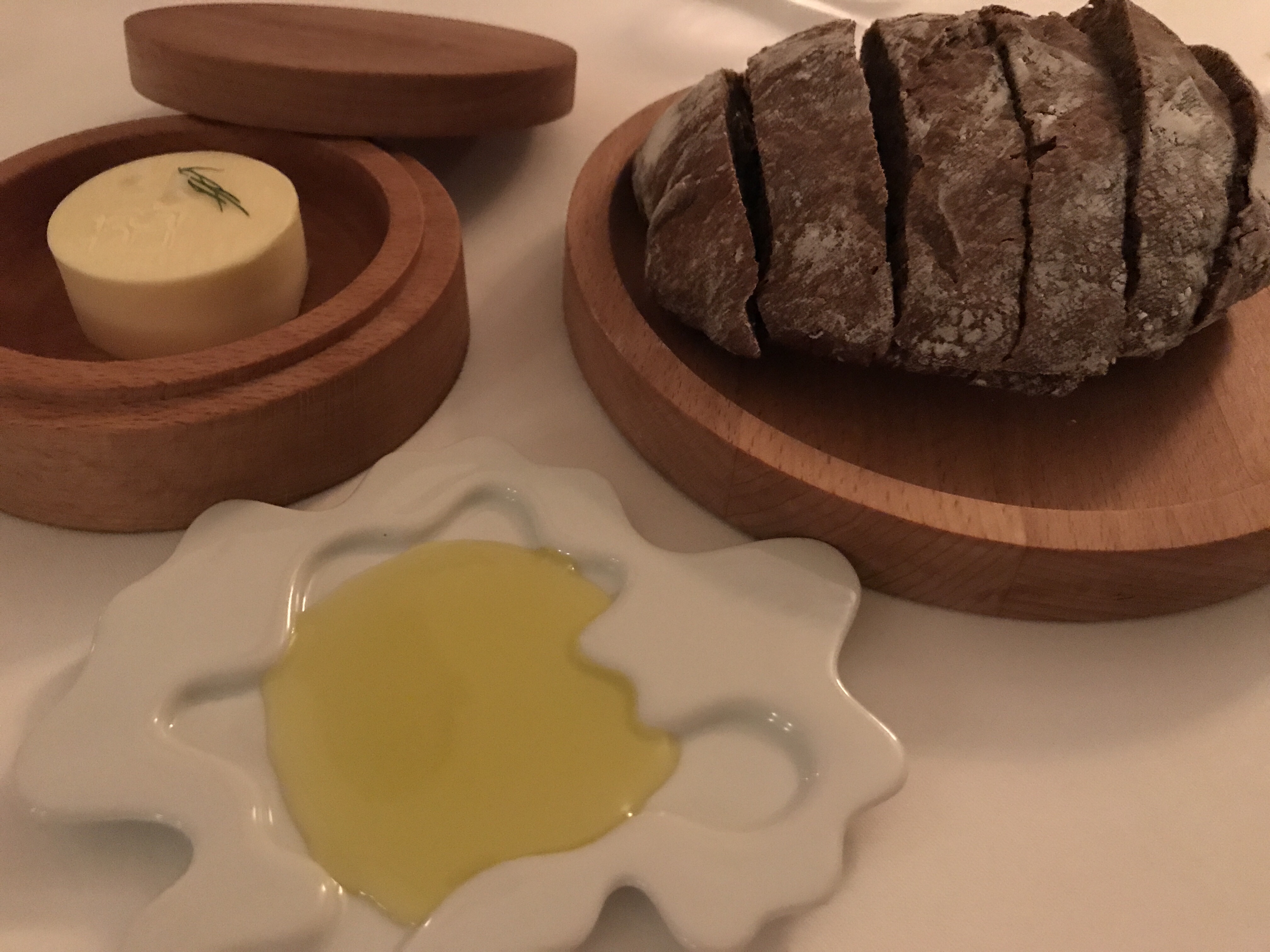 We moved onto Red bream with seaweed and oysters which were tiny, salty jewels in the warmth of the broth. Nestled in here were buttery gnocchi and smokey squid. I experienced every sensation at once, warm, sweet, salt, umami, smoke, it was stunning.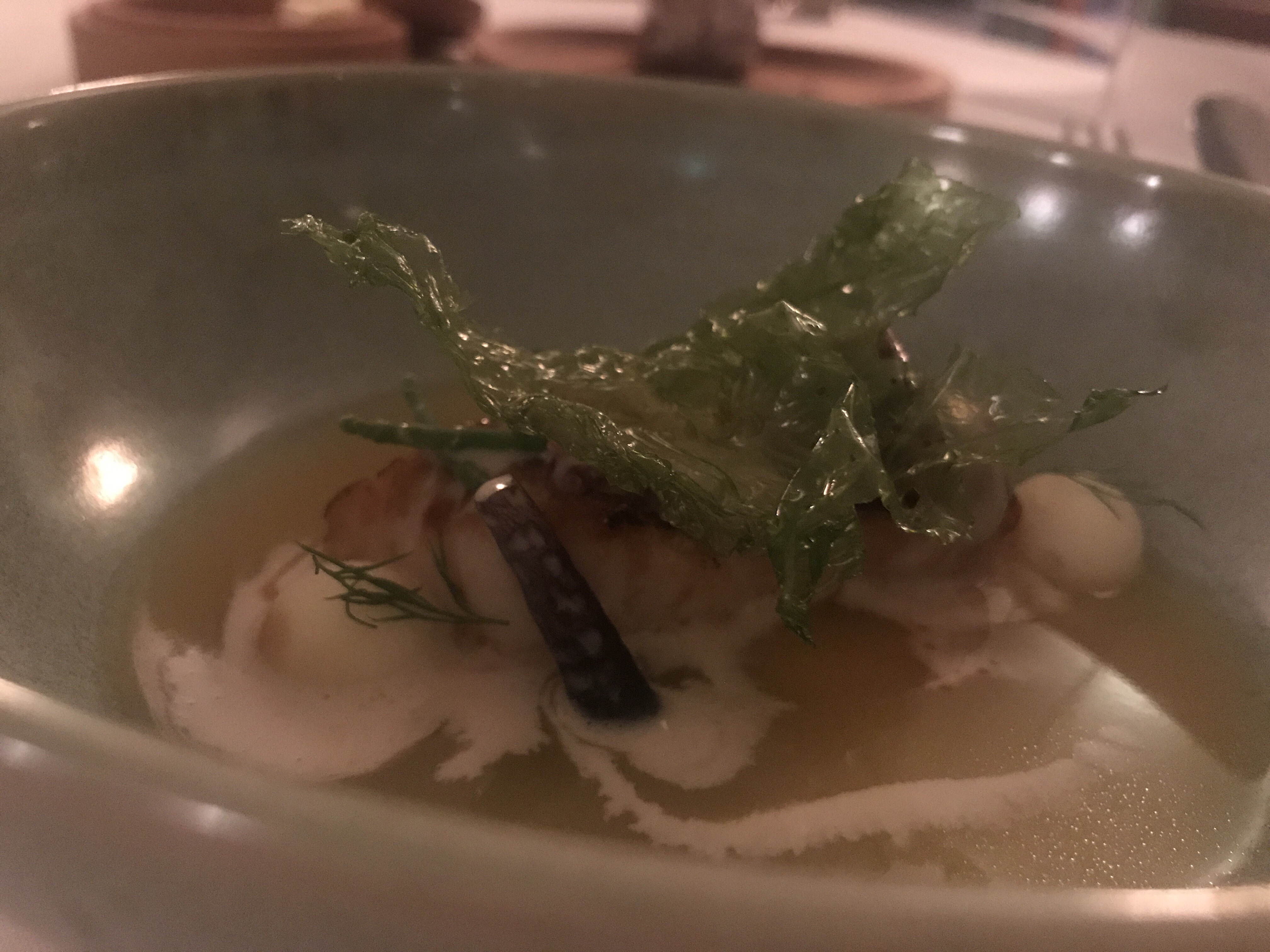 And so, to the meat. A perfect pink loin of veal was revealed under a smoking cloche, although this food needed no theatre.  Tender veal, creamy artichoke, earthy mushrooms, just a hint of smoke and sweet in the barbeque sauce.  This was incredible, complex,  simple food, brilliantly executed.  Each course was utterly faultless.  I know it's two stars and so,maybe, this should be expected but it's a long time since I felt this much joy at a meal.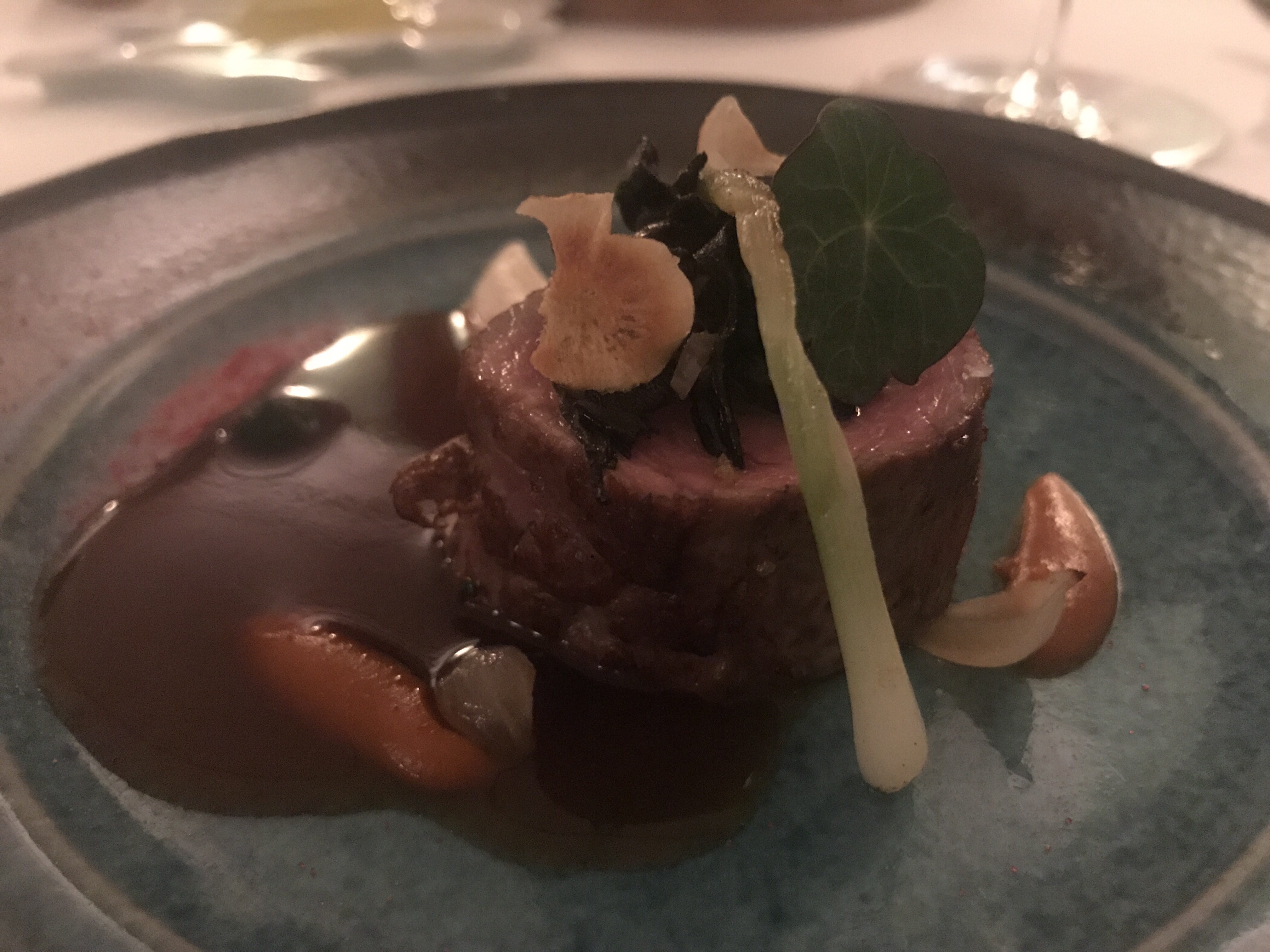 The final savoury course was suckling pig, with jalapeno and chilli in the form of an understated guacamole foam that was soothing, with a pleasing warmth at the back of the throat.  The pig was perfect.  This was a lavish dish, the meat melting, the crackling toffee- like.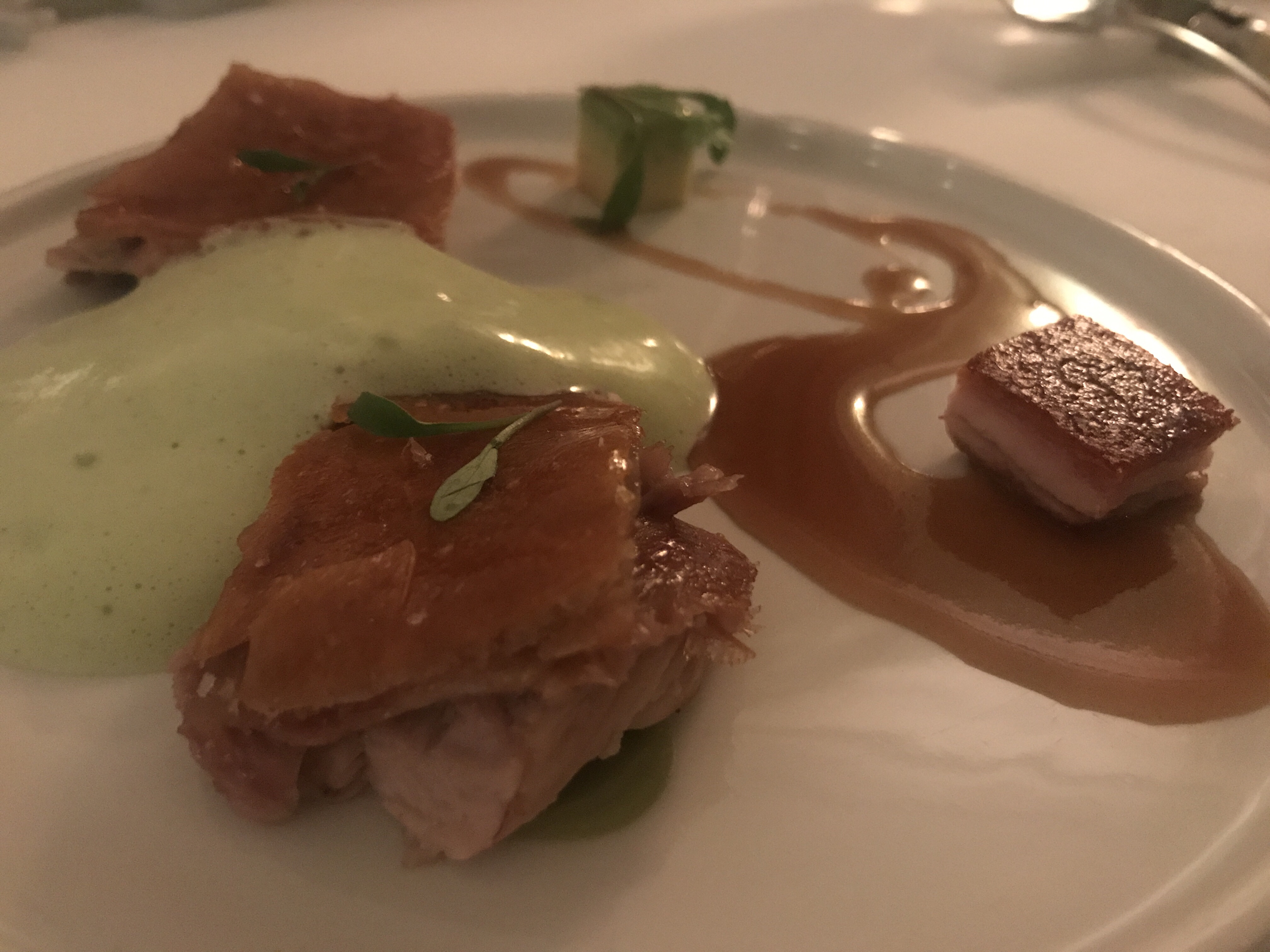 And so to desserts.  Pre dessert was Litchi, Hollyhocks and Rhubarb, its sharpness balanced with delicate floral notes.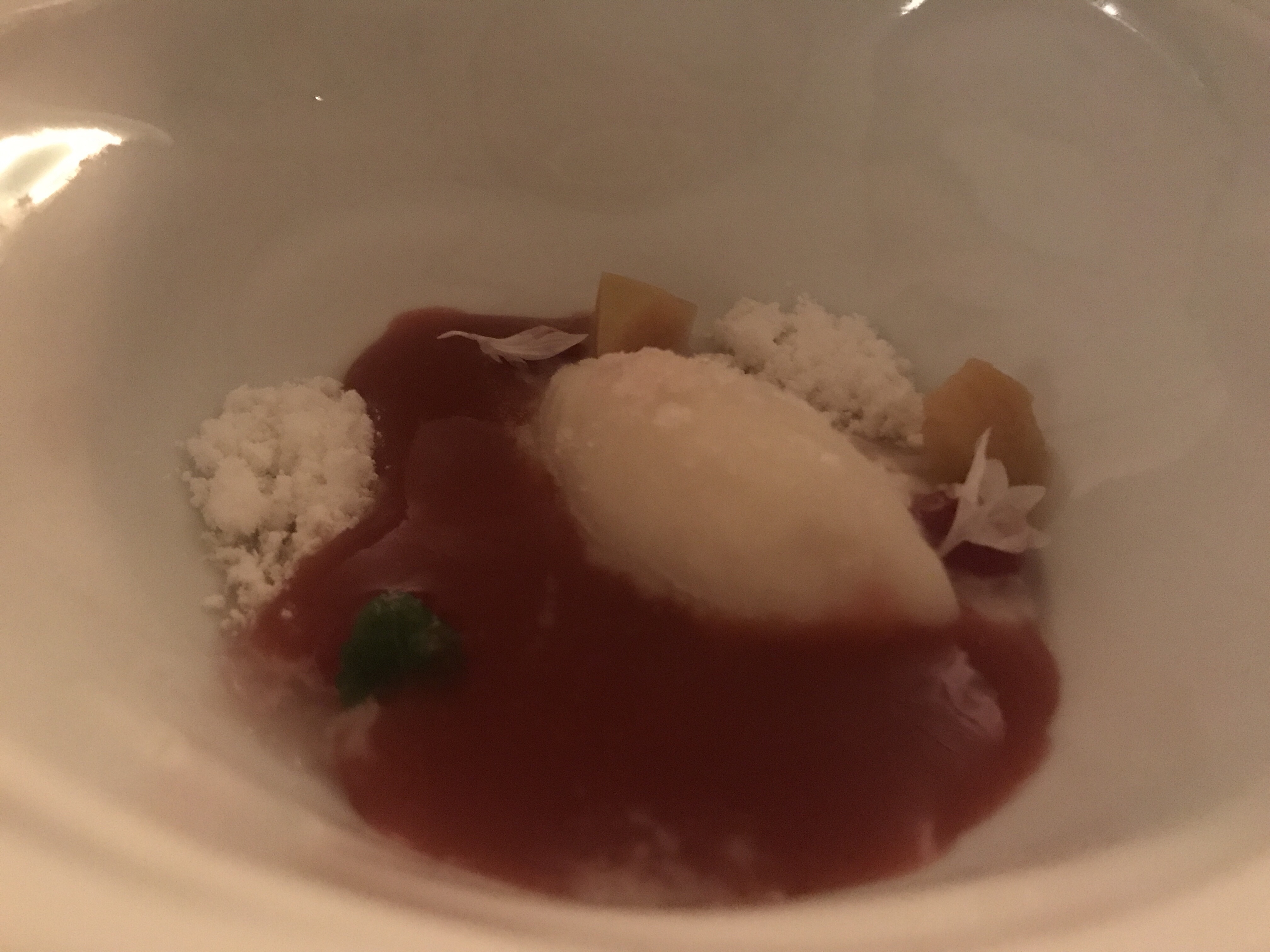 Dessert started with the Yeatman Magnum and the first of two Nectarine dishes. It was underwhelming. I don't like white chocolate and the texture was a little fuzzy and, it turns out, I don't much love nectarine after all.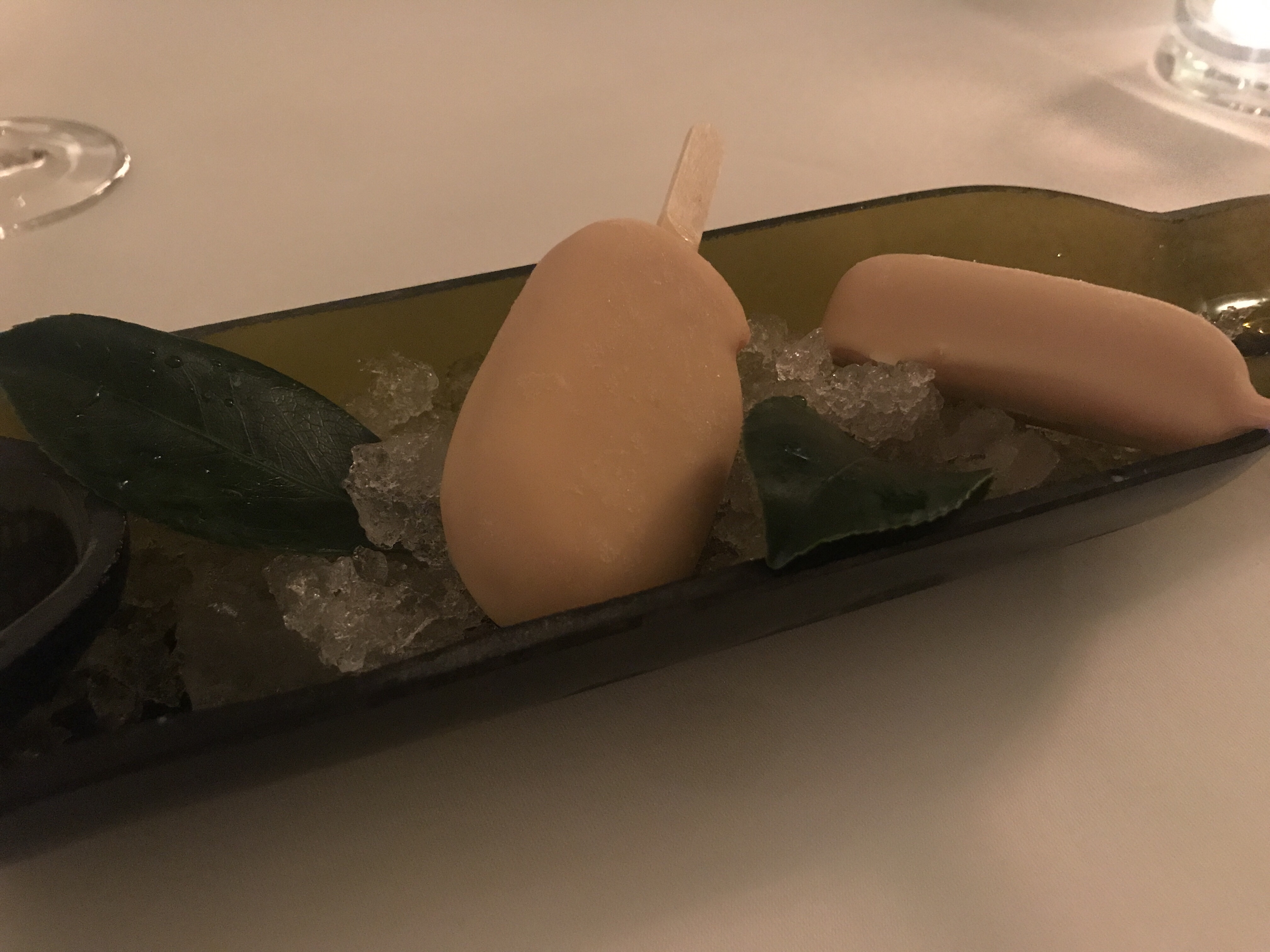 Nectarine with Almond cream, coconut and lime also failed to work for me.  It was a bit bland, while having an overpowering flavour of kaffir lime.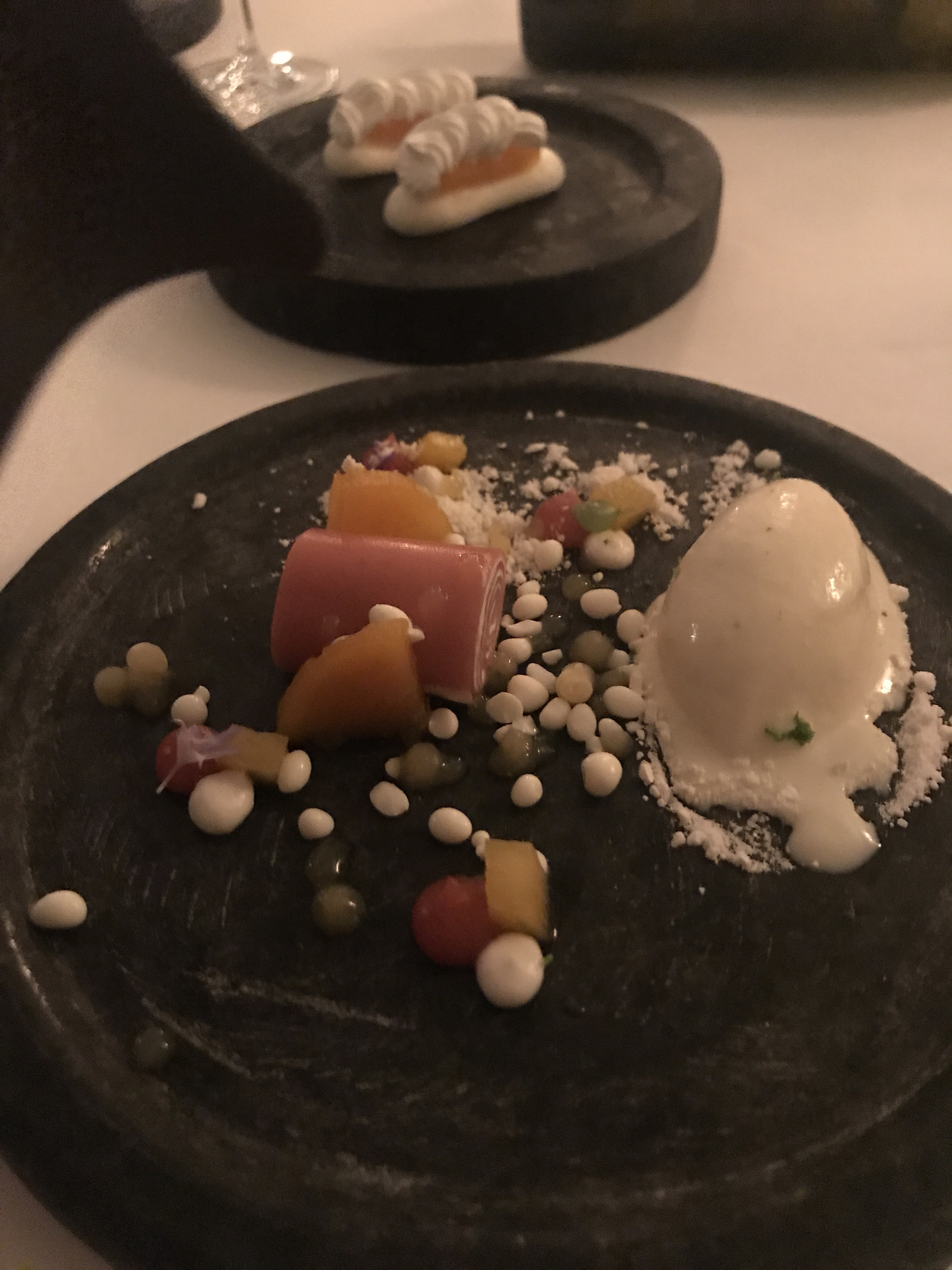 The petit fours, however, were amazing, I think she thought we were joking,  when we asked for one of everything from the trolley, we were not.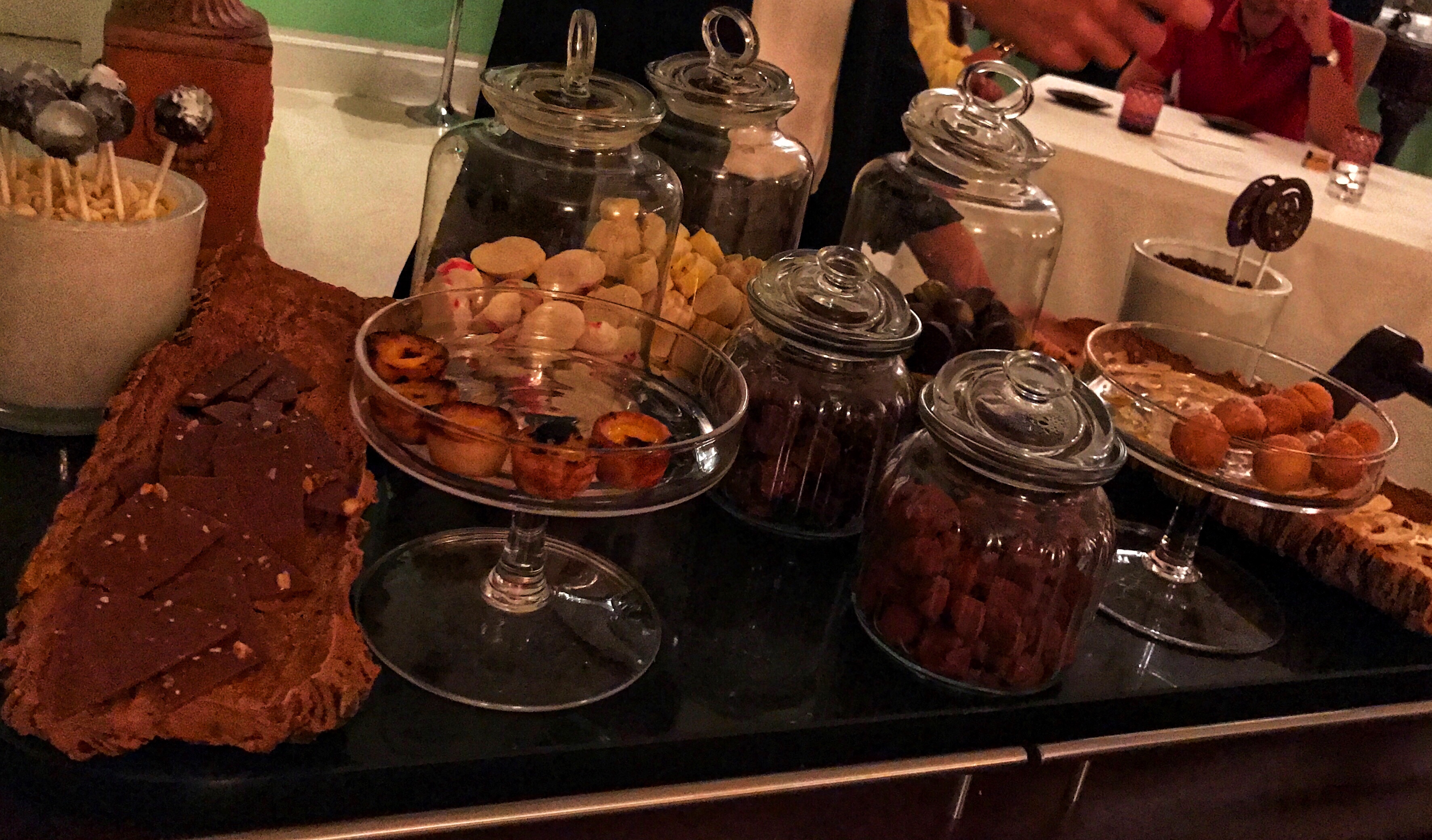 Despite a very disappointing dessert selection,  this was a mind blowingly,  brilliant meal and makes its way into my top five of all time.  Ricardo, the maître d', and Erik, the sommelier, were absolutely brilliant, incredibly passionate and knowledgeable and just lovely.
If you are in Porto, I cannot recommend the Yeatman enough. Mind blowingly stunning.
(Visited 72 times, 1 visits today)