Forgive me, I have done a terrible thing.  I had a delivery on Friday and it wasn't from Pidgin.  In my defense, it's not really cheating because the menu only changes every two weeks now and I've already had this menu. The way I see it is that in the second week, it's like we are on a break.
So, I bet you are wondering where this flirtation came from. Well, let me tell you, friends, because this is one you are going to want to bookmark and order from, and it is easier to book than my beloved Pidgin.  
Salut! is a modern European restaurant on Essex Road which, like so many, has switched to delivery during the current pandemic.  They deliver within a two mile radius or you can collect, you just need to order by 11am that day for delivery that evening.  They even have a nifty little pre-populated email, so you don't have to type out your choices.
On offer is a weekly changing menu of three courses, three options for each,  plus sides and booze.  At £28 for three courses, it's great value, not only because it's very, very good but also the portions are very generous, and we all know I am a greedy little piglet.
Everything arrives pretty much ready to go. It's very well presented and is designed to be eaten straight from the packaging so, just like a restaurant, you don't have to wash the dishes, how bloody marvellous.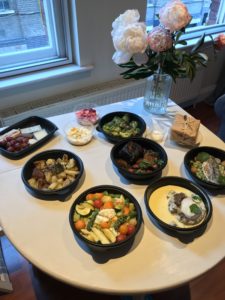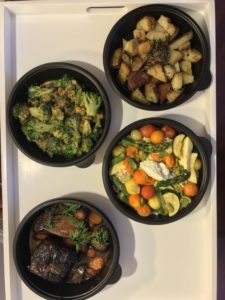 They do, however, suggest reheating the mains by plating and popping into the oven for five minutes, and so I did just this.  I have to say, all the dishes travelled really well and looked restaurant worthy but  because I like to play at being in a restaurant I  plated everything up.  Look at how gorgeous the bread is.
I ordered for a friend who came to collect his meal from me. As one of my biggest concerns about having to eat alone is having to limit the amount I can order, this meant I got to try more food.
My starter was so rich and indulgent that, as I stood in the kitchen and tasted the bit left on the spoon, it was all I could do to stop myself finishing it before sitting down. The roast mushroom duxelle was earthy, topped with a perfect slow cooked egg with a gorgeous runny yolk that burst on demand,  adding even more richness to the parmesan cream.  Honestly, I could have drunk this from a mug. Oh, and as if it wasn't perfect enough, it was  finished with truffle oil. It was one of those dishes you don't want to end.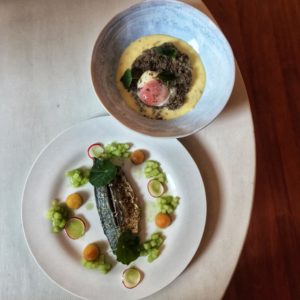 JB's starter was the complete opposite. Cured and torched mackerel was fresh and oily, lifted by fresh, vibrant, compressed cucumber, apple and the clean heat of horseradish. I loved the peppery nasturtium leaves.
Focaccia came wrapped like a little present with a side of whipped, be still my heart, butter.  The bread was light and moist with fragrant olive oil and studded with rosemary.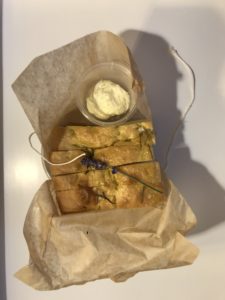 We both went for the same main and I do not for one second regret my choice. It was exactly the kind of indulgent dish I would order in a restaurant but never cook at home.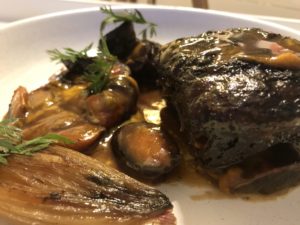 You could see just how slow cooked the beef short rib was; the bone just slid out from under it, the meat soft, melting and deeply umami, helped along by an extremely decadent red wine jus.  And while the meat was stunning, the carrots, oh my god.  They were delicious, sweet and moreish and the carrot puree might be one of the most delicious things I've eaten in a long time.  I LOVED that the carrot tops were used as a garnish.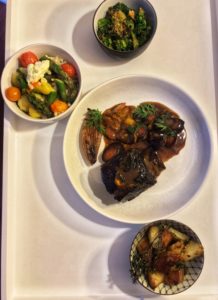 Salut! very kindly also sent their veggie main dish and I am very glad they did. It formed the basis of a very lovely, solo picnic on Saturday.  The Israeli cous cous was slick with olive oil and layered with a rainbow of sweet heritage cherry tomatoes that spat as they were forked. Courgette and broad beans and perfect spears of asparagus, with a soft, gentle ricotta.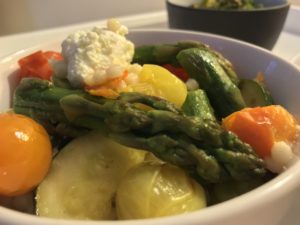 I am not going to lie, at this point I was fit to bursting.  I also had a side of roasted potatoes and broccoli, both huge and enough to feed three, maybe four people.
I know you won't believe this but I was defeated which meant I got to have my dessert for breakfast, so I think it worked out pretty well.  As I'm not a huge dessert fan, I was worried that the white chocolate cheesecake would be insanely sweet but I loved it.  It was incredible light and the addition of the lime zest really lifted it. Outrageously, I did not get to try the strawberry trifle but, I have it on good authority, it was very good.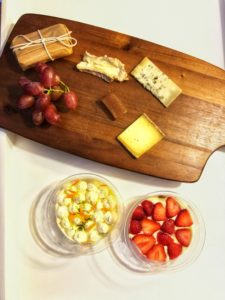 I had the cheese board for dinner the next night, it was honestly a feast.  Depending on what you order, two meals and two sides could easily feed three of you for dinner.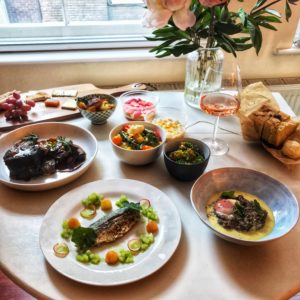 I have, for the purposes of writing this post, just been on the website and I am so tempted to order this Friday but I'm back to my first love this week.  However, the following week, I will be free and single again, so I might just find myself back at Salut!
 Order from them, take pleasure in the food and be happy you are also supporting a small, local business at a difficult time. You will not regret it.
*My meal was organised via Hype at a reduced price and Salut! very kindly added in some extra dishes.  However, as always, my writing reflects my honest opinion.
(Visited 320 times, 1 visits today)