I had forgotten all about my love affair with Barcelona until a friend suggested we visit. My last visit was back in 2017 for the long awaited opening of Albert Adria's Engima, which you can read about here. Before this, I had found myself in the city almost every year for five or so years, so it had become an old and familiar friend. The language the only one I have every wanted to speak and the food glorious at almost every turn.
We were booking late, so my research was frenzied and furious, as I compared lists on Eater to those in The Independent and cross referenced these with the 50 Best list and a slew of local Barcelona and Catalonian Guides. In the end, I made three bookings in advance, Mano Rota, Mugarit and Alkimia and also had a list of places to drop into. Of these, Alkimia was the one I was most excited about it. It makes most, if not all, the lists. When I tried to book online, I wasn't able to get a table for two, but a quick call sorted that out.
Finding the restaurant was a little harder than booking, it's in a close (that's a stairwell to non Glaswegians) and, in order to gain entry, you must buzz and then descend two floors where you are greeted by some interesting artwork.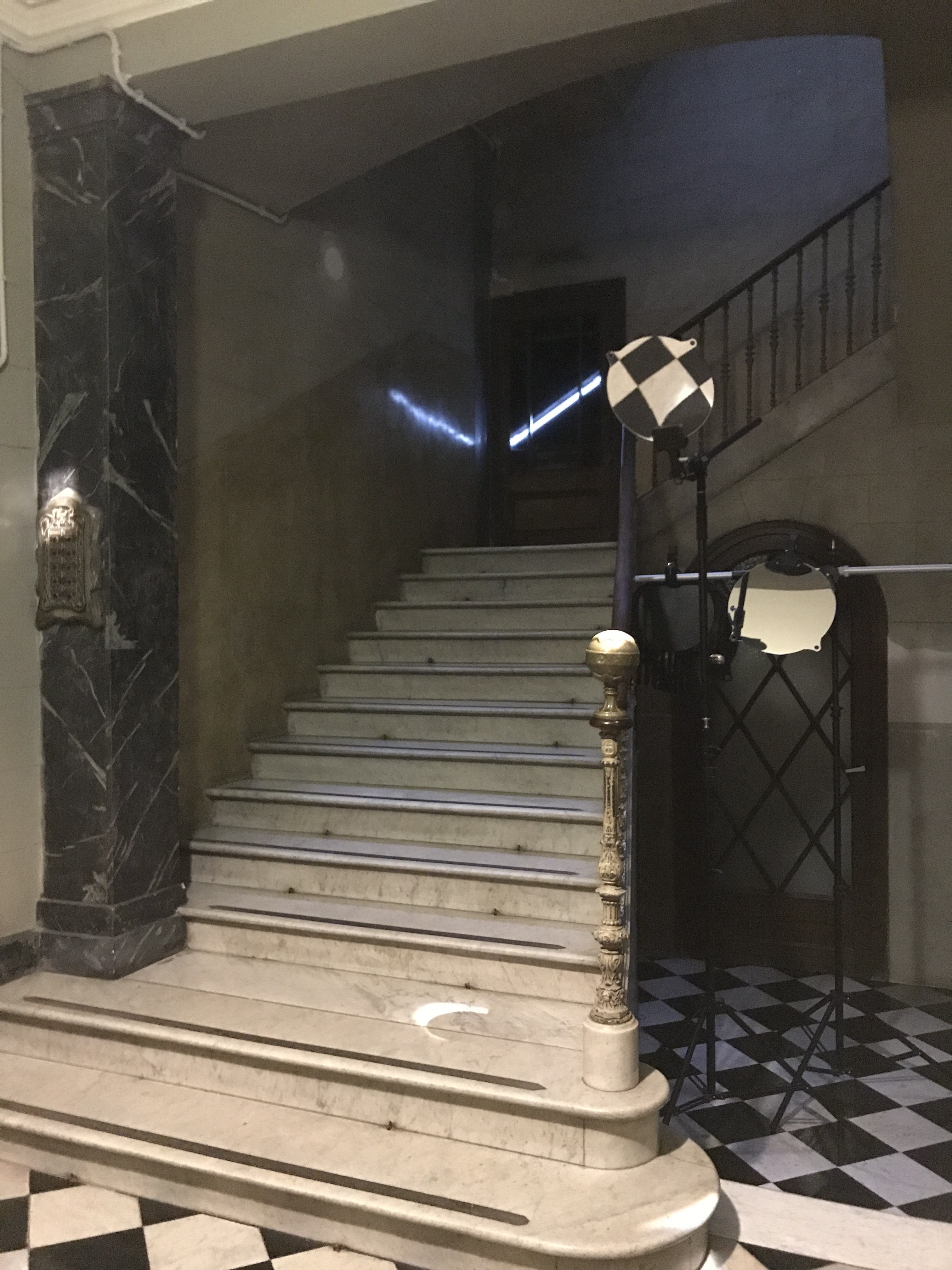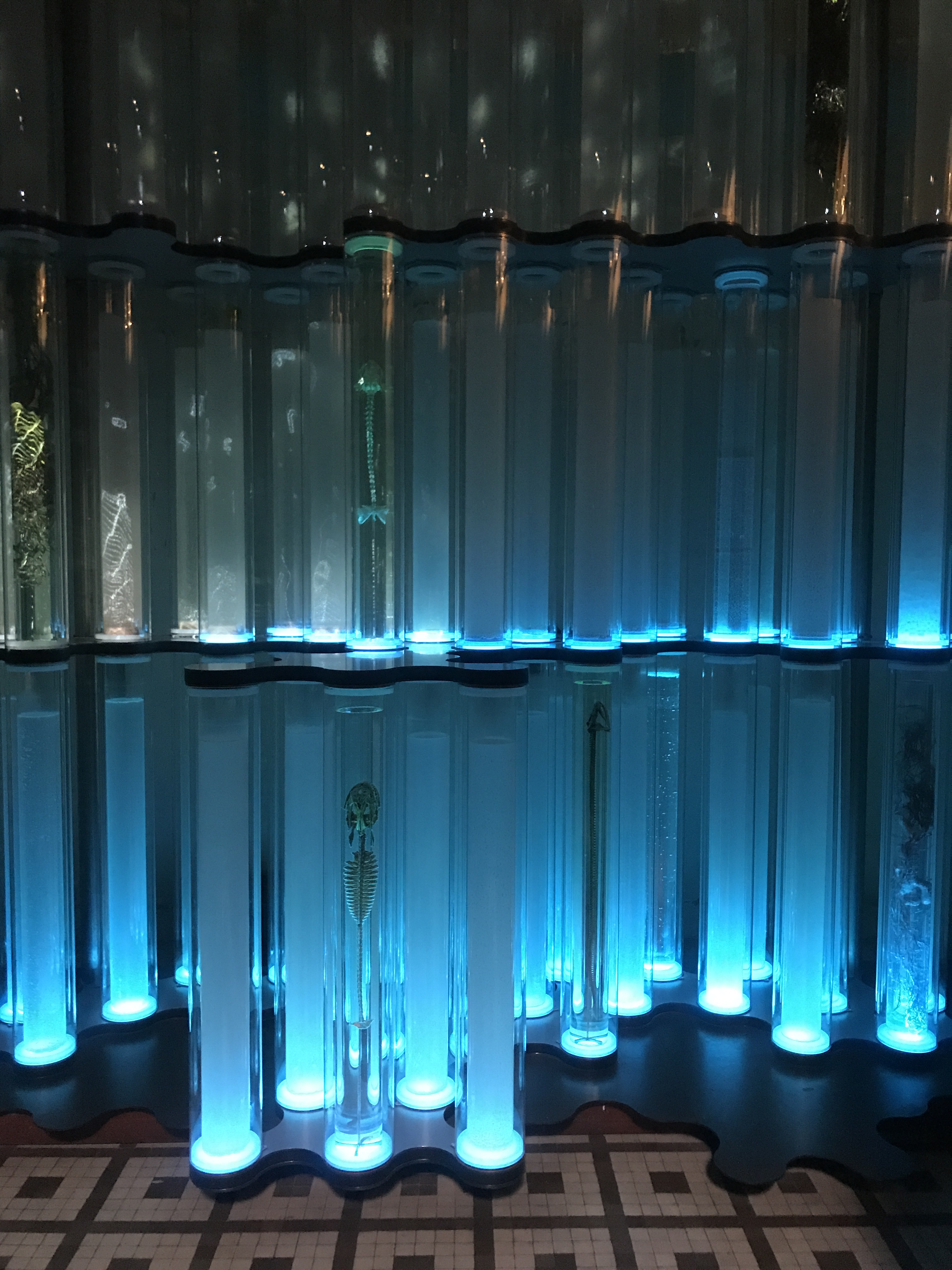 The main room is split into two, although the dividing wall is not dropped when we visit; it's an interesting idea, on the left is the more casual dining proposition, Al Kostat, and on the right the Michelin starred Alkimia. Al Kostat has a multimedia screen and menu projection on the wall, while Alkimia offers a calming serenity, without being overly stuffy. This is helped tremendously by the staff, who are quite wonderful. A glance at the ceiling reveals the most beautiful, original frescos and carvings.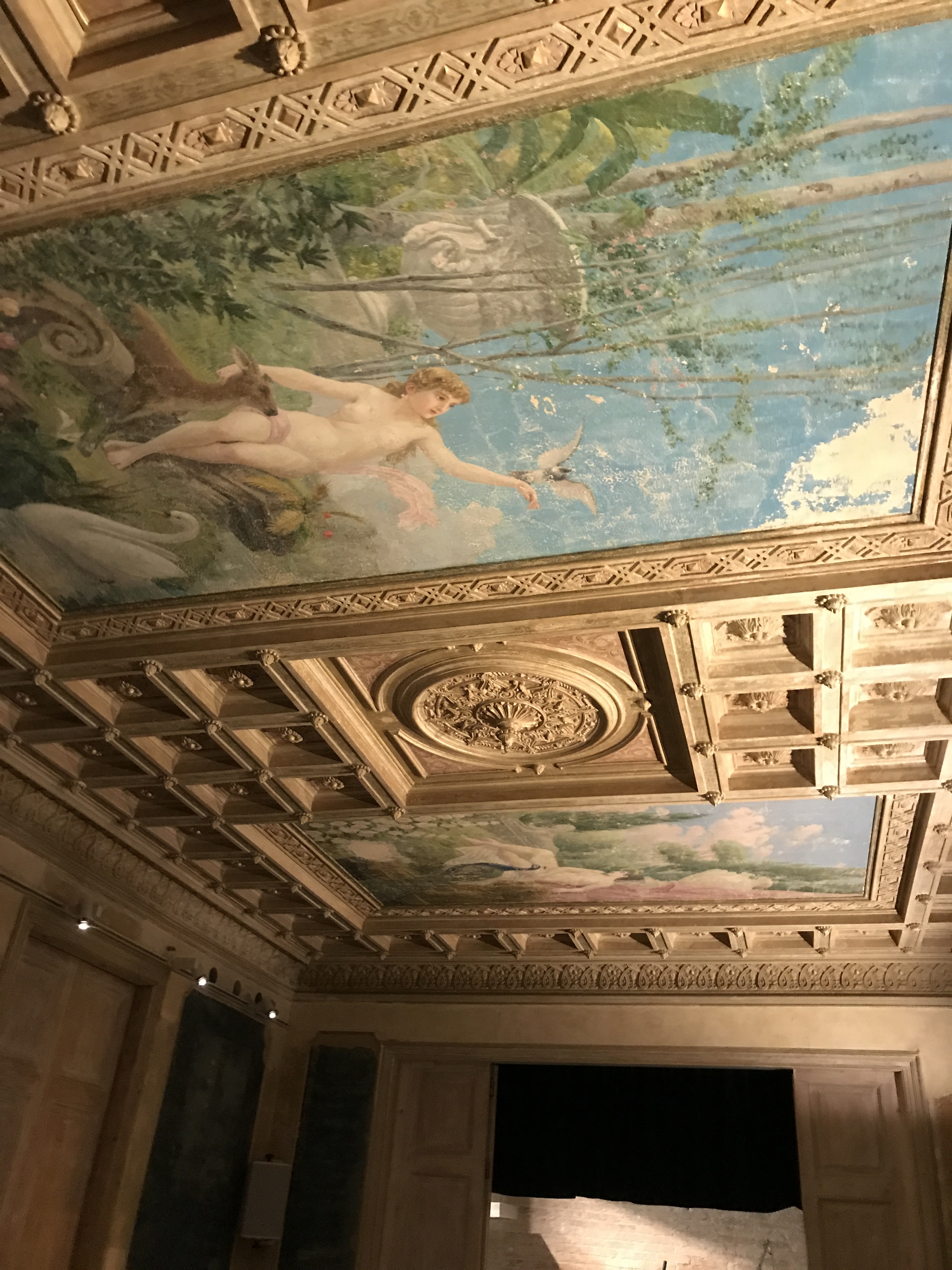 We look at the menus on offer, a la carte and a long and a short tasting, pretending that I might choose anything other than the longest available, although on this occasion I do consider the other one as sea cucumber, which I had an Enigma and did not enjoy, is lurking there. After some discussion with the front of house we decide to go for it.
The menu, named for the chef, Jordi Vila, is split into the four elements.
We start with Water, a tartare of fish, prawn and langoustine. Alongside this is the prawn's head, topped with caviar. The tartare has a fresh, sweet vibrancy. The caviar bursts in salty beads on my tongue.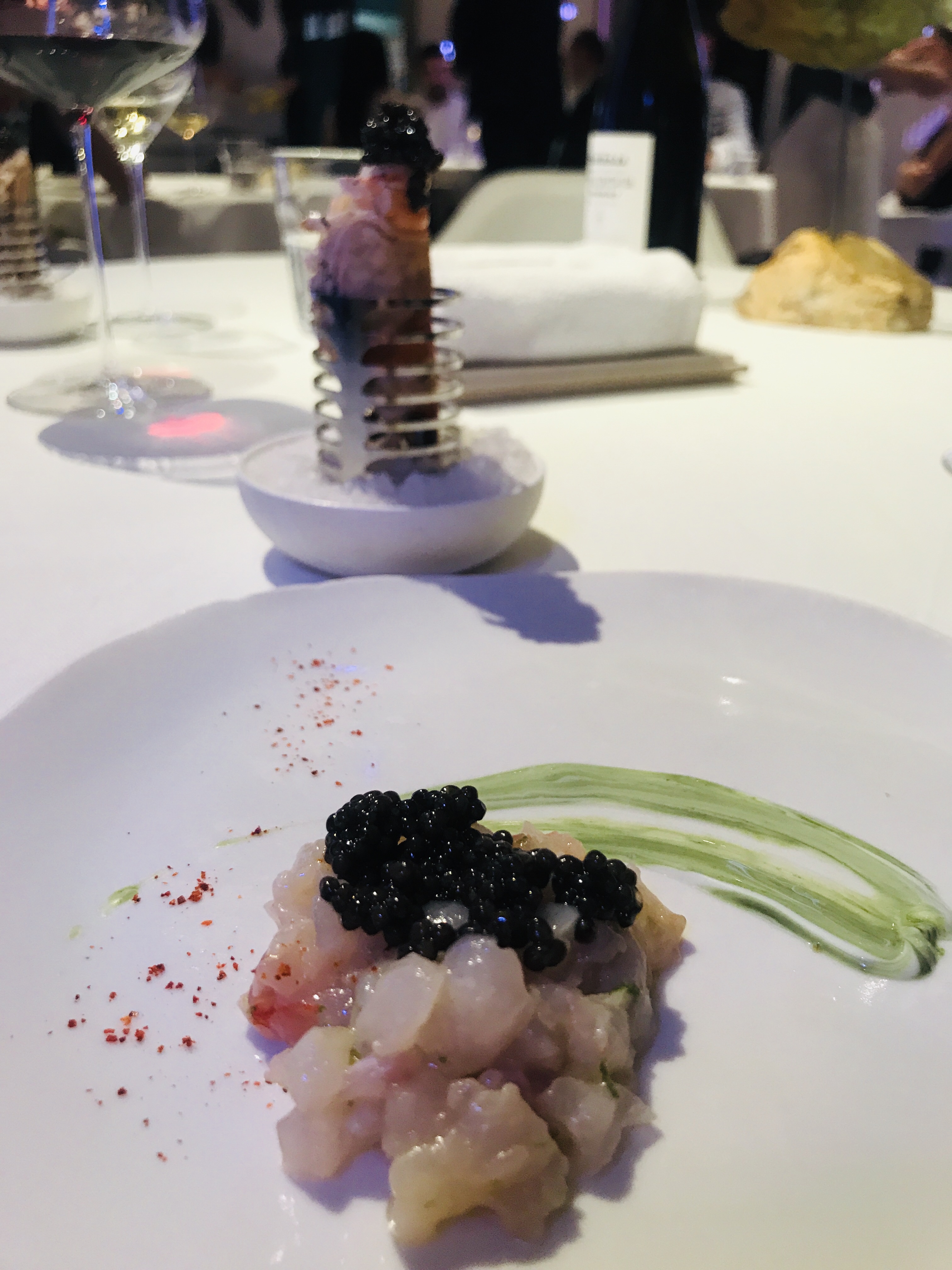 After devouring the sweet prawn, I squeeze the head into my mouth, savouring every last drop, the depth of flavour is intense.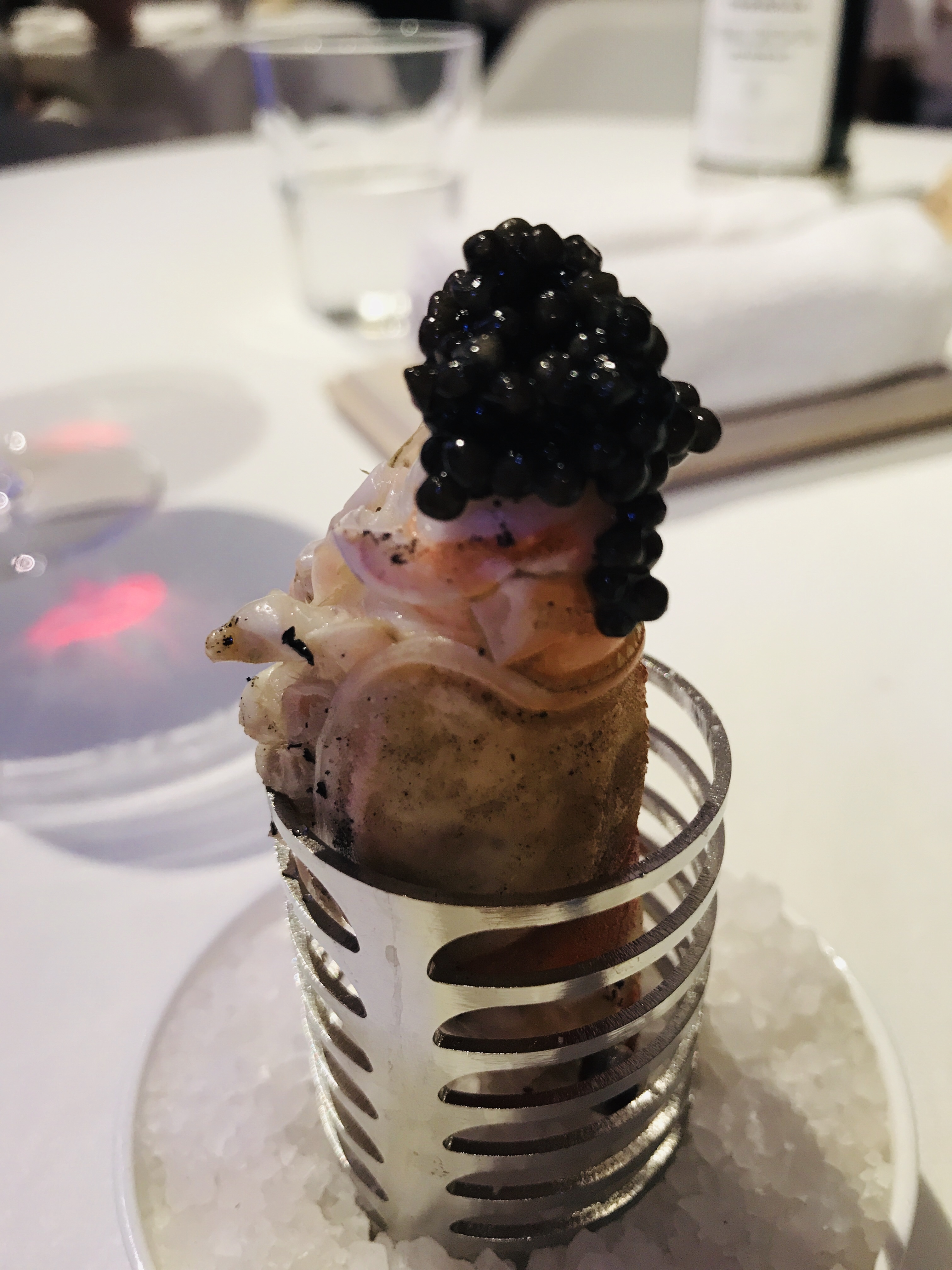 Sea urchin with cured egg yolk is as brilliant as it is simple. The yolk adds richness and every spoonful is creamy, with a silky texture. The tiny slice of toast with anchovy butter and toasted quinoa is in almost complete contrast, both flavour and texture. I would happily eat a loaf of this tiny borrower sized bread.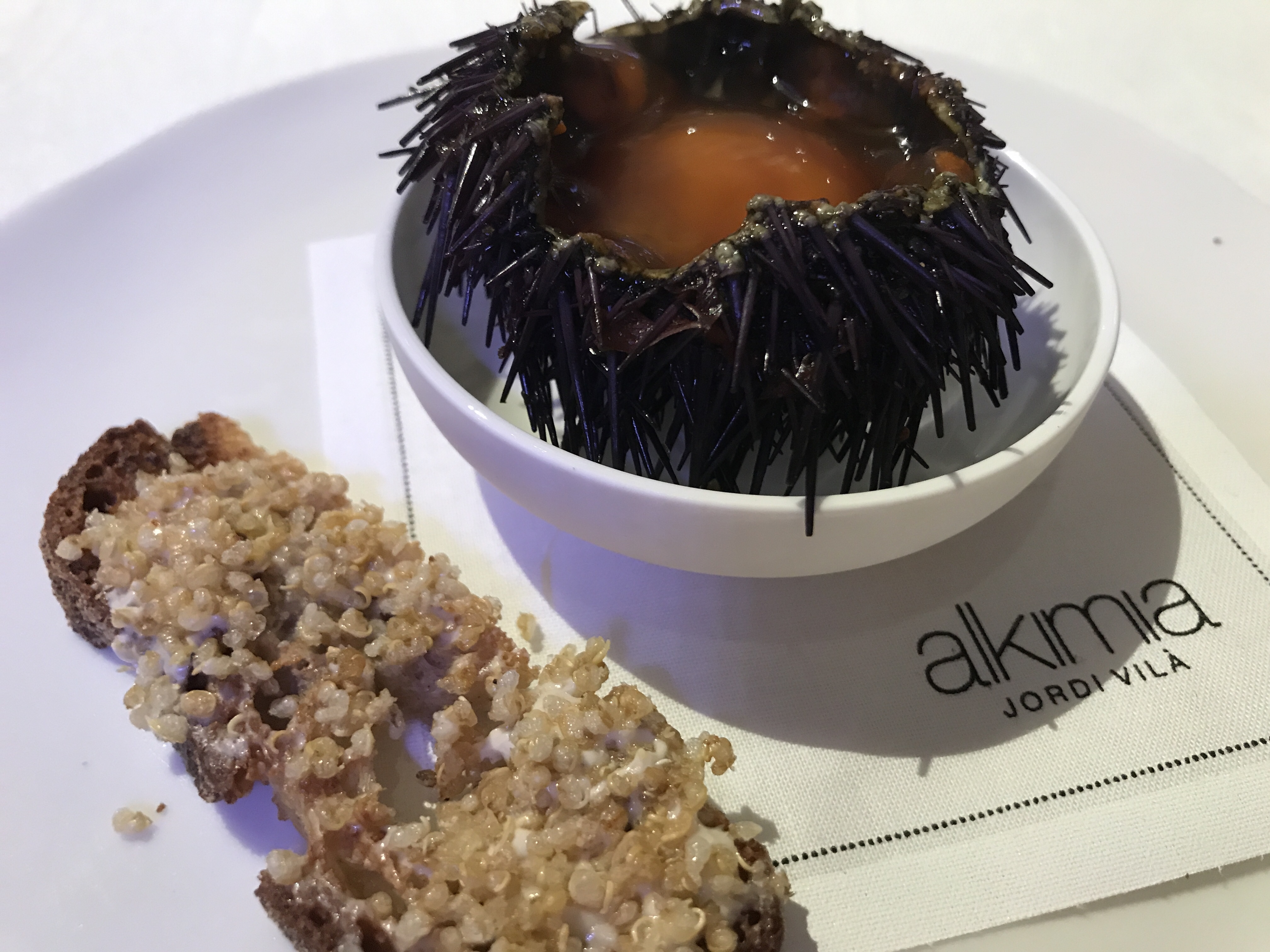 Tuna and cured tomato spiral is served with pickled onion, carrot toffee and a hazelnut biscuit. The biscuit is buttery, crumbly and salty. The tuna melts on my tongue, it's fatty, sweet. The onion is sweet and gently acidic. It's a great pairing.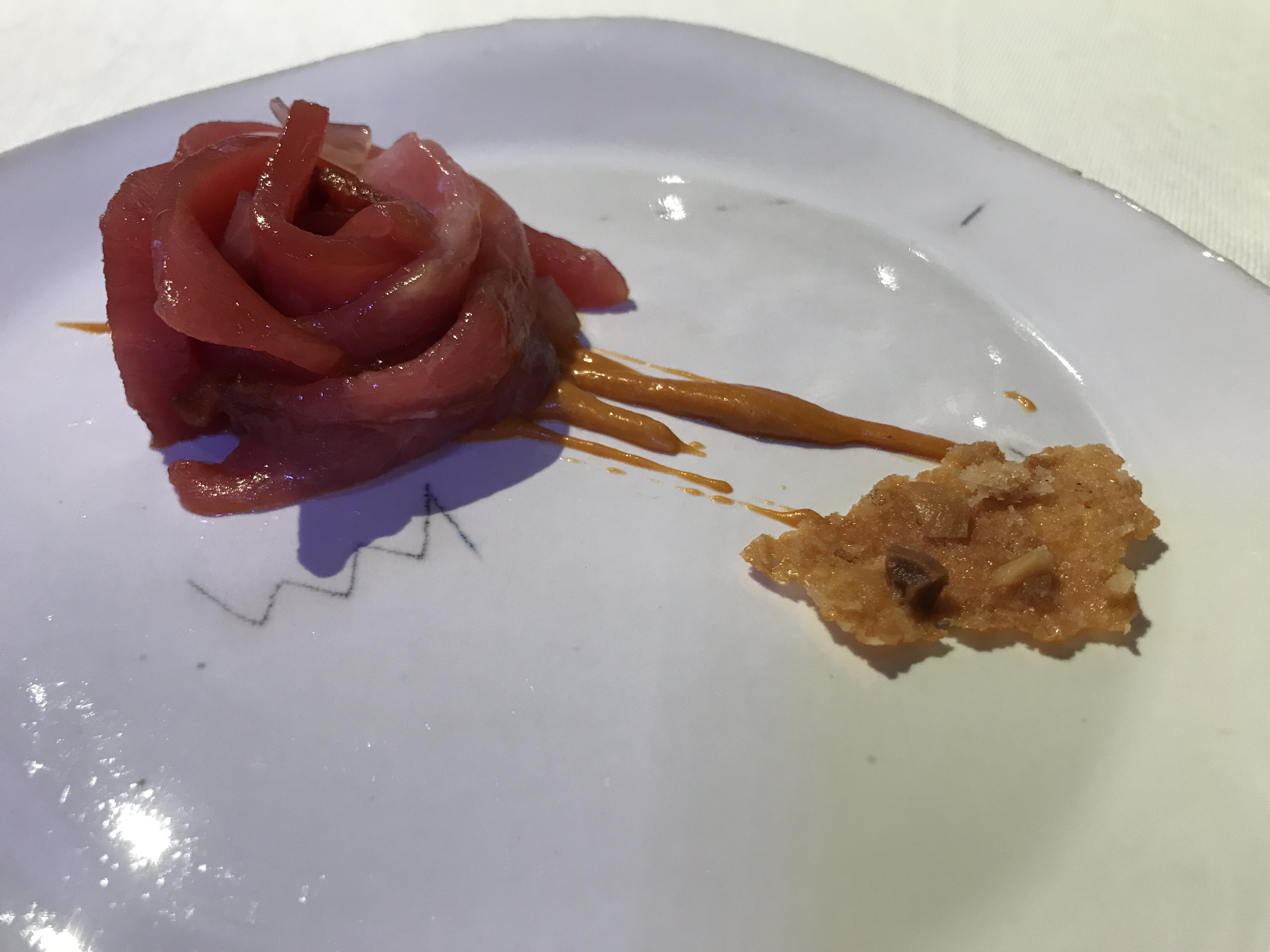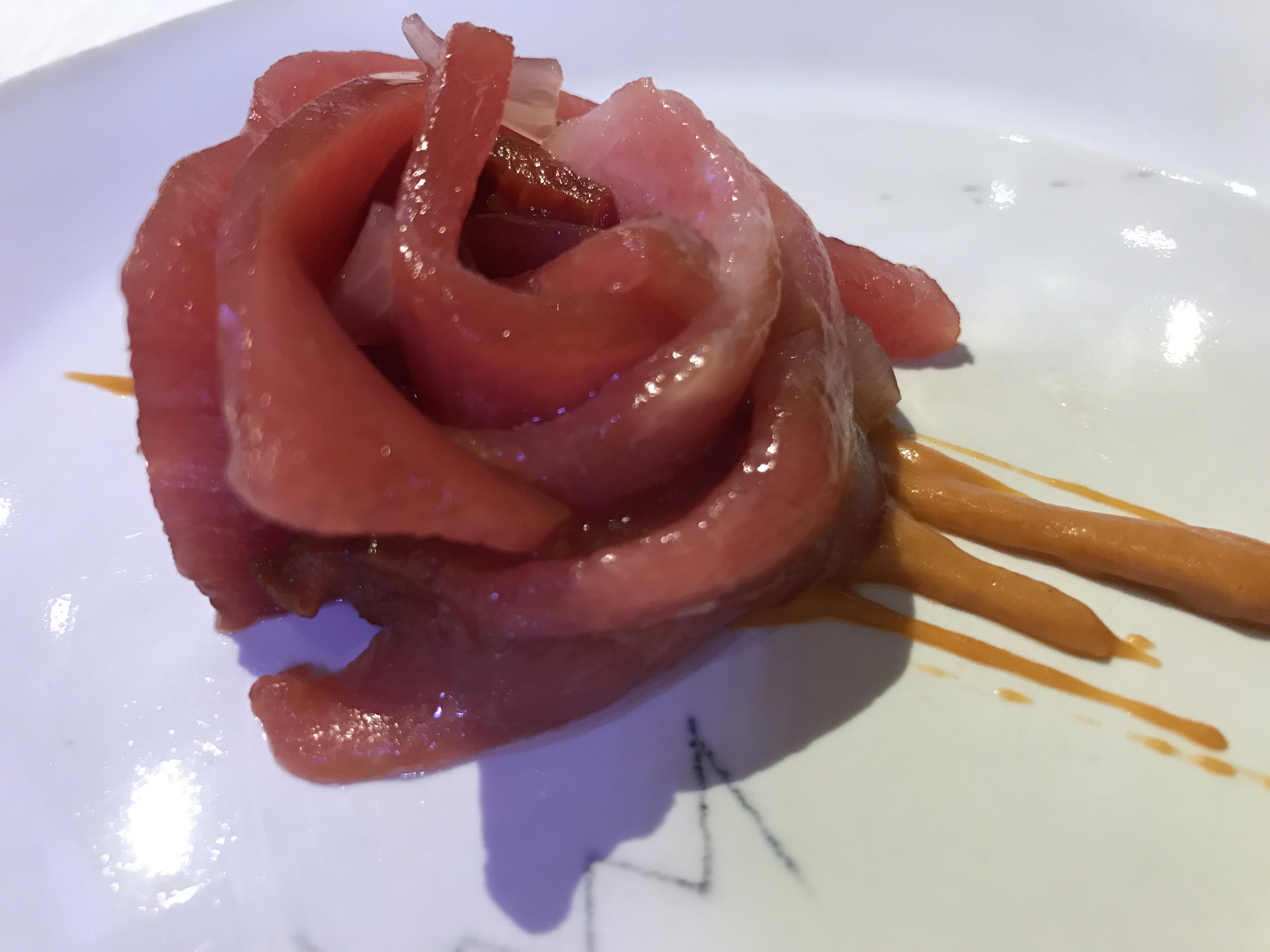 As we move to the Earth section of the menu, our first dish is peas, potato and oyster. I adore fresh peas, tiny and sweet, amongst them little spheres of pillowy soft potatoes, beneath these a fat, juicy salty oyster. It's a simple dish that allows each ingredient to shine. That said, I am sure there are a serious number of techniques behind this.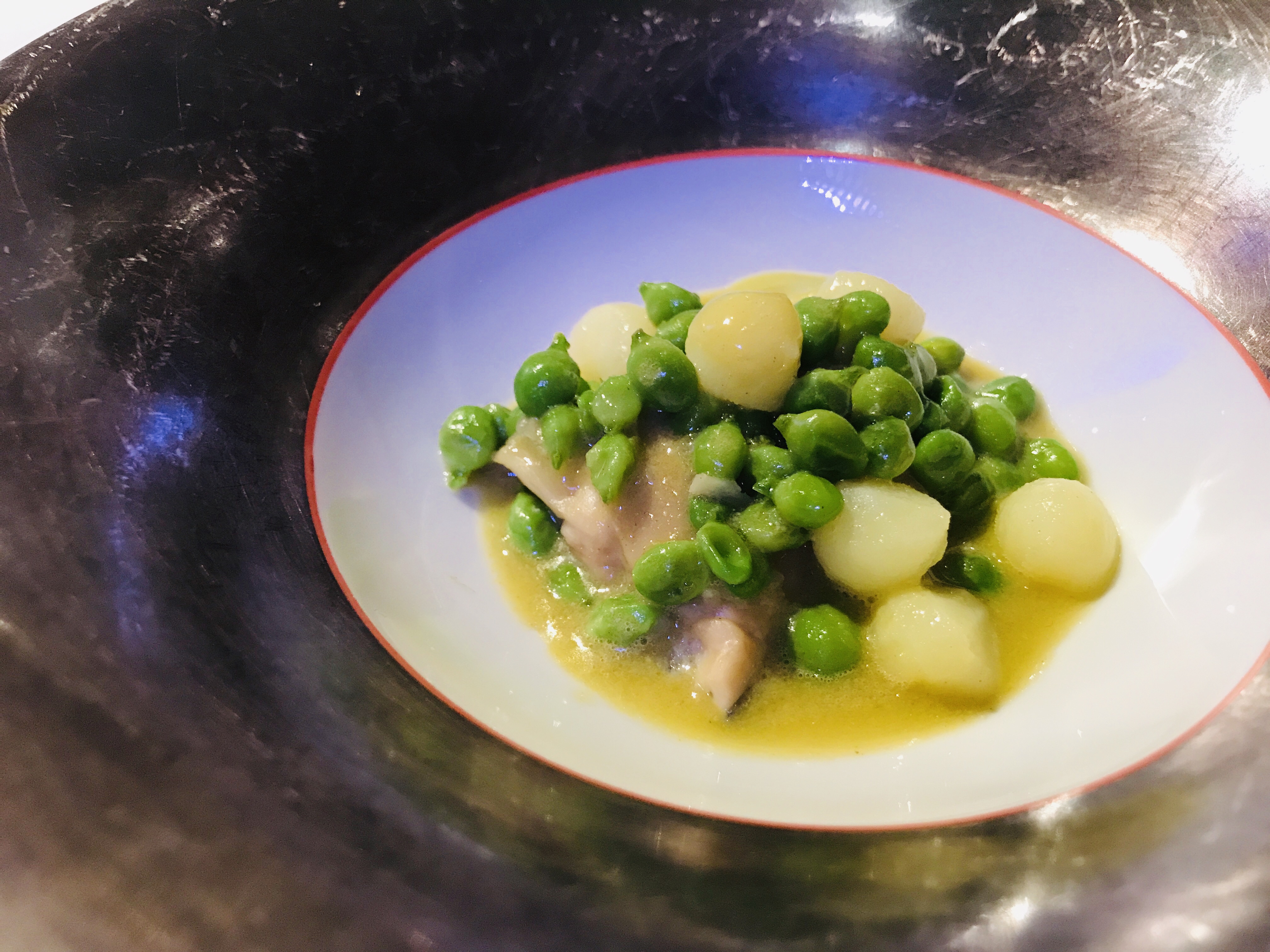 White asparagus, yuzu hollandaise and black sesame is a wonderwall of flavours. There is charred asparagus that ranges from bitter, to sweet, to nutty, as I eat from bottom to top. Then,there are thin, pickled slivers of asparagus filled with a light asparagus mousse. Depending on what is on my tongue, it's sweet, bitter, creamy, acidic, rich, smooth.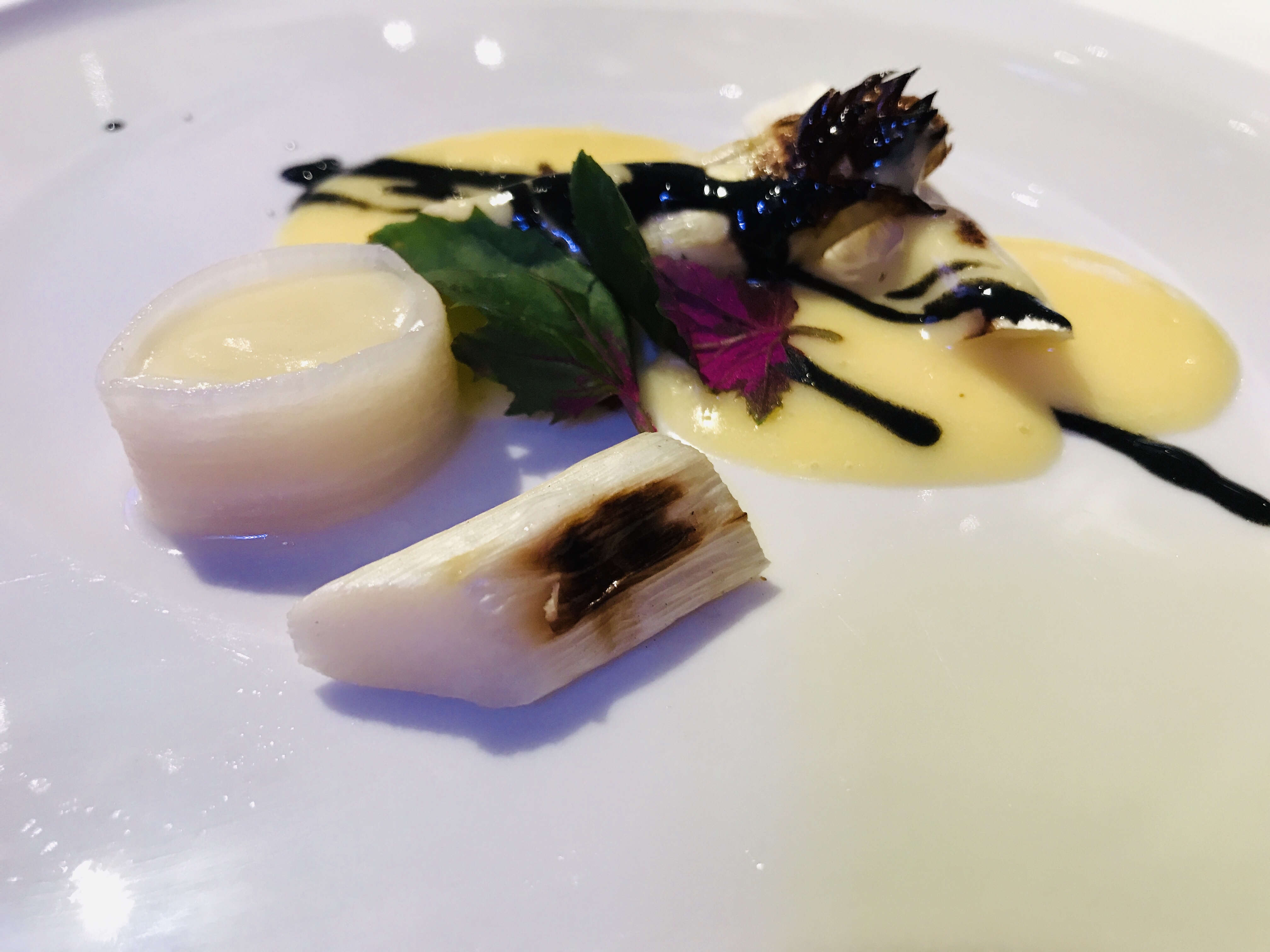 In the next dish, morels are swapped for leeks, because there are no morels today. I love leeks, especially slow cooked till sweet and sticky. These come to the table all crisp pastry and caramelised leeks, a tartatine essentially, before going back to the kitchen to be sexed up.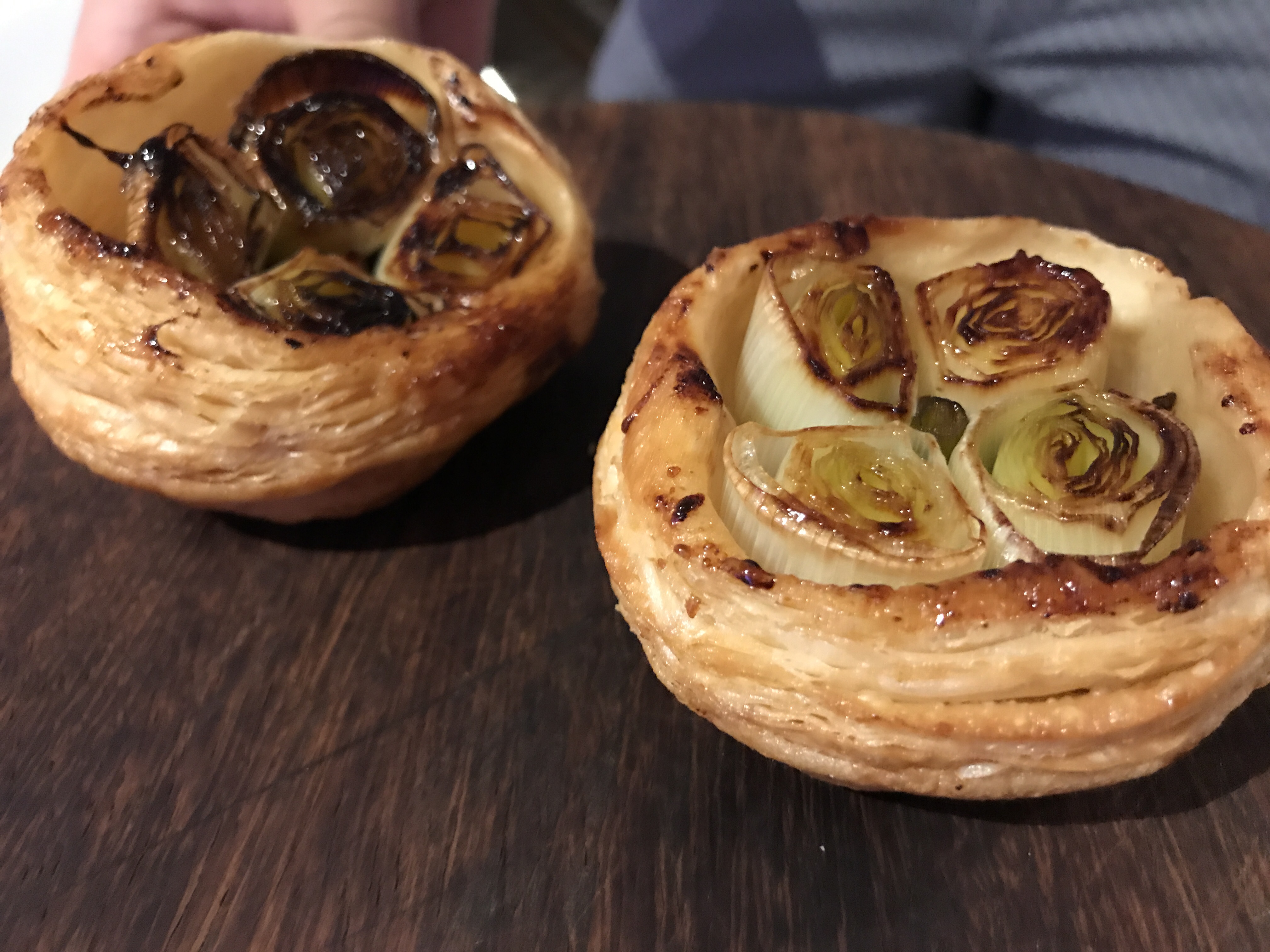 On their return, they are accompanied with a silky, cheesy sauce. This is countered with fresh curls of horseradish and peppery nasturtiums.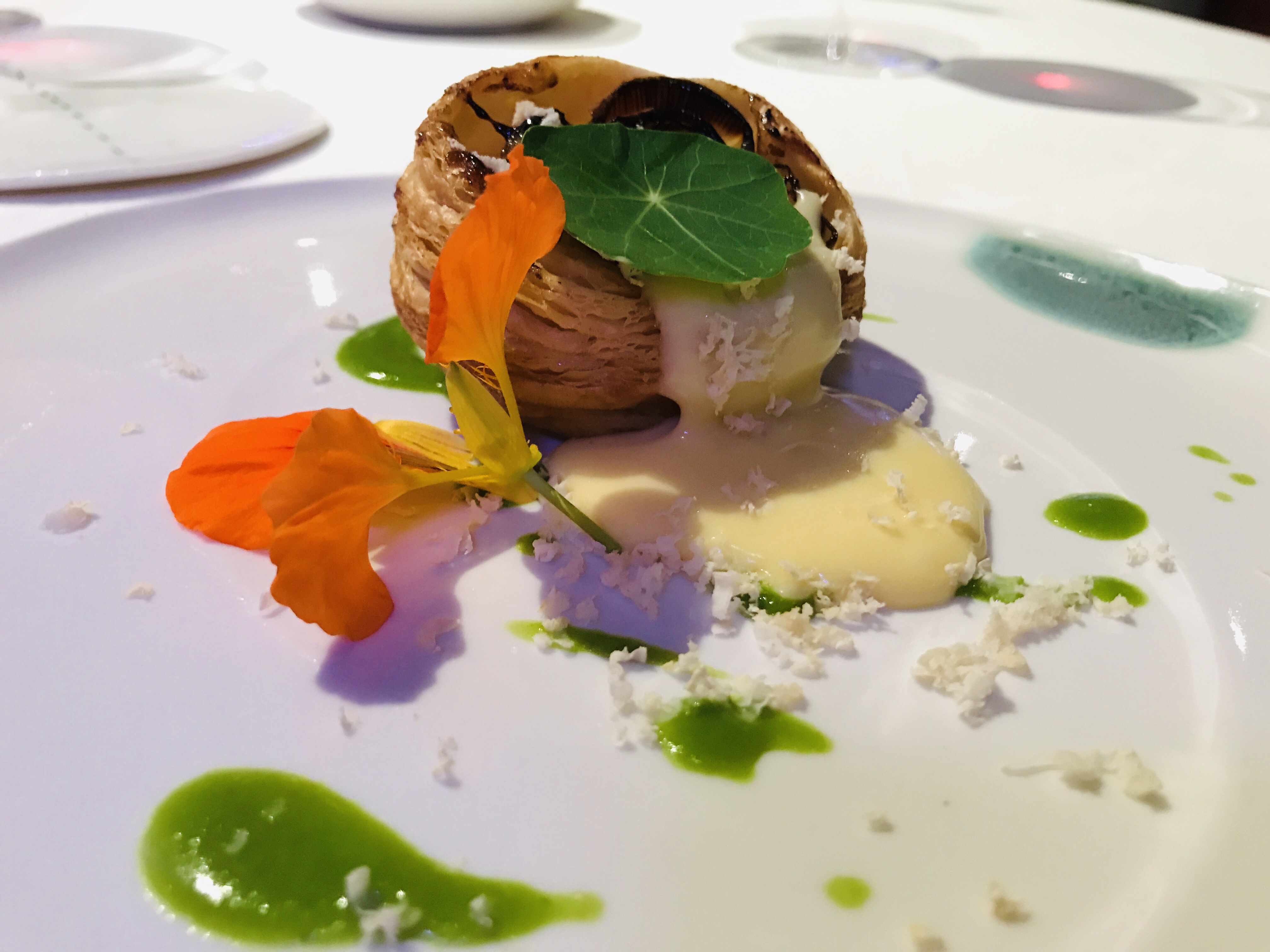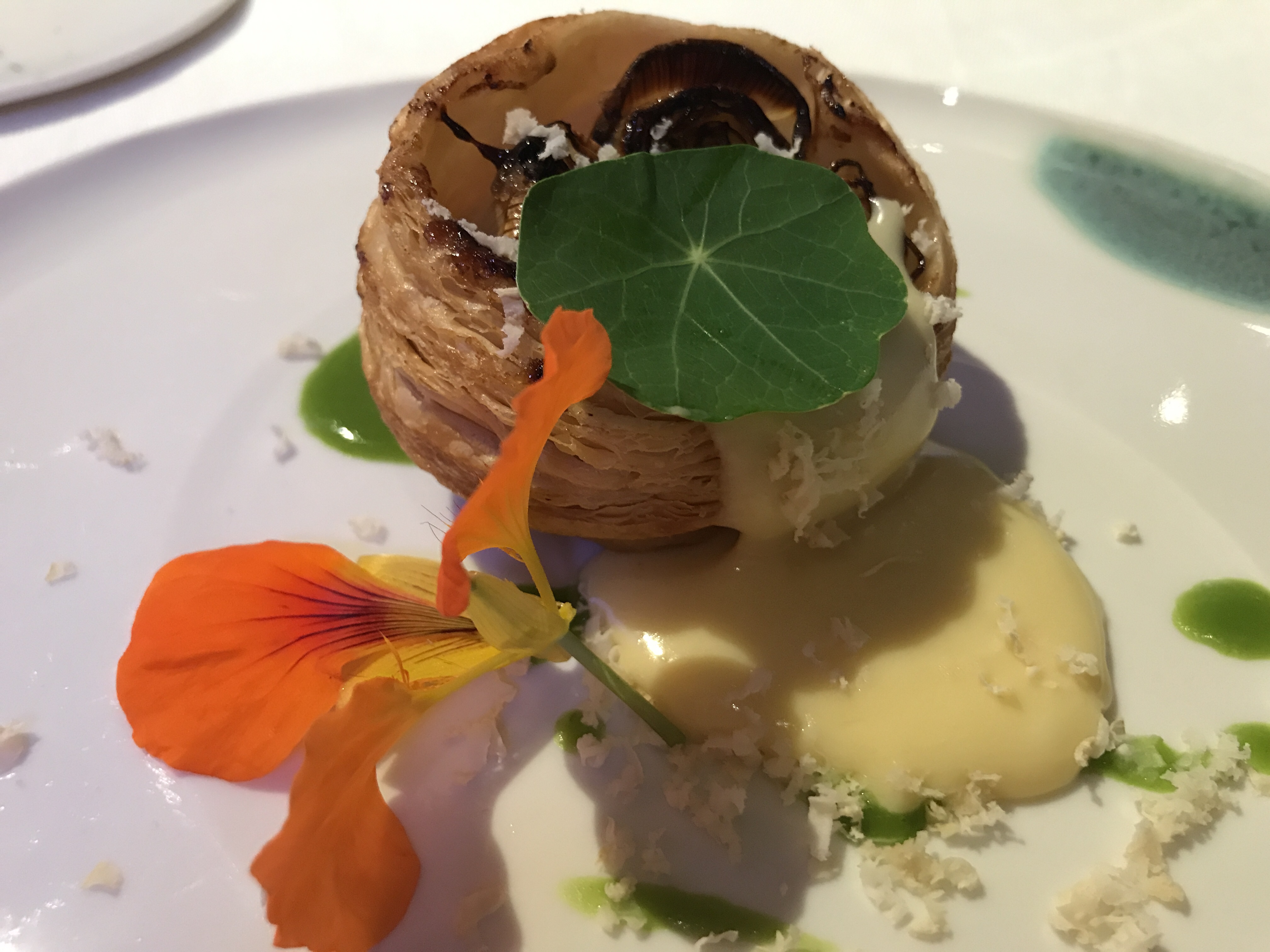 And then my nemesis, the first of the Fire dishes, and I wish someone had set fire to this dish. Sea cucumber with pigs ear and galanga juice. I'm sorry, I have really tried, but it's just a no from me. I hate the texture. It's very gelatinous, like pork fat without any of the redeeming flavour qualities. What is delicious is the rich roast chicken jus on the plate, but I would need a vat of this to make this work for me. Let's move, on shall we.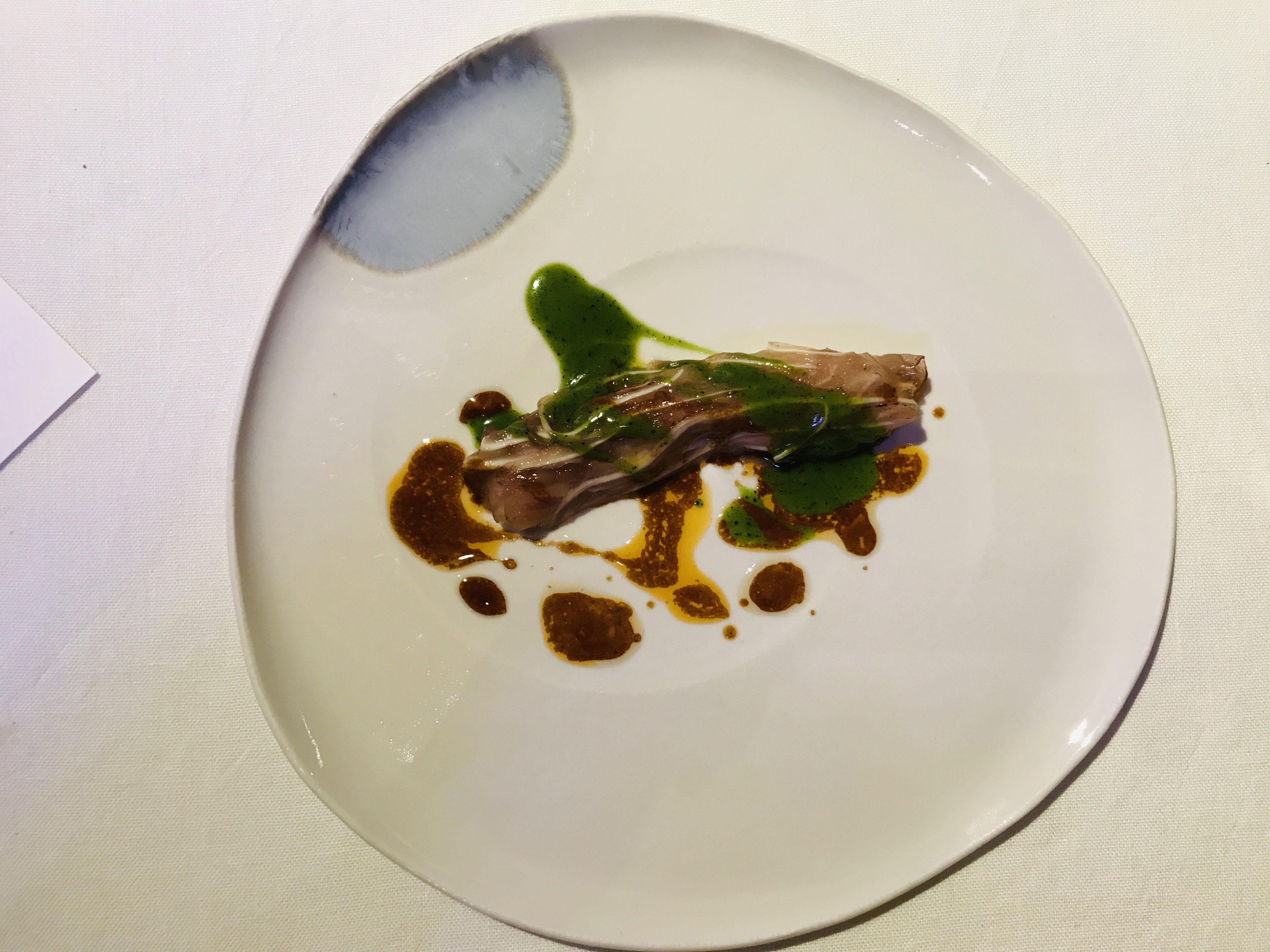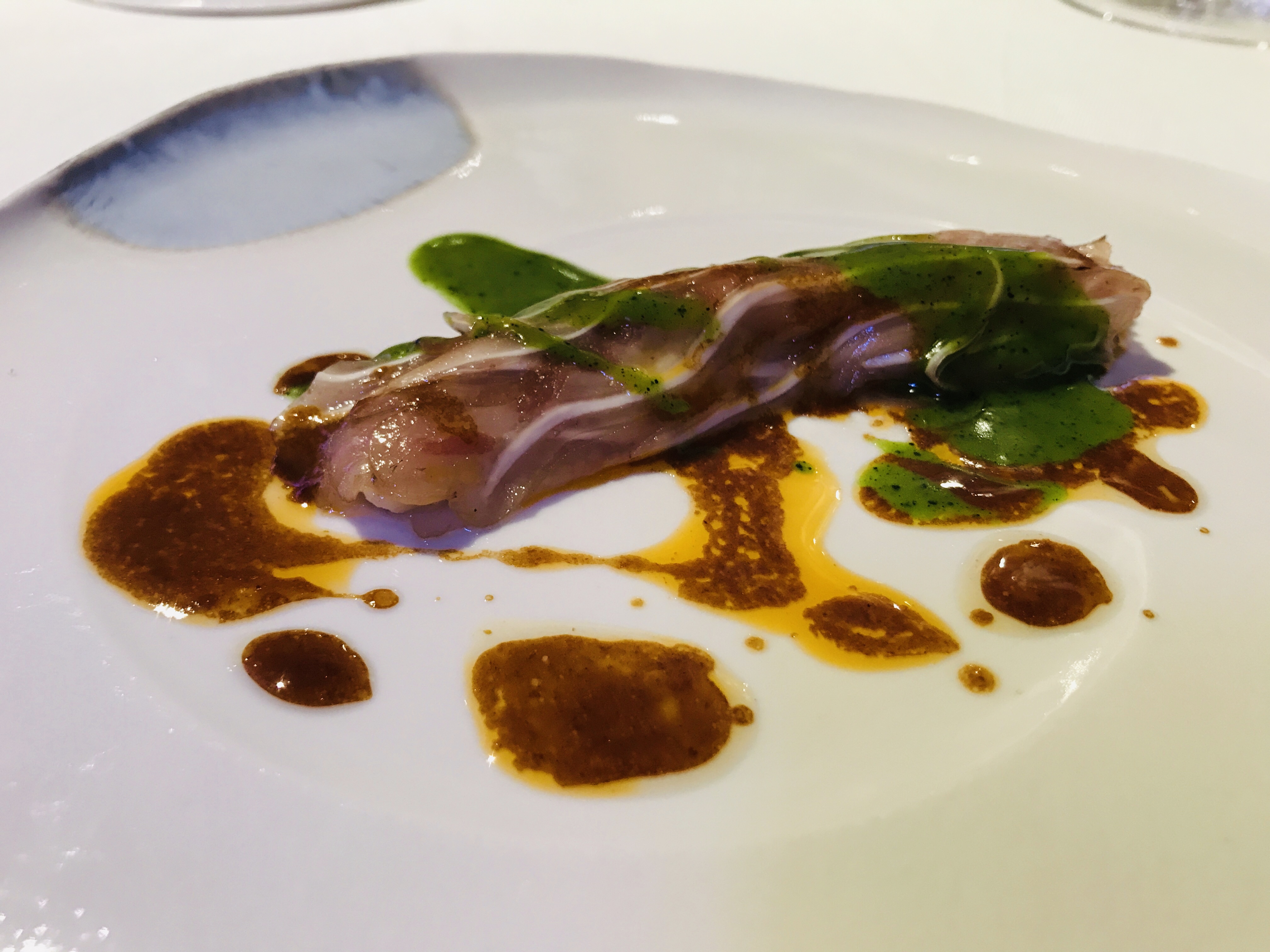 More seafood, beautiful wild fish with suquet, (clam juice). The fish is tender, the skin crisped to perfection. The Suquet sauce is salty and sensual, tender, bitter leaves of watercress balance with the sweet acidity of pickled onion.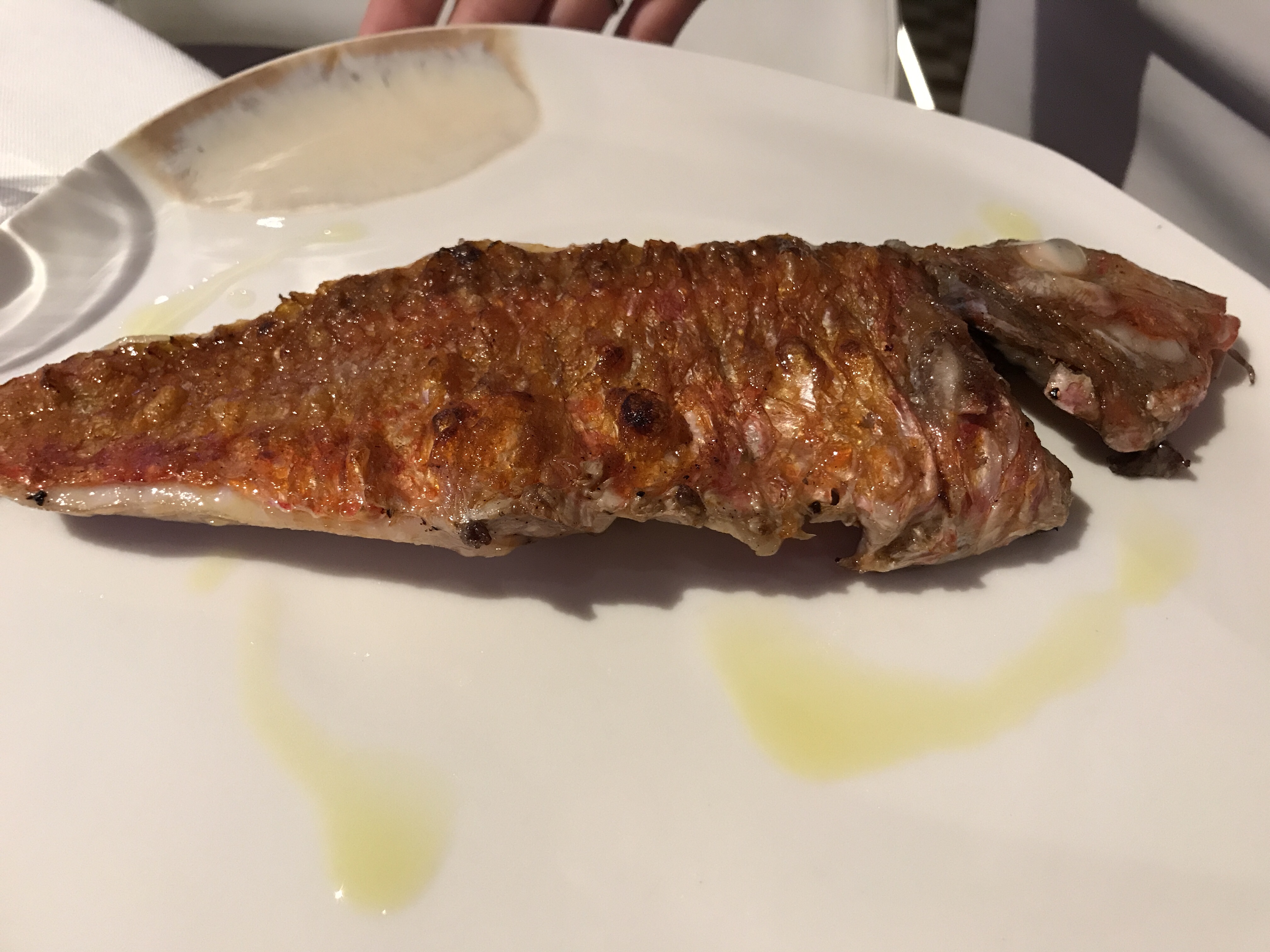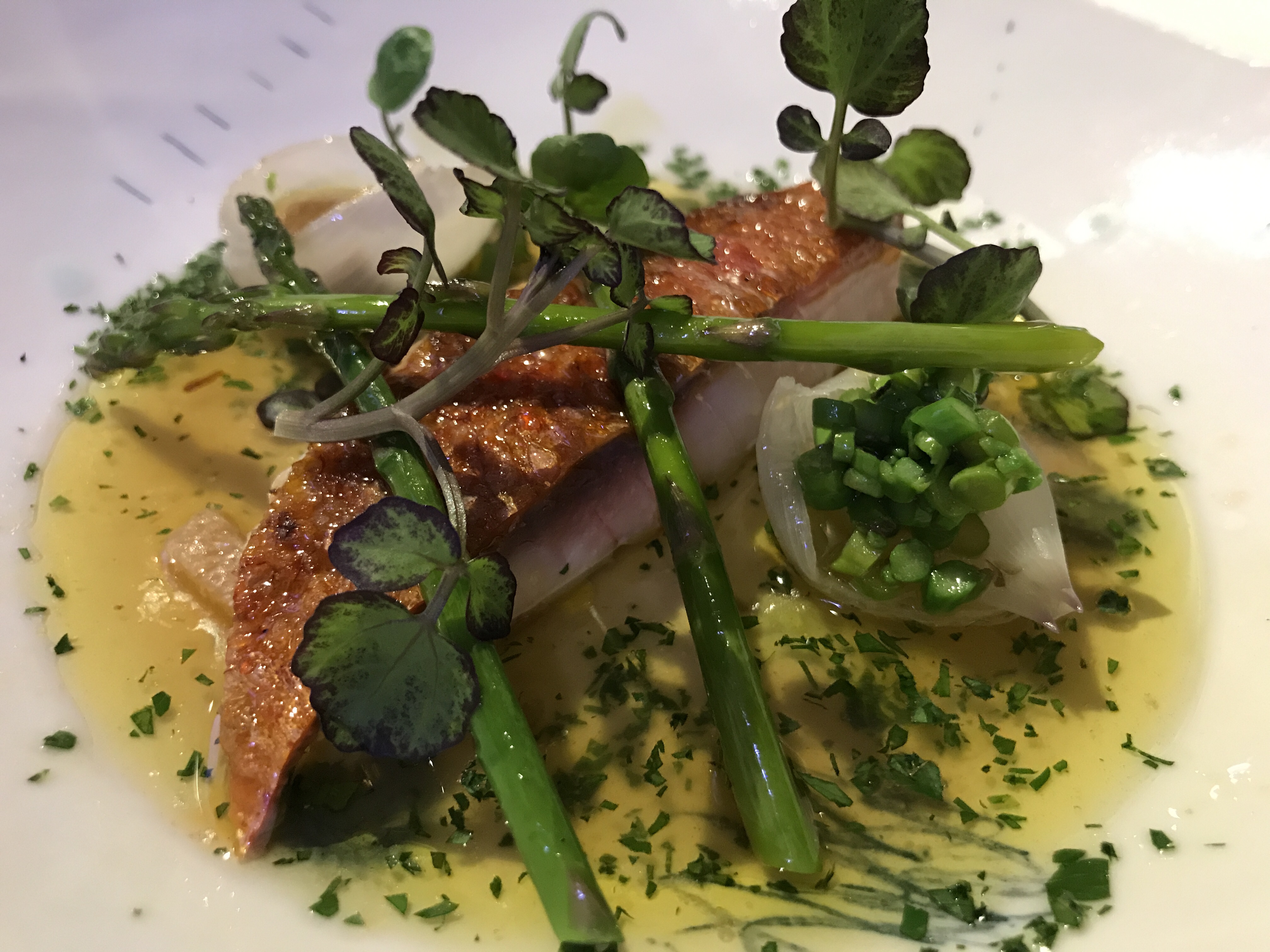 We move to the the first meat dish. A study in brown. Pigeon marinated with anchovy juice, roasted and served with salmis. This is a very punchy, intense dish. It is served with a beetroot royale, with a rich chocolate sauce. There is a salty depth from the anchovies, the meat is gamey and pungent.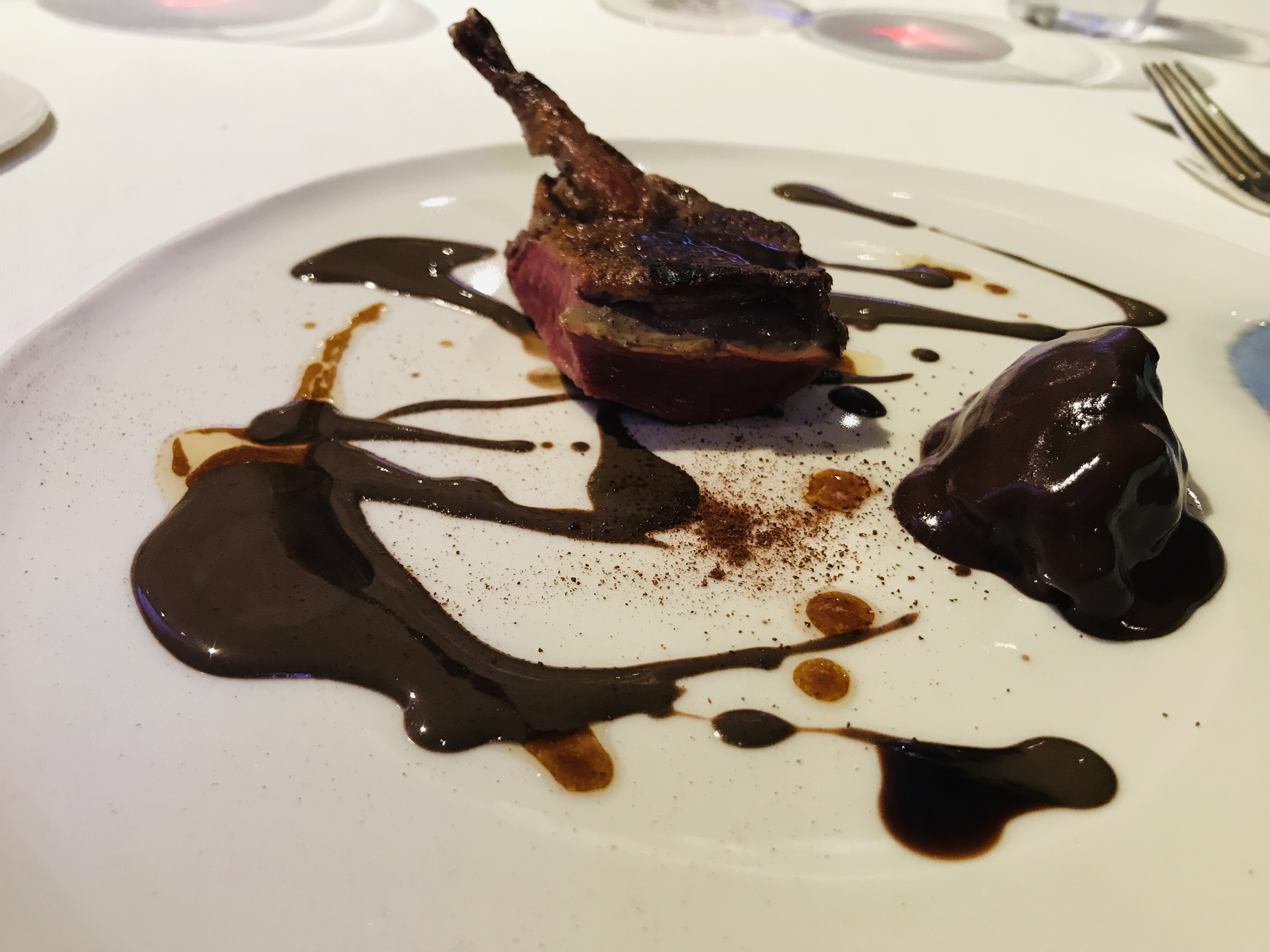 The final dish, before desserts rollout, is the most incredible, grilled xisqueta lamb which is brought to the table, literally, like a sacrificial lamb.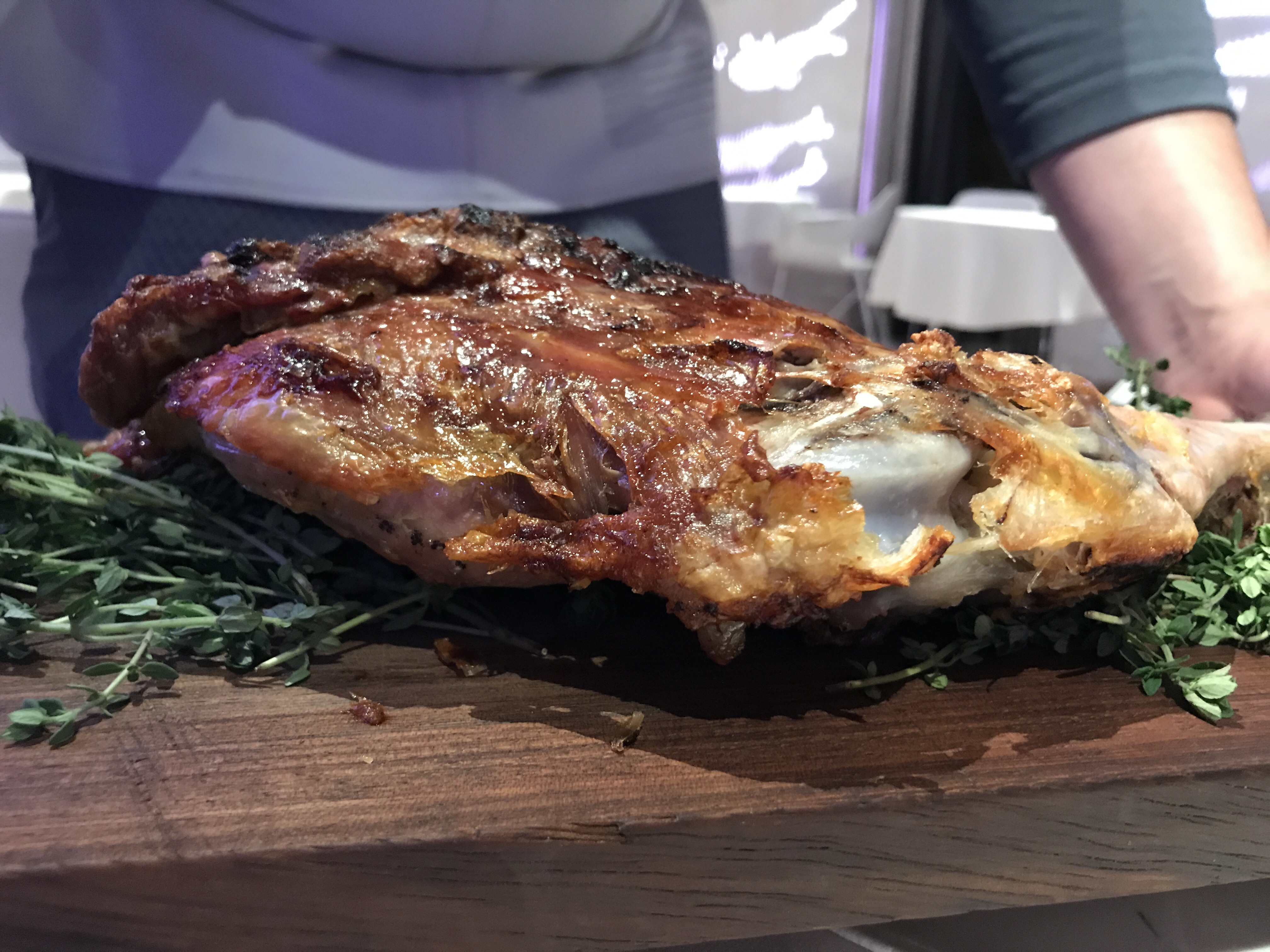 It is paraded in front of us like an entrant at a beauty pageant. It returns plated, to a small intake of breath. The skin crunches, salty between my teeth and the meat is equal parts sweet and meaty. Served with cream cheese, aubergine, raspberries and fresh thyme, it seems an improbable combination but it is an alchemy.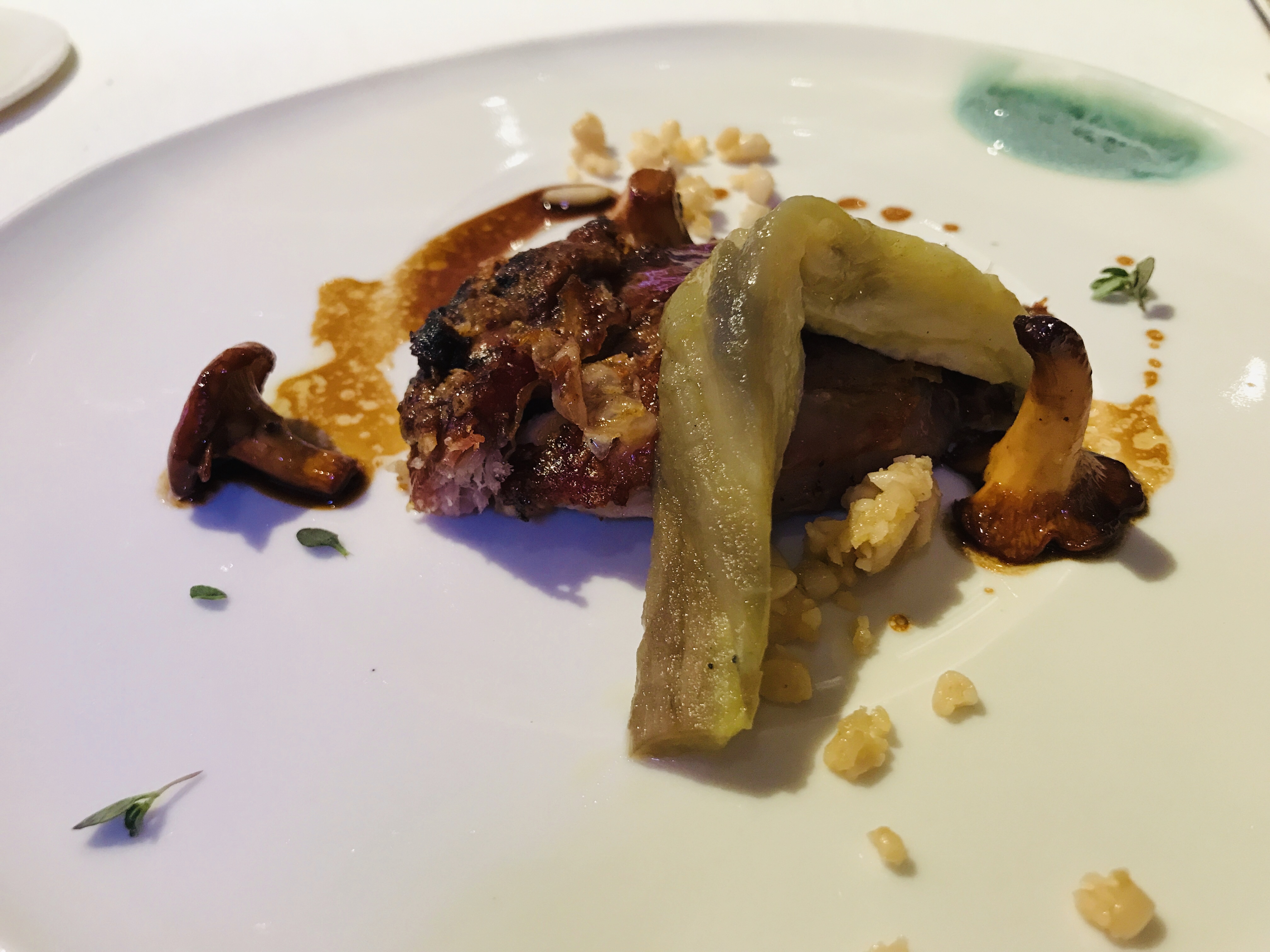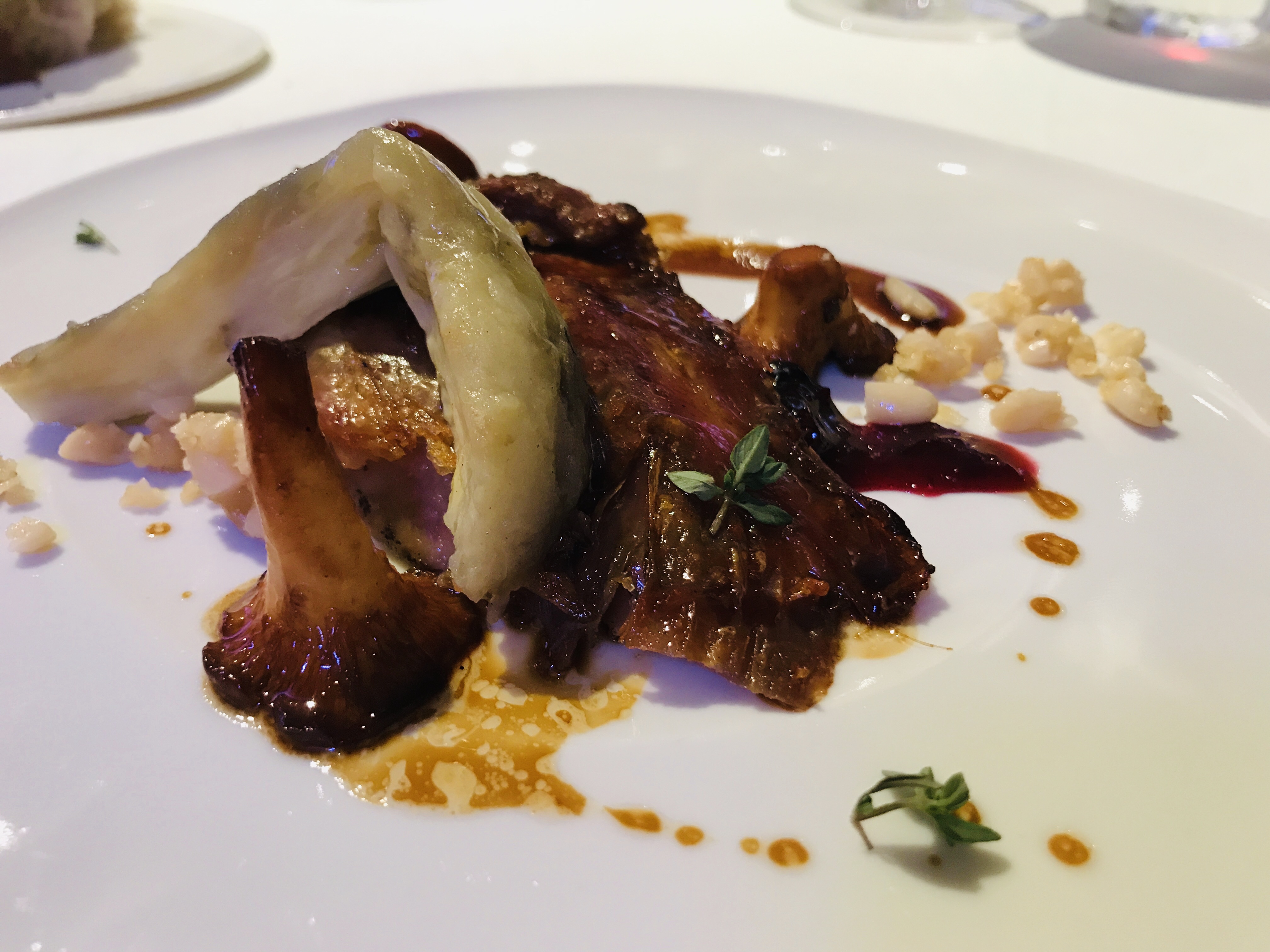 As we move to desserts, we are the last table bar one and, as always, I am struck both by how slowly I work through a meal like this, carefully devouring every tiny detail, breathing in each mouthful, and how fast others race from dish to dish.
Our first dessert is a classic cheesecake with green apple, celery and fennel sorbet. The cheesecake is surprisingly light, the sorbet a gorgeous palate cleanser.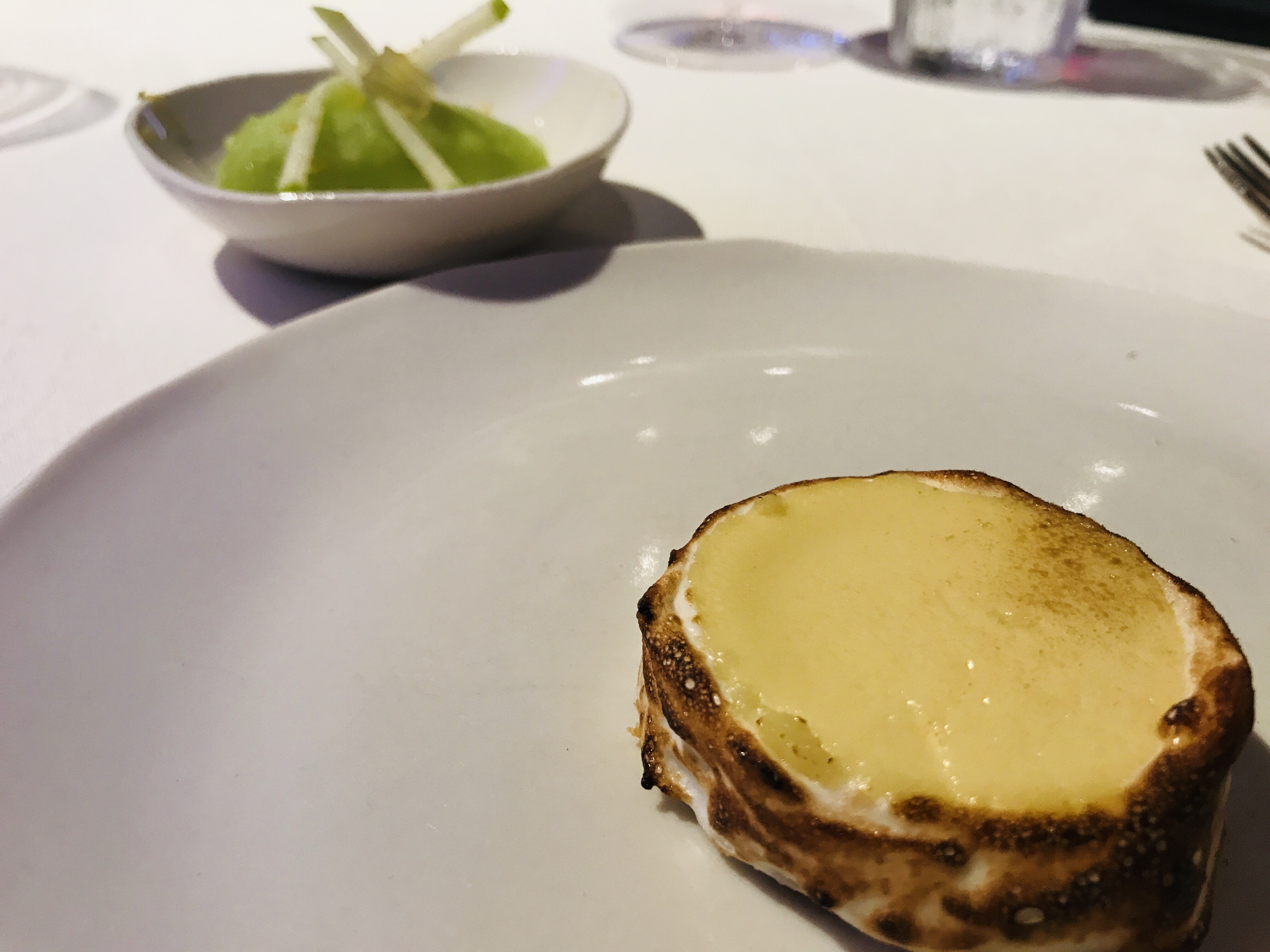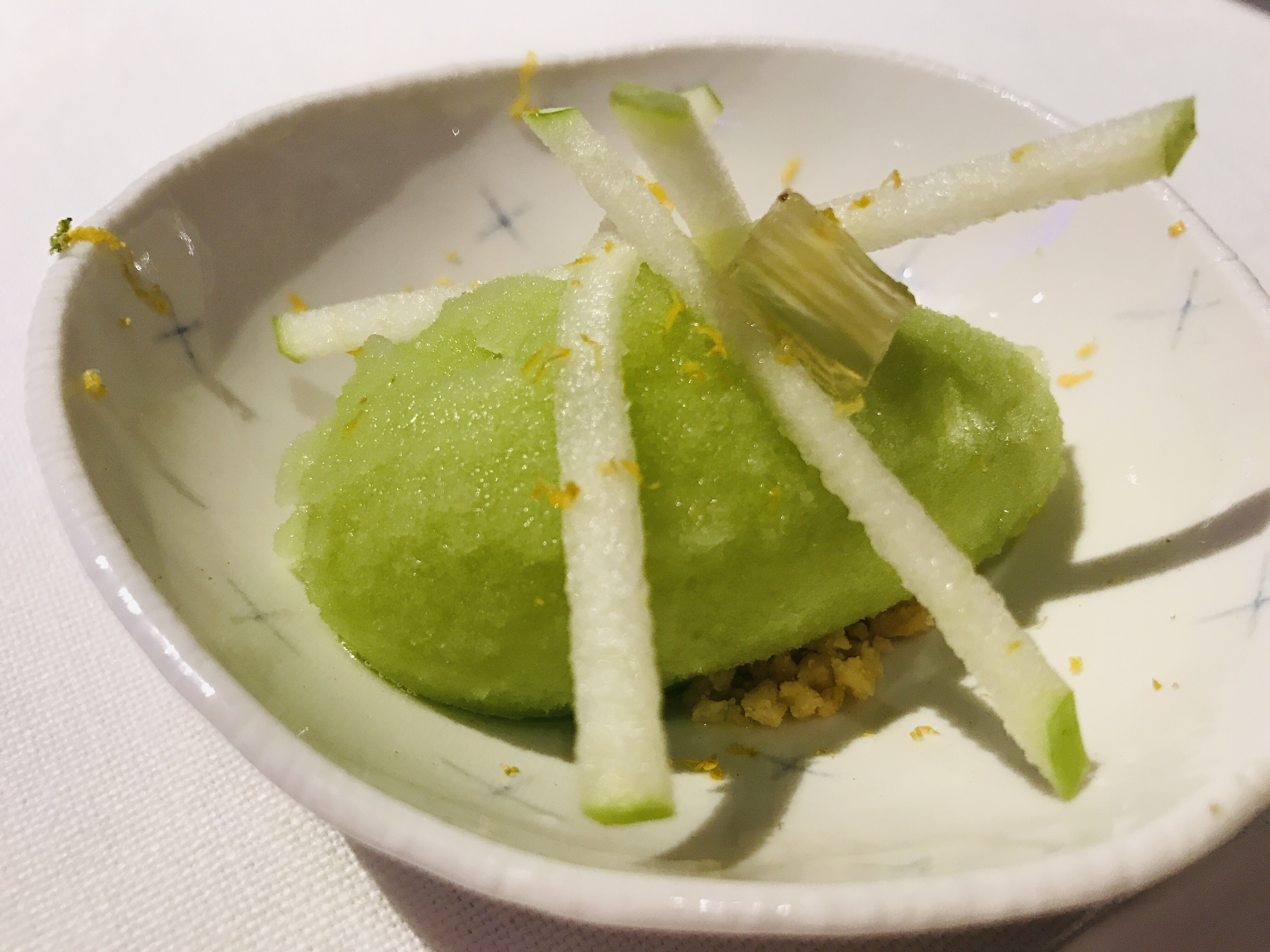 As the only table left now, we move to the last dish. Pumpkin, ensaimada, a sweet pastry, and yoghurt dessert. It's a simple, understated end to an epic meal.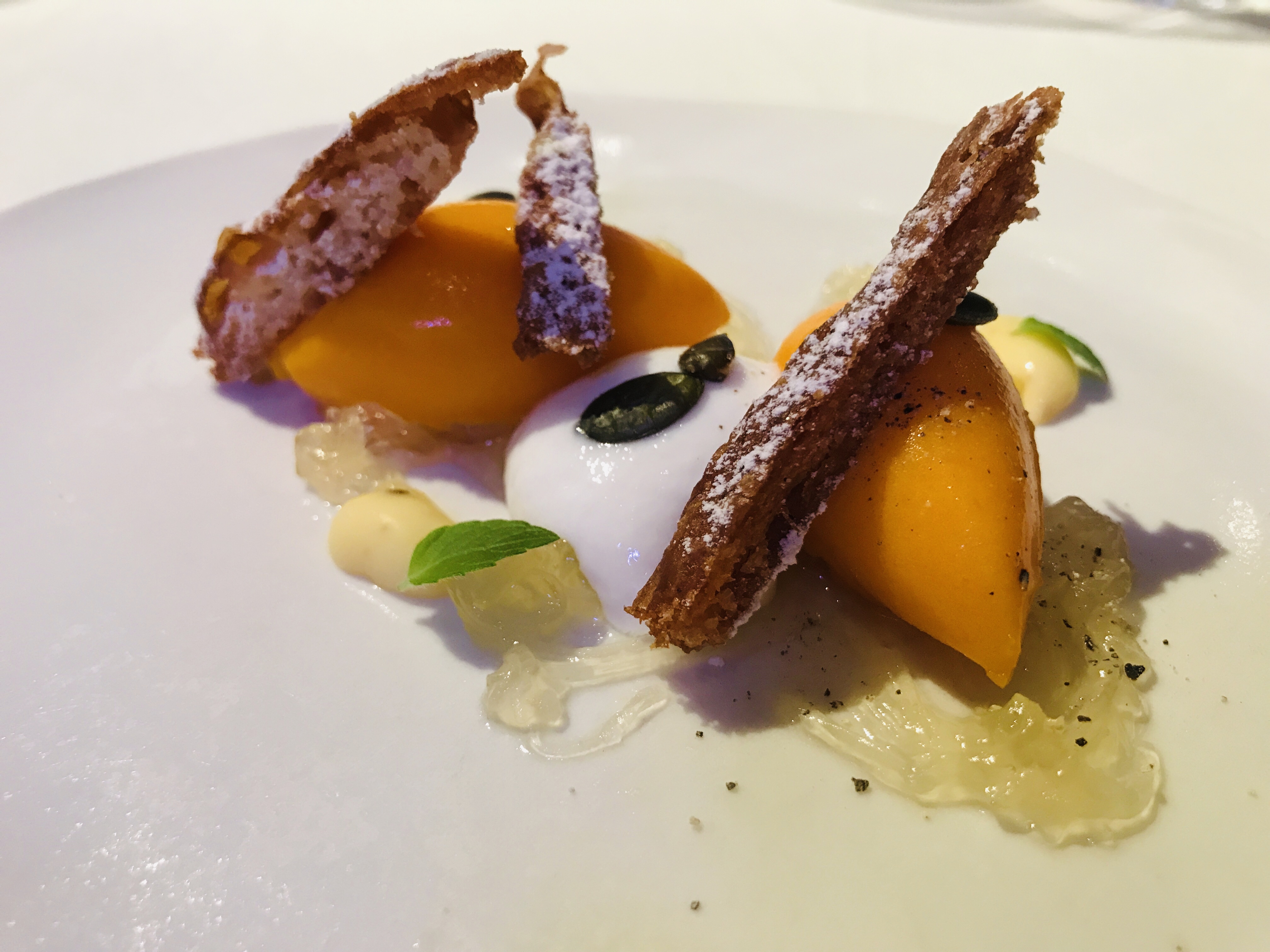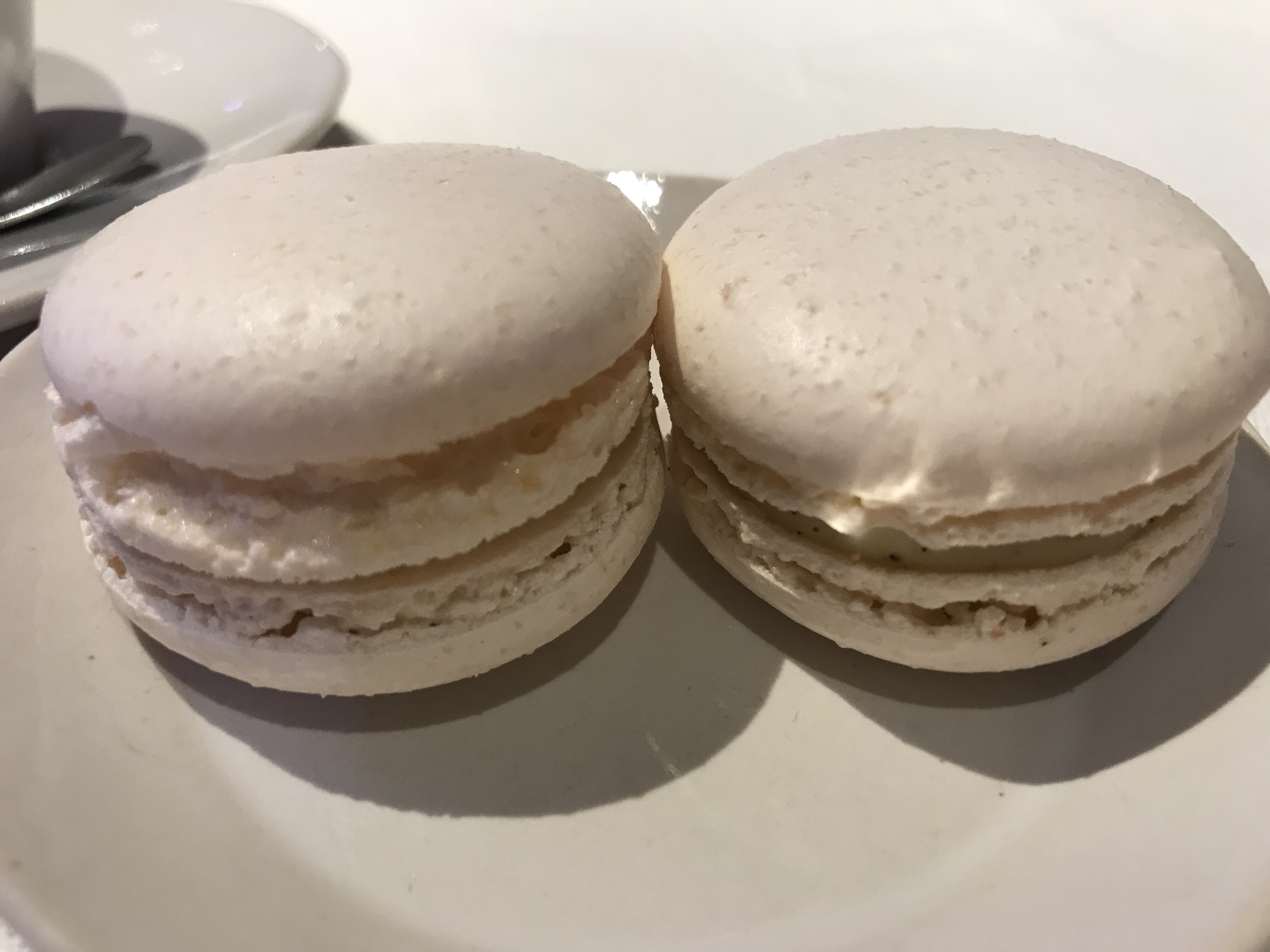 Before we leave Rodrigo, our waiter, asks if we'd like to see the rest of the restaurant and kitchen. He has been utter perfection all night, friendly, warm, tolerating of my appalling Spanish.
The building is breathtaking. High, frescoed ceilings and ornate cornicing in every room contrast with the modern art and interior of the restaurant, like the giant whale bone-like sculpture in the entrance.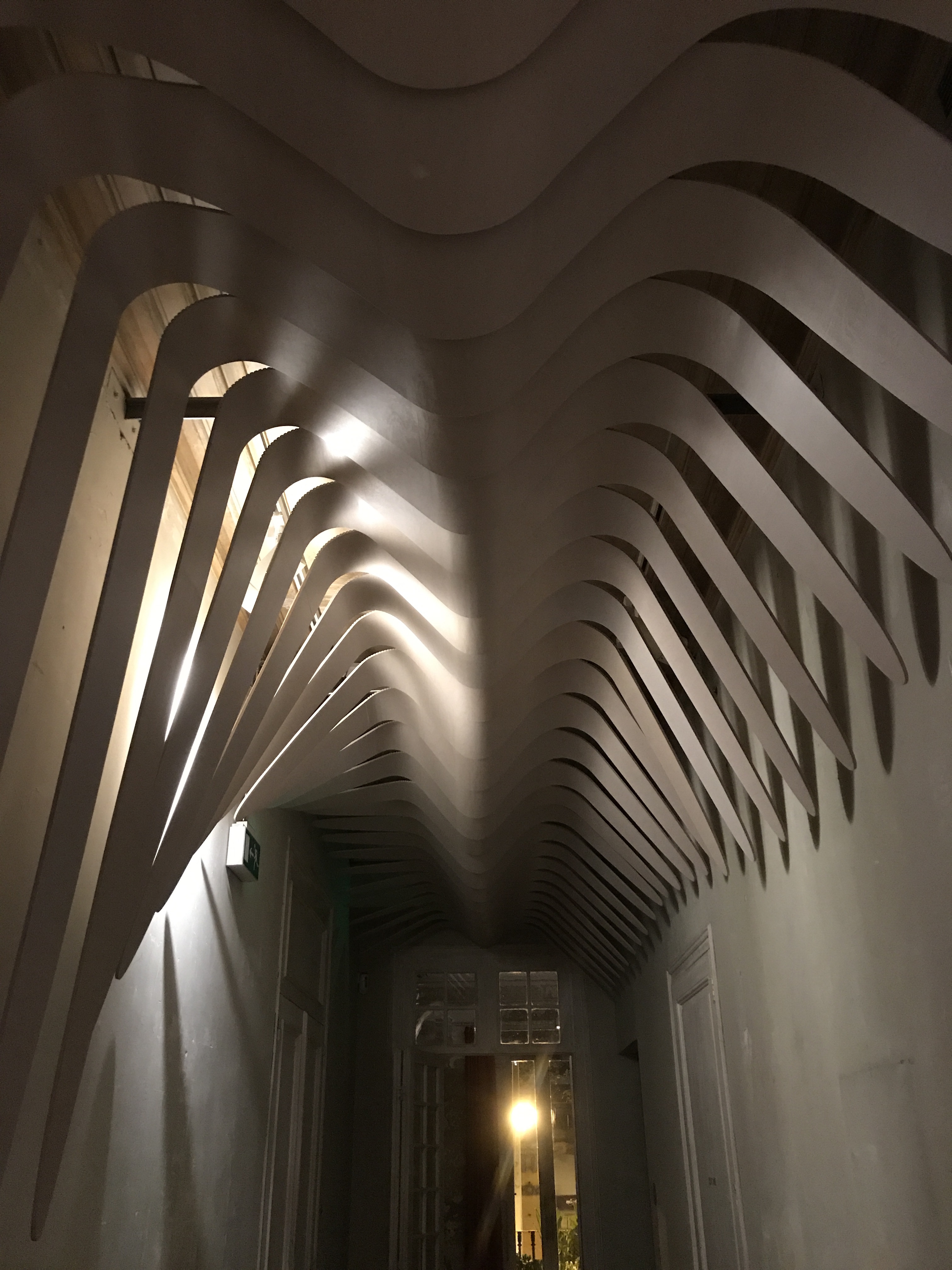 Once the home to the family who owned the Moritz beer, the mix of old and new is a design lover's dream. And with plates cleared and glasses drained, we headed into the balmy, Barcelona night.
A special place, worthy of the most special nights.
(Visited 227 times, 1 visits today)