Often when asked what my favourite food is, which is quite frankly an almost impossible question for me to answer, my response is Thai.  I spent many months traversing Thailand back in the early 00s and so it holds very fond memories for me, not least the food. I love rice and noodles, steaming fragrant bowls of curry, hot spicy soups and I love that it's all served family style.  This is ideal for me, it prevents food envy, making menu choices so much easier, when you know you get to eat everything on the table.
This made Cow and Fields supperclub ideal for me, especially as I was flying solo. What better way to meet people than over a shared plate of Thai sausages.
And these are what I was greeted with on arrival, cooking on the asado, outside the flat that was the host venue for dinner.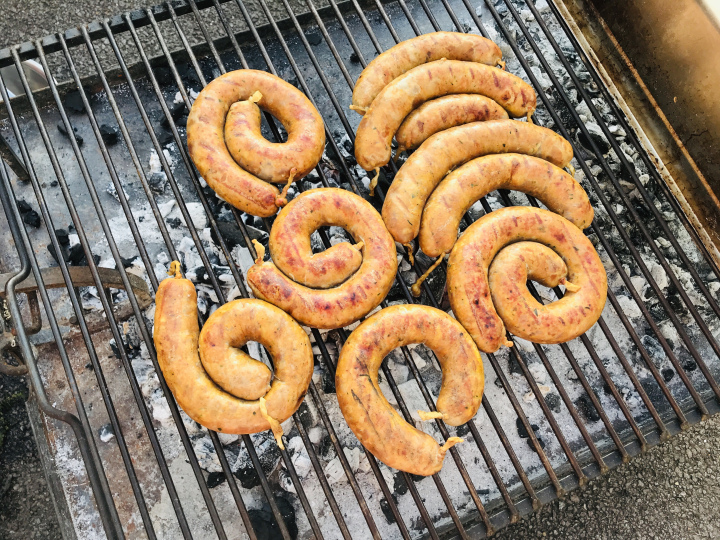 This is an amazing space, the huge living room and open kitchen are flooded with late evening sunshine. Before the night is over, we have all decided we want to live here.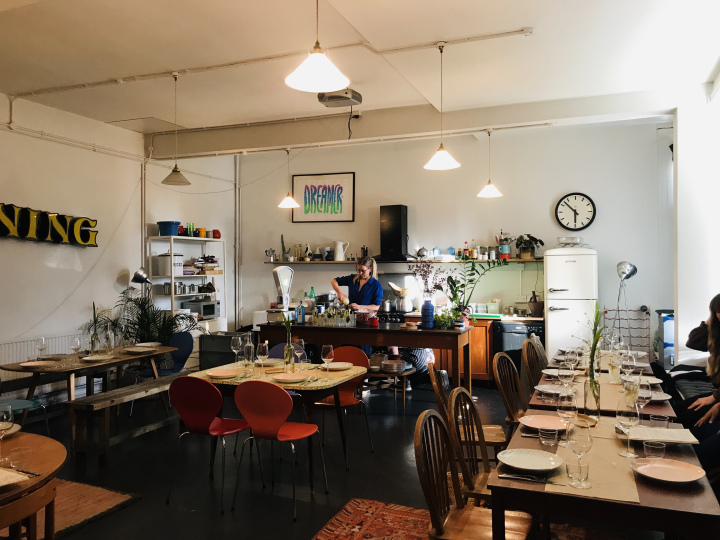 On arrival, Lizzie, one half of Cow and Fields, brings me a Kaffir Collins, the gin infused with Kaffir lime. It's the perfect start, fragrant and refreshing. I join Cherry and George who kindly let me join them, while they wait for the last of their trio. By the end of the night, we have exchanged numbers and I am invited to Cherry's birthday at the weekend and they have done their best to convince me I should definitely get a dog.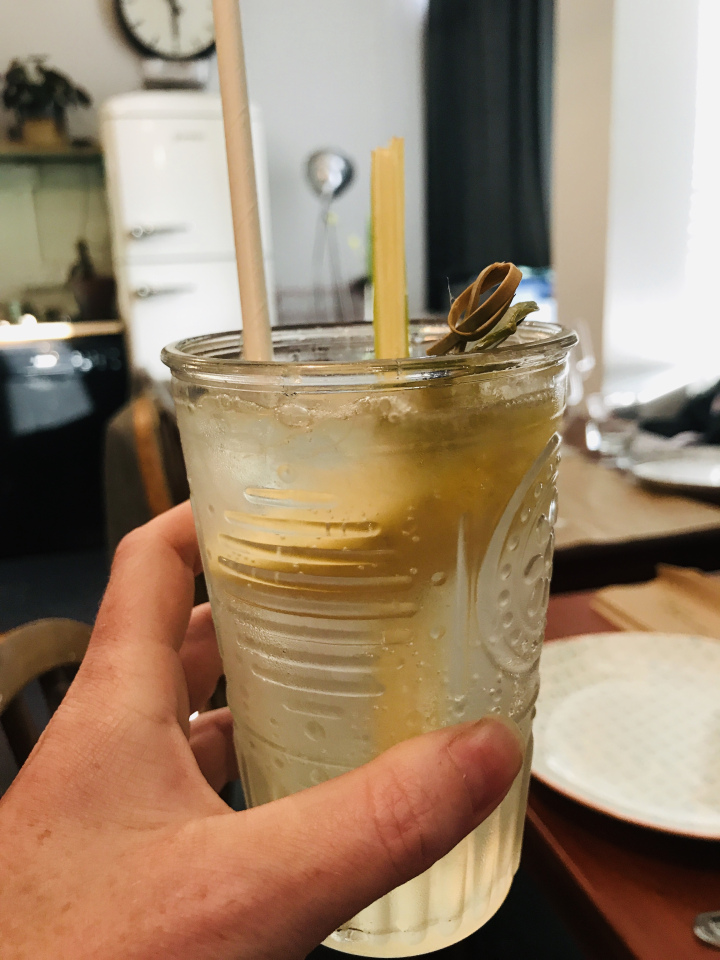 The menu online is listed as a feasting menu and my god, they are not kidding. There is a lot of food, you will not leave hungry, that's for sure.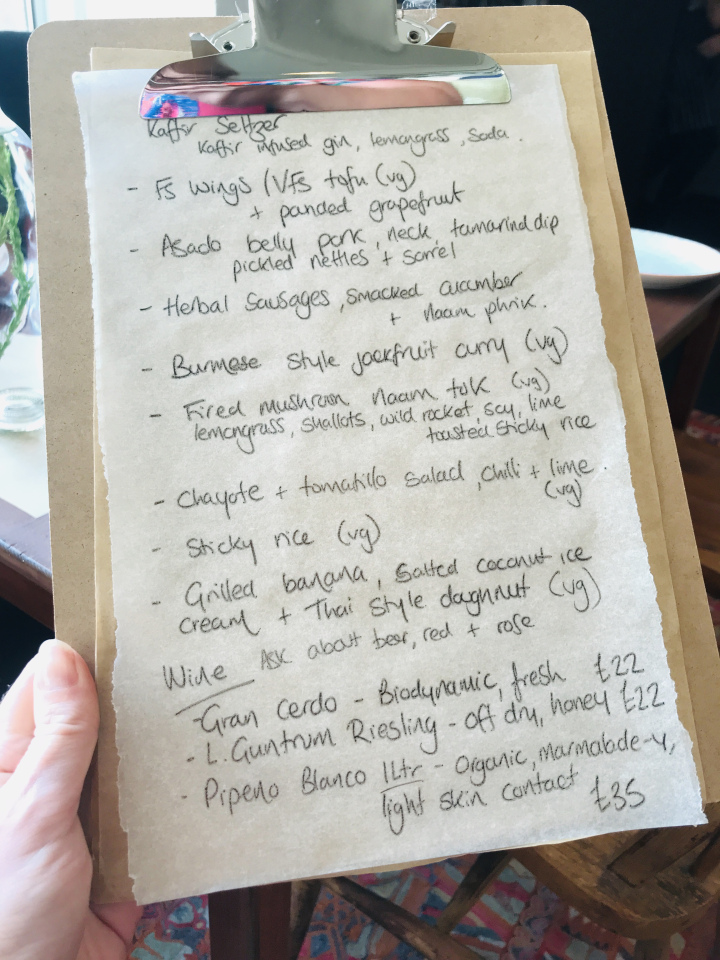 First up are some truly banging chicken wings, and I mean Smoking Goat level good. Tossed in fish sauce, palm sugar and garlic, they are sweet, slightly sour and so sticky. They are served with pounded pink grapefruit which, to our surprise, really works.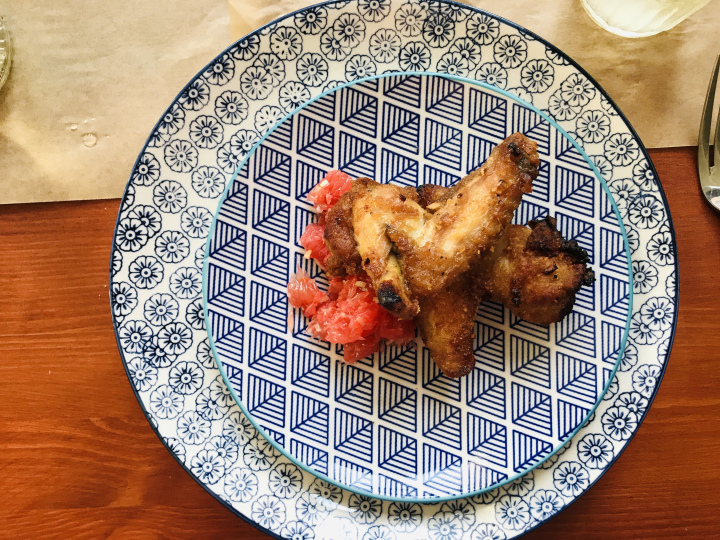 We also try the tofu which is also delicious and vegan.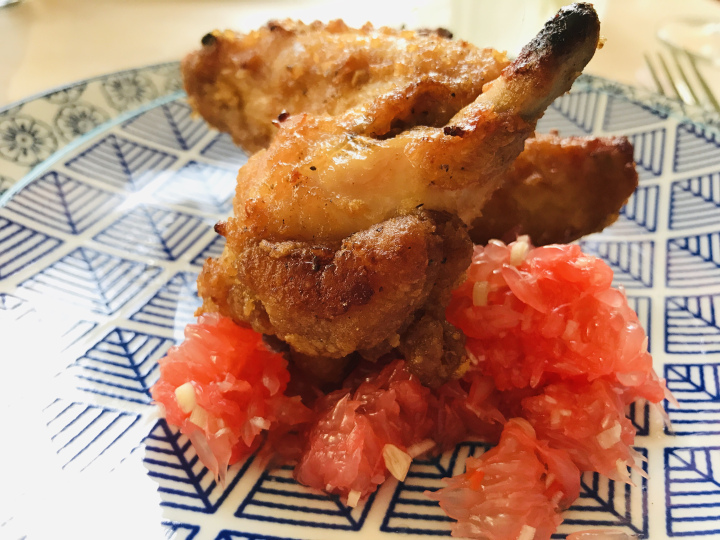 Once these dishes are cleared, our table is quickly filled with so much food we hardly know where to start. First, fat, juicy slices of pork neck and belly are served with a tamarind dipping sauce, filled with lots of interesting herbs like shepherds purse, (I never knew this was edible), sorrel and jack by the hedge. Some of it is perfect, some, for me, is a little over, but the good bits are soft and tender, the sourness of the sauce punchy with herbs cutting through.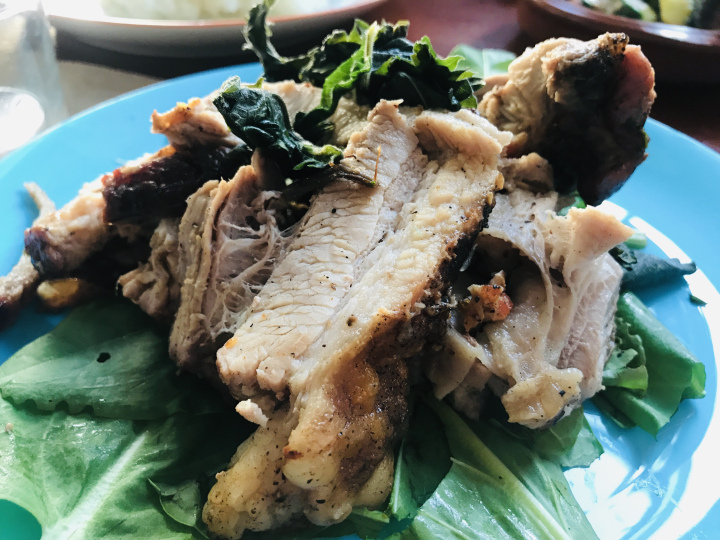 Then, my favourite dish, or maybe joint favourite with the wings, is the homemade pork sausage. It's chewy and a little bit fatty, the texture is excellent. It's pungent with curry paste and, as much as we all love this, and we really do, it's impossible to finish it all.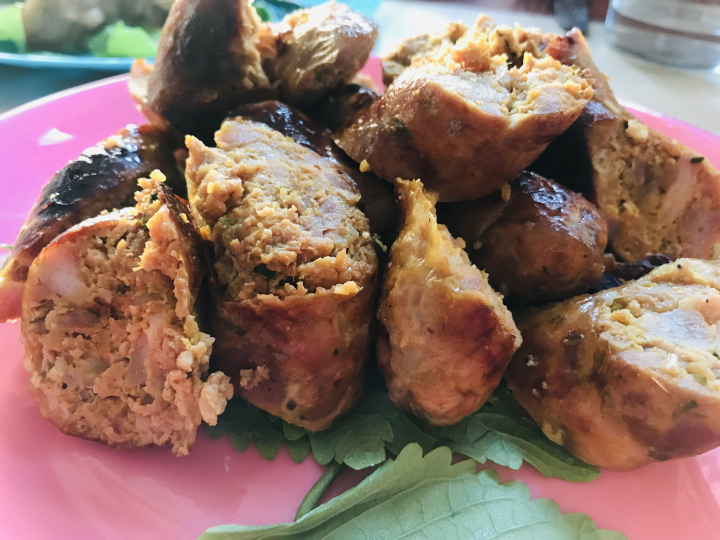 Served with this is a salad of smacked cucumber , Naam Phrik, roasted chilli and cherry tomatoes that manages to be gently spicy, refreshing and bursting with flavour all at once. Its clean flavours welcome against the richness of the meat dishes.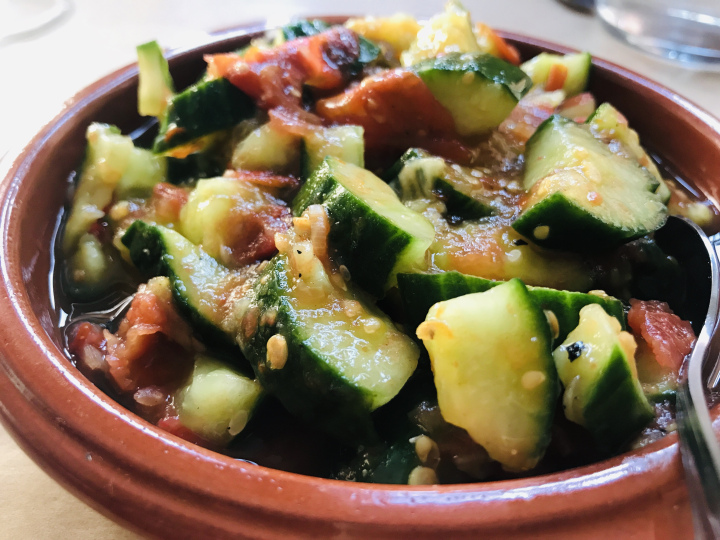 The same can be said for a take on one of my favourite Thai dishes, Som Tum, this one uses tart green mango, shallots and curry paste and is wonderfully sharp and sour.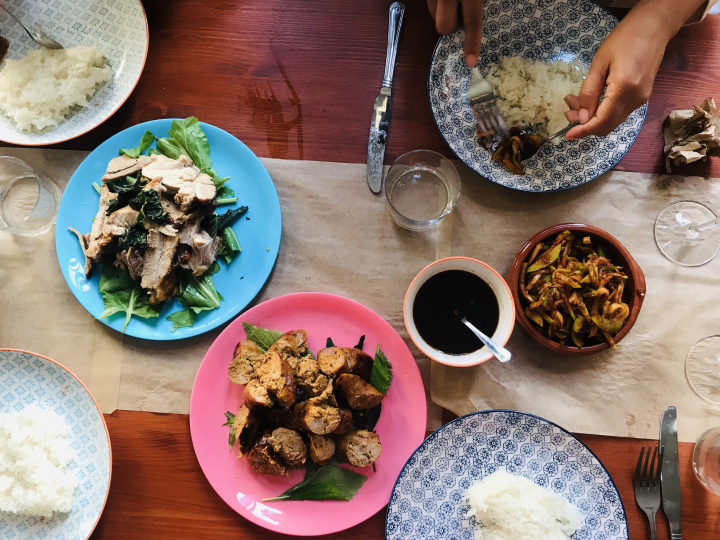 The final feast dish is a salad of fried mushrooms and herbs which I wasn't a fan of. It was a little too dry in my mouth and lacked the depth of flavour that the other dishes offered.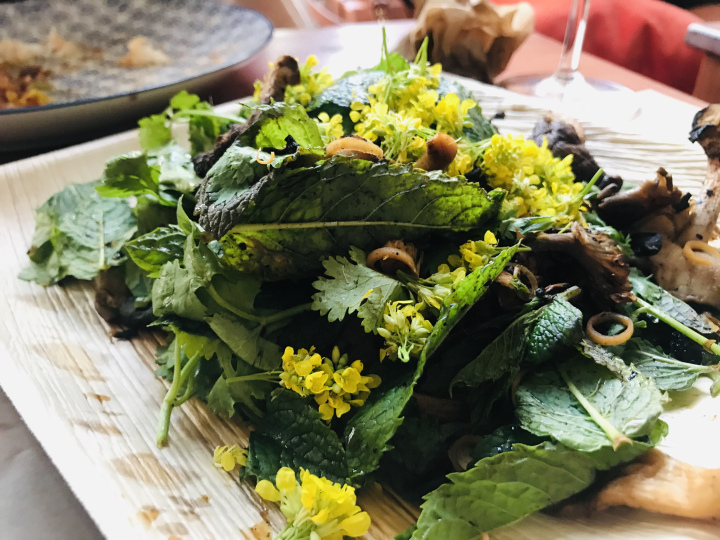 All of this is served with sticky rice and Lizzie is kind enough to let us try the vegan jackfruit Burmese style curry.
Dessert seems ambitious after all this food but we are ambitious, so we forge on. Banana roasted in its leaf with a salted coconut ice cream and a donut made from sticky rice I think, Sam did explain as George scraped the last drops of ice cream from her banana leaf, but it was late and we'd done some damage to the Rose. I can't lie, I am not a banana fan. (Its complicated would be banana and I's relationship status.)I loved the ice cream, not too salty, not too coconutty, not too sweet. Goldilocks would be in her element. The donut is sticky, sweet and a really chewy texture, I liked it, a lot. Not as much as George who, despite being stuffed, manages to squeeze in a second dessert.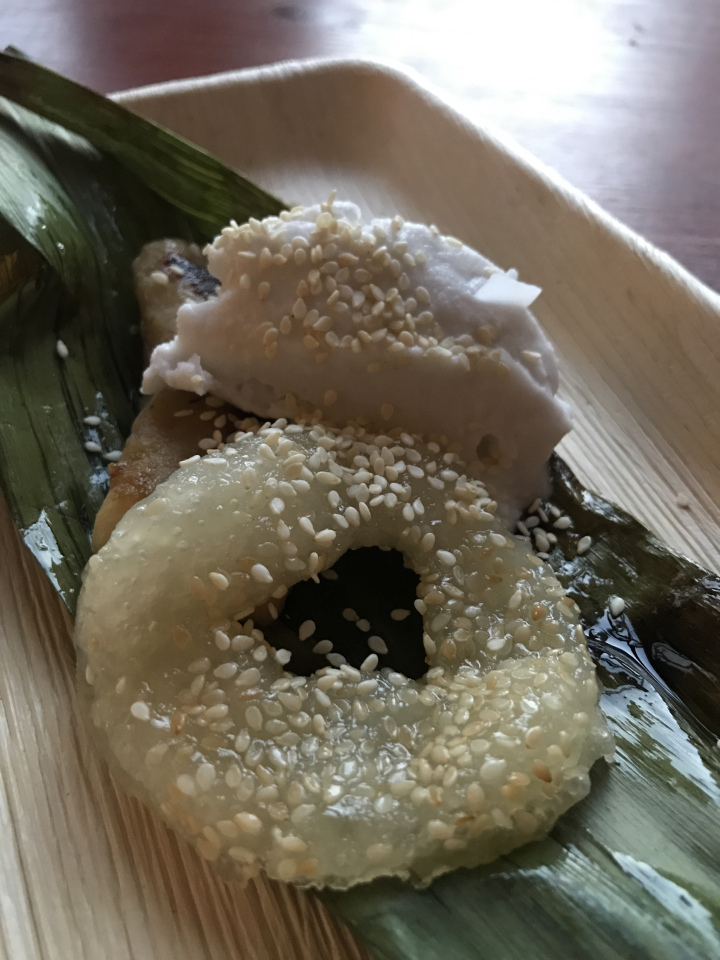 I loved how warm Lizzie and Sam were throughout the night. It really was like being at dinner with a group of old friends. And while I went solo, I like to think I left with some new friends and, maybe in years to come, they'll be old friends. If you are nervous about going solo to a supperclub, I would really encourage you to give it a try, it really is a great way to meet new people.
I was a guest of wefifo but all views are my own.
(Visited 45 times, 1 visits today)