I live but 10 minutes from Duck and Waffle yet, somehow, it's taken me till now to visit. I did have a table booked, window side, for part of Mr Gosling's birthday, timed so that we could hold hands across the table, sipping breakfast cocktails, while watching the sunrise over London, but we all know how that ended and, sadly, it ended before the reservation.
So, when B messaged to ask if I was free one random Tuesday night, I said yes, of course, let's finally do this. And so it was that the gays of my life and I stepped into the lift (fully frisked, security is tight)of the Saleforce Tower and ascended the 40 floors to Duck and Waffle.​
​We waited in the bar for our table and finally the moment came. We sat at a table in the middle of the floor and, I've got to be honest, if you go, you want to be at a window seat.
We started with cocktails. I was undoubtedly the winner with the Red Pepper, it was clean and sweet, exactly like a red pepper. B had a Lime which was fluffy and fragrant from the kaffir Lime.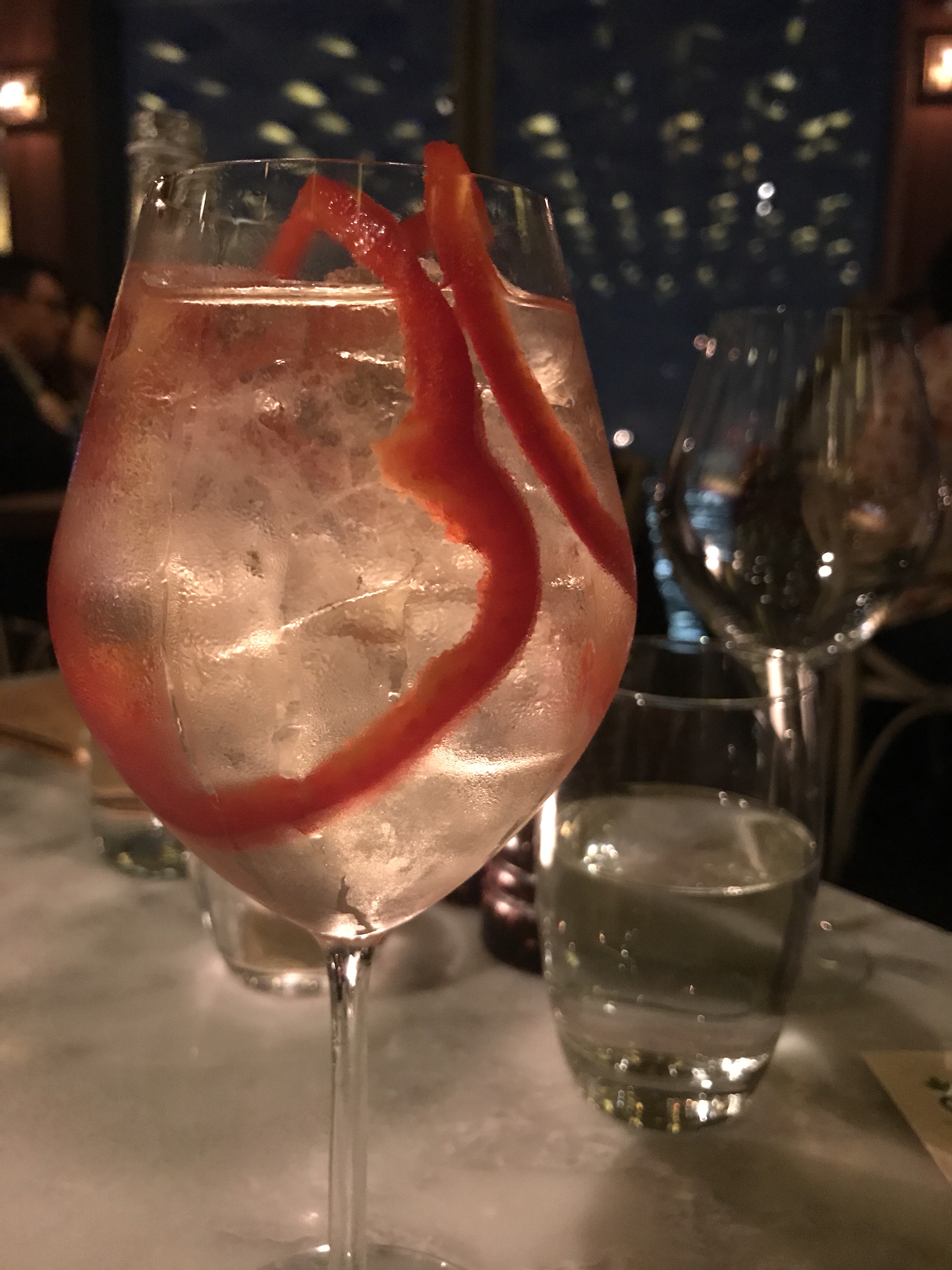 We ordered lots and shared it all. The menu is split into snacks, breads, small plates, for the table and sides.
We ordered one polenta ball, because only B wanted one. I don't generally like polenta, but it actually was tasty.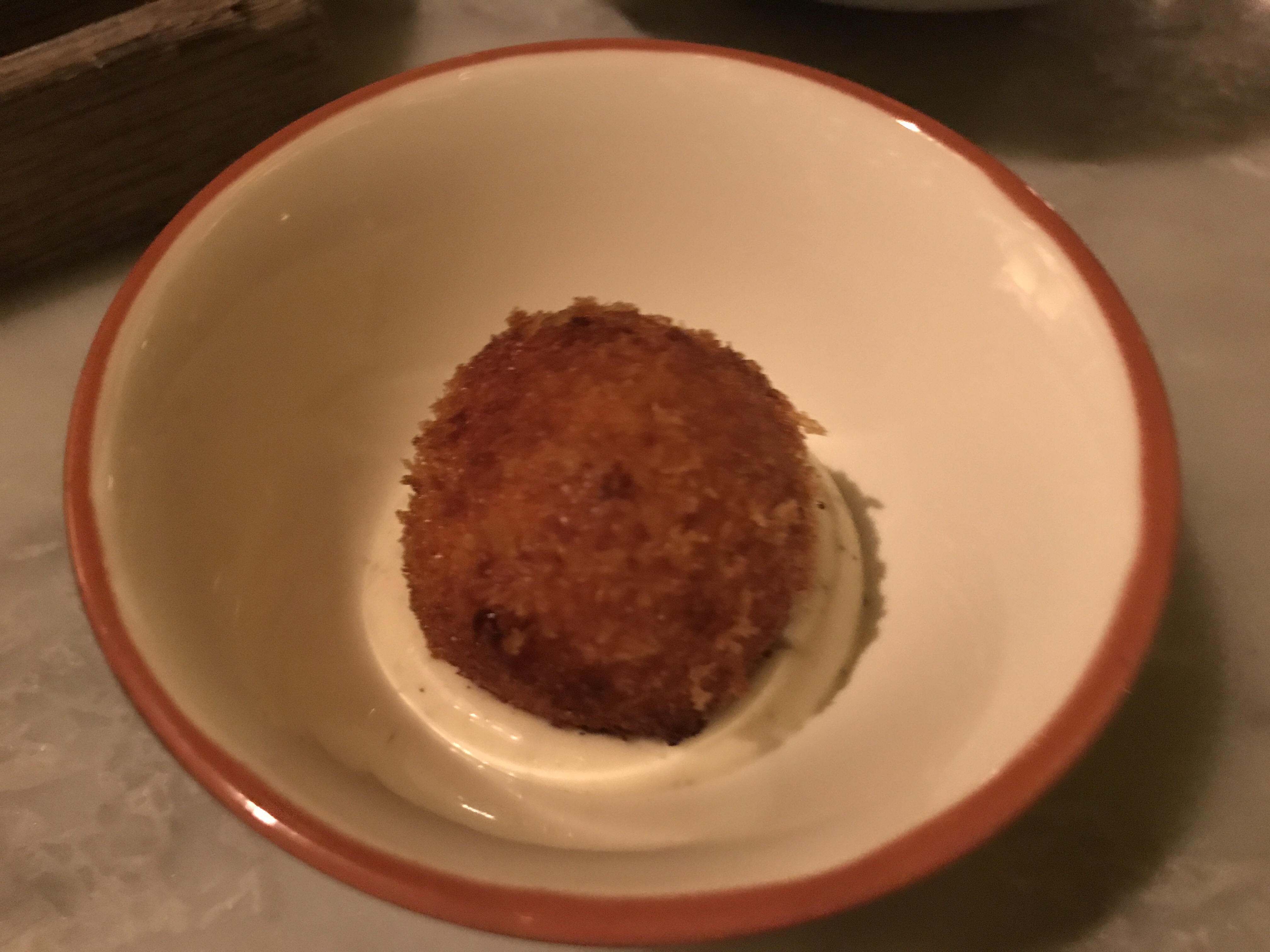 We ordered three dates wrapped in bacon and stuffed with linguiga and manchego. Only one arrived but we decided we'd probably over ordered, and so split it. It was sweet and juicy and salty.
Beef tartare was rich and tender but quite chunky.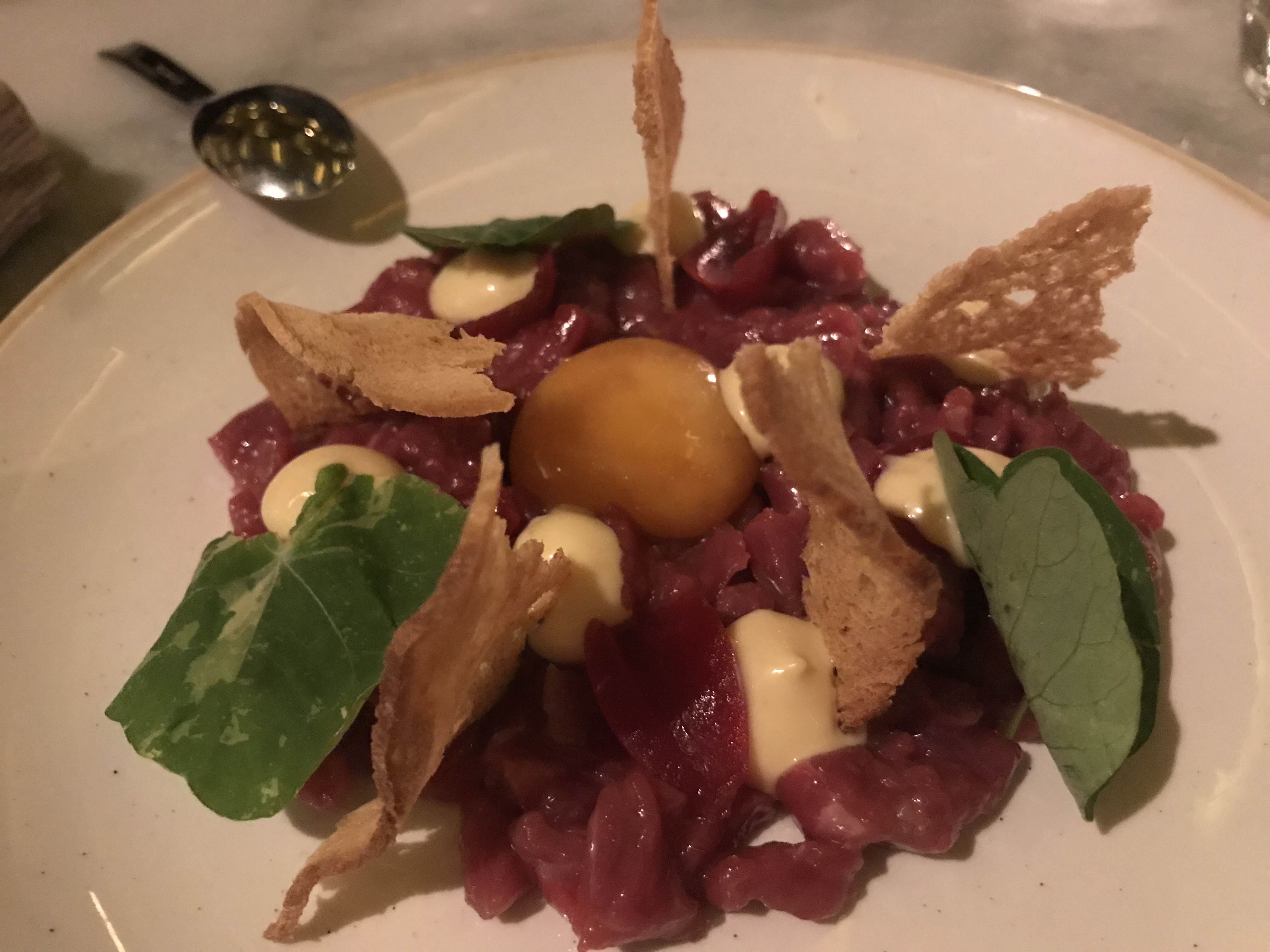 A donut filled with beef cheeks and dusted with Paprika sugar,was seated in a bed of apricot jam.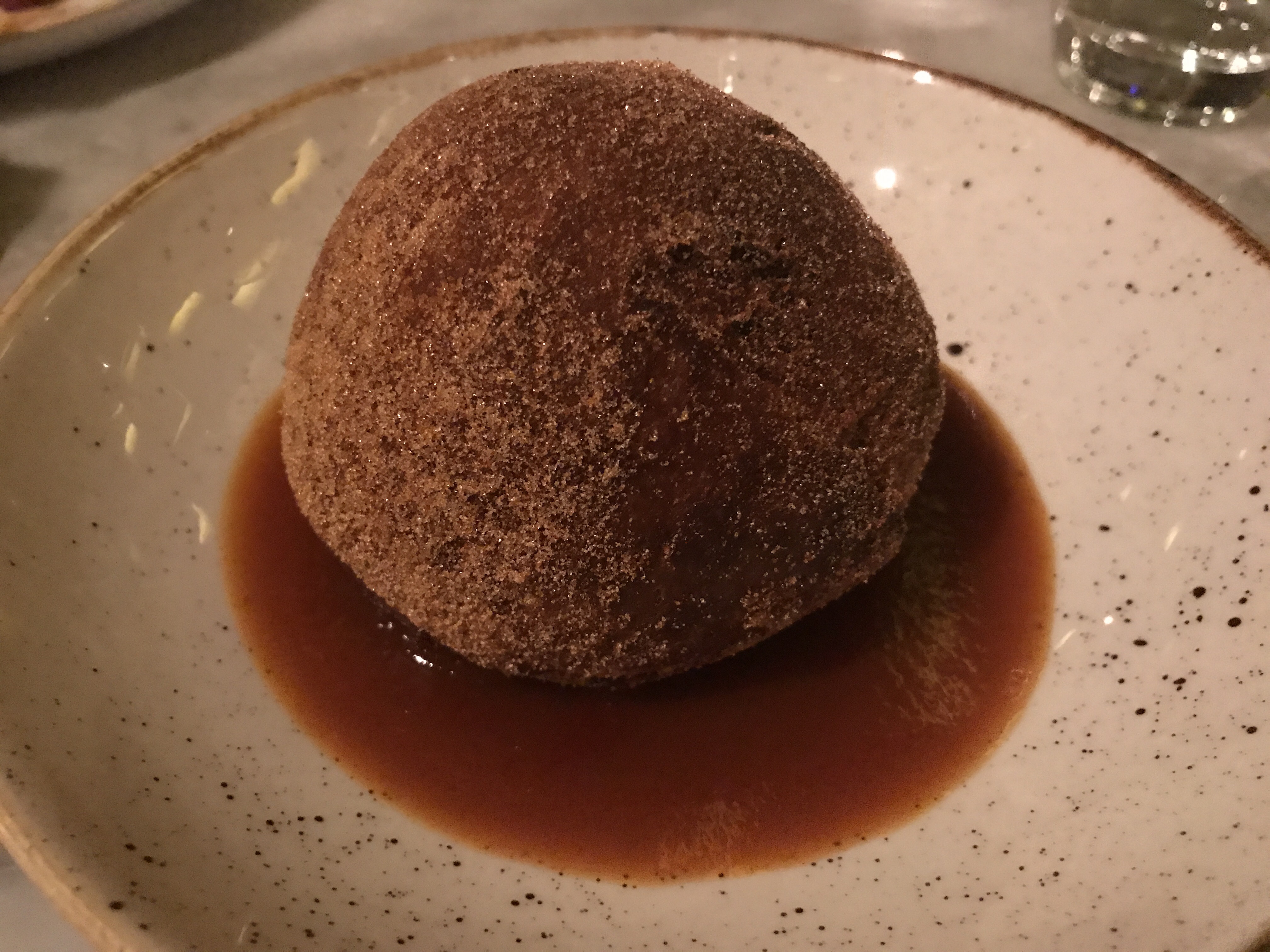 The donut itself was light and lovely and, although the ox cheek lacked flavour, I did like the sweet and savoury play.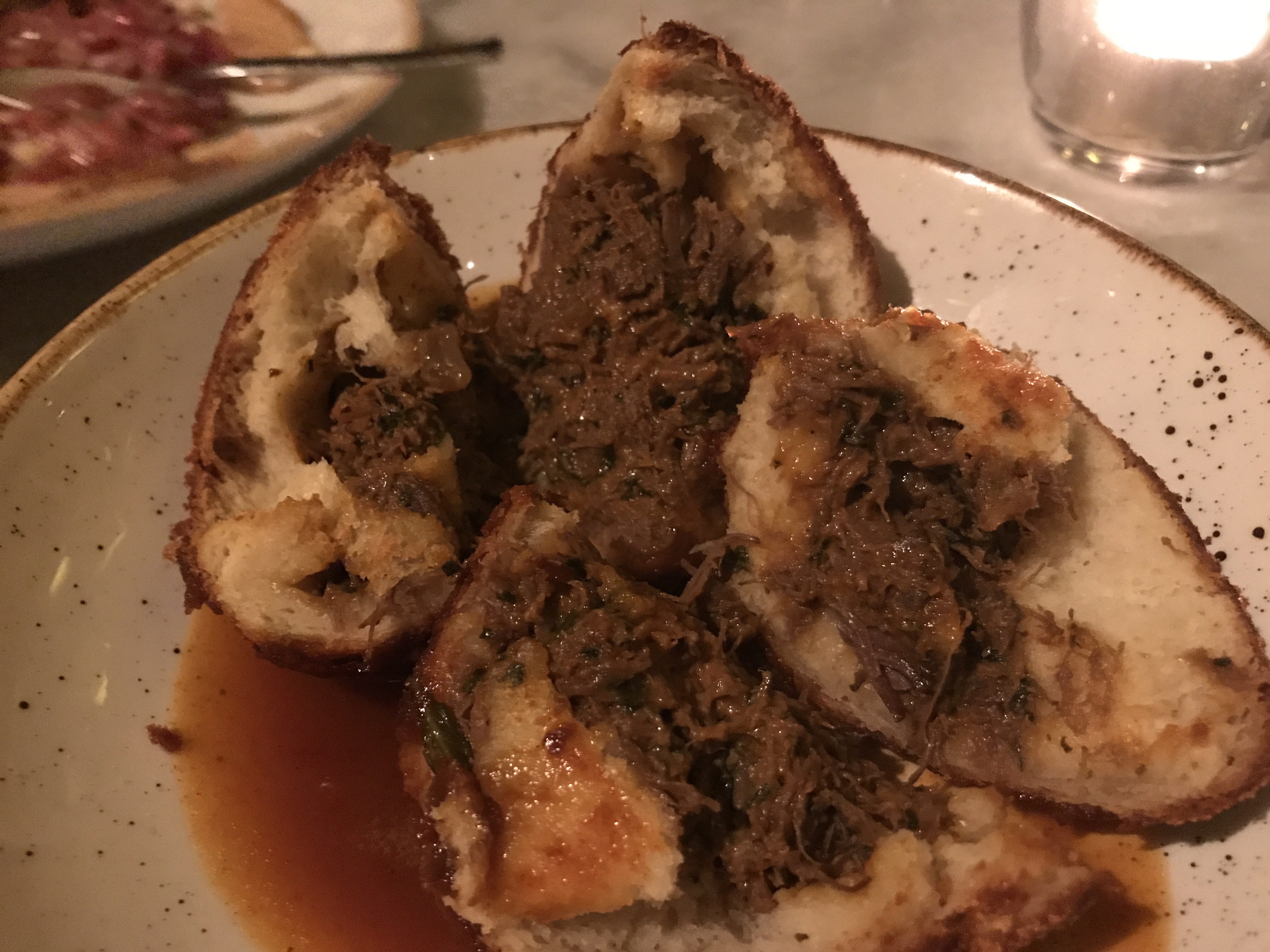 Pigs' ears from the snack section might well have been my favourite dish and probably one of the best value at just £5, they were like posh bacon rasher crisps, dusted in something sweet, spicy and salty, that made me eat more than I should have.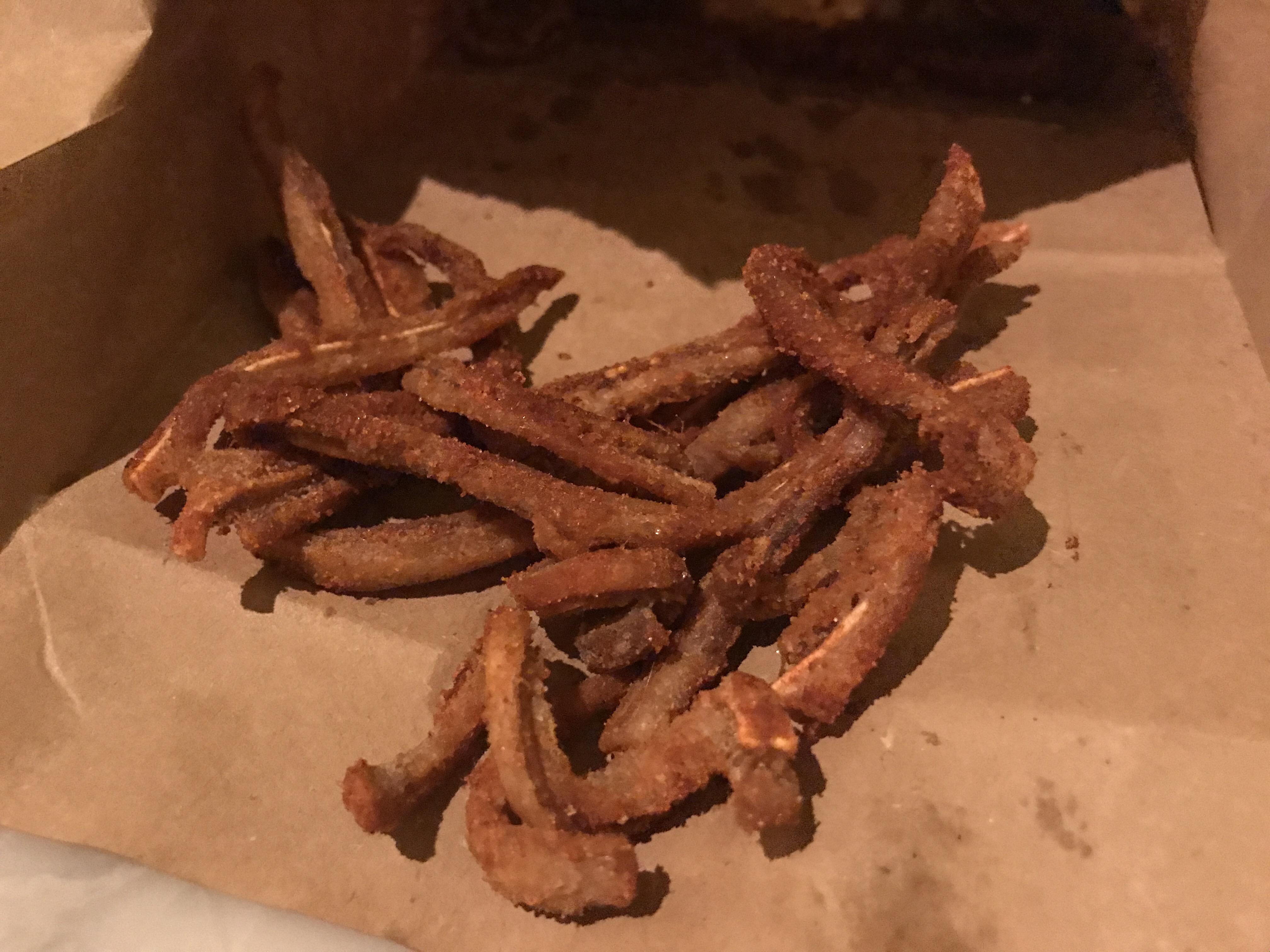 I ordered the foie gras crème brûlée because I loved it so much at bravas tapas. It came with a marmalade brioche which was topped with a pork crackling dust and was a perfect balance of sweet and sharp. The brûlée was intense and rich and quite sweet.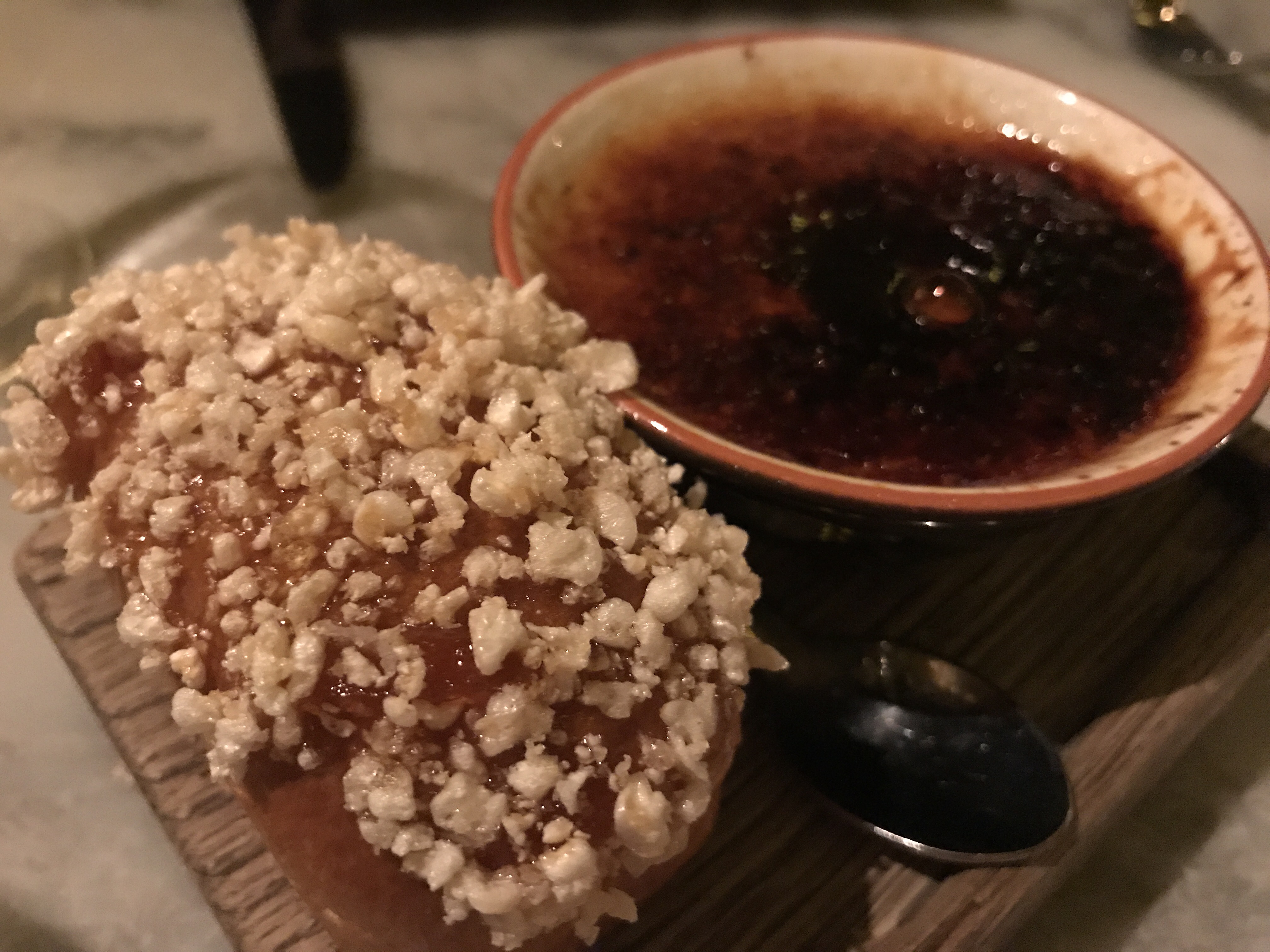 Grilled Octopus with Nduja and fennel was a cleaner flavour and less sweet than the rest, the combination of sweet, spicy nduja and clean fennel refreshing.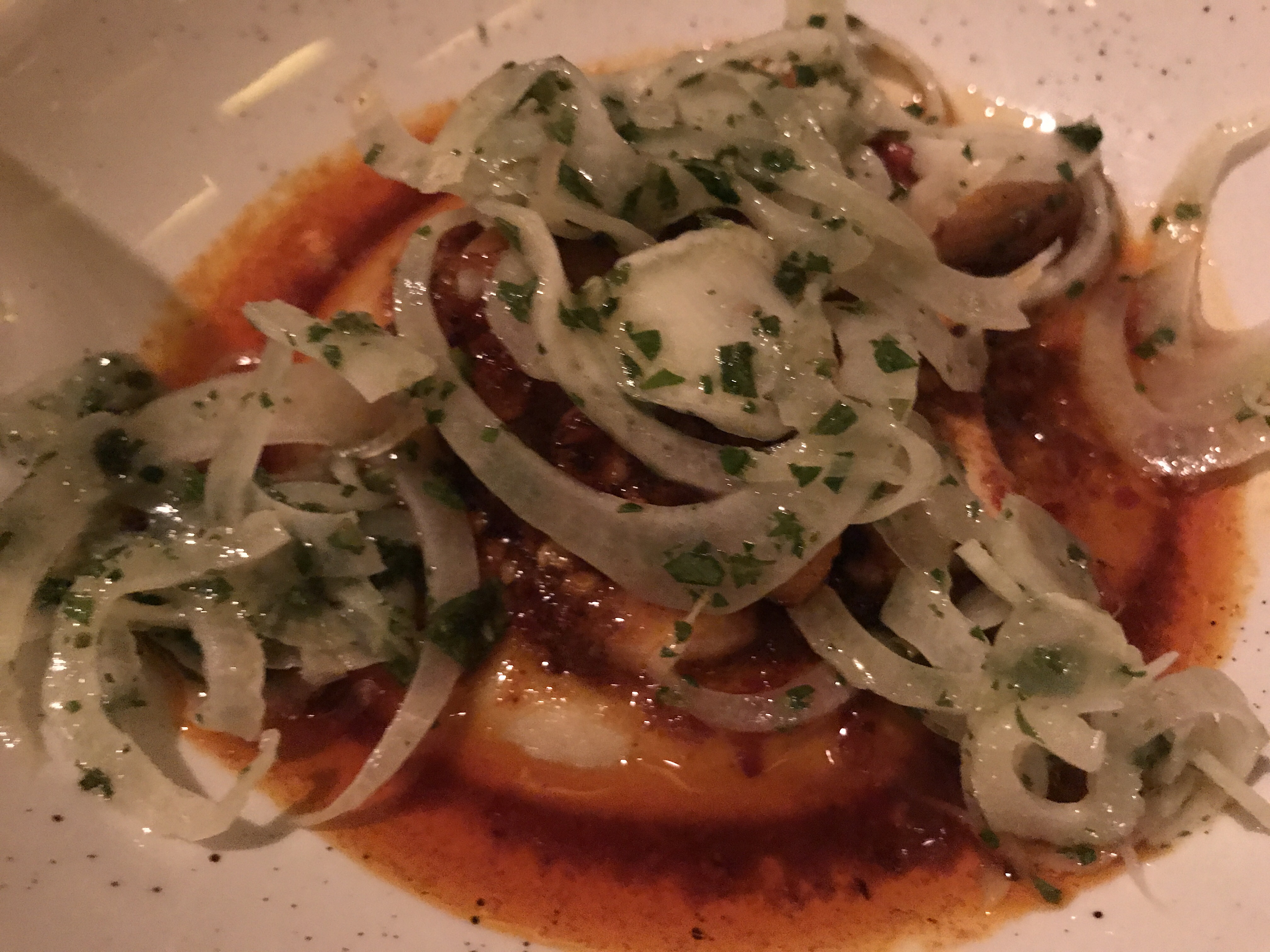 D loved the cornbread and,with a southern grandma, he has previous here. I have to agree, it was one of my favourite dishes and great value. I loved the crispy, caramelised bottom and moist inside, smothered in chipotle and green chillis for a hint of heat.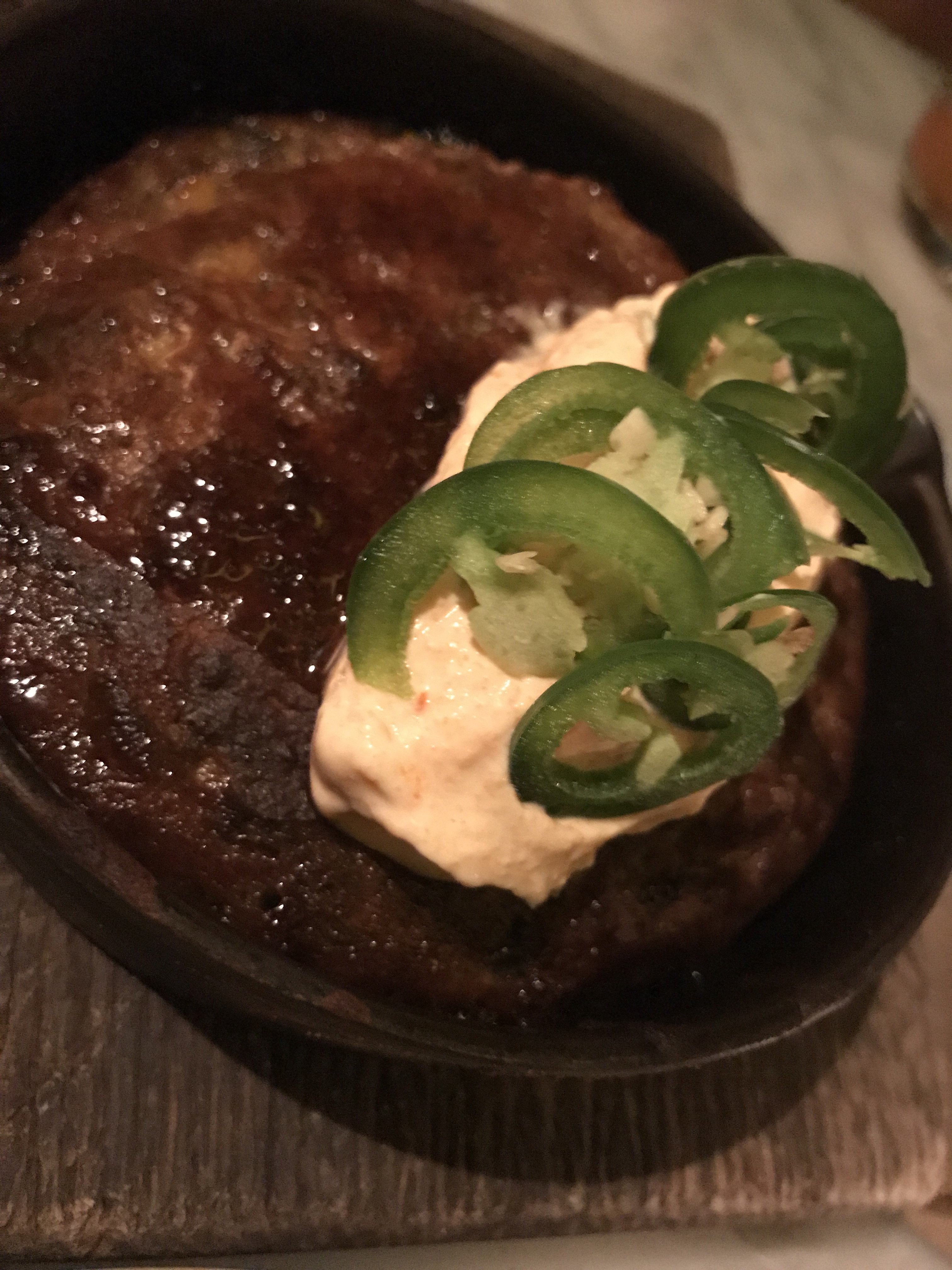 Finally, the signature dish, Duck and Wafflewe had two between the three of us. Duck and Waffle. The duck fell of the bone, it was all good and sweet and lovely, I like my yolks to be runny, these were soft but not runny.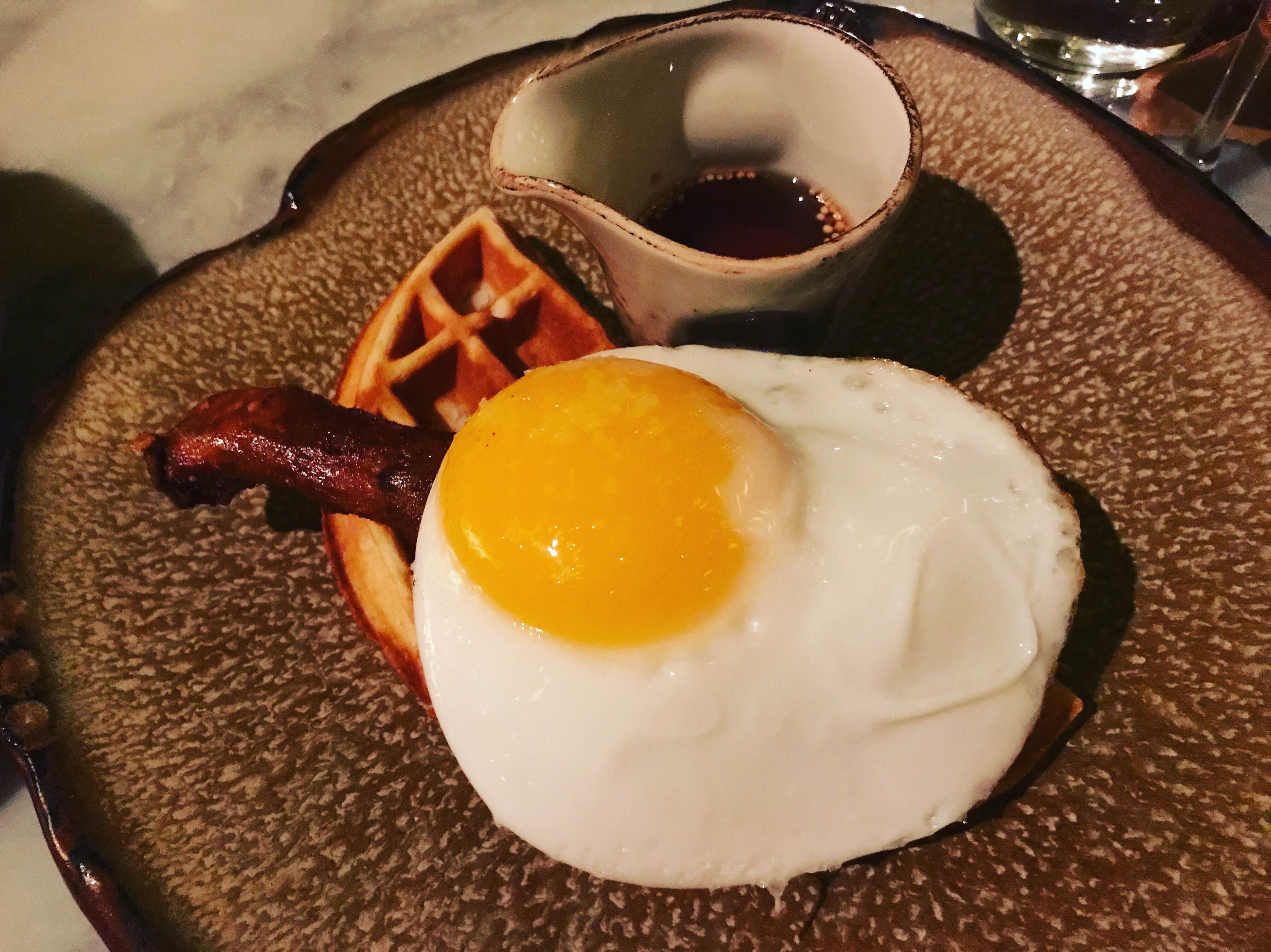 We declined dessert and we were out and back on the street in less than our allotted two hourso, including the wait for our table.
With a bottle of wine, (the second cheapest red and not one I'd order again) our meal was £77 a head, including service. It was a lot for what we had and the time we spent. The meal was good but my overarching memory is of sugar and sweetness, maybe we ordered badly, maybe my expectations were too high after waiting so long? I don't know. I do know that it'll still be impossible to book a table. In terms of location it's a winner, if you have a window seat.
One for a special occasion but order wisely.
(Visited 45 times, 1 visits today)